€25,500 Single-Day High Roller III
Dias: 1
€25,500 Single-Day High Roller III
Dia 1 Concluído

Nível 16 : 15,000/30,000, 5,000 ante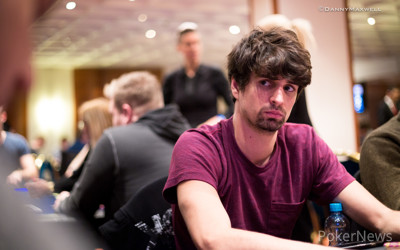 What started as a pitch by Steve O'Dwyer at the end of a long day of poker in the scheduled €25,550 Single-Day High Roller, ended in two more of those events in the two days to follow.
The third and last Single-Day High Roller attracted 16 unique players. The 8 reentries made for a total field of 24 entries, just one shy of the previous edition which attracted a field of 25.
In the end, Spaniard Sergi Reixach lifted the trophy, beating Ali Reza Fatehi from Iran heads-up. Steve O'Dwyer cashed in the event for the third time in a row, this time settling for bronze and €95,550.
| Position | Player | Country | Prize |
| --- | --- | --- | --- |
| 1 | Sergi Reixach | Spain | €217,550 |
| 2 | Ali Reza Fatehi | Iran | €149,940 |
| 3 | Steve O'Dwyer | Ireland | €95,550 |
| 4 | Alexandros Kolonias | Greece | €69,100 |
| 5 | Jean-Noel Thorel | France | €55,860 |
While the second edition of the event the previous day had plenty of action early on, the third edition started out a lot slower. Not a whole lot of players sat down and the two different tables were constantly shorthanded and on the verge of getting merged into one. When the registration period was nearing its end, a burst of players decided to hop in, bumping the field to 24 entries.
Daniel Dvoress was the first player to make his definite departure. He had no more reentry option after losing pocket sixes to Nick Petrangelo. Adding insult to injury, Petrangelo needled him when he made his exit. While the buyin for the tournament of €25,500 was even unheard of just a couple of years ago, here today the needling and constant banter made it look like it was your regular €5 rebuy in the local pub. There was constant laughter to be heard and not an annoyed face was seen all day.
That did not change as the bubble got closer. Still, play was friendly and fast, the atmosphere amicable. All the players were in it to win it, but it stayed as friendly a game as ever. The fierce recreational players and the pros both seemed to have a good time, reason enough for the organization to consider adding this kind of events to more future PokerStars Championships.
In the end, Isaac Haxton would end up bubbling. After having won the first €25,500 Single-Day High Roller event for a staggering €559,200, he went home empty-handed in the third edition. He got it in good against the eventual winner Sergi Reixach, but failed to dodge the dangler three and departed in sixth place.
After that, things went real quick. In consecutive hands, Jean-Noel Thorel and Alexandros Kolonias exited. Thorel, long time chipleader in the event, finished in fifth place after running jacks into ace-queen on a queen high board. Thorel, who took second in the second edition of the event, went home with €55,860.
Alexandros Kolonias was short and needed to make a move with king-four suited. Steve O'Dwyer waited for him with aces and found no trouble on the board. Kolonias went home in fourth place for €69,100.
Steve O'Dwyer had long been one of the shortest stacks, but was underway making a comeback when he got hero called by Ali Reza Fatehi. The Iranian called a big bet in an even bigger pot with ace-high, rightfully putting O'Dwyer on a missed straight and flush draw. The fact that Sergi Reixach was still left to act when Fatehi made the call, will probably only give O'Dwyer even more nightmares the coming days.
That set O'Dwyer back considerably, and he lost the remainder of his chips not much later in a hand against Sergi Reixach. They got it in with ace-eight (O'Dwyer) against ace-five (Reixach) but a five hit the board. Just like in the hand against Haxton on the bubble, Reixach hit his kicker to send one home. O'Dwyer pitched the idea of adding the events to the schedule, and it would turn out a profitable one for him. He finished 6th in the first event for €124,050, 5th for €58,200 in the second and third in the last event for another €95,550.
The heads-up between Sergi Reixach and Ali Reza Fatehi didn't last long. Fatehi paid off Reixach who had hit two pair on the turn and was getting real short when the last hand started. Fatehi would bluff shove on the turn with an open-ended straight draw and an over card. Reixach called with top-pair and the same over card and made trips on the river to send Fatehi home in second place.
With that, the third edition of the €25,500 Single-Day High Roller was in the books and so was our impromptu coverage. Next up, a regular €10,000 High Roller event. As one might expect, PokerNews.com will be on the floor to bring you all the updates one can ask for. And, it goes without saying that we're also bringing you everything you need to know about the Main Event where high roller David Peters leads the final 65 players.

Nível 16 : 15,000/30,000, 5,000 ante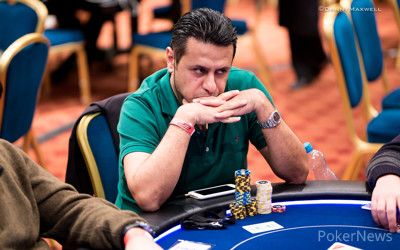 Ali Reza Fatehi opened the button for 75,000 and Sergi Reixach defended the big blind.
Both of them checked on
before the
hit the turn. Reixach bet out 125,000 and Fatehi shoved all in. Reixach called to put Fatehi at risk.
Sergi Reixach:

Ali Reza Fatehi:
Fatehi needed a jack or six to stay alive and double, but got neither. The river came the
and it was all over, Fathi had been eliminated in second place for €149,940.

Nível 16 : 15,000/30,000, 5,000 ante
From the button, Sergi Reixach raised to 60,000. Ali Reza Fatehi called from the big blind and both checked on
.
The
on the turn saw Fatehi bet 80,000 and Reixach called.
With the
completing the board, Fatehi checked. Reixach bet 210,000 and Fatehi called, only to muck upon being shown
.
Nível: 16
Blinds: 15,000/30,000
Ante: 5,000

Nível 15 : 12,000/24,000, 4,000 ante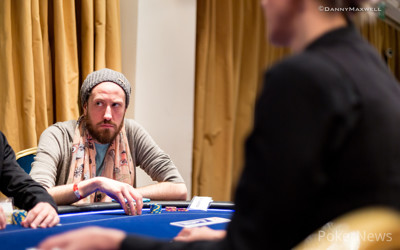 Steve O'Dwyer raised his button to 56,000 with 403,000 behind. Ali Reza Fatehi folded his small blind but Sergi Reixach pushed all in. O'Dwyer tanked for a bit before he committed.
Steve O'Dwyer:

Sergi Reixach:
O'Dwyer was in front but the turn would change that. The board came
and O'Dwyer sighed before he exited the tournament area.
O'Dwyer, who was the first to pitch the idea of adding €25,550 Single-Day High Roller events to the schedule, cashed in all three of them. In the opening event he finished 6th for €124,050, in the second edition he finished 5th for €58,200, and today's event 3rd for €95,550.
The remaining two players are guaranteed €149,940 and battle for the €217,550-first place prize.

Nível 15 : 12,000/24,000, 4,000 ante
On a board of
, there was already quite a lot of money in the middle. Steve O'Dwyer bet 170,000 from the small blind and Ali Reza Fatehi called from the big blind. Sergi Reixach folded his button.
O'Dwyer showed
for the missed flush and straight draw, Fatehi slammed
on the table and raked in the chips.
"Ooooooohhhh... That hurts. I'm not going to sleep tonight" O'Dwyer said.

Nível 15 : 12,000/24,000, 4,000 ante
Steve O'Dwyer opened for 56,000 and saw Ali Reza Fatehi three-bet to 126,000 from the small blind. O'Dwyer four-bet shoved for 602,000 and Fatehi folded.
Nível: 15
Blinds: 12,000/24,000
Ante: 4,000

Nível 14 : 10,000/20,000, 3,000 ante
The three remaining players have asked for a short break. The chip counts are as followed: