€5,300 Main Event
Dias: 5
€5,300 Main Event
Dia 5 Concluído

Nível 26 : 20,000-40,000, 5,000 ante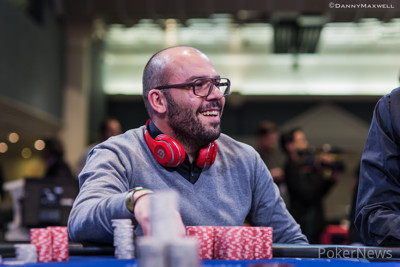 There would be no curse of the chip leader on Day 5 of the PokerStars.fr EPT Deauville Main Event as Sotirios Koutoupas led from wire to wire to take a huge lead to the final table of eight.
The 31-year-old from Thessaloniki, who finished runner-up at the EPT Prague Main Event Season 9, is looking to become the first Greek player to win an EPT and he did his chances the world of good on Day 5. He came into the day with a slight chip lead and in the two and a half levels that it took to go from 16 to 8 he just kept on extending it. He'll start the final table with almost double the chips of Eugene Katchalov who is second. Should Katchalov be the one hoisting the trophy tomorrow he'll become just the sixth player to complete the live Triple Crown. That is win a WPT Main Event, a WSOP Bracelet and a EPT Main Event title.
Koutoupas was responsible for three eliminations on Day 5, those of Jean-Yves Malherbe, Dimitri Holdeew and the one that set the final table. On the final hand of the day he opened with pocket eights, was flat called by Harry Law and then called Florian Ribouchon's sixteen big blind three-bet squeeze shove. Ribouchon had pocket sixes, missed and just eight remained. This is how those eight stack up:
| Seat | Player | Chip Count | Big Blind |
| --- | --- | --- | --- |
| 1 | Oliver Price | 1,735,000 | 43 |
| 2 | Harry Law | 3,130,000 | 78 |
| 3 | Carlo De Benedittis | 685,000 | 17 |
| 5 | Eugene Katchalov | 3,280,000 | 82 |
| 6 | Anthony Lerust | 1,295,000 | 32 |
| 7 | Eli Heath | 2,475,000 | 62 |
| 8 | Rustem Muratov | 1,070,000 | 27 |
| 9 | Sotirios Koutoupas | 6,400,000 | 160 |
The other seven finalists all got there in their own way. For Team PokerStars Pro Eugene Katchalov his was a day that initially looked to be going awry. He lost a big pot to JP Kelly to dip to 35 big blinds but that was as bad as it got for the Triple Crown chasing Ukrainian. He won some back from Kelly and then eliminated Tatu Maenpaa in 14th place with
against
. That pot gave him a million chip boost and took him to 2,236,000. He then put on a short-handed poker clinic and won the next million almost without showdown. As Nicolas Levi said in the commentary booth, "He's playing pots in position and chipping up with little risk." He'll start second tomorrow and the Triple Crown dream is well and truly alive.
Just four big blinds behind Katchalov in third is Harry Law, one of three Brits to make the final table. He was responsible for the first exit of the day when his
went from worst to first against Bahram Chobineh's
on a
flop. That aside, the player who admits he doesn't play a lot of tournaments, just quietly went about his business and flew under the radar.
His British counterpart Eli Heath was another for whom just standing still whilst others fell around him seemed to work out pretty well. Having a chipped up Katchalov on his left all day didn't help of course, but it wasn't until a final flourish that Heath would build the stack that sees him start fourth tomorrow. The biggest pot he played all day came with ten players left and would see him eliminate JP Kelly.
The action was folded to Eli Heath on the button, he raised to 45,000, Eugene Katchalov called from the small blind and JP Kelly then three-bet 190,000 from a stack of 1,046,000. Back on Heath he four-bet to 340,000, Katchalov folded but Kelly moved all-in for 1,046,000 and Heath said, "yeah I call."
Heath:

Kelly:
"What a brave four-bet call with eights" said Nicholas Levi in the commentary booth, "he's got to be happy to see ace-king," added Joe Stapleton. Heath was even happier after the
board kept his pair of eights in front. Will the bravery be rewarded with victory tomorrow?
Of those who find themselves in the 'bottom half' then Oliver Price is perhaps the one who has most cause to consider himself unlucky. He came into the day 6/16 and steadily built his chip stack all day, mostly at the expense of Alex Goulder. First he won a bit pot with a raise on the river and then took Goulder's remaining thirty big blinds in a classic race to eliminate Goulder in eleventh. At that point he had 2,700,000 but then ran pocket jacks into Anthony Lerust's pocket kings to drop back into the pack. For Lerust that pot kept him alive and he'll start in sixth tomorrow.
Although he's the second shortest stack going to the final table, Rustem Muratov has already surpassed even his wildest expectations. Muratov qualified for EPT Deauville on PokerStars for just €82 and as well as reaching the final table today, he also won the EPT Deauville Skrill Last Longer banking another €5,300. The 41-year-old from Kazan in Tatarstan, Russia, is headed for the biggest live cash of his life. Muratov, who works as a distributor for the electrical equipment company, is guaranteed at least €63,900 for making the EPT Deauville final and whatever happens, is already up at least €69,118. This is his first ever EPT, only his fourth live tournament, and is by some way the biggest buy-in event he's competed in. He said: "I'm already very happy. My best result before now was winning the seat for this event!"
He was one of the shortest stacks at the start of the day but doubled up through Tatu Maenpaa and kept his stack ticking over mostly by three-bet shoving.
Whilst Carlo De Benedittis might be the shortest in terms of chips, he might just have the biggest personality. He qualified for just €20 and every day since he got to Deauville, he's made it a mission to get nearer and nearer the sea; today he dipped his toe in. It was freezing but he's now thinking that he might have to go for a swim tomorrow to keep up his good luck. At one stage today he hit a one outer against Sotirios Koutoupas to survive, and was so relaxed he got his phone out to photograph the board. Then against the same player, who was the overwhelming chip leader at the time, he three-bet half his stack on a
flop and showed
. He can play a bit too and eliminated Alexandre Amiel in twelfth place in a pair against pair situation.
Play will start tomorrow with 41 minutes and 34 seconds left in the level. A reminder that the final table is 'cards up' and as such we'll be blogging on a one hour delay so live coverage on here and pokerstars.tv will start at 1pm local time.
Nível 26 : 20,000-40,000, 5,000 ante
| Seat | Player | Chip Count | Big Blind |
| --- | --- | --- | --- |
| 1 | Oliver Price | 1,735,000 | 43 |
| 2 | Harry Law | 3,130,000 | 78 |
| 3 | Carlo De Benedittis | 685,000 | 17 |
| 4 | Eugene Katchalov | 3,280,000 | 82 |
| 5 | Anthony Lerust | 1,295,000 | 32 |
| 6 | Eli Heath | 2,475,000 | 62 |
| 7 | Rustem Muratov | 1,070,000 | 27 |
| 8 | Sotirios Koutoupas | 6,400,000 | 160 |
Jogador
Fichas
Oscilação

Sotirios Koutoupas

6,400,000

1,229,000

Eugene Katchalov

3,280,000

72,000

Team Pro

Harry Law

3,130,000

130,000

Eli Heath

2,475,000

75,000

Oliver Price

1,735,000

-234,000

Anthony Lerust

1,295,000

-280,000

Rustem Muratov

1,070,000

-43,000

Carlo De Benedittis

685,000

-144,000

Nível 26 : 20,000-40,000, 5,000 ante
Made the final table of 8 with 3.28M !! Avg is 2.5M we finish up tomorrow. Playing for €614K! #EPTDeauville #EPTLive
Follow @EugeneKatchalov

Oooh. @EPTLive may be coming back quicker than you think. Don't go anywhere! #EPTLive #EPTDeauville
Follow @J_Hartigan

Nível 26 : 20,000-40,000, 5,000 ante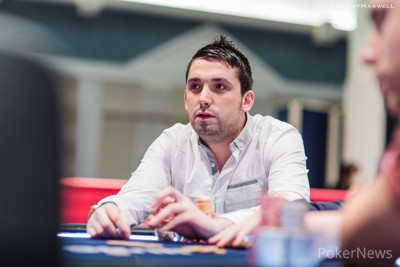 Chip leader Sotirios Koutoupas opened under the gun plus one to 80,000 a min raise. Koutoupas had been involved in several pots since the start of the 9 handed situation and he got a call from another active player; Harry Law.
Law, seated under the gun plus two, wasn't the one ending up being the most involved though. After Law called it was Florian Ribouchon shoving all in from the cutoff for 620,000 (almost 16 big blinds). Koutoupas made the call and after Law folded we had what could be the last showdown of the day.
Ribouchon had
in front of him and needed to look for improvement as Koutoupas tabled
.
No help for the Frenchman on a
board and he exited in 9th place. He takes home €50,530. With that the final eight players are done for the day, they will return tomorrow to play the final table.
We'll be back shortly with an end of day recap and the official chip counts.

Nível 26 : 20,000-40,000, 5,000 ante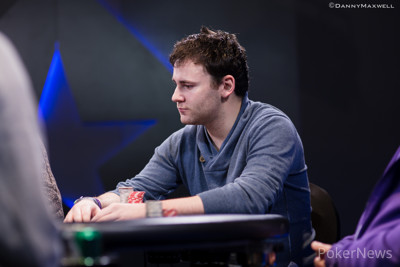 After collecting several EPT Main Event cashes in the past and then taking some time away from the tour, JP Kelly made his deepest EPT Main Event ever this week by making it all of the way to 10th here at EPT10 Deauville, as reported on the PokerStars blog.
Nível 26 : 20,000-40,000, 5,000 ante
Down to just 690,000 Florian Ribouchon elected to open shove from under-the-gun+1, he got no action though and picked up some much needed chips.

Nível 26 : 20,000-40,000, 5,000 ante
eli Heath opened to 80,000 from the under the gun plus two position. A couple of spotd down was his countryman Chun Ho Law on the button. Law made it 205,000 to go, which scared both blinds easily. Action back on Heath who made the call.
Heath checked to Law on
. Law continued his pre flop agression with a 225,000 follow up bet. Heath called.
The
hit the turn and for the second time in a row Heath checked. Law now bet 450,000 and Heath folded rather quickly.
Nível 26 : 20,000-40,000, 5,000 ante
On the second hand of the level Eli Heath took a pot from Anthony Lerust, further cementing his position as the third biggest chip stack.
Lerust opened to 80,000 from under-the-gun, Heath smooth called and everyone else folded. "These should be some pretty strong ranges given we're nine handed on the final table bubble," said Joe Stapleton in the commentary booth. On the
flop Lerust bet 100,000 and Heath smooth called.
The
hit the turn, Lerust checked to Heath and folded when the Brit bet 180,000.
Nível: 26
Blinds: 20,000/40,000
Ante: 5,000