Nível 24 : 12,000/24,000, 3,000 ante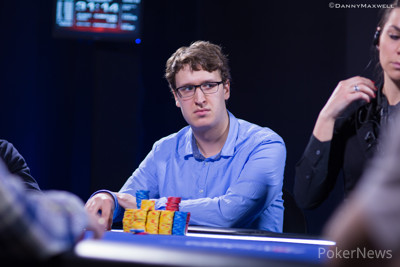 At the start of the fourth day of the PokerStars.net European Poker Tour Main Event in Prague there were only 61 players left from the 1,007 runners that began the event. The goal was to play down to 16, or make it through five full levels. After five 90-minute levels of play, the players called it quits and 22 players packed their bags with chips and hopes of eternal EPT glory.
At the beginning of the day, many supporters might have expected Ludovic Lacay to be one of the players to make the transition to the fifth day. Not only did the Frenchman and former EPT winner already have lots of experience, he also had more chips than anyone else left. But for Lacay, today was one of those days you don't want as a poker player. Everything went wrong. Lacay did everything he could, but the poker gods had a different story in mind. Instead of a tale of successful hero calls and monster bluffs, it became a nightmare full of coolers, bad beats and ill-timed bets that wouldn't have the right outcome.
Right of the bat, Lacay faced off with Lasell King where Lacay couldn't continue in a four-bet pot where the flop came king high. Not much later, Max Silver got the best of Lacay with aces versus kings. Before we knew it, Lacay was one of the medium stacks in the room as opposed to the monstrous chip leader he once was. Ori Hasson finally laid down the hammer when his nine-ten made two pair against Lacay's top pair and top kicker.
Most of that other favorites that progressed did live up to the high hopes of the fans on the rail. All eyes were on Ole Schemion at the beginning of the day and he passed with flying colors. People expected a show from the 21-year-old high roller, and he didn't disappoint.
All day long he was the center of attention at the live-streamed feature table, but he did not succumb to the pressure. He opened every other hand, raised and check-raised like his life depended on it and made light value bets like he was recording an instructional video. Schemion once more showed the world why he's on the verge to become the Global Poker Index Player of the Year. Go figure, the German youngster isn't even old enough to compete in the World Series of Poker yet, but he's about to overtake poker superstar Daniel Negreanu in the GPI POY race.
There was one person today who was able to get the best of Schemion more than once, though. Max Silver is the class example of the dream envisioned by PokerStars coming true. PokerStars thought it would be good to have local tours in as many countries as possible with tournaments that had lower buy-ins to get players ready for the big leagues. Silver did exactly that in the UKIPT and made the transition to the EPT where he is now a regular. Most players might not want to admit it, but players like Schemion can be intimidating, a player you might want to avoid and certainly not look up. Not Silver, though, who apparently couldn't wait to cross swords with his German opponent. Silver won the better half of the pots played between the two, a combination of controlled audacity, a good feel for the game and maybe a bit of run good. Silver seemed to have Schemion's game figured out and hit the right cards at the right time, too.
Stephen Chidwick is the next of the well-known names to make it to Day 5. Chidwick, who has been playing and winning online for years now, really seems to have the hang of playing live now. Last summer alone, he cashed a staggering nine times at the WSOP, and right before this EPT Prague Main Event he finished third in the Eureka Prague Main Event for €92,500. He continues his streak with a deep run here, showing a stone poker face akin to the likes of Phil Ivey and Patrik Antonius. Chidwick is no longer the young online star trying to pull the same tricks that work so well online. He has evolved to a confident live player with a death stare that would even impress Doyle Brunson.
Chidwick was playing side by side with Dimitri Holdeew. The two of them have plenty of history this week as they faced each other in the Eureka Prague Main Event. After Chidwick finished third, Holdeew won it. Now, they're back at it again
Like Chidwick, Holdeew wasn't holding back at all. He showed an agressive playing style the German group of regular players are so well known for. Holdeew might not yet be a household name, but he could very well be in two days. He has the mindset and skills of a champion, which has proved clear after seing him play days of poker at the highest level.
And then there's Andrew Chen.
The soft-spoken Canadian is making another deep run in an EPT Main Event, on track to make his fourth final table. Back in 2008, he finished third here in the Czech capital, the year Salvatore Bonavena won. Will this year be the time he can really seal the deal? He has a North American Poker Tour title to his name, but a title here would match him with his good friend, PokerStars Team Online member Mickey Petersen. Nothing would be sweeter for Chen than the trophy and those €889,000 that are awaiting the winner.
During the fourth day of an EPT, there's not only room for the succes stories you've read above. While there are people that thrive, there are others that get unlucky; outdrawn at that one super-important moment in their tournament life or looked up light by someone that wasn't supposed to be in the hand in the first place.
"Oh wow, sh*t!" we heard, for example, coming from former World Poker Tour champion Jonathan Roy as he saw his dream of becoming winning an EPT winner crushed when he ran his kings into Chidwicks aces. Or Ana Marquez, who saw her ace-king get outdrawn by ace-five. Rudi Johnsen lost aces to king jack-suited, and Jesper Winserling lost with aces to Ciaran Burke's ace-jack on a jack-high flop.
Some players are probably still shaking their heads now. Others have their chins up and are dreaming of reaching that final table.
Day 5 Table and Seat Draw
| Table | Seat | Name | Chips |
| --- | --- | --- | --- |
| 1 | 1 | Jorma Nuutinen | 1,508,000 |
| 1 | 2 | Nikita Nikolaev | 678,000 |
| 1 | 3 | Tomasz Kowalski | 764,000 |
| 1 | 4 | Zdravko Duvnjak | 874,000 |
| 1 | 5 | Georgios Sotiropoulos | 888,000 |
| 1 | 6 | --empty-- | -- |
| 1 | 7 | Ole Schemion | 2,700,000 |
| 1 | 8 | Dimitri Holdeew | 1,200,000 |
| | | | |
| 2 | 1 | Erwann Pecheux | 872,000 |
| 2 | 2 | --empty-- | -- |
| 2 | 3 | Ori Hasson | 1,758,000 |
| 2 | 4 | Andrew Chen | 1,134,000 |
| 2 | 5 | Sigurd Eskeland | 1,264,000 |
| 2 | 6 | Lasell King | 1,065,000 |
| 2 | 7 | Tapio Vihakas | 1,574,000 |
| 2 | 8 | Ka Kwan Lau | 1,350,000 |
| | | | |
| 3 | 1 | Max Silver | 3,987,000 |
| 3 | 2 | Tamer Kamel | 522,000 |
| 3 | 3 | Romain Chauvassagne | 603,000 |
| 3 | 4 | Stephen Chidwick | 2,084,000 |
| 3 | 5 | Radek Stockner | 1,246,000 |
| 3 | 6 | Ihar Soika | 889,000 |
| 3 | 7 | Artem Metalidi | 322,000 |
| 3 | 8 | Julian Track | 3,010,000 |
On the fifth day, play will finish when there's only eight players left. Level 25 (15,000/30,000/3,000) will begin 12 p.m. CET on Tuesday, Dec. 17. You can follow the action right here on PokerNews.com, both in writing and on the live stream page where PokerStars is again showing every hand of the feature table.