€10,300 High Roller
Dias: 2
€10,300 High Roller
Dia 2 Concluído
Nível 20 : 8,000-16,000, 2,000 ante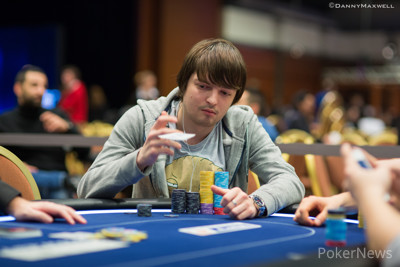 On Tuesday, the Season 10 European Poker Tour Main Event went from 22 players to the final table of eight in record time. On the other hand, the €10,000 High Roller was a long and grueling affair as 84 players looked to play down to a final table of their own. After ten levels of play, the action came to an end with ten players remaining. Leading the way with 1.404 million is Russia's Dmitry Yurasov, though he must contend with the likes of Team PokerStars Pro Vanessa Selbst, current EPT10 Player of the Year points leader Thomas Muhlocker, and EPT champ Mike "Timex" McDonald.
Thanks to seven reentries before the start of Day 2, the total number of entries jumped to 176 (137 unique players and 39 reentries), which was up considerably from Season 9 (108 unique players and five reentries). That created a prize pool of €1,724,800 that was to be distributed to the top 27 players, with a healthy €382,050 reserved for the eventual winner.
Action recommenced in Level 11 (1,000/2,000/300) and the players hit the rail in droves. Among those to fall in the early goings were Radif Sharifullin, Paul Volpe, Morten Klein, Robin Ylitalo, Roman Korenev, Dan Shak, and Team Online's Mickey Petersen and Isaac Haxton.
With 28 players remaining, the money bubble was on and it'd be another Team Pro that would earn the title of bubble boy. In Level 16 (3,000/6,000/1,000), Eugene Katchalov got his stack all in holding the
and was in bad shape against Muhlocker, who held the
. The sevens were in front as the board ran out an uneventful
. Katchalov exited in 28th place and guaranteed the remaining players a minimum €17,250 payday.
From there the in the money eliminations began to pile up and included Shannon Shorr (27th - €17,250), Steve O'Dwyer (26th - €17,250), Martin Kahbrel (25th - €17,250), Martin Finger (24th - €17,250), Bertrand "ElkY" Grospellier (23rd - €18,950), and Day 1 chip leader Georgios Karakousis (22nd - €18,950).
In Level 17 (4,000/8,000/1,000), 2013 PokerStars Caribbean Adventure champ Dimitar Danchev opened under the gun plus one with a min-raise to 16,000. Action folded to EPT7 Barcelona champ Kent Kundmark in the big blind. He checked his cards and pushed his short stack to the middle. Danchev called and it was a coin flip situation with Lundmark holding the
against the
of his Bulgarian foe. The ace-jack gained some additional outs on the turn but other than that, there really wasn't any excitement as the board ran out
. Lundmark took home €18,950 for his 21st-place finish, Danchev would actually follow him out the door soon after in 20th place.
From there, Jonathan Little (19th - €20,700), Ami Barer (18th - €20,700), Akin Tuna (17th - €23,300), Bryn Kenney (16th - €23,300), Emil Ohlsson (15th - €25,850), Ariel Mantel (14th - €25,850), Joao Vieira (13th - €28,450), Andreas Eiler (12th - €28,450), and Benjamin Pollak (11th - €32,800) all hit the rail before play was concluded for the night at the end of Level 20.
The third and final day will begin at 12 p.m. local time on Wednesday, which is the same time the Main Event will conclude. Of course the PokerNews Live Reporting Team will be on hand to cover the conclusions of both.
In the meantime, watch Sarah Grant test poker pros on their Christmas movie knowledge:
Nível 20 : 8,000-16,000, 2,000 ante
Jogador
Fichas
Oscilação

Dmitry Yurasov

1,404,000

444,000

Olivier Busquet

1,239,000

69,000

Thomas Muhlocker

1,150,000

50,000

Andy Seth

1,022,000

-74,000

Max Heinzelmann

939,000

-386,000

Vanessa Selbst

850,000

-25,000

Jeffrey Rossiter

819,000

123,000

Oleksii Khoroshenin

768,000

-412,000

Ivan Soshnikov

313,000

-54,000

Mike McDonald

272,000

132,000
Nível 20 : 8,000-16,000, 2,000 ante
The clock has expired in level 20, which means Day 2 action is complete. The remaining ten players will return tomorrow to play down to a winner. Stay tuned as we'll have full chip counts and a full recap of the day's action in just a bit.
Nível 20 : 8,000-16,000, 2,000 ante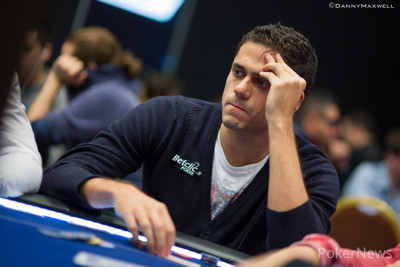 Action folded to France's Benjamin Pollak in the small blind and he opted to move all in for 237,000. Team PokerStars Pro Vanessa Selbst looked down at her cards, liked what she saw, and made the call.
Pollak:

Selbst:
Both players held an ace, which meant it came down to the kicker. Selbst was best in that department, and she maintained the lead as the board ran out a dray
. Pollak nodded and then made his way to the payout desk in 11th place to collect €32,800.
Nível 20 : 8,000-16,000, 2,000 ante
Ivan Soshnikov raised from the small blind and Jeffrey Rossiter moved all in for 348,000 from the big blind. Soshnikov took a long time to think. Too long one of the players at the table thought and the clock was called. 30 seconds in Soshnikov made the call. Rossiter had
against the Soshnikov of
of Soshnikov. The board ran out [js r4s qs 9c 6s] giving Rossiter the nut flush on the river.
Nível 20 : 8,000-16,000, 2,000 ante
With just half an hour to play a big pot developed between Mike McDonald and Thomas Muhlocker. McDonald raised to 32,000 and Muhlocker three-bet to 85,000. They saw a flop of
, Muhlocker bet 75,000 and McDonald called. Turn
prompted a check from Muhlocker and a bet of 100,000 from McDonald. The river was the seemingly inconsequential
which Muhlocker checked. MCDonald checked behind and rolled his eyes in disbelief when Muhlocker turned over
for a rivered set. McDonald just mucked his cards.
Nível 20 : 8,000-16,000, 2,000 ante
Ivan Soshnikov opened for 32,000 and cleared the field all the way around to Olivier Busquet, who put in a big raise from the big blind. Soshinkov, who had been raised off a hand the deal before, rolled his eyes and then called off for 353,000.
Busquet:

Soshnikov:
It was a flip, and this time the proverbial coin would come down in Soshnikov's favor as the board ran out a safe
.
Nível 20 : 8,000-16,000, 2,000 ante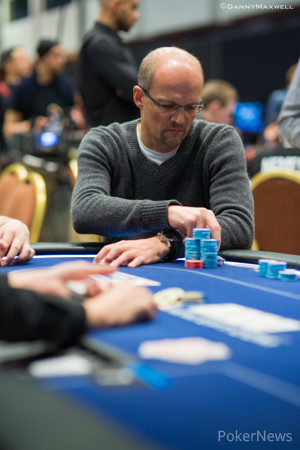 Action folded to Jeff Rossiter on the button and he opened for 32,000. Andreas Eiler proceeded to move all in from the small blind for 299,000 and Ukraine's Oleksii Khoroshenin thought for about 25 seconds before making the call. Rossiter quickly folded and it was off to the races.
Eiler:

Khoroshenin:
Eiler got it in good and made it through the
flop, though Khoroshenin did pick up a gutshot Broadway draw. The
turn gave Khoroshenin some counterfeit outs to a queen, but it'd be the
that spiked on the river that would give him the win.
Nível: 20
Blinds: 8,000/16,000
Ante: 2,000