£50,000 Super High Roller
Dias: 2
£50,000 Super High Roller
Dia 2 Concluído
Nível 18 : 25,000-50,000, 5,000 ante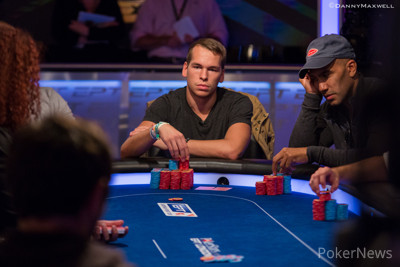 Season 10 of the European Poker Tour continued on Saturday with Day 2 action from the £50,000 Super High Roller. After nearly ten levels of play, the field was whittled down to the final table of eight with EPT8 Prague champ and World Series of Poker bracelet winner Martin Finger and his chip stack of 4.74 million leading the way.
Day 1 had attracted 38 unique players that accounted for 14 re-entries, but registration and re-entries were open until the start of play on Saturday. Viktor "Isildur1" Blom, Patrik Antonius and Dhruvin Patel were among the players to fire their first bullet on Day 2, while Erik Seidel and Philipp Gruissem, who had fired three bullets on Day 1, both re-entered (which meant the young German had £200,000 invested in the tournament).
The day kicked off with a bevy of eliminations including those of Igor Kurganov, Patel, Joni Jouhkimainen, Jason Mercier, Max Altergott, Jonathan Duhamel, Dan Smith, Richard Yong, and Gruissem.
Gruissem hit the rail (for the fourth time) in Level 10 with the blinds at 4,000/8,000/1,000. It happened after he opened for a raise with
only to have Antonius, who held the same hand, three-bet to 42,000. Talal Shakerchi proceeded to four-bet to 76,000, Gruissem shoved for right around 230,000, and Antonius moved all in over the top. Shakerchi called off for roughly 330,000 and tabled
, which held to win the monster pot. Shakerchi nearly tripled while simultaneously eliminating Gruissem and crippling Antonius.
Seidel was the next to go after suffering a bad beat at the hands of Johannes Strassmann, and he was followed out the door by Rick Salomon, Fabian Quoss, Mike Watson, Shawn Buchanan, Sam Trickett, Shakerchi and Haralabos Voulgaris.
Voulgaris fell in a monster hand in Level 12 with the blinds at 6,000/12,000/2,000. It began when Finger opened for 25,000 from the cutoff and Voulgaris three-bet all in for 209,000 from the button. The small blind folded and then Jeff Gross, who had both players covered, asked for exact counts on both stacks before moving all in over the top. Finger snap-called off for 668,000.
Voulgaris:

Finger:

Gross:
"What am I supposed to do there?" Gross asked of no one in particular before letting out a few expletives. Indeed, it was a big cooler, and there would be no surprises as Finger left both his opponents drawing dead on the turn after the board ran out
. Voulgaris was eliminated on the hand, and Gross would join him on the rail a short time later.
Others who failed to survive the day were Dan Shak, Andrew Chen, John Juanda, Sorel Mizzi, Viktor Blom, Daniel Negreanu, Steven Silverman, Paul Newey, Steve O'Dwyer and Ole Schemion.
In Level 17 (20,000/40,000/5,000), Christoph Vogelsang on the button and he raised to 90,000 and Schemion thought for about 40 seconds before moving all in for 925,000. Vogelsang leaned back in his chair and hit the tank for a brief spell.
"Call," Vogelsang eventually whispered. Schemion confidently tabled the
, and he was well out in front of Vogelsang's
. In fact, according to the PokerNews Odds Calculator, Schemion had a 71.11% chance of surviving the hand while Vogelsang would come from behind just 28.59%.
Much to Schemion's dismay, this was one of those times as the
flop paired Vogelsang's ace. A clearly frustrated Schemion slapped the table to say, "Good game." The dealer
appeared on the turn, and after the
completed the board on the river, Schemion made a beeline out the door. A little while later, Mike "Timex" McDonald finished as the bubble boy after he failed to win a race against Strassmann.
The third and final day will kick off at 1 p.m. UK time and will pick up with 34 minutes remaining in Level 18 (25,000/50,000/5,000). Since there is a one-hour delay on the live stream, our live updates won't begin until 2 p.m. Be sure to check back then as we will bring you all the hands, chip counts, and photos on the way to crowing a winner.
Nível 18 : 25,000-50,000, 5,000 ante
We'll have a full recap of the Day 2 action, so stay tuned...
Nível 18 : 25,000-50,000, 5,000 ante
Jogador
Fichas
Oscilação

Martin Finger

4,740,000

-30,000

Johannes Strassmann

2,215,000

Bill Perkins

2,005,000

-55,000

David Benefield

1,315,000

-5,000

Christoph Vogelsang

1,215,000

-5,000

Timothy Adams

1,135,000

-5,000

Tobias Reinkemeier

845,000

-5,000

Patrik Antonius

745,000

-5,000
Nível 18 : 25,000-50,000, 5,000 ante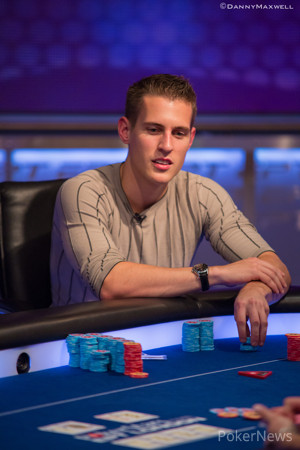 Mike McDonald was seated in middle position and moved all in for 665,000. Johannes Strassmann moved all in over the top for 1,430,000 and all the other players got out of the way.
McDonald:

Strassmann:
The board ran out
and McDonald was knocked out. The remaining eight players are guaranteed at least £109,455 and will return tomorrow!
Nível 18 : 25,000-50,000, 5,000 ante
Jogador
Fichas
Oscilação

Martin Finger

4,770,000

570,000

Bill Perkins

2,060,000

-345,000

Johannes Strassmann

1,435,000

35,000

David Benefield

1,320,000

-90,000

Christoph Vogelsang

1,220,000

-105,000

Timothy Adams

1,140,000

-190,000

Tobias Reinkemeier

850,000

105,000

Patrik Antonius

750,000

-215,000

Mike McDonald

670,000

30,000
Nível 18 : 25,000-50,000, 5,000 ante
Johannes Strassmann raised on the button and Martin Finger defended from the big blind to create a pot of 280,000. When the flop came down
, Martin check-called a bet of 125,000 and then both players checked the
turn and
river.
Finger tabled the
for a pair of threes, which was good as Strassmann mucked his hand.
Nível 18 : 25,000-50,000, 5,000 ante
It's been quite slow the last 15 minutes or so. The short stacks have shoved a few times, but every time they swipe the blinds and antes. The blinds are big, so we're guessing the bubble bursts sooner than later.
Nível 18 : 25,000-50,000, 5,000 ante
Tobias Reinkemeier moved all in preflop for just 340,000 chips and the action was folded to Johannes Strassmann who called from the small blind.
Reinkemeier:

Strassmann:
The board ran out
and Reinkemeier doubled up.
Nível: 18
Blinds: 25,000/50,000
Ante: 5,000