Aussie Millions Highlights
Dias: 5
Aussie Millions Highlights
Dia 5 Concluído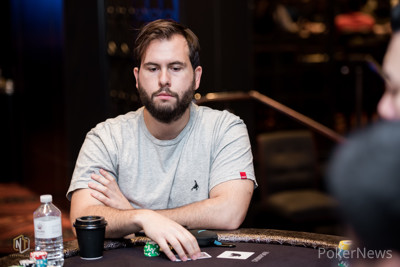 Less than 12 months on from being named in the Australian Poker Hall of Fame, Jonathan Karamalikis has bagged the chip lead with 14 players remaining in the 2020 Aussie Millions Opening Event.
Coming into the day slightly below average, the Australian navigated his way through the field of 221 that started the day to sit with over 2,349,000 in chips, slightly ahead of Michael Egan who bagged up 2,267,000.
Karamalikis, who sits with almost US$5 million in lifetime cashes, last won an Aussie Millions Championship ring back in 2010 after winning a A$1,650 Bounty Event for A$122,700. He also has four previous final tables at the prestigious festival stretching back to 2008.
Opening Event End of Day 2 Chip Counts
| Player | Chip Count |
| --- | --- |
| Jonathan Karamalikis | 2,349,000 |
| Michael Egan | 2,267,000 |
| Jung Woon An | 1,660,000 |
| Ryan Henry | 1,455,000 |
| Egor Bulychev | 1,442,000 |
| Timothy Morgan | 1,348,000 |
| Jo Snell | 1,281,000 |
| Samuel Jefferies | 1,230,000 |
| Andrew Shanahan | 998,000 |
| Jason Elvliano | 803,000 |
| Zack Cowrie | 613,000 |
| Sohrab Rezvanpour | 513,000 |
| Bo Jin | 473,000 |
| Robbie Stewart | 332,000 |
The main thing on the minds of players at the start of the day was the money bubble, with 162 players guaranteed a cash of A$2,730. Loni Harwood, Joey Weissman and former Opening Event champion Benedikt Eberle were all eliminated before the bubble eventually burst midway through the second level of the day.
Eliminations in the money included David Yan (139th - $3,070), Jackson Warne (132nd – $3,070), Kristy Moreno (123rd - $3,415), 2010 Aussie Millions Main Event winner Tyron Krost (109th - $3,415), Ivan Deyra (101st - $3,755), Marc Macdonnell (93rd - $3,755), Corentin Ropert (78th - $4,095), Quan Zhou (75th - $4,095), Gautam Dhingra (73rd - $4,095).
H.O.R.S.E. runner-up Julien Sitbon (71st - $4,435) also cashed, along with fellow European Bart Lybaert (58th - $4,435) and Anthony Spinella (39th - $5,290), Daniel Hachem (32nd - $5,975), Martin Jacobson (21st - $9,555) as well as start-of-day chip leader David Tang (18th - $11,095).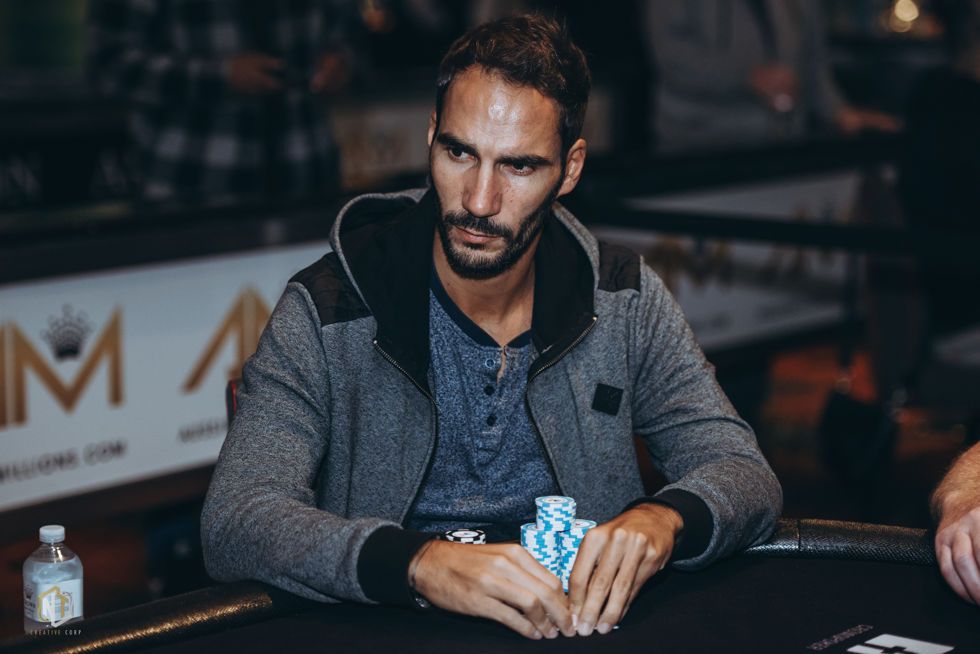 Opening Event Remaining Payouts
| Place | Payout (AUD) | Payout (USD) |
| --- | --- | --- |
| 1 | $341,325 | $235,514 |
| 2 | $210,775 | $145,435 |
| 3 | $125,445 | $86,557 |
| 4 | $90,625 | $62,531 |
| 5 | $61,450 | $42,401 |
| 6 | $44,375 | $30,619 |
| 7 | $37,550 | $25,910 |
| 8 | $32,425 | $22,373 |
| 9 | $27,315 | $18,847 |
| 10 | $20,825 | $14,369 |
| 11-12 | $16,555 | $11,423 |
| 13-14 | $13,825 | $9,539 |
The tournament resumes on Thursday, January 9 at 12:10 pm and will play down to a winner. Stay tuned to PokerNews for continued highlights from the 2020 Aussie Millions.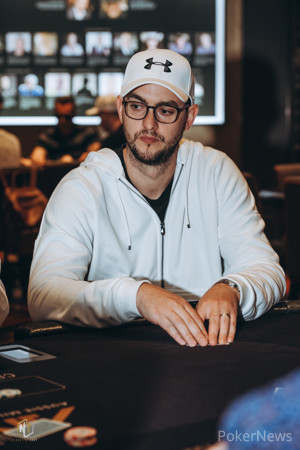 It's no exaggeration that Tyron Krost is the Charlie Bucket of the poker world. Back in 2012, he defeated seven of the eight former Aussie Millions Main Event winners to win the Aussie Millions Tournament of Champions.
The prize for this feat? Not a chocolate factor à la Willy Wonka, but a "Golden Ticket" nevertheless that would grant him a lifetime of buy-ins to the $10,000 Aussie Millions Main Event.
"I definitely look forward to it every year," said Krost. "I've got the Golden Ticket so it brings me back every year! It always makes me feel young coming back. It's good to play poker because I feel really young when I play it!"
Now ten years after his victory, Krost runs a family-owned office furniture business, with offices in Melbourne and Sydney. However, we spotted him in the Opening Event, and told PokerNews it was an "absolute pleasure" to be back.
"I think Crown run a really great event. There's a good range of buy-ins, from the very, very big ones to the smaller ones and there's something to play every day. There are a great selection of satellites too. It's one of those events that you go to and are busy on a lot of the days. What they offer is really good."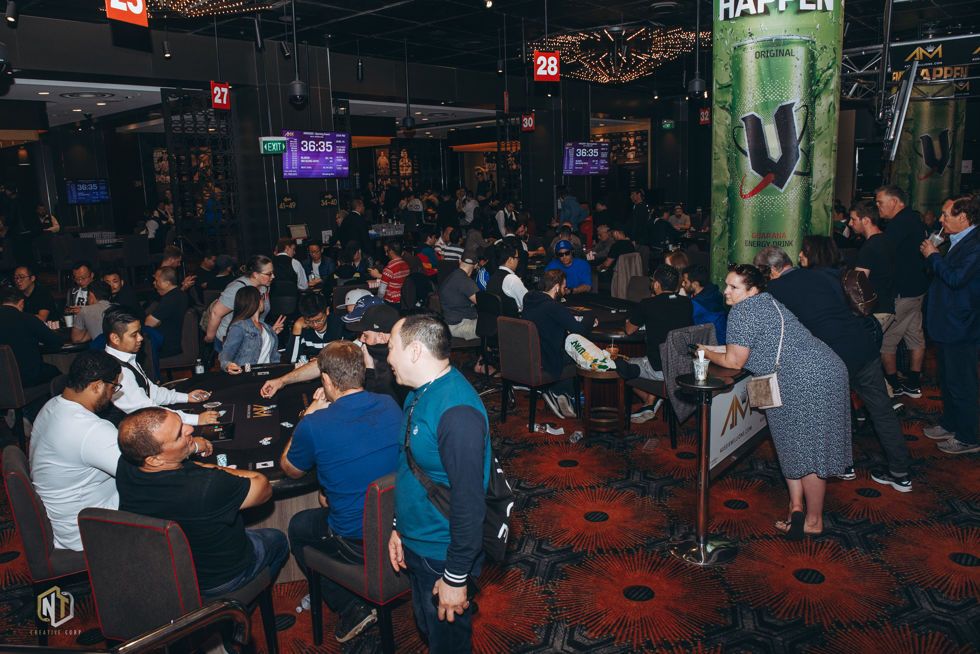 With not just the poker community, but the entire world looking back at the last decade, Krost says that there are a lot more similarities than differences between now and when he won the Aussie Millions Main Event back in 2010.
"I'm surprised at how little has changed over the years. The field sizes are a bit bigger, which is great, so there's a lot of growth despite everything that's happened in the last ten years. The poker room looks pretty much the same if I remember correctly! The structures are probably a little bit better, and the field strength is probably marginally better - but not hugely."
Krost believes that the lack of differences may be down to Australia's location and the insulation it has from the rest of the poker world, thereby reducing the effect changes in the European or North American poker world has on it.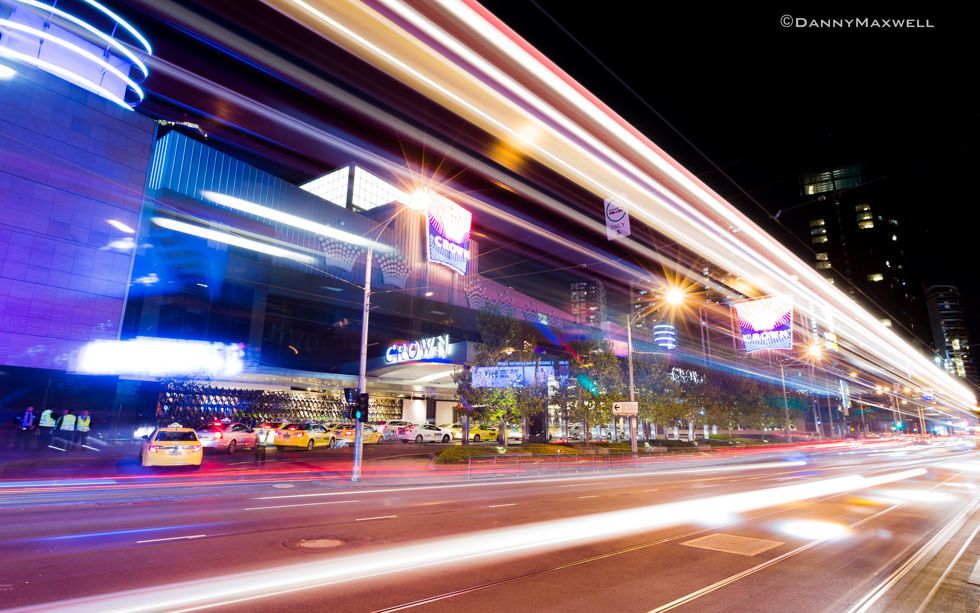 "It's a bit far away(!)," he said. "It's not like you can hope across and play something for the weekend, and therefore you've got a lot of the same people who play here every year, so there's definitely a bit of insulation. But the tournaments are pretty good here throughout the year.
"I mean, I don't play as much as I did ten years ago, but it's still really good."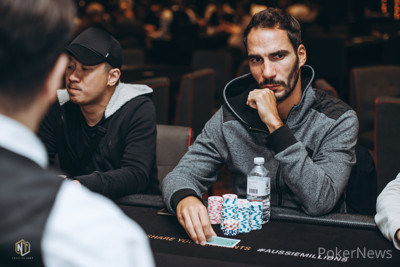 After enjoying success during his first Aussie Millions in 2019, Julien Sitbon hasn't taken it easy in the run-up to his second Championship.
Since registering a third-place finish in a A$2,500 No Limit Hold'em event last year, and apart from a summer spent in Vegas, all of Sitbon's cashes have come in Australia. Not only in Melbourne but in Sydney and the Gold Coast too.
All of this has meant that the Frenchman comes in with a wealth of experience playing against these tournaments.
"I've been in Australia for a while, and it's turned out great so far!" Sitbon told PokerNews "So I'm used to these kinds of fields. I was really excited to play the Aussie Millions before going back to Europe."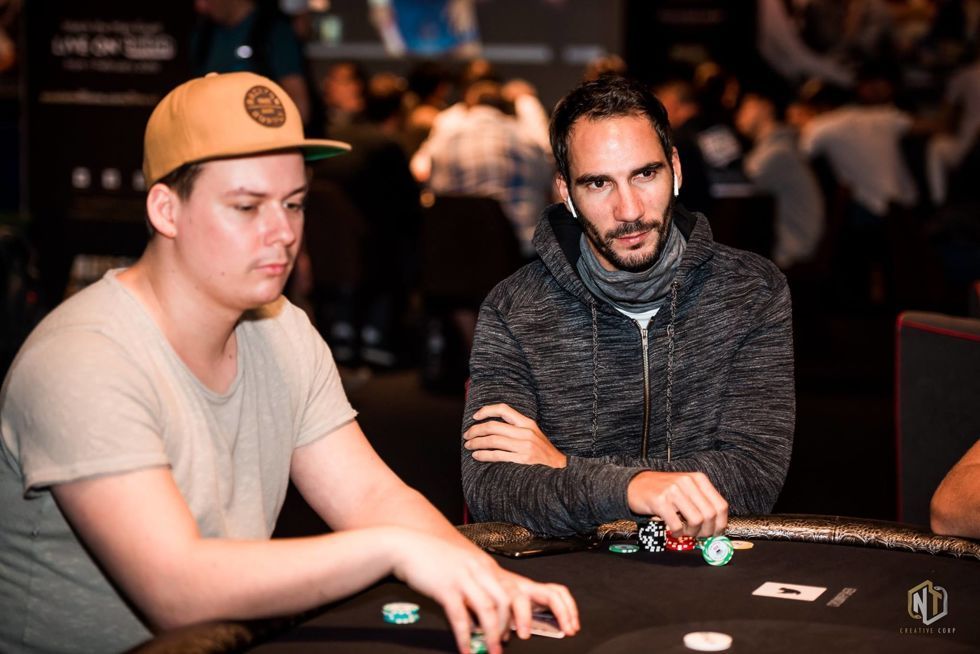 Sitbon played in the first Opening Event flight, bagging a healthy stack of 200,000. This left him with three days off that he put to good use, playing the H.O.R.S.E. event, eventually finishing second to Dzmitry Urbanovich.
"It's great when there's a H.O.R.S.E. tournament at a festival because it's a fun game to play. This was a really tough field for me because I'm not used to playing these games. I played one in Vegas two years ago, but I knew these players were good from the moment I sat down."
Despite the quality of players, Sitbon made it to heads-up with a strong chip lead but came up against one of the best mixed game players in the world.
"He was the best player [at the table] for sure. That's no exaggeration. I started with an advantage, but I knew that in H.O.R.S.E. as long as you have three or four big bets it could still change easily. A couple of times it went back to level, and at one point he only had two big bets. Then he came back, but then he went down, and then came back again."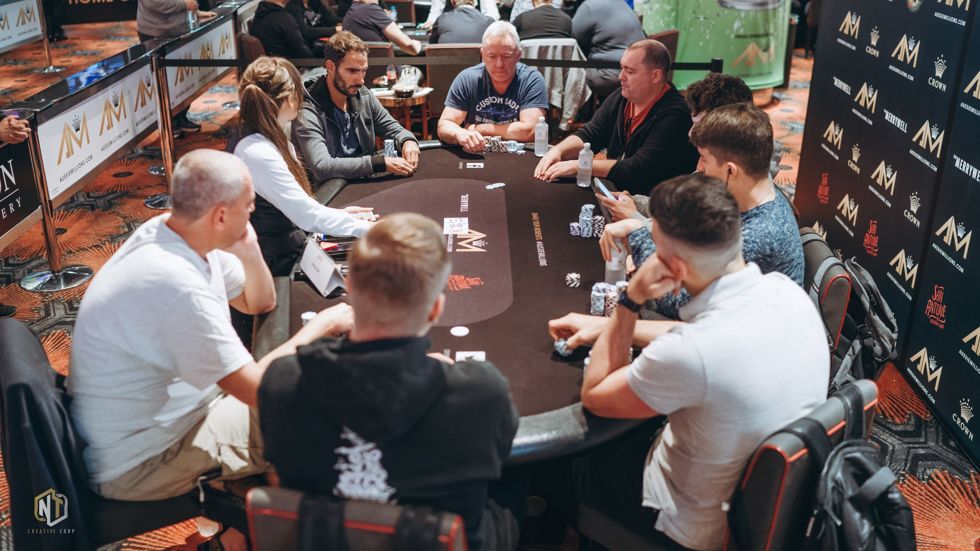 Eventually, the pair agreed to a deal and after playing on Urbanovich secured victory, taking home his first ANTON Jewellery Championship ring, something that Sitbon himself wants to get his hands on after two deep runs in as many years.
"I love visiting Crown because the people are really welcoming and really nice. I'd love to win a ring here because I love coming to Australia. It would be a great souvenir to bring back to Europe.
"So I hope it will happen. If not now, then it will be next year...maybe."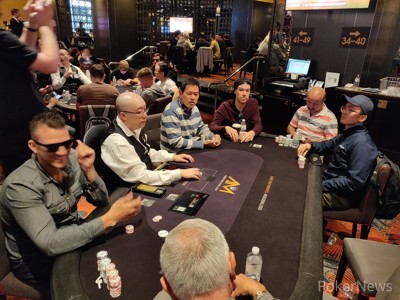 It didn't take long on Day 2 of the 2020 Aussie Millions Opening Event for the money bubble to burst, as the starting field of 221 was whittled down to 162 in just over a level and a half.
Loni Harwood was one of the players to bust short of the money, as she got her last 15 big blinds in with
but ran into the
of an opponent and failed to improve.
Joey Weissman was another early casualty, with 2018 Opening Event champion Benedikt Eberle busting six spots off the money. He was looking for a vital double with
against the
of an opponent, but two eights on the flop left him drawing dead and he was eliminated just before the bubble eventually burst in the second level of the day.
With the blinds 1,500/3,000, Javad Etaat had raised from middle position and a short-stack just flatted in middle position.
The flop came
and Etaat checked to his opponent who shoved for 17,000. Etaat called.
There was a wait for all other hands to finish, and the cards were turned over. The at-risk player showed
for an overpair to the board, but Etaat showed
for jacks full. The turn
and river
changed nothing and Etaat sent his opponent to the rail, guaranteeing the remaining players A$2,730.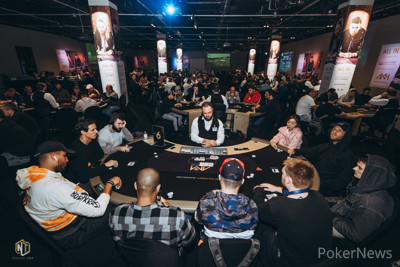 From a starting field of 1,665 total entries, just 221 players remain in the 2020 Aussie Millions Opening Event with Day 2 set to get underway later today at 12:10pm
Several well-known players are still in contention for the ANTON Jewellery Championship ring, but first they will have to make the money, with 162 players paid.
| Flight | 2019 Entrants | Players Advancing | 2020 Entrants | Players Advancing | %change |
| --- | --- | --- | --- | --- | --- |
| 1 | 166 | 18 | 242 | 28 | +45.78% |
| 2 | 191 | 24 | 255 | 38 | +33.51% |
| 3 | 213 | 26 | 307 | 40 | +44.13% |
| 4 | 446 | 56 | 268 | 35 | -39.91% |
| 5 | 736 | 138 | 593 | 80 | -19.43% |
| Total | 1,752 | | 1,655 | | |
Only six players bagged at least 200,000 in chips, with David Tang the overall chip leader with 277,300. Julien Sitbon bagged up exactly 200,000 on the first flight of the tournament. He then finished second in Event #2: H.O.R.S.E. and will be hoping for another deep run in this tournament
Opening Event Top Six Chip Counts
| Player | Chip Count |
| --- | --- |
| David Tang | 277,300 |
| Jason Giuliano | 248,100 |
| Keiron Laifoo | 237,400 |
| Nicholas Suter | 217,300 |
| Zackery Lowrie | 213,800 |
| Julien Sitbon | 200,000 |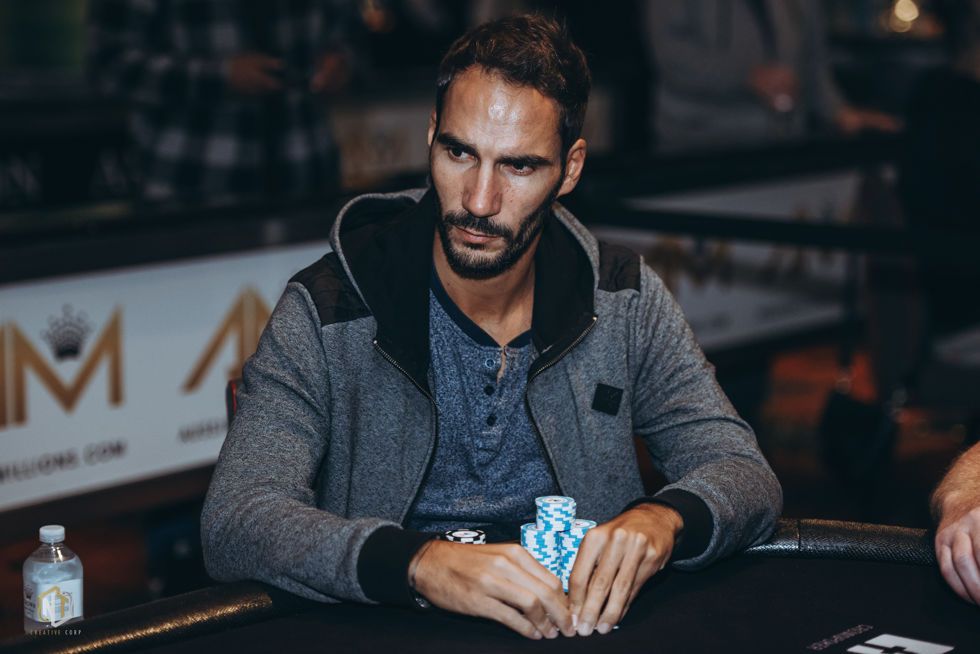 Payouts were also confirmed overnight, with a total of 162 places paid, witha min-cash worth A$2,730 (~US$1,884).
Making the final table of eight will guarantee a player A$32,452 (~US$22,373) and the winner will walk away with A$341,325 (~US$235,514) and the coveted ANTON Jewellery Championship ring.
Opening Event Payouts
| Place | Payout (AUD) | Payout (USD) | Place | Payout (AUD) | Payout (USD) |
| --- | --- | --- | --- | --- | --- |
| 1 | $341,325 | $235,514 | 19-21 | $9,555 | $6,593 |
| 2 | $210,775 | $145,435 | 22-24 | $8,360 | $5,768 |
| 3 | $125,445 | $86,557 | 25-27 | $7,165 | $4,944 |
| 4 | $90,625 | $62,531 | 28-36 | $5,975 | $4,123 |
| 5 | $61,450 | $42,401 | 37-45 | $5,290 | $3,650 |
| 6 | $44,375 | $30,619 | 46-54 | $4,780 | $3,298 |
| 7 | $37,550 | $25,910 | 55-72 | $4,435 | $3,060 |
| 8 | $32,425 | $22,373 | 73-90 | $4,095 | $2,826 |
| 9 | $27,315 | $18,847 | 91-108 | $3,755 | $2,591 |
| 10 | $20,825 | $14,369 | 109-126 | $3,415 | $2,356 |
| 11-12 | $16,555 | $11,423 | 127-144 | $3,070 | $2,118 |
| 13-15 | $13,825 | $9,539 | 145-162 | $2,730 | $1,884 |
| 16-18 | $11,095 | $7,656 | | | |
Opening Event Day 2 Seating Draw
| table | Seat | Player | Chip Count |
| --- | --- | --- | --- |
| 25 | 1 | Gautam Dhingra | 170,900 |
| 25 | 2 | Amanda Onions | 70,000 |
| 25 | 3 | Yunye Lu | 144,400 |
| 25 | 4 | Cameron Bisset | 99,500 |
| 25 | 5 | Robbie Stewart | 83,500 |
| 25 | 7 | Loni Harwood | 30,200 |
| 25 | 8 | Shoshiro Karita | 24,900 |
| 25 | 9 | Keiron Laifoo | 237,400 |
| | | | |
| 26 | 1 | Christian Nolte | 120,000 |
| 26 | 2 | Jordan Tentori | 149,200 |
| 26 | 3 | Philipp Kampf | 39,000 |
| 26 | 4 | Steven Morris | 49,900 |
| 26 | 5 | Andrew White | 62,300 |
| 26 | 6 | Robert Sanchezcallol | 28,900 |
| 26 | 8 | Bridges Roe | 96,700 |
| 26 | 9 | Gyeongbyeong Lee | 32,800 |
| | | | |
| 27 | 1 | Vikrant Gupta | 161,700 |
| 27 | 2 | Maximilian Lehmanski | 80,500 |
| 27 | 3 | Luc Meritan | 63,100 |
| 27 | 4 | Steve Pappas | 63,100 |
| 27 | 5 | Weichung Auyong | 88,200 |
| 27 | 6 | Ivan Sergeyev | 37,100 |
| 27 | 7 | Sean Ragozzini | 122,800 |
| 27 | 8 | Ramin Hurmuzniya | 60,000 |
| 27 | 9 | Paul Hockin | 84,500 |
| | | | |
| 28 | 1 | Pierce Mckellar | 54,100 |
| 28 | 2 | Yee Lee | 18,500 |
| 28 | 3 | Florian Ferroni | 44,900 |
| 28 | 4 | Scott Wilson | 49,200 |
| 28 | 5 | Xingwei Tong | 109,000 |
| 28 | 6 | Taryn Boden | 32,700 |
| 28 | 7 | Roy Agresta | 173,100 |
| 28 | 8 | Soren Vohrs | 77,600 |
| 28 | 9 | Daniel Gabriel | 112,000 |
| | | | |
| 29 | 1 | Nipun Java | 55,700 |
| 29 | 2 | Richard Balkau | 72,200 |
| 29 | 3 | Javad Etaat | 102,900 |
| 29 | 4 | Raymond Ou | 28,800 |
| 29 | 5 | Andrew Yates | 83,200 |
| 29 | 6 | Tristan Bain | 91,000 |
| 29 | 7 | Antonio Fazzolari | 152,600 |
| 29 | 8 | Michael Kosmis | 70,200 |
| 29 | 9 | Samuel Deering | 49,000 |
| | | | |
| 30 | 1 | Quan Zhou | 51,900 |
| 30 | 2 | John Lombardo | 80,900 |
| 30 | 3 | Michel Bouskila | 5,400 |
| 30 | 4 | Connie Graham | 60,900 |
| 30 | 5 | Nali Kaselias | 23,200 |
| 30 | 6 | Jamie Maddox | 42,400 |
| 30 | 7 | Dean Brown | 98,500 |
| 30 | 8 | Wei-cheng Yin | 36,800 |
| 30 | 9 | Maxwell Young | 17,100 |
| | | | |
| 31 | 1 | Haven Ten | 50,500 |
| 31 | 2 | David Rodwell | 47,900 |
| 31 | 3 | Jeremy Pekarek | 91,700 |
| 31 | 4 | Kristy Moreno | 50,400 |
| 31 | 5 | Jim Giannoukos | 25,100 |
| 31 | 6 | Julian Dight | 71,600 |
| 31 | 7 | Sohrab Rezvanpour | 140,800 |
| 31 | 8 | Sean Dorgan | 37,800 |
| 31 | 9 | Lucas Morritt | 46,000 |
| | | | |
| 32 | 1 | Peter Lai | 39,400 |
| 32 | 2 | Robert Raymond | 93,900 |
| 32 | 3 | Travis Endersby | 74,700 |
| 32 | 4 | James Gilbert | 87,700 |
| 32 | 5 | Sik Chan | 19,600 |
| 32 | 6 | Sladjan Pantos | 111,700 |
| 32 | 7 | Florian Fuchs | 47,300 |
| 32 | 8 | Izuchukwu Oparaocha | 169,400 |
| 32 | 9 | Joey Weissman | 12,200 |
| | | | |
| 33 | 1 | Paul Abela | 89,800 |
| 33 | 2 | Giovanni Massa | 39,000 |
| 33 | 3 | Yang Lei | 32,900 |
| 33 | 4 | Ryan Henry | 86,500 |
| 33 | 5 | Benjamin Richardson | 23,200 |
| 33 | 6 | Aboozar Azarnoush | 58,800 |
| 33 | 7 | Ivan Deyra | 80,300 |
| 33 | 8 | Darren Mundy | 20,000 |
| 33 | 9 | En-ching Wu | 76,200 |
| | | | |
| 34 | 1 | Rahul Rastogi | 41,300 |
| 34 | 2 | Joshua Mcswiney | 69,900 |
| 34 | 3 | Jonathan Karamalikis | 65,900 |
| 34 | 4 | Aurelien Chenais | 64,600 |
| 34 | 5 | Kuo Hung | 56,300 |
| 34 | 6 | David Kelly | 59,600 |
| 34 | 7 | Thomas Donaldson | 43,300 |
| 34 | 8 | Arif Mustafa | 75,800 |
| 34 | 9 | Tim Coumuolidis | 96,800 |
| | | | |
| 35 | 1 | Joo Snell | 161,000 |
| 35 | 2 | Pereda Guillen | 111,000 |
| 35 | 3 | John Thomson | 36,300 |
| 35 | 4 | James Frazer | 86,100 |
| 35 | 5 | Daniel Clemmet | 140,900 |
| 35 | 6 | Ehsan Amiri | 102,800 |
| 35 | 7 | Petros Aristidou | 24,500 |
| 35 | 8 | Luke Edwards | 78,000 |
| 35 | 9 | Andrew Shanahan | 108,200 |
| | | | |
| 36 | 1 | Omer Silajdzija | 97,400 |
| 36 | 2 | Michael Rattigan | 25,800 |
| 36 | 3 | Davor Derek | 60,400 |
| 36 | 4 | Myeong Park | 93,300 |
| 36 | 5 | Wu-wei Dai | 27,800 |
| 36 | 6 | Simon Burns | 99,500 |
| 36 | 7 | Katsuya Sotsuka | 124,100 |
| 36 | 8 | Zackery Lowrie | 213,800 |
| 36 | 9 | Ante Kutlesa | 37,500 |
| | | | |
| 37 | 1 | Wan Gan | 52,700 |
| 37 | 2 | Niko Koop | 53,900 |
| 37 | 3 | Martyn Ward | 94,600 |
| 37 | 4 | Russell Mildon | 45,300 |
| 37 | 5 | Amit Shorey | 98,600 |
| 37 | 6 | Iii Spinella | 139,400 |
| 37 | 7 | Jackson Warne | 64,700 |
| 37 | 8 | Landen Lucas | 93,000 |
| 37 | 9 | Teresaann Natoli | 52,400 |
| | | | |
| 38 | 1 | David Yan | 30,800 |
| 38 | 2 | Michael Harb | 122,300 |
| 38 | 3 | Adrian Salter | 26,200 |
| 38 | 4 | Hun Lee | 73,400 |
| 38 | 5 | Samuel Salt | 58,800 |
| 38 | 6 | Rayner Loi | 59,000 |
| 38 | 7 | Wei Zhang | 140,300 |
| 38 | 8 | Nathan Goodall | 51,400 |
| 38 | 9 | Gino Provenzano | 26,900 |
| | | | |
| 39 | 1 | Rabindranath Nadarajan | 77,300 |
| 39 | 2 | Colton Blomberg | 50,200 |
| 39 | 3 | Bo Jin | 99,900 |
| 39 | 4 | Jun Jia | 103,000 |
| 39 | 5 | Carmino Desciscio | 41,000 |
| 39 | 6 | Nathan Susnig | 90,100 |
| 39 | 7 | Kohei Miura | 35,100 |
| 39 | 8 | Jamie Lee | 68,700 |
| 39 | 9 | Benedikt Eberle | 47,700 |
| | | | |
| 40 | 1 | Nicholas Suter | 217,300 |
| 40 | 2 | Yixin Wen | 40,400 |
| 40 | 3 | Paul Hill | 97,500 |
| 40 | 4 | David Veigli | 38,800 |
| 40 | 5 | Alexandros Palantinis | 37,100 |
| 40 | 6 | Thomas Gleeson | 85,600 |
| 40 | 7 | Nathan Obrien | 55,300 |
| 40 | 8 | Zhankang Chen | 81,300 |
| 40 | 9 | Dejan Boskovic | 123,400 |
| | | | |
| 41 | 1 | Daniel Wojcik | 67,200 |
| 41 | 2 | Stevan Krmpotic | 15,100 |
| 41 | 3 | Jensen Chow | 95,400 |
| 41 | 4 | Naim Mouchaileh | 147,200 |
| 41 | 5 | Joshua Mansellnilsson | 77,000 |
| 41 | 6 | Eoghan Odea | 44,800 |
| 41 | 7 | Roland Rokita | 135,600 |
| 41 | 8 | Marc Macdonnell | 153,200 |
| 41 | 9 | Daneil Hinh | 36,100 |
| | | | |
| 42 | 1 | James Hawketts | 78,000 |
| 42 | 2 | David Wells | 35,900 |
| 42 | 3 | Corentin Ropert | 78,800 |
| 42 | 4 | Michael Tran | 126,900 |
| 42 | 5 | Christopher Smitton | 13,600 |
| 42 | 6 | Kwang Nguyen | 167,600 |
| 42 | 7 | Quanbin Zhong | 27,900 |
| 42 | 8 | Tanya Hill | 57,800 |
| 42 | 9 | Alan Xerri | 66,200 |
| | | | |
| 43 | 1 | Panayotis Flourentzou | 57,100 |
| 43 | 2 | Qiang Fu | 119,800 |
| 43 | 3 | Joseph Antar | 62,900 |
| 43 | 4 | Daniel Hachem | 56,800 |
| 43 | 5 | Bjorn Ostby | 65,100 |
| 43 | 6 | Michael Behnert | 47,600 |
| 43 | 7 | Rody Kaka | 78,100 |
| 43 | 8 | Fadi Sayegh | 48,000 |
| 43 | 9 | Rehman Kassam | 143,000 |
| | | | |
| 44 | 1 | Paul Altis | 121,500 |
| 44 | 2 | Sarkiss Osalian | 43,200 |
| 44 | 3 | Jinsoo Kang | 41,800 |
| 44 | 4 | Brett Murtagh | 42,600 |
| 44 | 5 | Julien Sitbon | 200,000 |
| 44 | 6 | Jacob Howes | 52,400 |
| 44 | 7 | Tatjana Zizic | 24,200 |
| 44 | 8 | Josh Mitchell | 38,800 |
| 44 | 9 | Michael Egan | 165,000 |
Aussie Millions Highlights
Dia 5 Iniciado