Event #6: $1,150 Six-Max No-Limit Hold'em
Dias: 2
Event #6: $1,150 Six-Max No-Limit Hold'em
Dia 2 Concluído
Nível 25 : 25,000-50,000, 5,000 ante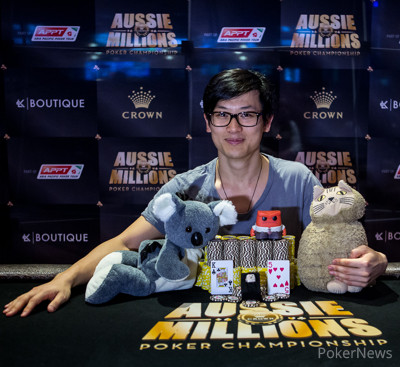 New Zealand's [Removed:17] dominated the final table on the way to capturing the 2016 Aussie Millions Poker Championship Event #6: $1,150 Six-Max No-Limit Hold'em title at the Crown Entertainment Complex on Wednesday.
By the time they reached three-handed play, the Kiwi a held 3:1 lead on the other two players combined and agreed to a deal, taking $117,000 in prize money.
Ashish Gupta earned $66,235 for a third-place finish and Francesco Sergi took $68,000 for second while Yan went on to win the LK Boutique Aussie Millions Championship ring, ultimately defeating a field of 534 players over two days.
The tournament played down to the final 16 Monday and returned with Yan in the lead.
When Tang Peng busted seventh, fellow Aussie Sam Steindl took the lead into the six-handed final and Yan sat in the middle of the pack. But after Steidel got his kings cracked, doubling up Gupta, Yan moved into the top spot, sending American Derek Wolters home sixth.
Yan was relentlessly aggressive the rest of the way and got the cards when he needed them, holding with pocket jacks against a suited ace to felt Max Chin fifth, and ending Steindl's run in fourth when the latter ran tens into his queens.
After the deal was made, he picked up pocket aces to eliminate Gupta and simply leaned on Sergi until he had secured his first Aussie Millions title.

Nível 25 : 25,000-50,000, 5,000 ante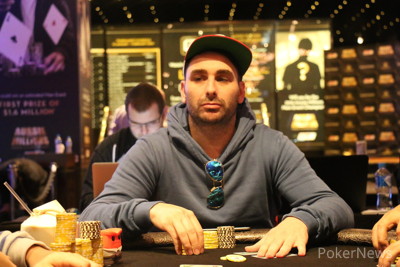 The last few hands all followed the same principle. Francesco Sergi limped in, [Removed:17] moved all in and his opponent folded. The stack of Sergi was reduced to only 10 big blinds when Yan pushed and received a call:
Sergi:

Yan:
On the flop
, Yan paired up and "MissOracle" held onto the lead with the
turn and
river as last two community cards. Both players shook hands and Sergi was eliminated in 2nd place for a payday of A$68,000 as agreed by the deal.

Nível 25 : 25,000-50,000, 5,000 ante
After a min-raise to 100,000 preflop, both players checked the flop
and the 10d] turn. On the
river, [Removed:17] bet 150,000 and Francesco Sergi called to muck when the New Zealander flipped over Jh,9d] for top pair.
One hand later, Sergi limped in and Yan checked. On the flop
, Sergi bet 100,000 and Yan folded, he was shown
by his opponent. "I didn't put you on that one," Yan grinned.

Nível 25 : 25,000-50,000, 5,000 ante
[Removed:17] quickly pulled away further in heads up by sheer aggression and then things got set back to where the duo started. Yan limped in and Francesco Sergi raised to 175,000, which Yan called. They checked the flop
, Yan then bet the
turn for 200,000.
Sergi called and they checked once again on the
river. Yan flipped over
, Sergi won with the better kicker in
.
Nível: 25
Blinds: 25,000/50,000
Ante: 5,000

Nível 24 : 20,000-40,000, 5,000 ante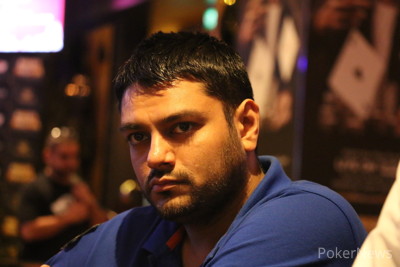 [Removed:17] raised to 80,000 and Ashish Gupta moved all in for over 1.2 million, getting snap-called.
Gupta:

Yan:
There was no help on the board
and Gupta was sent to the rail, but remained near the tournament area to talk with friends and follow the action.

Nível 24 : 20,000-40,000, 5,000 ante
On the button Francesco Sergi raised to 125,000 and [Removed:17] called. On the
flop both players checked. The
turn saw another check by both players and then the
fell on the river. Yan checked and Sergi's bet of 125,000 took it down.
Yan raised to 80,000 from the button and Ashish Gupta shoved to win the pot.
Last but not least, Gupta limped and Yan checked in the big blind. The flop
was checked through, Yan then faced a check-raise to 125,000 on the
turn and called. Gupta's bet of 225,000 on the
river was paid off eventually as well and Yan then mucked when he was shown
.

Nível 24 : 20,000-40,000, 5,000 ante
The three players talked through some numbers and agreed to the following deal:
[Removed:17]: A$117,000
Francesco Sergi: A$68,000
Ashish Gupta: A$66,235
The players are on a quick break and will then return to play for the LK Boutique championship ring.
Nível 24 : 20,000-40,000, 5,000 ante
Ashish Gupta shoved in for 350,000 and and [Removed:17] called with the
.
Gupta had a pair, the
, and it held on an
board.
With that, discussion of an ICM chop ensued.