Event #2: €550 Pot-Limit Omaha
Dias: 3
Event #2: €550 Pot-Limit Omaha
Dia 3 Concluído
Nível 34 : 125,000/250,000, 0 ante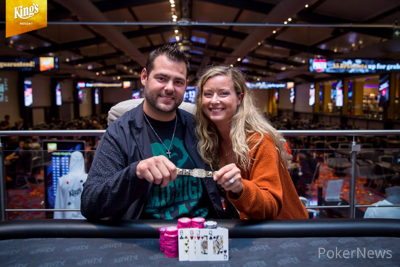 As the World Series of Poker Europe kicked off a few days ago, the first four-card bracelet has just been awarded. Only six players returned to the felt today for Event #2: €550 Pot-Limit Omaha and Michigan player Dash Dudley reigned victorious to capture his second bracelet along with €51,600 ($57,410) in prize money.
Dudley, who has been around the poker tables since 2002, claimed his second bracelet after his victory in the $10,000 Pot-Limit Omaha last summer that earned him a healthy $1,086,967.
"I've been there before. I was also shorter stack with three left in the final table I won. I stayed patient I believe, and good things happen. Definitely really blessed, I got a lot of support behind us, got a lot of people back home cheering for us so I felt like I had a really big team."
Event #2: €550 Pot-Limit Omaha Final Table Results
| Place | Player | Country | Prize (EUR) | Prize (USD) |
| --- | --- | --- | --- | --- |
| 1 | Dash Dudley | United States | €51,600 | $57,410 |
| 2 | Christopher Back | Canada | €31,825 | $35,408 |
| 3 | Denis Drobina | Ukraine | €21,825 | $24,282 |
| 4 | Ming Juen Teoh | Malaysia | €15,225 | $16,939 |
| 5 | Ivo Donev | Austria | €10,900 | $12,127 |
| 6 | Oshri Lahmani | Israel | €7,850 | $8,734 |
Dudley entered the final table fourth in chips and managed to survive through many ups and downs throughout the day. It wasn't an easy final table by any means for the PLO cash game specialist, who dropped down to as low as seven big blinds in three-handed play after he lost a few pots to Denis Drobina.
Dudley doubled twice in quick succession against Drobina a few moments later to claim the lead at three players left, leaving Drobina with crumbs. The latter pushed his last three big blinds in the middle and got eliminated by Christopher Back who found a flush on the flop.
"My opponents were very very tough," Dudley told tournament reporters after the win. "This is one of the toughest final tables, if not, the toughest final table that I played. There were guys with a bracelet, there were players that had won PLO tournaments before. There was a lot of experience, there wasn't really any soft spot at the final table. Everyone was really experienced and it was cool to play with people from all over the world. I think I was the only guy from the U.S. that made the final table. It was a very diverse final table and it was fun playing with some different styles."
With a significant lead from Dudley, the heads up lasted not even half an hour. In the final hand, Back found himself all-in on the turn with a gut-shot straight draw and was in desperate shape to double up, facing a straight for Dudley. The river bricked off as Dudley celebrated with his girlfriend on the rail.
"I feel great. The heater is officially real. They said when you go on tournament runs they kind of come in bunches so I decided to come over here and try Europe for the first time. It's actually my first time playing outside of the United States so it was a really cool experience, just totally blessed for this opportunity."
Dudley, who had a packed rail last summer, is already preparing for his next PLO tournament and feels grateful for the support he receives from his friends and the poker community, which helps boost his confidence.
"I'm from Lansing, Michigan. I'm proud of my state and my city. I have a lot friends back home, a lot of people that have inspired my game. So I gotta give a lot credit to Michigan."
Journey to a Winner
A field of 476 players was whittled down to just six after two days of play for the final table of the first pot-limit Omaha tournament of the 2019 WSOPE. For four of the players, they were in search of their first-ever gold bracelet while Ivo Donev and Dudley were looking for their second gold.
Oshri Lahmani was the first player eliminated. He started the day sixth in chips but he wasn't able to realize a comeback. Lahmani busted out in sixth place which earned him €7,850.
Donev never got much going on the final table and had to settle for fifth place for €10,900. His pocket jacks ran into Dudley's aces, which improved to a full house. He was followed by Ming Juen Teoh, who moved all in on a king-high flop with top pair while Back had the flush draw and hit it on the river.
Down to the last three, things looked bad at first for Dudley as he dropped down under ten big blinds. However, he quickly doubled up twice over Drobani with two pair over pair and with a straight versus two pair to take over the lead.
Dudley took down a few pots to increase his lead during the heads-up and finished the job in less than one level before celebrating bracelet no. 2.
That wraps up the PokerNews coverage of Event #2: €550 Pot-Limit Omaha at the King's Resort. Stay tuned for coverage of all the WSOPE gold bracelet events throughout the series.
Nível 34 : 125,000/250,000, 0 ante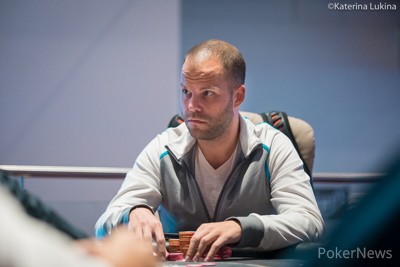 Christopher Back raised on the button to 725,000 and Dash Dudley decided to call. The flop appeared
and went check-check.
Things heated on the turn
when Dudley led out for 450,000. Back tanked for a minute and pushed all in for a remaining stack around 1,600,000. Dudley made the call to create the following showdown:
Christopher Back:

Dash Dudley:
Back was in desperate shape to double up, facing the straight for Dudley. The river
didn't change anything and Back was eliminated in second place for €31,825 while Dudley claimed his second WSOP bracelet in a PLO event.
Nível 34 : 125,000/250,000, 0 ante
Dash Dudley limped from the small blind and Christopher Back raised to 750,000 from the big blind. Dudley stuck around with a call.
A flop reading
was dealt and Back moved all in for 1,000,000. Dudley let it go.
Nível: 34
Blinds: 125,000/250,000
Ante: 0
Nível 33 : 100,000/200,000, 0 ante
Dudley extended his lead in two small hands. In the first one, he raised on the button to 400,000 and Christopher Back called. Both checked on the flop
. The turn was the
and Back check-folded after Dudley bet 300,000.
Right after, Back raised his button for 400,000 and Dudley called. Both players checked throughout the board
and the river showed a
. Dudley led out for 375,000 and it was enough to make Back fold.
Nível 33 : 100,000/200,000, 0 ante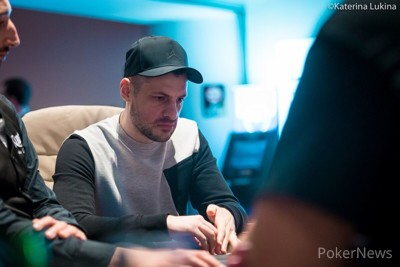 Denis Drobina pushed his last 600,000 in the middle from the small blind and Christopher Back to create the following showdown:
Denis Drobina:

Christopher Back:
The board appeared
, giving a flush on the flop to Back who eliminated Drobina in third place for €21,825.
Nível 33 : 100,000/200,000, 0 ante
Denis Drobina, with four big blinds left in the big blind position, announced all in before the cards were dealt. Christopher Back, on the button, limped for 200,000 and Dash Dudley completed. Drobina changed his mind and decided to just check.
The flop came
and Back bet 300,000 after it was checked to him. Only Dudley called.
Both checked on the
turn and the
completed the board. Dudley let out for 375,000 and after some thought, Back called but mucked his cards when Dudley tabled
for a set of sixes.
Nível 33 : 100,000/200,000, 0 ante
Dash Dudley raised to 500,000 on the button and Denis Drobina three-bet to 1,000,000 from the small blind. Dudley added the remainder to call.
Drobina moved all in in the dark and the dealer spread a flop of
. Dudley made the call with his last 375,000.
Dash Dudley:

Denis Drobina:
Drobina had a pair of queens but Dudley had two pair. The
and
filled up the board and Dudley doubled up.
The very next hand, Dudley raised from the small blind and Drobina called. The flop was
and Dudley checked. Drobina bet 450,000 and Dudley check-raised all in for about 2,800,000. Drobina made the call
Dash Dudley:

Denis Drobina:
Drobina had two pair but Dudley had flopped a flush draw and a gutshot. The
was just what Dudley needed to take the lead with a straight and the
filled in the river for him to rake in the pot.
Nível 33 : 100,000/200,000, 0 ante
Dash Dudley completed his small blind and Denis Drobina checked.
The dealer brought a flop
and Dudley continued fro 200,000, called by Drobina.
The turn fell the
and Dudley sent another bet for 250,000. Drobina tanked for some time and decided to raise it to 650,000. Dudley looked at his cards once more and tossed them into the muck.