Event #4: €3,200 No-Limit Hold'em Shootout
Dias: 1
Event #4: €3,200 No-Limit Hold'em Shootout
Dia 1 Concluído
Nível 9 : 800/1,600, 200 ante
| Seat | Name |
| --- | --- |
| | Table 71 |
| 1 | Ryan D'Angelo |
| 2 | Steve O'Dwyer |
| 3 | Freddy Deeb |
| | |
| | Table 72 |
| 1 | Massenat Pierrot |
| 2 | Jose De la Guardia |
| 3 | John Armbrust |
| | |
| | Table 73 |
| 1 | Richard Toth |
| 2 | Chad Brown |
| 3 | Anton Makiievskyi |
| | |
| | Table 74 |
| 1 | Bertrand Grospellier |
| 2 | Keven Stammen |
| 3 | Dylan Wilkerson |
| | |
| | Table 75 |
| 1 | Salavatore Bianco |
| 2 | David Peters |
| 3 | Tristan Wade |
| | |
| | Table 76 |
| 1 | Terrance Chan |
| 2 | Vanessa Selbst |
| 3 | Max Silver |
| | |
| | Table 77 |
| 1 | James Mitchell |
| 2 | Sean Getzwiller |
| 3 | Taylor Paur |
| | |
| | Table 78 |
| 1 | Kirill Telezhkin |
| 2 | Tommy Vedes |
| 3 | Emil Patel |
| | |
| | Table 79 |
| 1 | Nikita Nikolaev |
| 2 | James Dempsey |
| 3 | Adrien Allain |
| | |
| | Table 80 |
| 1 | Tobias Reinkemeier |
| 2 | Jeffrey Hakim |
| 3 | Michael Watson |
Nível 9 : 800/1,600, 200 ante
Day 1 of the €3,200 No Limit Hold'em Shootout has come to an end after the 256 players were reduced to just 30, all of whom are now in the money and guaranteed to take home at least €6,913 for their efforts in this tournament.
The first player to progress from their table was Vanessa Selbst, who overcame the likes of Dominik Nitsche, Lari Sivho and the great Erik Seidel on her way to Day 2. Other notable players who will return for a three-handed shootout tomorrow include David Peters, Taylor Paur, Chad Brown, Tobias Reinkemeier, Bertrand "ElkY" Grospellier, Terrance Chan and Freddy Deeb.
Amongst those who bought in but failed to navigate through the extremely tough field included Johnny Chan, Phil Hellmuth, Daniel Negreanui, David Williams, Kevin MacPhee, Ben Lamb, Isaac Haxton and Sorel Mizzi. The list of notable players who did not make it through could fill this page there were that many!
Play resumes at 1500 CET and will see the blinds rolled back to 500/1,000/100a and play will be across ten three-handed tables. Join us tomorrow for all the action, as it happens, here on PokerNews.
Nível 9 : 800/1,600, 200 ante
Brian Hastings has been eliminated at the hands of Nikita Nikolovea to bring Day 1 to a close. Hastings was down to around 10 big blinds and Nikolovea had been putting him all in for the past four or five hands.
He did so again when holding
and Hastings called with
. Neither player improved on the
board but Nikolovea's ace-kicker came into play, sending Hastings to the rail.
Nível 8 : 600/1,200, 200 ante
Maria Ho and David Sands have been eliminated at the hands of Kirill Telezhkin and Keven Stammen respectively.
Stammen takes 81,300 through with him to Day 2 whilst Telezhkin will be armed with 81,900.
Nível: 9
Blinds: 800/1,600
Ante: 200
Nível 8 : 600/1,200, 200 ante
Level eight has come to an end and the players have gone on a five minute break.
Nível 8 : 600/1,200, 200 ante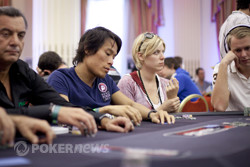 Terrance Chan came back from a big heads-up deficit against Nicolas Cardyn to move onwards with 81,600 chips.
Cardyn limped in from the button and then shoved when Chan made it another 2,000 to go. Chan called to create the showdown.
Cardyn:

Chan
The board ran
.
Chan said he felt that he could and maybe should have been beaten him, but when he won a big hand it seemed as if his opponent gave up slightly.
Nível 8 : 600/1,200, 200 ante
Event #1 winner Guilluame Humbert has been eliminated at the hands of Adrien Allain, the man who tortured Phil Hellmuth in the same event.
Humbert was all in and at risk with
against the
. The baord ran out
.....
and with that Allain is through to Day 2 with 73,700 chips.
Nível 8 : 600/1,200, 200 ante
Brian Hastings is sporting a "Micros" t-shirt and has just been in a hand that Chase Berger, Tommy Phuoc and Rose Ballenger would have been proud of.
On a
board, Nikita Nikolaev checked, Hastings bet 2,800 and Nikolaev called. The river was the
and again Nikolaev checked. Hastings paused before moving all in for 11,500 and after 90 seconds Nikolaev made the call.
"Flush," said Hastings before turning over
. The low flush was good as Nikolaev mucked.