Elior Sion Wins Event #62: $50,000 Poker Players Championship ($1,395,767)
Nível 28 : 400,000-800,000, 0 ante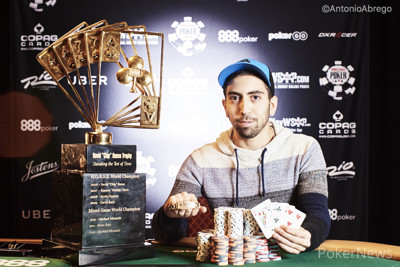 Elior Sion doesn't play many live tournaments, but there's one he looks forward to every year: the $50,000 Poker Players Championship at the World Series of Poker. This year, he made it count, topping a field of 100 of the toughest poker players on the planet to win $1,395,767, a gold WSOP bracelet and a place in poker lore forever on the Chip Reese Memorial Trophy.
"It feels amazing," a visibly drained Sion said after finishing off Johannes Becker in a heads-up match that went about five hours. "It's like a long journey. You take it a step at a time. There were a few blips along the way, but as long as you still have chips, anything can happen.
"At the final table, the cards fell my way and I was fortunate enough to win."
In fact, what Sion had to overcome on Day 3 was more than a mere blip. With limits at 25,000/50,000, he lost a pot-limit Omaha pot with a combo draw to the set of queens held by Mike Wattel, leaving him with 60,000.
Sion doubled back through Wattel, then doubled again in a no-limit holdem flip against James Obst. From there, he climbed all the way to the chip lead at the three-table redraw.
"I got very lucky," he said. "In tournaments, anything can happen. You just have to believe, and sometimes, things can fall your way. Just goes to show you."
Sion said he even thought the recovery strengthened his image in the eyes of his opponents.
"I wasn't really frustrated at all," he said. "I just took it in stride. They were kind of fearful of me in that sense, when they see that nothing really fazed me."
Sion has long been a top player online. He has been a regular for years in some of the highest stakes mixed games and triple draw games there under the screen name "Crazy Elior." Despite that status as a feared and recognizable crusher, he was an afterthought coming into the final table, though it wasn't through any fault of his own.
All eyes were simply fixed on Daniel Negreanu. The ultra-popular Canadian superstar, had a deep, vocal rail crowded around the small viewing area in Amazon Room. Gunning for bracelet No. 7 and perhaps the greatest single accomplishment of his storied career, Negreanu came in as the chip leader and wasn't shy about voicing his confidence heading into the final day.
"I do, I really do," he told PokerNews at the conclusion of Day 4 when asked if he felt he was the favorite.
However, he did single out Sion as the player he was most worried about, and Sion happened to be seated on Negreanu's immediate left.
"Kid Poker" wound up walking out the door massively disappointed, having outlasted only short stack Paul Volpe for a fifth-place finish. He wore his emotions on his sleeve throughout, and it wasn't hard to see how much he wanted it. He simply never got anything going, losing seemingly every major pot he played.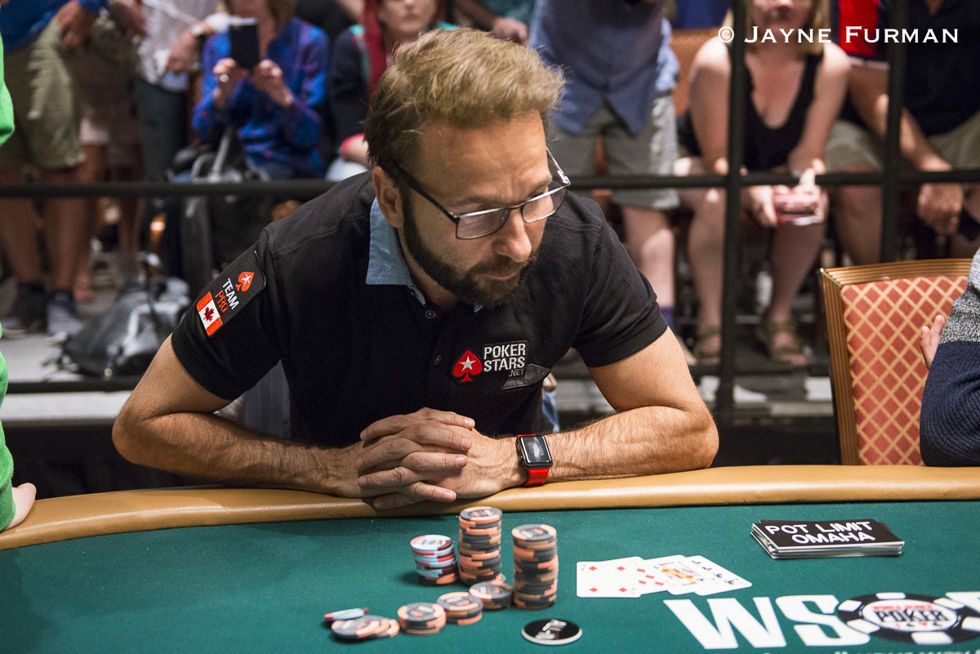 Apparently, though, the respect between he and Sion was mutual.
"The person I feared the most was Daniel Negreanu," Sion said. "He knows what's going on almost always. He was my biggest threat.
"To see him not getting any cards at the final table... he really didn't have a chance to win. That kind of opened the gates and let me do my thing."
Once Negreanu fell, Isaac Haxton looked like the man to beat. However, he fell victim to a massive cooler when he ran kings into Becker's aces three-handed, sending Becker into heads-up play against Sion with a 3-1 lead.
The two went on a dinner break and then returned, engaging in a back-and-forth war, with big pots played across all of the eight games in the mix.
Pot-limit Omaha and razz in particular seemed to be the battlegrounds where the players tussled for the most chips. Sion had Becker on the brink in a PLO pot only to see him hit the river and double into the lead. Sion doubled right back though, and a strong run in the limit games saw him move into a lead he wouldn't relinquish.
"Johnny played really, really well," Sion said. "I've played with him online a bunch. He's just shown he's able to compete with the best in the world. I have a lot of credit for him and everyone else at the final table."
Winning the PPC is a dream for many poker players, particularly many of the most famed and recognizable faces populating the felt. However the competition and the money are what motivated the soft-spoken 26-year-old Brit to pursue a place on the Chip Reese trophy.
Reminiscent of Fedor Holz's words after winning the $111,111 High Roller for One Drop in 2016, Sion said he finds himself playing less and less these days and will be looking to do other things going forward. He named starting a business and getting involved in property as future goals.
"I don't see poker as a longtime goal for me," he said. "Poker's always been a stepping stone in life to be able to do things I really want to do. I think with this win, I'm finally able to do a few things that I have in the back of my mind."
| Place | Player | Country | Payout |
| --- | --- | --- | --- |
| 1 | Elior Sion | United Kingdom | $1,395,767 |
| 2 | Johannes Becker | Germany | $862,649 |
| 3 | Isaac Haxton | United States | $595,812 |
| 4 | Ivo Donev | Austria | $419,337 |
| 5 | Daniel Negreanu | Canada | $300,852 |
| 6 | Paul Volpe | United States | $220,111 |