Daniel Negreanu Leads the $50,000 Poker Players Championship Final Table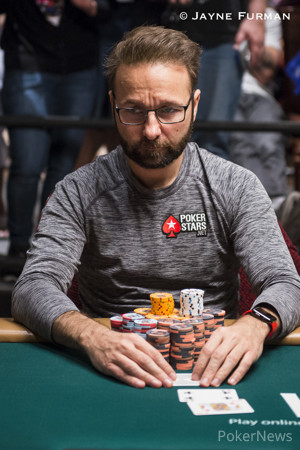 Welcome to PokerNews' coverage of the $50,000 Poker Players Championship final table. The starting field of 100 players is down to just six, each looking to capture one of the most prestigious bracelets of the summer, the first-place prize of $1,395,767, and the Chip Reese Memorial Trophy. Six-time bracelet winner Daniel Negreanu leads the way into the final table with 5,930,000.
Negreanu's road to the final table was smooth at the start. He bagged a better-than-average stack on Days 1 and 2, before a tumultuous Day 3 tested Negreanu's resolve in a way that many had not seen before. Wearing his emotions on his sleeve, Negreanu showed frustration and jubilation, infuriation and exultation. With 20 players left, Negreanu was last in chips with just one-and-a-half big bets, but persevered and ran up his stack to finish Day 3 fifth out of the remaining 15 players.
"When you play limit poker on this stage against the best players in the world, every pot means something," Negreanu told PokerNews after Day 4. "Especially when you get short, every time you lose a pot or lose a bet, it's like F***. You just want to curse. I'm not going to hide it. I've been emotional throughout."
"I helped create this event when it was originally created years ago," Negreanu continued. "I always was so disappointed I hadn't done better. I had a couple of cashes and last year came in 12th. I always felt, especially this year more than ever, that it's something I wanted to win."
Negreanu is the man to beat at this final table, but it will be far from an easy task as a talented final table stands between him and bracelet No. 7.
Second in chips is Isaac Haxton with 5,205,000. A staple in the high-roller no-limit hold'em tournament scene around the globe, Haxton is flexing his mixed-game muscle thus far in the PPC. In fact, much of Negreanu's emotional flurries have been following hands against Haxton.
Elior Sion is third in chips with 4,750,000. After coming close to making last year's PPC final table, Sion has improved upon his ninth-place finish and will no doubt be looking to go the distance this year. Johannes Becker sits fourth in chips with 4,560,000, and this marks just his third career WSOP cash. Fifth in chips is Ivo Donev with 2,990,000. The former international chess master and bracelet winner is making his eighth WSOP final table. The short stack is Paul Volpe with 1,570,000. The two-time bracelet winner also cashed in last summer's PPC, and is considered among the poker masses as one of the best all-around players in the world.
Here is the final table lineup by seat:
| Seat | Player | Country | Chip Count |
| --- | --- | --- | --- |
| 1 | Ivo Donev | Austria | 2,990,000 |
| 2 | Johannes Becker | Germany | 4,560,000 |
| 3 | Daniel Negreanu | Canada | 5,930,000 |
| 4 | Elior Sion | United Kingdom | 4,750,000 |
| 5 | Paul Volpe | United States | 1,570,000 |
| 6 | Isaac Haxton | United States | 5,205,000 |
And here are the remaining payouts:
| Place | Payout |
| --- | --- |
| 1st | $1,395,767 |
| 2nd | $862,649 |
| 3rd | $595,812 |
| 4th | $419,337 |
| 5th | $300,852 |
| 6th | $220,111 |
Who will capture the Chip Reese Memorial Trophy? The final table begins at 2 p.m. and PokerNews will be providing live updates of the action as the quest to crown the next Poker Players Champion concludes!