Ashton Tops Day 1 of the $50,000 Poker Players Championship
Nível 6 : 2,500-5,000, 0 ante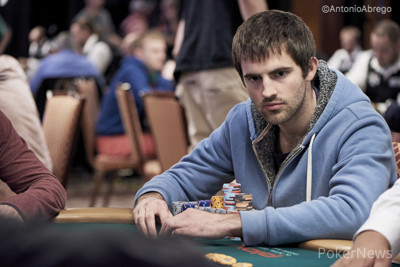 British professional poker player Matthew Ashton is leading the 2017 $50,000 Poker Players Championship at the end of Day 1 which saw 93 players take to the felt, already beating last year's audience by two runners. 87 of those 93 players survived, and late registration remains open until the start of Day 2.
Ashton bagged up 705,500 tonight, vaulting to the lead after eliminating Ben Sulsky in the last level of the day in pot-limit Omaha. Ashton raised all in on a queen-high flop, putting the high stakes legend at risk. Sulsky called off with a top set but failed to avoid Ashton's wrap outs. Ashton made a straight on the turn, and the board didn't pair on the river, leaving Sulsky empty-handed.
Ashton has already tasted success in the Poker Players Championship, winning the title and a whopping $1,774,089 back in 2013.
Another contender for the chip lead was Aaron Katz, who took over the pole position with the last few hands before the end of the day, but he eventually finished with 682,700, good for second place. Four-time WSOP bracelet winner Robert Mizrachi rounds out the top three with 485,500.
One of the main heroes of the opening day was Mark Gregorich, who scored the first knockout of the tournament. Gregorich tangled with Daniel Cates in a no-limit hold'em hand that saw Cates five-bet shoving for over 200 big blinds preflop. Gregorich snap-called with pocket aces, leaving Cates' ace-king of diamonds drawing very thin. Cates spiked two diamonds on the flop to keep his hopes alive, but the turn and river bricked, eliminating Cates.
The four other those who failed to make it through to Day 2, were David Benyamine, Dan Shak, Iraj Parvizi, and Jared Bleznick.
The Poker Players Championship always boasts some of the world's most talented fields and this year is no exception. Reigning champion Brian Rast will come back with 335,300 while the only other two-time PPC winner Michael Mizrachi has 267,000.
Jens Lakemeier was busy with winning the $2,500 Big Bet Mix event in the afternoon, and he entered in the second half of the day. He managed to build up but eventually bagged just over the starting stack to continue with 257,000.
Many other notable players will be back in action at 2 p.m. PDT. PokerNews reporters will once again be on the ground to provide you with live updates from one of the most prestigious tournaments in the poker world.
| Room | Table | Seat | Player | Country | Chip Count |
| --- | --- | --- | --- | --- | --- |
| Brasilia | 713 | 1 | Mike Wattel | United States | 302,800 |
| Brasilia | 713 | 2 | Anthony Zinno | United States | 224,000 |
| Brasilia | 713 | 4 | Isaac Haxton | United States | 401,500 |
| Brasilia | 713 | 6 | Bryce Yockey | United States | 224,500 |
| | | | | | |
| Brasilia | 714 | 1 | Robert Goldfarb | United States | 205,200 |
| Brasilia | 714 | 2 | David "ODB" Baker | United States | 167,800 |
| Brasilia | 714 | 3 | Johannes Becker | Germany | 333,100 |
| Brasilia | 714 | 4 | Jens Lakemeier | Germany | 275,000 |
| Brasilia | 714 | 5 | Brock Parker | United States | 135,300 |
| Brasilia | 714 | 6 | Daniel Alaei | United States | 446,100 |
| | | | | | |
| Brasilia | 715 | 1 | Warwick Mirzikinian | Australia | 213,800 |
| Brasilia | 715 | 2 | Felipe Ramos | Brazil | 160,300 |
| Brasilia | 715 | 3 | Phil Hellmuth | United States | 307,500 |
| Brasilia | 715 | 4 | Gus Hansen | Danmark | 96,300 |
| Brasilia | 715 | 5 | Andrey Zaichenko | Russia | 232,300 |
| Brasilia | 715 | 6 | Michael Mizrachi | United States | 267,000 |
| | | | | | |
| Brasilia | 716 | 1 | Bruno Fitoussi | France | 210,400 |
| Brasilia | 716 | 2 | Ryan Miller | United States | 223,600 |
| Brasilia | 716 | 3 | Esther Taylor-Brady | United States | 18,400 |
| Brasilia | 716 | 4 | Aaron Katz | United States | 682,700 |
| Brasilia | 716 | 5 | Johnny Chan | United States | 408,500 |
| Brasilia | 716 | 6 | Paul Volpe | United States | 345,600 |
| | | | | | |
| Brasilia | 717 | 1 | Albert Daher | Lebanon | 15,600 |
| Brasilia | 717 | 2 | Adam Owen | United Kingdom | 407,300 |
| Brasilia | 717 | 3 | Marco Johnson | United States | 422,900 |
| Brasilia | 717 | 5 | Jake Abdalla | United States | 205,400 |
| Brasilia | 717 | 6 | Alex Luneau | France | 187,000 |
| | | | | | |
| Brasilia | 718 | 1 | Josh Arieh | United States | 273,600 |
| Brasilia | 718 | 2 | Keith Gipson | United States | 178,400 |
| Brasilia | 718 | 4 | James Obst | Australia | 417,000 |
| Brasilia | 718 | 5 | Tomer Daniel | United States | 233,800 |
| Brasilia | 718 | 6 | Brandon Shack-Harris | United States | 179,000 |
| | | | | | |
| Brasilia | 719 | 1 | Elior Sion | United Kingdom | 314,500 |
| Brasilia | 719 | 2 | Fabrice Soulier | France | 280,000 |
| Brasilia | 719 | 4 | Matt Glantz | United States | 121,300 |
| Brasilia | 719 | 5 | Phillip Hui | United States | 296,200 |
| Brasilia | 719 | 6 | Brett Richey | United States | 455,300 |
| | | | | | |
| Brasilia | 720 | 1 | Dan Smith | United States | 352,200 |
| Brasilia | 720 | 2 | Matthew Ashton | United Kingdom | 705,500 |
| Brasilia | 720 | 3 | Nick Schulman | United States | 196,000 |
| Brasilia | 720 | 4 | Leon Tsoukernik | Czech Republic | 323,000 |
| Brasilia | 720 | 5 | Joseph Couden | United States | 166,200 |
| | | | | | |
| Brasilia | 721 | 1 | Dzmitry Urbanovich | Poland | 353,000 |
| Brasilia | 721 | 2 | Brian Rast | United States | 235,300 |
| Brasilia | 721 | 4 | Wil Wilkinson | United States | 126,500 |
| Brasilia | 721 | 5 | Robert Mizrachi | United States | 485,500 |
| Brasilia | 721 | 6 | Eugene Katchalov | Ukraine | 277,300 |
| | | | | | |
| Brasilia | 722 | 1 | Harry Madoff | United States | 478,600 |
| Brasilia | 722 | 2 | Justin Bonomo | United States | 367,000 |
| Brasilia | 722 | 4 | Mike Leah | Canada | 227,100 |
| Brasilia | 722 | 5 | Daniel Negreanu | Canada | 360,100 |
| Brasilia | 722 | 6 | Ivo Donev | Austria | 274,000 |
| | | | | | |
| Brasilia | 723 | 2 | John Racener | United States | 333,000 |
| Brasilia | 723 | 3 | Stephen Chidwick | United Kingdom | 142,700 |
| Brasilia | 723 | 4 | Mike Glick | United States | 233,100 |
| Brasilia | 723 | 5 | Todd Brunson | United States | 215,300 |
| Brasilia | 723 | 6 | Roy Thung | United States | 257,000 |
| | | | | | |
| Brasilia | 724 | 1 | Brian Tate | United States | 199,000 |
| Brasilia | 724 | 2 | Benny Glaser | United Kingdom | 239,800 |
| Brasilia | 724 | 3 | Mattias De Smidt | Belgium | 196,100 |
| Brasilia | 724 | 4 | Scott Seiver | United States | 319,200 |
| Brasilia | 724 | 6 | Chris George | United States | 50,100 |
| | | | | | |
| Brasilia | 725 | 1 | Timofey Kuznetsov | Russia | 378,500 |
| Brasilia | 725 | 2 | Jason Mercier | United States | 325,700 |
| Brasilia | 725 | 3 | Mike Sexton | United States | 225,400 |
| Brasilia | 725 | 5 | Ray Dehkharghani | United States | 219,700 |
| Brasilia | 725 | 6 | Mike Matusow | United States | 185,700 |
| | | | | | |
| Brasilia | 726 | 1 | Shaun Deeb | United States | 237,500 |
| Brasilia | 726 | 2 | Tommy Chen | United States | 148,500 |
| Brasilia | 726 | 3 | Minh Ly | United States | 207,400 |
| Brasilia | 726 | 5 | Jesse Martin | United States | 189,900 |
| Brasilia | 726 | 6 | Randy Ohel | United States | 186,300 |
| | | | | | |
| Brasilia | 727 | 1 | Eric Wasserson | United States | 325,000 |
| Brasilia | 727 | 2 | Jon Turner | United States | 398,400 |
| Brasilia | 727 | 4 | Daniel Zack | United States | 91,800 |
| Brasilia | 727 | 5 | Ian Johns | United States | 264,600 |
| Brasilia | 727 | 6 | Gary Benson | Australia | 168,800 |
| | | | | | |
| Brasilia | 728 | 1 | Mike Gorodinsky | United States | 154,400 |
| Brasilia | 728 | 2 | Jeff Lisandro | Australia | 96,200 |
| Brasilia | 728 | 3 | Abe Mosseri | United States | 198,000 |
| Brasilia | 728 | 4 | Mark Gregorich | United States | 465,700 |
| Brasilia | 728 | 6 | Talal Shakerchi | United Kingdom | 116,600 |
| | | | | | |
| Brasilia | 729 | 1 | Michael Ross | United States | 373,800 |
| Brasilia | 729 | 2 | David Oppenheim | United States | 345,000 |
| Brasilia | 729 | 3 | John Monnette | United States | 264,600 |
| Brasilia | 729 | 4 | David Bach | United States | 333,800 |
| Brasilia | 729 | 5 | Bertrand Grospellier | France | 367,900 |