Raul Martinez Requena Leads to Start Day 3 of Colossus III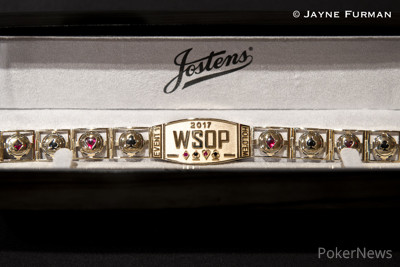 Event #5 of the 2017 World Series of Poker at the Rio All-Suite Hotel and Casino continues today as the Colossus III reaches the penultimate day in the search for a new champion and gold bracelet winner.
A total of 18,054 entries and 9,074 unique players over six starting flights generated a prize pool of $9,027,000 with the eventual winner guaranteed $1,000,000.
Day 2 was a whirlwind of eliminations as the field was scythed down from a starting number of 634 to today's returning 41 players after 10 one-hour levels of play wrapping up at 3 am.
Raul Martinez Requena from the U.K. is the man out in front as the Day 3 chip leader on 5,270,000, while Erkut Yilmaz sits in second on 5,150,000 with Pojana Jenne currently in third with 4,700,000.
Other notables still in the hunt for a gold bracelet include Matt Affleck (2,890,000), Tom Hall (930,000), Gavin O'Rourke (3,000,000) and Michael Telker (2,155,000).
Today the survivors will play down to a final table of nine before they bag up their chips. Levels remain at one hour with breaks every two levels and a one-hour dinner break after Level 6 coming at approximately 8:30 pm. The clock will begin at Level 29 which is 40,000 / 80,000 with a ante of 10,000.
Cards are in the air at 2 p.m. in Brasilia over at Tables 700-713.
PokerNews is proud to return as the official Live Reporting partner of the WSOP 2017 so stay tuned as we bring you all the action from the felt as the Colossus strides on towards crowning a new champion who will become a millionaire.
| Room | Table | Seat | Player | Country | Chip Count | Big Blinds |
| --- | --- | --- | --- | --- | --- | --- |
| Brasilia | 700 | 1 | Robert Hankins | United States | 2,400,000 | 30 |
| Brasilia | 700 | 2 | Jason Orrell | United States | 2,055,000 | 26 |
| Brasilia | 700 | 3 | Alexander Borteh | United States | 630,000 | 8 |
| Brasilia | 700 | 4 | Erkut Yilmaz | United States | 5,150,000 | 64 |
| Brasilia | 700 | 5 | Luke Brereton | United Kingdom | 2,190,000 | 27 |
| Brasilia | 700 | 6 | Yulius Sepman | Russia | 2,770,000 | 35 |
| Brasilia | 700 | 8 | Michael Telker | United States | 2,155,000 | 27 |
| Brasilia | 700 | 9 | Raul Martinez Requena | United Kingdom | 5,270,000 | 66 |
| | | | | | | |
| Brasilia | 704 | 1 | Thomas Hall | United Kingdom | 930,000 | 12 |
| Brasilia | 704 | 2 | Ron Jenkins | United States | 1,140,000 | 14 |
| Brasilia | 704 | 3 | Pojana Jenne | United States | 4,700,000 | 59 |
| Brasilia | 704 | 4 | John Hanna | United States | 1,285,000 | 16 |
| Brasilia | 704 | 5 | Guifang Liu | United States | 700,000 | 9 |
| Brasilia | 704 | 6 | Anthony Utnage | United States | 865,000 | 11 |
| Brasilia | 704 | 7 | Mark Scacewater | United States | 2,800,000 | 35 |
| Brasilia | 704 | 9 | Tony Sinishtaj | United States | 2,875,000 | 36 |
| | | | | | | |
| Brasilia | 708 | 1 | Hugo Perez | United States | 3,935,000 | 49 |
| Brasilia | 708 | 2 | Justin Gish | United States | 1,050,000 | 13 |
| Brasilia | 708 | 3 | Robert Webb | United States | 1,640,000 | 21 |
| Brasilia | 708 | 4 | Ronald Lemco | United States | 630,000 | 8 |
| Brasilia | 708 | 5 | Mark Babekov | United States | 1,434,000 | 18 |
| Brasilia | 708 | 6 | Farid Labib-Kiyarash | United States | 2,245,000 | 28 |
| Brasilia | 708 | 7 | Luke Vrabel | United States | 2,600,000 | 33 |
| Brasilia | 708 | 8 | Daniel Placencia | United States | 855,000 | 11 |
| Brasilia | 708 | 9 | Taylor Black | United States | 4,275,000 | 53 |
| | | | | | | |
| Brasilia | 712 | 1 | Massoud Eskandari | United States | 1,220,000 | 15 |
| Brasilia | 712 | 2 | Christopher Mitts | United States | 4,680,000 | 59 |
| Brasilia | 712 | 4 | Mark Johnson Jr | United States | 890,000 | 11 |
| Brasilia | 712 | 5 | Benjamin Jones | United States | 2,485,000 | 31 |
| Brasilia | 712 | 6 | Matt Affleck | United States | 2,890,000 | 36 |
| Brasilia | 712 | 7 | Taylor Pollard | United States | 2,820,000 | 35 |
| Brasilia | 712 | 8 | Gavin O'Rourke | Ireland | 3,000,040 | 38 |
| Brasilia | 712 | 9 | Thomas Pomponio | United States | 4,265,000 | 53 |
| | | | | | | |
| Brasilia | 713 | 1 | Kent Coppock | United States | 2,125,000 | 27 |
| Brasilia | 713 | 2 | Chad Davis | United States | 460,000 | 6 |
| Brasilia | 713 | 3 | Satsuki Ochiai | Japan | 1,080,000 | 14 |
| Brasilia | 713 | 4 | Ardavan Yazdi | United States | 3,735,000 | 47 |
| Brasilia | 713 | 5 | Robert Elliott | United States | 1,800,000 | 23 |
| Brasilia | 713 | 6 | Ralph Massey | United States | 1,500,000 | 19 |
| Brasilia | 713 | 7 | Steven Lauson | United States | 380,000 | 5 |
| Brasilia | 713 | 9 | Alexandru Masek | United States | 1,005,000 | 13 |