Nível 28 : 30,000/60,000, 10,000 ante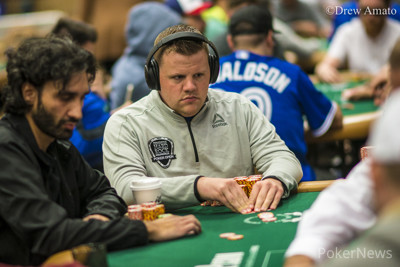 Over 600 players took their seats this afternoon in at the start of Day 2 in the World Series of Poker Event #5: $565 Colossus No Limit Hold'em, but only 43 bagged chips at the conclusion of play.
Leading the way is Raul Martinez Requena, who ended the day with 5,270,000 chips after a huge surge toward the end of the night.
Several well-known players also remain in contention for WSOP gold in this event, including Matt Affleck, Robert Hankins, and Tom Hall.
However, many others weren't so lucky. Today's casualties included Cody Pack, Ismael Bojang, Sebastian Pauli, Cate Hall, Haixia Zhang, Jeff Gross, and Ryan Laplante. Both Chris Moorman and his wife Katie Lindsay were eliminated today as well.
Players will return Tuesday at 2 p.m. to play down to a final table. Follow all the updates here on PokerNews throughout the 2017 World Series of Poker.
| Room | Table | Seat | Player | Country | Chip Count | Big Blinds |
| --- | --- | --- | --- | --- | --- | --- |
| Brasilia | 700 | 1 | Robert Hankins | United States | 2,400,000 | 30 |
| Brasilia | 700 | 2 | Jason Orrell | United States | 2,055,000 | 26 |
| Brasilia | 700 | 3 | Alexander Borteh | United States | 630,000 | 8 |
| Brasilia | 700 | 4 | Erkut Yilmaz | United States | 5,150,000 | 64 |
| Brasilia | 700 | 5 | Luke Brereton | United Kingdom | 2,190,000 | 27 |
| Brasilia | 700 | 6 | Yulius Sepman | Russia | 2,770,000 | 35 |
| Brasilia | 700 | 8 | Michael Telker | United States | 2,155,000 | 27 |
| Brasilia | 700 | 9 | Raul Martinez Requena | United Kingdom | 5,270,000 | 66 |
| | | | | | | |
| Brasilia | 704 | 1 | Thomas Hall | United Kingdom | 930,000 | 12 |
| Brasilia | 704 | 2 | Ron Jenkins | United States | 1,140,000 | 14 |
| Brasilia | 704 | 3 | Pojana Jenne | United States | 4,700,000 | 59 |
| Brasilia | 704 | 4 | John Hanna | United States | 1,285,000 | 16 |
| Brasilia | 704 | 5 | Guifang Liu | United States | 700,000 | 9 |
| Brasilia | 704 | 6 | Anthony Utnage | United States | 865,000 | 11 |
| Brasilia | 704 | 7 | Mark Scacewater | United States | 2,800,000 | 35 |
| Brasilia | 704 | 9 | Tony Sinishtaj | United States | 2,875,000 | 36 |
| | | | | | | |
| Brasilia | 708 | 1 | Hugo Perez | United States | 3,935,000 | 49 |
| Brasilia | 708 | 2 | Justin Gish | United States | 1,050,000 | 13 |
| Brasilia | 708 | 3 | Robert Webb | United States | 1,640,000 | 21 |
| Brasilia | 708 | 4 | Ronald Lemco | United States | 630,000 | 8 |
| Brasilia | 708 | 5 | Mark Babekov | United States | 1,434,000 | 18 |
| Brasilia | 708 | 6 | Farid Labib-Kiyarash | United States | 2,245,000 | 28 |
| Brasilia | 708 | 7 | Luke Vrabel | United States | 2,600,000 | 33 |
| Brasilia | 708 | 8 | Daniel Placencia | United States | 855,000 | 11 |
| Brasilia | 708 | 9 | Taylor Black | United States | 4,275,000 | 53 |
| | | | | | | |
| Brasilia | 712 | 1 | Massoud Eskandari | United States | 1,220,000 | 15 |
| Brasilia | 712 | 2 | Christopher Mitts | United States | 4,680,000 | 59 |
| Brasilia | 712 | 4 | Mark Johnson Jr | United States | 890,000 | 11 |
| Brasilia | 712 | 5 | Benjamin Jones | United States | 2,485,000 | 31 |
| Brasilia | 712 | 6 | Matt Affleck | United States | 2,890,000 | 36 |
| Brasilia | 712 | 7 | Taylor Pollard | United States | 2,820,000 | 35 |
| Brasilia | 712 | 8 | Gavin O'Rourke | Ireland | 3,000,040 | 38 |
| Brasilia | 712 | 9 | Thomas Pomponio | United States | 4,265,000 | 53 |
| | | | | | | |
| Brasilia | 713 | 1 | Kent Coppock | United States | 2,125,000 | 27 |
| Brasilia | 713 | 2 | Chad Davis | United States | 460,000 | 6 |
| Brasilia | 713 | 3 | Satsuki Ochiai | Japan | 1,080,000 | 14 |
| Brasilia | 713 | 4 | Ardavan Yazdi | United States | 3,735,000 | 47 |
| Brasilia | 713 | 5 | Robert Elliott | United States | 1,800,000 | 23 |
| Brasilia | 713 | 6 | Ralph Massey | United States | 1,500,000 | 19 |
| Brasilia | 713 | 7 | Steven Lauson | United States | 380,000 | 5 |
| Brasilia | 713 | 9 | Alexandru Masek | United States | 1,005,000 | 13 |