Event #5: THE COLOSSUS III - $565 No-Limit Hold'em
Dias: 4
Nível 37 : 250,000-500,000, 50,000 ante
Learn why Ben Lamb gave Chance Kornuth $150K.

Nível 37 : 250,000-500,000, 50,000 ante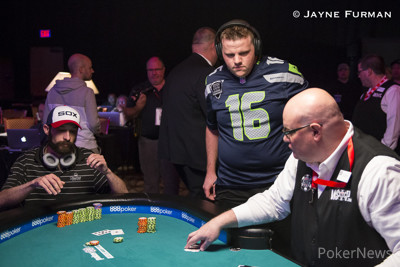 Hand #11:
Kent Coppock was in the small blind and he moved all in to put Matt Affleck at risk. Matt Affleck called instantly, and the cards were turned over:
Matt Affleck:

Kent Coppock:
Affleck was slightly behind but both of his cards were live. The
board didn't help him at all, however, and the most accomplished player of this final table left in eighth place. Affleck received $103,090 for his efforts.

Nível 37 : 250,000-500,000, 50,000 ante
Hand #7: John Hanna raised to 1,200,000 from early position and Ralph Massey defended his big blind. The flop came
and Massey checked to Hanna, who scooped the pot with a 1,200,000 c-bet.
Hand #8: Thomas Pomponio opened the pot with a raise from the cutoff, making it 1,100,000 to go. Taylor Black accepted the price and called from the big blind. The two saw the
on the flop and another continuation bet got the job done as Black folded after Pomponio had bet 1.2 million.
Hand #9: Cards went into muck until Thomas Black's turn. Black was in the small blind and his 1,350,000 raise was enough to make him the winner.
Hand #10: John Hanna completed from the small blind but Kent Coppock wasn't willing to let his opponent look at a flop that cheap. Coppock announced he was all in and a snap-fold followed. Coppock then showed
.
Nível 37 : 250,000-500,000, 50,000 ante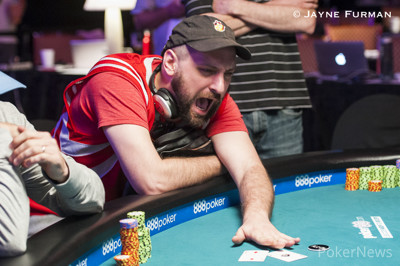 Hand #6: With Mark Babekov still missing, Luke Vrabel shoved all in for 2,950,000 on Babekov's dead big blind. Action folded around to Erkut Yilmaz who called the shove from the button. Next to act, Thomas Pomponio moved all in as well from the small blind for 8,620,000. Action was back on Yilmaz who asked for a count, tanked for about a minute-and-a-half, then called.
Yilmaz:

Pomponio:

Vrabel:
Vrabel jumped up from his chair and started screaming for a deuce. The flop came
giving Vrabel only extra backdoor outs. He picked up his flush draw on the
turn, but he didn't complete it. The river came the
and he hit the rail in ninth place, collecting $79,827 for his efforts.

Nível 37 : 250,000-500,000, 50,000 ante
Mark Babekov, who's leading the final table, hasn't arrived in the room yet. The tournament started without him and the floor staff stacked up his chips in piles.
Hand #1: Action folded to John Hanna who min-raised from the small blind and took down the pot.
Hand #2: Erkut Yilmaz opened to 1,050,000 from the second position and Thomas Pomponio, directly to Yilmaz' left, moved all in for about 10 million. Nobody including Yilmaz was interested in calling.
Hand #3: After folds all around the table, the action stopped at Kent Coppock who moved all in from the small blind, covering Matt Affleck in the big blind. Affleck let his hand go.
Hand #4: Ralph Massey raised to what looked to be 4,000,000, putting nearly all his chips in the middle. Everyone else folded and Massey raked in the pot.
Hand #5: Affleck shoved from the button and both blinds folded.
Nível: 37
Blinds: 250,000/500,000
Ante: 50,000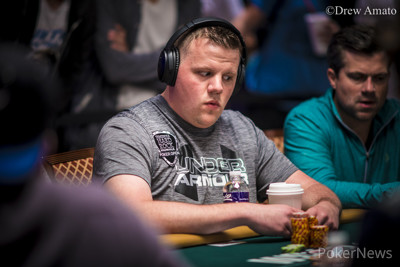 After five days, many rebuys, and six Day 1 starts, only one table remains in Event #5: THE COLOSSUS III - $565 No-Limit Hold'em. These players have outlasted a field of 18,054 total entries which created a prize pool of over $9,000,000. Whoever walks away today as the winner will be a millionaire after capturing the $1,000,000 first-place prize.
Leading the way is Mark Babekov (19,025,000). His finish in this event will be a significant one, no matter where he places. Babekov's largest score so far was during 2010 WSOP, where he placed fourth in a $1,500 pot-limit hold'em event for $62,232. If he can survive just one elimination, he will make his biggest lifetime cash.
Also looking for their first gold bracelets are Matt Affleck and Luke Vrabel. Vrabel has 26 WSOP cashes dating all the way back to 2007 and this will be his second final table. Meanwhile Affleck 28 cashes and over $1 million in WSOP earnings, but has yet to grasp that elusive bracelet. Affleck comes into the day with the shortest stack (3,500,000) while Vrabel is just above him (4,000,000). Affleck and Vrabel are surely a danger at any table, but both have some work to do with just seven and eight big blinds respectively.
Final Table
| Seat | Player | Country | Chip Count |
| --- | --- | --- | --- |
| 1 | Erkut Yilmaz | United States | 16,000,000 |
| 2 | Thomas Pomponio | United States | 10,125,000 |
| 3 | Mark Babekov | United States | 19,025,000 |
| 4 | Ralph Massey | United States | 5,300,000 |
| 5 | Taylor Black | United States | 13,300,000 |
| 6 | John Hanna | United States | 7,550,000 |
| 7 | Luke Vrabel | United States | 4,000,000 |
| 8 | Kent Coppock | United States | 11,500,000 |
| 9 | Matt Affleck | United States | 3,500,000 |
Play is set to resume at 2 p.m. PDT and PokerNews will be here with updates on all the action. Be sure to stay tuned.
Event #5: THE COLOSSUS III - $565 No-Limit Hold'em
Dia 4 Iniciado