Event #43: $1,500 No-Limit Hold'em SHOOTOUT
Dias: 2
Event #43: $1,500 No-Limit Hold'em SHOOTOUT
Dia 2 Iniciado

| Room | Table | Seat | Player | Country | Chip Count |
| --- | --- | --- | --- | --- | --- |
| Brasilia | 718 | 1 | Kevin Eyster | United States | 65,100 |
| Brasilia | 718 | 2 | John Phan | United States | 65,400 |
| Brasilia | 718 | 3 | Alex Goulder | United Kingdom | 59,400 |
| Brasilia | 718 | 4 | Zachary Smiley | United States | 59,600 |
| Brasilia | 718 | 5 | Kevin MacPhee | United States | 65,000 |
| Brasilia | 718 | 6 | Jonathan Maher | United States | 58,400 |
| Brasilia | 718 | 7 | Alex Rocha | United States | 65,200 |
| Brasilia | 718 | 8 | Joseph Barnard | United States | 59,500 |
| Brasilia | 718 | 9 | Jonathan Tamayo | United States | 59,700 |
| Brasilia | 718 | 10 | Kenny Hallaert | Belgium | 65,100 |
| | | | | | |
| Brasilia | 719 | 1 | Jose Montes | United States | 59,550 |
| Brasilia | 719 | 2 | Young Sik Eum | United States | 66,100 |
| Brasilia | 719 | 3 | Paul W Lee | United States | 61,100 |
| Brasilia | 719 | 4 | Wilson Lopes | United States | 59,400 |
| Brasilia | 719 | 5 | Vincent Renzo | United States | 59,700 |
| Brasilia | 719 | 6 | Ian Modder | Canada | 58,900 |
| Brasilia | 719 | 7 | Jonathan Little | United States | 65,600 |
| Brasilia | 719 | 8 | Alan Spotts | United States | 65,800 |
| Brasilia | 719 | 9 | Quan Tran | United States | 63,300 |
| Brasilia | 719 | 10 | Zakir Lakhani | United States | 64,700 |
| | | | | | |
| Brasilia | 720 | 1 | Joe Cook | United States | 65,300 |
| Brasilia | 720 | 2 | Derek Wolters | United States | 64,900 |
| Brasilia | 720 | 3 | Jonathan Borenstein | United States | 64,500 |
| Brasilia | 720 | 4 | Martin Weiemann | Germany | 59,475 |
| Brasilia | 720 | 5 | Matthew Ernst | United States | 57,100 |
| Brasilia | 720 | 6 | Brian Kelly | United States | 65,900 |
| Brasilia | 720 | 7 | Daniel Dangoor | United States | 65,200 |
| Brasilia | 720 | 8 | Dennis Zollo | United States | 58,900 |
| Brasilia | 720 | 9 | Linglin Zeng | China | 59,300 |
| Brasilia | 720 | 10 | Michael Cooper | United States | 65,800 |
| | | | | | |
| Brasilia | 721 | 1 | Chris Brand | United States | 65,400 |
| Brasilia | 721 | 2 | James Cappucci | United States | 59,600 |
| Brasilia | 721 | 3 | Kevin Davis | United States | 64,800 |
| Brasilia | 721 | 4 | Tirza Sanders | United States | 59,800 |
| Brasilia | 721 | 5 | Xavier Rios | United States | 65,525 |
| Brasilia | 721 | 6 | Josh Weiss | United States | 59,800 |
| Brasilia | 721 | 7 | Robert Kuhn | United States | 63,900 |
| Brasilia | 721 | 8 | Martin Staszko | Czech Republic | 65,600 |
| Brasilia | 721 | 9 | Daniel Strelitz | United States | 65,275 |
| Brasilia | 721 | 10 | Frank Williams | United States | 65,600 |
| | | | | | |
| Brasilia | 722 | 1 | Rodeen Talebi | United States | 65,800 |
| Brasilia | 722 | 2 | Curt Kohlberg | United States | 64,700 |
| Brasilia | 722 | 3 | Stoyan Obreshkov | Bulgaria | 65,700 |
| Brasilia | 722 | 4 | Steve Foutty | United States | 65,200 |
| Brasilia | 722 | 5 | Raghav Bansal | India | 59,000 |
| Brasilia | 722 | 6 | Josh Kay | United States | 59,700 |
| Brasilia | 722 | 7 | Nathan Bjerno | United States | 59,200 |
| Brasilia | 722 | 8 | John Kim | United States | 64,875 |
| Brasilia | 722 | 9 | Mikhail Semin | Russia | 64,000 |
| Brasilia | 722 | 10 | Douglas Hartwick | Canada | 58,800 |
| | | | | | |
| Brasilia | 723 | 1 | Joel Micka | United States | 59,000 |
| Brasilia | 723 | 2 | Matthew Haugen | United States | 58,900 |
| Brasilia | 723 | 3 | Ben Maya | United States | 59,600 |
| Brasilia | 723 | 4 | Thiago Nishijima | Brazil | 64,900 |
| Brasilia | 723 | 5 | Chris Moorman | United Kingdom | 58,800 |
| Brasilia | 723 | 6 | Timothy Mcdermott | United States | 59,200 |
| Brasilia | 723 | 7 | Chris Bell | United States | 64,200 |
| Brasilia | 723 | 8 | Alexandre Rivero | Brazil | 66,000 |
| Brasilia | 723 | 9 | Vojtech Ruzicka | Czech Republic | 65,900 |
| Brasilia | 723 | 10 | Gerald Chaplick | United States | 65,100 |
| | | | | | |
| Brasilia | 724 | 1 | Kyle Cartwright | United States | 65,600 |
| Brasilia | 724 | 2 | Ian O'Hara | United States | 65,600 |
| Brasilia | 724 | 3 | Titan Leard | United States | 59,300 |
| Brasilia | 724 | 4 | Christopher Gordon | United Kingdom | 64,800 |
| Brasilia | 724 | 5 | Everett Carlton | United States | 65,200 |
| Brasilia | 724 | 6 | Shola Akindele | United Kingdom | 64,700 |
| Brasilia | 724 | 7 | Phachara Wongwichit | Australia | 65,900 |
| Brasilia | 724 | 8 | Tony Tran | United States | 59,000 |
| Brasilia | 724 | 9 | Aaron Henderson | United States | 59,600 |
| Brasilia | 724 | 10 | William Draper | United States | 65,900 |
| | | | | | |
| Brasilia | 725 | 1 | Alexandru Masek | United States | 65,400 |
| Brasilia | 725 | 2 | Benjamin Geisman | United States | 66,100 |
| Brasilia | 725 | 3 | Toby Boas | United States | 64,800 |
| Brasilia | 725 | 4 | Sean Shah | United States | 65,400 |
| Brasilia | 725 | 5 | Tim West | United States | 59,600 |
| Brasilia | 725 | 6 | Adam Krach | United States | 65,700 |
| Brasilia | 725 | 7 | Thomas Scholze | Germany | 64,700 |
| Brasilia | 725 | 8 | Jesse Yaginuma | United States | 65,800 |
| Brasilia | 725 | 9 | Timothy Chang | United States | 58,500 |
| Brasilia | 725 | 10 | David Machowsky | United States | 64,700 |
| | | | | | |
| Brasilia | 726 | 1 | Andrew Brokos | United States | 63,900 |
| Brasilia | 726 | 2 | Erle Mankin | United States | 64,600 |
| Brasilia | 726 | 3 | Bryce Daifuku | United States | 59,100 |
| Brasilia | 726 | 4 | Pierre Merlin | France | 59,700 |
| Brasilia | 726 | 5 | Jan Nakladal | Czech Republic | 59,700 |
| Brasilia | 726 | 6 | Christopher Leong | United States | 59,500 |
| Brasilia | 726 | 7 | Paul Michaelis | Germany | 64,700 |
| Brasilia | 726 | 8 | Jingwu Cai | United States | 65,400 |
| Brasilia | 726 | 9 | Alexander Richmond | Canada | 59,600 |
| Brasilia | 726 | 10 | Arin Youssefian | United States | 63,900 |
| | | | | | |
| Brasilia | 727 | 1 | Kevin Visentin | United States | 65,000 |
| Brasilia | 727 | 2 | Joseph Wertz | United States | 65,500 |
| Brasilia | 727 | 3 | Rajaee Wazwaz | United States | 59,200 |
| Brasilia | 727 | 4 | Yiyang Feng | United States | 59,300 |
| Brasilia | 727 | 5 | Thomas Boivin | Belgium | 64,900 |
| Brasilia | 727 | 6 | Paul Leckey | Ireland | 59,600 |
| Brasilia | 727 | 7 | Joe Ramos | United States | 59,200 |
| Brasilia | 727 | 8 | Frederick Li | United States | 65,800 |
| Brasilia | 727 | 9 | Richard Alsup | United States | 59,300 |
| Brasilia | 727 | 10 | Terry Fan | Taiwan | 63,000 |
| | | | | | |
| Brasilia | 728 | 1 | Ross Ward | United States | 59,000 |
| Brasilia | 728 | 2 | Sergi Reixach | Spain | 59,600 |
| Brasilia | 728 | 3 | Michael Scarborough | United States | 65,600 |
| Brasilia | 728 | 4 | Marek Ohnisko | Czech Republic | 59,800 |
| Brasilia | 728 | 5 | Russell Thomas | United States | 59,500 |
| Brasilia | 728 | 6 | Carlos Mortensen | United States | 64,500 |
| Brasilia | 728 | 7 | Philip Tom | United States | 59,300 |
| Brasilia | 728 | 8 | Ryan Tamanini | United States | 65,900 |
| Brasilia | 728 | 9 | Damien Leforbes | United States | 65,900 |
| Brasilia | 728 | 10 | Tom Middleton | United Kingdom | 59,600 |
| | | | | | |
| Brasilia | 729 | 1 | Stefan Jedlicka | Austria | 59,625 |
| Brasilia | 729 | 2 | James Gilbert | United States | 64,900 |
| Brasilia | 729 | 3 | Raghuram Jonnalagedda | United States | 59,300 |
| Brasilia | 729 | 4 | Mohsin Virani | United States | 64,600 |
| Brasilia | 729 | 5 | Michael Zigomanis | Canada | 59,600 |
| Brasilia | 729 | 6 | Taylor Paur | United States | 65,300 |
| Brasilia | 729 | 7 | Hassib Younan | Australia | 59,300 |
| Brasilia | 729 | 8 | James Czarnecki | United States | 59,000 |
| Brasilia | 729 | 9 | Michael O'Grady | Australia | 59,800 |
| Brasilia | 729 | 10 | Matas Dilpsas | Latvia | 64,900 |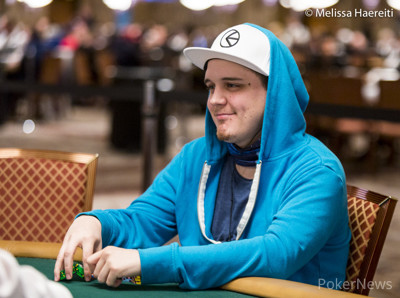 Day 2 of Event #43: $1,500 No-Limit Hold'em SHOOTOUT at the World Series of Poker starts today at 12 noon local time. Just 120 out of 1,025 players who started yesterday will return to play round 2. Everyone is guaranteed a minimum of $4,837, but they will all be aiming for that WSOP gold bracelet and $257,764 for first place.
Today looks like it will be a day filled with loads of action and a number of notables in the field. As the team looks at the seat draw, one table really jumps out — Table 718 — where Kevin Eyster, John Phan, Kevin MacPhee, Alex Rocha, Jonathan Tamayo and Kenny Hallaert will be seated. This is a table where the players have collected five bracelets and six WSOP Circuit rings in total, but only one of them can make it through to tomorrow's finale.
There are still many other big names in the field as well, including Chris Moorman, Jonathan Little, Josh Weiss, Daniel Strelitz, Steve Foutty, Vojtech Ruzicka, Russell Thomas, Tom Middleton, Carlos Mortensen and Taylor Paur.
Keep following the live updates here on PokerNews to find out which 12 players will make it to Day 3.
Nível: 1
Blinds: 300/600
Ante: 100
On the turn of a board reading
, Martin Weiemann checked from the small blind and Matthew Ernst led the betting from the big blind, getting calls from both Derek Wolters in the cut-off and Weiemann.
The river card was the
and Weiemann checked again. Ernst bet 15,500 and Wolters gave it a little bit of thought before calling again. Weiemann quickly mucked.
"Nice call." said Ernst, showing
while Wolters showed
for the wheel.
"What took you so long to call?" Daniel Dangoor wanted to know, "Trying to bait him?"
"Yes," Wolters replied.

Vincent Renzo raised to 1,400 from the hijack. Both Dennis Zollo and Linglin Zeng called from the blinds.
The flop came
, and Zollo and Zeng checked. Renzo opened to 2,000, Zollo called and Zeng folded. The turn brought them the
. This time Zollo bet 3,800 and Renzo called.
The
on the river completed the board, and Zollo check-called the 8,200 bet of Renzo. Renzo showed
for a full house and Zollo mucked.
Damien Leforbes had just won a nice pot and was stacking chips when it folded to him and he opened the next hand for 1,500. Ross Ward three-bet to 3,500 and with no further callers Leforbes called to see a heads-up flop.
The flop came
and Leforbes checked it to Ward. A bet of 5,500 from Ward got a call from Leforbes, and the turn was the
. Leforbes checked, and a bet from Ward of 15,000 took the pot down.

John Kim raised to 1,600 from middle position, and next to act was Mikhail Semin who called. So did Rodeen Talebi from the hijack, Stoyan Obreshkov from the button, and Steve Foutty and Raghav Bansal from the blinds.
The flop came
, Foutty, Bansal, Kim and Semin all checked. Talebi opened to 4,600, Obreshkov called and the rest folded except Kim.
The turn was the
. Kim checked, Talebi opened to 8,200 this time, Obreshkov called and Kim folded.
The river completed the board with the
. Talebi checked and now Obreshkov opened to 19,000. Talebi took some time to think, asking the dealer how much it was exactly. The dealer counted and confirmed for Talebi the bet was 19,000. Talebi counted out calling chips and then took some more time to consider what to do. In the end, he called.
Obreshkov showed
, but Talebi showed
for the flopped straight and won the pot.
Nível: 2
Blinds: 400/800
Ante: 100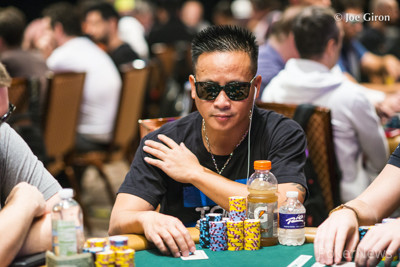 Zachary Smiley opened from early position and it folded all the way around to John Phan in the big blind who three-bet. Smiley called.
The flop was
and Phan led out for 3,800. Smiley called and they then checked both the
turn and
river.
"Kings," Phan said and turned over
. That was good, as Smiley mucked.