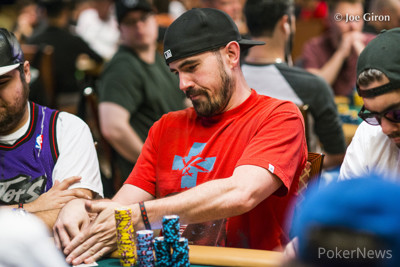 Day 2 of Event #43 $1,500 No-Limit Hold'em Shootout saw 120 players across 12 tables return to battle it out in the winner-take-all shootout format once again. Each of the players had conquered their tables yesterday to lock up $4,837, but only victory over a fresh set of opponents would see them advance to the final day with a new guaranteed minimum cash of $16,844.
Some of the big names who came in today with high hopes but ended disappointed included Vojtech Ruzicka, Martin Staszko, Tom Middleton, Kevin MacPhee and 888Poker's latest bracelet winner Chris Moorman.
The first table to reach heads-up was Table 726 where Paul Michaelis from Germany battled against Erle Mankin from the United States. Michaelis had dominated his table and began the last leg with a 5 to 1 chip lead. Mankin though battled back valiantly with great reads and a lot of humor while attempting to get in Michaelis' head. Some huge lay downs by Mankin, including folding trips on the river against what Michaelis later confirmed was a straight, saw Mankin hang in there but ultimately Michaleis emerged victorious.
The first player to actually make it through to the final day was Panchara Wongwichit from Australia who had a big chip lead and a bigger kicker to eliminate Kyle Cartwright when they both hit a top pair king on the flop. A short day for Wongwichit will allow him to return fully rested on Saturday.
Matthew Haugen led his table for much of the early levels but it was Ben Maya who would be the last man standing on Table 723 when he finally defeated Chris Bell heads up at the end of Level 12.
At the start of the next level, Russell Thomas, who had played a tactically astute and aggressive late game, was defeated by Ross Ward when the pocket kings of Thomas fell to Ward's suited ace-six that turned a straight.
The final three players to advance were Steve Foutty, who beat Josh Kay; Jonathan Little, who beat Alan Spotts; and Matas Dilpsas, who finally got the better of James Gilbert.
The remaining 12 players return Saturday at noon to battle down to a winner. Play begins with two tables of six and progresses like a normal tournament, going to an unofficial final table of 10 and then playing down to a winner.
The PokerNews Live reporting team will bring you all the action on the road to crowning a new shootout champion who will win a gold WSOP bracelet and $257,764.
Day 3 Seat Draw
| Room | Table | Seat | Player | Country | Chip Count | |
| --- | --- | --- | --- | --- | --- | --- |
| Brasilia | 1 | 1 | Panchara Wongwichit | Australia | 637,000 | |
| Brasilia | 1 | 2 | Thomas Boivin | Belgium | 621,000 | |
| Brasilia | 1 | 3 | Joe Cook | United States | 627,000 | |
| Brasilia | 1 | 4 | Tim West | United States | 641,000 | |
| Brasilia | 1 | 5 | Alex Rocha | United States | 622,000 | |
| Brasilia | 1 | 6 | Matas Dilpsas | Lithuania | 617,000 | |
| | | | | | | |
| Brasilia | 2 | 1 | Robert Kuhn | United States | 636,000 | |
| Brasilia | 2 | 2 | Paul Michaelis | Germany | 621,000 | |
| Brasilia | 2 | 3 | Ben Maya | United States | 622,000 | |
| Brasilia | 2 | 4 | Ross Ward | United States | 619,000 | |
| Brasilia | 2 | 5 | Steve Foutty | United States | 627,000 | |
| Brasilia | 2 | 6 | Jonathan Little | United States | 628,000 | |