Event #25: $1,000 Pot-Limit Omaha
Dias: 2
Nível 12 : 800/1,600, 0 ante
Nível 12 : 800/1,600, 0 ante
Jogador
Fichas
Oscilação

Casey Carroll

148,000

-17,000

Jason Stockfish

145,000

4,000

Michael Mizrachi

142,000

-18,000

Bruno Politano

120,000

27,500

Ambassador

Yashuo Chin

116,000

12,000

Toby Joyce

108,000

-7,000

Jonathan Zarin

106,000

-19,600

Igor Sharaskin

68,800

5,800

Jesse Rockowitz

66,500

14,500

Dan Heimiller

65,000

44,500

Jason Wheeler

35,000

-6,000
Nível 12 : 800/1,600, 0 ante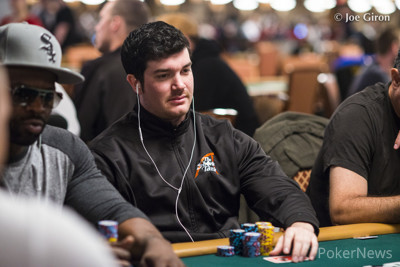 James Hughes and Nadar Kakhmazov had very similar chip stacks going into the hand and they were all in on a flop of
.
Nadar Kakhmazov:

James Hughes:
The turn card was the
the river the
and Kakhmazov's two pair was good.
The stacks were counted down and Hughes had the bigger stack, but after Kakhmazov took such a huge bite out of it Hughes is now left with crumbs.
Nível 12 : 800/1,600, 0 ante
Igor Sharaskin raised to 3,600 from early position and Toby Joyce made a pot-sized three-bet to 13,200 from the cutoff. Sharaskin called.
The flop came
and Sharaskin checked. Joyce tossed out a single orange 5,000 chip and Sharaskin quickly folded.
"I think I might have had aces," joked Joyce as he stacked the pot.
Jogador
Fichas
Oscilação

Toby Joyce

149,000

41,000
Nível 12 : 800/1,600, 0 ante
Four players saw a flop of
and action checked to William Migely who bet. Two opponents folded and Yasho Chin made a pot-sized check-raise. Migely jammed to put Chin to a decision for her stack and she snap-called. The two players were very nearly even in chips.
Chin:

Migley:
Chin had the lead with top set but Migely had the nut-flush draw, so Chin had to dodge diamonds in order to double-up.
The
on the turn was a safe card for Chin, but the
river gave Migely the nut flush and he took the pot to send Chin to the cage and seize the chip lead by miles.
Nível 12 : 800/1,600, 0 ante
The tournament is on a 15-minute break.
Nível: 13
Blinds: 1,000/2,000
Ante: 0
Nível 13 : 1,000/2,000, 0 ante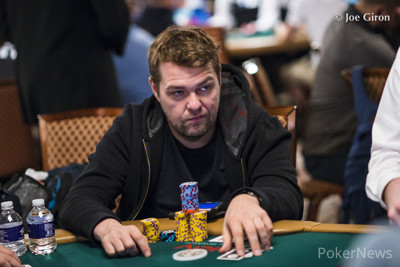 Jason Wheeler got the last of his short stack in the middle against Jason Stockfish on a flop of
. Wheeler showed
for aces and the nut flush draw, but Stockfish flipped over
for trip jacks, so Wheeler needed to improve to preserve his tournament life.
The
on the turn was no help to Wheeler and neither was the
river, so Stockfish took the pot to end Wheeler's run in this tournament.
Nível 13 : 1,000/2,000, 0 ante
It's been a very productive first two levels for Darren Taylor from the United Kingdom. Taylor has more than doubled his stack to over 200,000 and is sitting with an impressively constructed tower of chips in front of him.
The floor has offered to rack up some of the lower denomination chips for him, but Taylor declined for the moment as he was quite happy with the situation.
"Okay, no problem, but I'll be coming for them eventually." said the floor.
"Not if I get them first." quipped another player.
Nível 13 : 1,000/2,000, 0 ante
With about 35,000 already in the middle and the board reading
, Igor Sharaskin and another player were heads up and Sharaskin's opponent checked. Sharaskin bet 24,500, sending his opponent into the tank.
Over a minute went by and a player called the clock. As time was running out, Sharaskin's opponent called.
Sharaskin tabled
for top motorboat and his opponent mucked.