Event #25: $1,000 Pot-Limit Omaha
Dias: 3
Nível: 26
Blinds: 20,000/40,000
Ante: 0

Nível 25 : 15,000-30,000, 0 ante
Allan Le raised to 65,000 from the button and picked up calls by Tyler Groth in the small blind and Darren Taylor in the big blind. The trio checked the
flop and the
turn, before Groth also checked the
river. Taylor bet 140,000, and both opponents folded.
In the last hand of the level, Taylor limped in from the small blind, and Igor Sharaskin raised to 90,000, which Taylor called. He then checked the
flop, and Sharaskin continued for 80,000. Taylor called.
After two checks on the
turn, Taylor bet the
river for 200,000 after plenty of consideration, and Sharaskin quickly tossed in a single chip for the call. Taylor turned over
for a flush and claimed the pot.
Jogador
Fichas
Oscilação

Darren Taylor

1,835,000

485,000

Tyler Groth

1,575,000

55,000

Igor Sharaskin

800,000

-300,000

Allan Le

725,000

-10,000

Nível 25 : 15,000-30,000, 0 ante
Jonathan Zarin raised pot from the small blind, and Allan Le put him at risk. Both players were willing to clash, so their chips went in quickly as Zarin faced elimination, playing his last 230,000.
Jonathan Zarin:

Allan Le:
The
board paired every card in Zarin's hand, leaving Le's kings second to aces and tens. Zarin notched a double but still remains the shortest stack at the table.

Nível 25 : 15,000-30,000, 0 ante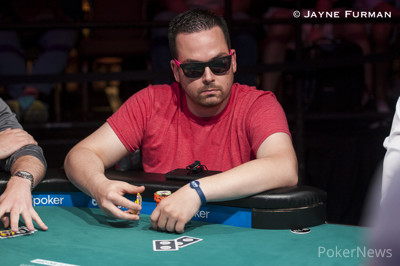 Adam Brown raised the pot to 105,000 with 190,000 behind, and Igor Sharaskin called out of the big blind. On the
flop, Sharaskin bet the pot, and Brown reluctantly called all in.
Adam Brown:

Igor Sharaskin:
Neither the
turn nor the
river improved Brown, and he tapped the table in defeat, said, "Nice hand," and grabbed his belongings. Brown collected $30,090 for his efforts, and the top five now have at least $40,862 apiece locked up.

Nível 25 : 15,000-30,000, 0 ante
Darren Taylor raised to 60,000, and Allan Le called in the big blind. Le check-called a bet of 60,000 on the
flop, and the
fell on the turn. Le checked again, and Taylor bet 170,000, which Le called.
After the
river, both players checked, and Le showed
for a flush, while Taylor flashed a queen-high straight.

Nível 25 : 15,000-30,000, 0 ante
Darren Taylor and Jonathan Zarin showed an ordinary start to a hand, but a not-so-ordinary finish.
Taylor raised to 70,000, and Zarin called from the big blind. So far, so standard, and nothing changed on the
flop, as both players checked.
The turn was the
, and Zarin checked again. Taylor made a delayed continuation bet, sliding forward 60,000. Zarin called.
Zarin remained passive on the
river, and Taylor asked the dealer about the size of the pot; she confirmed it was 275,000. Taylor ultimately bet out 215,000, raising a, "How much?" question from Zarin.
Zarin called, and Taylor said just one word: "Quads."
He indeed had four-of-a-kind, showing
. Zarin couldn't believe it, briefly flipping over his
with the unknown cards believed to be
. Zarin was upset about what had just happened, leaning back in his chair. "He just hits the ace," he added in frustration.

Nível 25 : 15,000-30,000, 0 ante
Allan Le raised to 65,000, and Tyler Groth in the small blind as well as Darren Taylor in the big blind called. On the
flop, all three players checked. Groth bet the
turn for 100,000, and Taylor folded. Le called. After the
river, Groth bet 175,000, and Le reluctantly folded.
The very next hand, Le opened, and Groth asked, "Sixty-five (thousand) again?" which was confirmed. Groth called on the button, and both blinds got out of the way. The flop came
, and Le checked, then called a bet of 50,000 by Groth. The
turn brought no betting action, and Le bet the
river for 80,000.
Groth called and announced a full house, rolling over
. Le mucked his cards, and Groth pulled away further at the top of the counts.

Nível 25 : 15,000-30,000, 0 ante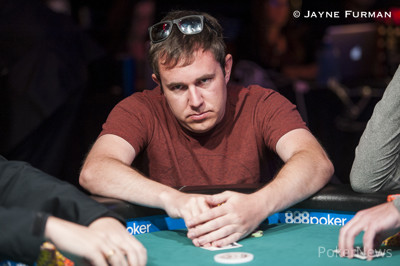 Under the gun, Darren Taylor raised to 70,000. A streak of folds followed, but small blind Daniel Spencer was ready to go. He announced, "Pot," and as he had just under a pot-sized reraise left, he was all in for 225,000.
"How much is it for me to call?" asked Taylor, and when he was met with the numbers, he called.
Daniel Spencer:

Darren Taylor:
Spencer was dealt double-suited connectors, but one of his suits was out of play due Spencers bigger clubs.
The
board was nothing but a blank, leaving Taylor's starting hand ahead.
"Ace-high wins," Adam Brown summed up the action as the table congratulated Spencer for his result. He was eliminated in seventh place, collecting $22,456 at the payout desk. The remaining players are locked into earning just over $30,000 apiece, at least.

Nível 25 : 15,000-30,000, 0 ante
Darren Taylor limped in from the button, Igor Sharaskin called in the small blind, and Jonathan Zarin checked his option in the big blind. On the
flop, Sharaskin checked, and Zarin bet 85,000. Taylor was the only caller, and Zarin then checked the
on the turn.
Taylor bet 80,000, and Zarin check-raised all in. Taylor, who hails from Northern Ireland, glanced over at the shove of more than 250,000 and sent his cards into the muck.
Nível: 25
Blinds: 15,000/30,000
Ante: 0