Nível 26 : 40,000/80,000, 0 ante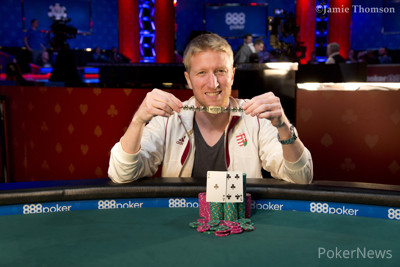 Shane Buchwald just won his first-ever World Series of Poker gold bracelet in his first-ever WSOP event. Buchwald will take home $177,985 and the bracelet after winning Event #24: $1,500 Limit Hold'em. The event drew 616 players and a prize pool of $831,600. Buchwald managed to beat a table full of players who were each seeking their first WSOP bracelet.
Day 3 started with 15 players, including three-time WSOP bracelet winner Barry Greenstein. Buchwald started the day in fifth position and took control late in the final table on his way to winning the bracelet. Greenstein was eliminated in 11th place and took home $9,085.
Buchwald won the final six hands of the heads-up portion of the tournament to eliminate second-place finisher Venkata "Sandy" Tayi. Tayi got his final chips in with jack-high versus ace-high and missed a flush draw and a straight draw to be eliminated in second place.
Buchwald also eliminated Ray Henson in third place. The two were in for three bets apiece preflop, and Buchwald flopped a pair of nines against Henson's ace-high. He also eliminated fourth-place finisher Shane Fumerton when he made a flush in a four-way pot that left Fumerton eliminated and Henson short.
Nancy Nguyen entered Day 3 as the chip leader and eventually finished in fifth place at the hands of Tayi, who flopped a set and turned a full house. Tayi also eliminated Hod Berman in sixth place when he turned two pair against Berman's single pair with ace-high.
Kevin Lizak got his last chips in against Fumerton with ace-high. Fumerton flopped a pair of kings and sent Lizak to the rail in seventh place. Lizak was the one who sent Mark Bassaly home in eighth. Bassaly, who was sporting the loudest rail of the day, was eliminated when he got ace-king in against Lizak's king-ten. Bassaly flopped an ace, but Lizak went runner-runner tens to win the hand and send Bassaly to the rail.
Tung Tran flopped a set, but Buchwald turned a flush to send him home in ninth place.
Below are the payouts for the final table:
| Place | Name | Prize |
| --- | --- | --- |
| 1 | Shane Buchwald | $177,985 |
| 2 | Venkata "Sandy" Tayi | $109,968 |
| 3 | Ray Henson | $75,780 |
| 4 | Shane Fumerton | $53,102 |
| 5 | Nancy Nguyen | $37,850 |
| 6 | Hod Berman | $27,449 |
| 7 | Kevin Lizak | $20,261 |
| 8 | Mark Bassaly | $15,225 |
| 9 | Tung Tran | $11,652 |
Reflecting on his runner-up finish and second cash of the WSOP this year, Venkata "Sandy" Tayi was upbeat on coming so close to his first bracelet.
"When I sat down on the first day I said I was here for the bracelet not the money, and I came pretty close," he said.
"I want to shout out to my dad in India who has been watching the updates on PokerNews and WSOP. I think you guys are doing a great job in getting the news out there.
"The game is getting really popular in countries like India so it's a great experience for me. Hopefully next time I can get the bracelet."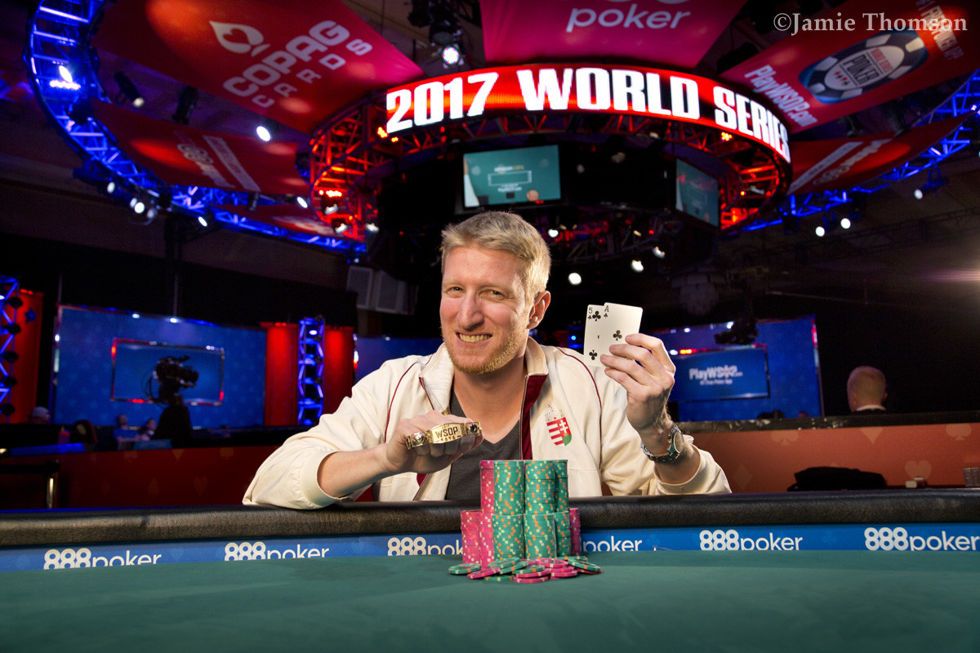 Meanwhile, Shane Buchwald said it was "hard to believe" after winning an event he hadn't even planned to play.
"I'm living in southern Brazil right now. I registered this tournament after a 24-hour flight; I came here with a friend who is a limit hold'em regular and he wanted to play this. By the end of four levels, I was falling asleep at the tables!
"It's the first WSOP event I've ever entered, and somehow, I built up a stack and ran really, really well!
Despite never playing a hand of full-ring limit hold'em in his life, Buchwald says that he has played over 20,000 of heads-up limit hold'em over the course of his poker career.
"In limit hold'em, you have to make some marginal decisions, but it's pretty straight-forward. You can't make that many huge mistakes. I just tried to keep myself above ten big bets the whole time, and as long as I was around there, I was pretty happy."
And as for his plans for the future?
"I've recently signed up for culinary school, trying to get out of poker," he said.
"I'm quite content to stick with my one-from-one in WSOP events. This is as probably as good as it gets.
"Maybe I'll just never play again!"
That concludes Event #24 $1,500 Limit Hold'em. PokerNews will be covering all the events at WSOP 2017 and you can find updates on all the events until the Main Event Champion is crowned.