Event #17: $10,000 Dealers Choice 6-Handed Championship
Dias: 1
Nível 10 : 4,000/8,000, 0 ante
There are four more hands remaining in the day.
Nível 10 : 4,000/8,000, 0 ante
Jogador
Fichas
Oscilação

Ray Dehkharghani

265,000

5,000

Viacheslav Zhukov

258,400

13,400

Zachary Freeman

257,200

-39,800

Schuyler Thornton

241,600

26,600

Dennis Eichhorn

230,000

230,000

Jon Turner

212,100

52,100

James Obst

185,600

45,600

Mike Matusow

179,200

-35,800

Shawn Buchanan

172,700

42,700

David Prociak

164,700

-36,300

Chris Vitch

164,600

49,600

Todd Brunson

153,900

Daniel Negreanu

151,600

-8,400

Roland Israelashvili

143,700

58,700

Lyle Berman

138,400

-36,600

Ben Yu

129,600

29,600

John Racener

128,400

-16,600

Eric Crain

127,300

-2,700

Joseph Couden

126,400

-13,600

Tommy Hang

123,000

-12,000

Jared Bleznick

119,000

-9,000

Mikko Hirvonen

113,800

-51,200

Chris Klodnicki

110,100

39,100

Ryan Hughes

94,800

-26,500

Quinn Do

94,500

64,500
Nível 10 : 4,000/8,000, 0 ante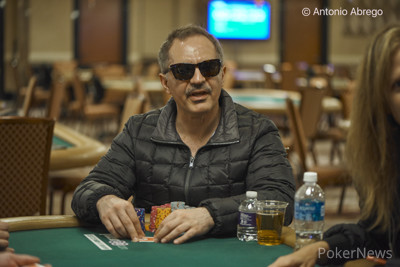 It looked like it would be a slow day and a weak turnout in Event #17: $10,000 Dealers Choice 6-Handed Championship, but by day's end, a solid 102 players had been seated in the event.
Just 37 of those made it on to Day 2, and leading the way will be Ray Dehkharghani, a noted mixed game player who won last year's $10,000 Razz Championship. Dehkharghani turned his 50,000 starting stack into 265,000 to bag a narrow lead over Viacheslav Zhukov (258,000) and Zachary Freeman (257,200).
However, while there was plenty of laughter at a bunch of the tables as regulars battled in 20-odd different games, Day 1 was marred by controversy in a pot contested between Matt Glantz and Samuel Touil.
It happened during no-limit hold'em, when Touil came in for a raise and saw Glantz three-bet. Touil made a forward motion with his chips but didn't set them onto the felt, and Glantz piled in his remaining stack and turned over his ace-king. Touil argued he hadn't completed his motion, and supervisors agreed that he still had action.
Glantz was adamant that Touil had angled him, but in the end, his vehement argument went unheeded and Touil was allowed to just call. Touil stuck the rest in after flopping a straight draw with ace-jack, Glantz called, and Touil got there.
Glantz was left with just 33,000 with limits at 3,000/6,000 but got the last laugh as he managed to recover and bag 84,700, while Touil fell in a later pot.
Other notables bagging above-average stacks included Jon Turner, James Obst, Mike Matusow, Todd Brunson and Daniel Negreanu. Players going bust included Phil Hellmuth, Jason Mercier, Brian Rast, Dzmitry Urbanovich, and Stephen Chidwick.
Play resumes Friday at 2 p.m. with another 10-level day on the docket, so come back to PokerNews to see which players will be contesting the final stages of the Dealer's Choice Championship.
| Room | Table | Seat | Player | Country | Chip Count |
| --- | --- | --- | --- | --- | --- |
| Brasilia | 708 | 1 | Daniel Negreanu | Canada | 151,600 |
| Brasilia | 708 | 2 | Chris Klodnicki | United States | 110,100 |
| Brasilia | 708 | 3 | Matthew Kelly | United States | 83,700 |
| Brasilia | 708 | 4 | George Trigeorgis | United States | 166,400 |
| Brasilia | 708 | 5 | Tommy Hang | United States | 123,000 |
| | | | | | |
| Brasilia | 709 | 1 | Dennis Eichhorn | United States | 230,000 |
| Brasilia | 709 | 2 | Ray Dehkharghani | United States | 265,000 |
| Brasilia | 709 | 3 | James Obst | Australia | 185,600 |
| Brasilia | 709 | 4 | Joseph Couden | United States | 126,400 |
| Brasilia | 709 | 5 | Zack Freeman | United States | 257,200 |
| Brasilia | 709 | 6 | Mikko Hirvonen | United Kingdom | 113,800 |
| | | | | | |
| Brasilia | 710 | 1 | Shawn Buchanan | Canada | 172,700 |
| Brasilia | 710 | 2 | Ben Yu | United States | 129,600 |
| Brasilia | 710 | 3 | Bryce Yockey | United States | 84,200 |
| Brasilia | 710 | 4 | Jake Abdalla | United States | 77,400 |
| Brasilia | 710 | 6 | David "ODB" Baker | United States | 76,000 |
| | | | | | |
| Brasilia | 711 | 1 | David Prociak | United States | 164,700 |
| Brasilia | 711 | 2 | Robert Mizrachi | United States | 80,000 |
| Brasilia | 711 | 4 | Viacheslav Zhukov | Russia | 258,400 |
| Brasilia | 711 | 5 | Ryan Hughes | United States | 94,800 |
| Brasilia | 711 | 6 | Todd Brunson | United States | 153,900 |
| | | | | | |
| Brasilia | 712 | 1 | Benjamin Lukas | United States | 53,600 |
| Brasilia | 712 | 2 | Daniel Zack | United States | 79,300 |
| Brasilia | 712 | 3 | Quinn Do | United States | 94,500 |
| Brasilia | 712 | 5 | Eric Crain | United States | 127,300 |
| Brasilia | 712 | 6 | Lars Gronning | United States | 91,000 |
| | | | | | |
| Brasilia | 713 | 1 | Lyle Berman | United States | 138,400 |
| Brasilia | 713 | 2 | Matt Glantz | United States | 84,700 |
| Brasilia | 713 | 3 | Schuyler Thornton | United States | 241,600 |
| Brasilia | 713 | 4 | Jon Turner | United States | 212,100 |
| Brasilia | 713 | 6 | Carol Fuchs | United States | 61,000 |
| | | | | | |
| Brasilia | 714 | 1 | Christopher Vitch | United States | 164,600 |
| Brasilia | 714 | 2 | Craig Chait | United States | 69,300 |
| Brasilia | 714 | 3 | Roland Israelashvili | United States | 143,700 |
| Brasilia | 714 | 4 | Jared Bleznick | United States | 119,000 |
| Brasilia | 714 | 5 | John Racener | United States | 128,400 |
| Brasilia | 714 | 6 | Mike Matusow | United States | 179,200 |
Event #17: $10,000 Dealers Choice 6-Handed Championship
Dia 1 Concluído