Nível 8 : 2,500/5,000, 0 ante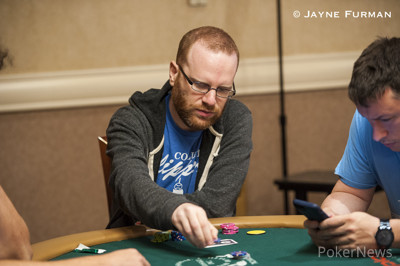 Big O
Adam Friedman opened to 3,000, and with the action on Daniel Negreanu on the button, he announced a pot raise and placed 10,800 into the middle. Friedman began deliberating, and after roughly two minutes, he called, leaving himself just 11,000 behind.
The dealer spread a
flop, and Friedman checked to Negreanu, who dropped a stack of pink 5,000-denomination chips into the middle to effectively put Friedman all in.
As Friedman entered the tank, Negreanu spoke up, saying, "You see that? That's the face of someone that doesn't have a nine!"
A few minutes went by, and Friedman added, "I'm just trying to figure out if there is a way you don't have aces here."
Another minute or two went by, and Friedman called the clock on himself. The supervisor came over and gave Friedman 30 seconds to come up with a decision.
Eventually that decision was a fold.
"I'll make you sleep better tonight!" announced Negreanu as he showed Friedman his
.
"I'm not sure how many people would fold in this spot," added Friedman. As both players continued to discuss the hand, Friedman hinted that he had
.
Jogador
Fichas
Oscilação

Daniel Negreanu

77,500

15,500

Adam Friedman

11,000

-24,000