Welcome to Day 2 of Event #11: $1,500 Dealers Choice 6-Handed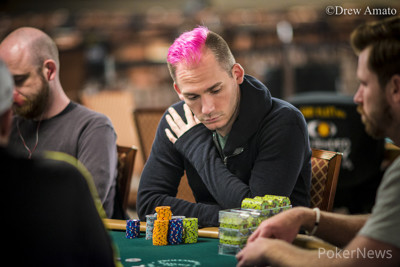 One day is down and two to go in Event #11: $1,500 Dealers Choice 6-Handed.
Roughly a quarter of the field made it through Day 1 of the mixed game bonanza as 89 of 364 players advanced, and there are plenty of mixed game crushers dotting the leaderboard for poker fans to keep an eye on as Day 2 of the event progresses. Justin Bonomo (70,900), Marco Johnson (61,300), Jon Turner (46,000), David Bach (43,100) and Robert Mizrachi (41,500) are all among the bigger stacks.
Mizrachi, of course, is perhaps the most accomplished player in the short history of these dealer's choice events, which date to 2014 at the WSOP. He finished first in the inaugural running for $147,092 and followed that up with third place in 2015 for $51,236.
All, however, have work to do to catch chip leader Troy Evans (76,200).
Taking place over in the former poker kitchen in the Miranda Room, Day 2 is scheduled to see 10 more one-hour levels, with players sifting through the stack of 20-odd game plaques and selecting their games of choice for a round apiece. There will be a one-hour dinner break at the conclusion of today's sixth level.
Keep an eye here on PokerNews as we bring you updates throughout the day.
| Room | Table | Seat | Player | Country | Chip Count |
| --- | --- | --- | --- | --- | --- |
| Miranda | 600 | 1 | Yueqi Zhu | China | 17,500 |
| Miranda | 600 | 2 | Konstantin Maslak | Russia | 41,900 |
| Miranda | 600 | 3 | Jordan Siegel | United States | 25,700 |
| Miranda | 600 | 4 | Derek Gomez | United States | 33,200 |
| Miranda | 600 | 5 | Andrew Kelsall | United States | 16,200 |
| Miranda | 600 | 6 | Brian Jordan | United States | 30,600 |
| | | | | | |
| Miranda | 601 | 2 | Scott Milkey | United States | 45,600 |
| Miranda | 601 | 3 | Daniel Hirleman | United States | 17,000 |
| Miranda | 601 | 4 | Jameson Painter | United States | 2,400 |
| Miranda | 601 | 5 | Jonathan Lewis | United States | 4,000 |
| Miranda | 601 | 6 | Peter Levine | United States | 13,200 |
| | | | | | |
| Miranda | 602 | 1 | Kyle Welsh | United States | 65,800 |
| Miranda | 602 | 2 | David Macklin | United States | 47,600 |
| Miranda | 602 | 4 | Jesse Martin | United States | 13,000 |
| Miranda | 602 | 5 | Tommy Hang | United States | 28,000 |
| Miranda | 602 | 6 | Zack Freeman | United States | 13,900 |
| | | | | | |
| Miranda | 603 | 1 | Jeff Madsen | United States | 49,600 |
| Miranda | 603 | 3 | Eric Pratt | United States | 29,400 |
| Miranda | 603 | 4 | Ryan Robinson | United States | 33,700 |
| Miranda | 603 | 5 | Raoul Encinas | United States | 68,000 |
| Miranda | 603 | 6 | Kyle Bowker | United States | 55,400 |
| | | | | | |
| Miranda | 609 | 1 | Jeffrey Mitseff | United States | 22,200 |
| Miranda | 609 | 2 | Adam Kipnis | United States | 19,300 |
| Miranda | 609 | 3 | Raymond Henson | United States | 19,100 |
| Miranda | 609 | 4 | Paul Sokoloff | Canada | 26,900 |
| Miranda | 609 | 5 | Marco Johnson | United States | 61,300 |
| Miranda | 609 | 6 | John Marlowe | United States | 23,000 |
| | | | | | |
| Miranda | 610 | 1 | Chip Jett | United States | 59,500 |
| Miranda | 610 | 2 | Senh Cong | United States | 27,100 |
| Miranda | 610 | 3 | Aaron Steury | United States | 7,200 |
| Miranda | 610 | 5 | Sampo Ryynanen | Finland | 6,800 |
| Miranda | 610 | 6 | Todd Bui | United States | 26,300 |
| | | | | | |
| Miranda | 611 | 1 | Alan Richardson | United States | 49,500 |
| Miranda | 611 | 2 | David Slowik | United States | 44,800 |
| Miranda | 611 | 3 | Justin Young | United States | 13,300 |
| Miranda | 611 | 4 | Denis Ethier | United States | 13,600 |
| Miranda | 611 | 5 | Eric Rodawig | United States | 16,700 |
| Miranda | 611 | 6 | Kevin Gerhart | United States | 38,600 |
| | | | | | |
| Miranda | 618 | 1 | David Benyamine | United States | 42,300 |
| Miranda | 618 | 2 | Jon Turner | United States | 46,000 |
| Miranda | 618 | 3 | Will Durkee | United States | 31,100 |
| Miranda | 618 | 4 | Isaac Crow | United States | 32,500 |
| Miranda | 618 | 5 | William Mcclain | United States | 15,200 |
| Miranda | 618 | 6 | Craig Chait | United States | 36,100 |
| | | | | | |
| Miranda | 619 | 1 | Yuval Bronshtein | Israel | 21,200 |
| Miranda | 619 | 2 | Chris Ferguson | United States | 9,300 |
| Miranda | 619 | 3 | David Bach | United States | 43,100 |
| Miranda | 619 | 4 | George Boyce | United States | 30,700 |
| Miranda | 619 | 5 | John Racener | United States | 31,100 |
| Miranda | 619 | 6 | Chad Eveslage | United States | 19,600 |
| | | | | | |
| Miranda | 620 | 1 | Dylan Linde | United States | 19,100 |
| Miranda | 620 | 2 | David (Wes) Self | United States | 50,800 |
| Miranda | 620 | 4 | Rodeen Talebi | United States | 23,000 |
| Miranda | 620 | 6 | Christopher Sensoli | United States | 47,100 |
| | | | | | |
| Miranda | 627 | 2 | Andrew Miramontes | United States | 23,700 |
| Miranda | 627 | 3 | Brandon Cantu | United States | 39,600 |
| Miranda | 627 | 4 | Robert Mizrachi | United States | 41,000 |
| Miranda | 627 | 5 | Scott Bohlman | United States | 48,300 |
| Miranda | 627 | 6 | Shane Burns | Australia | 37,900 |
| | | | | | |
| Miranda | 628 | 1 | Miguel Use | Belgium | 6,700 |
| Miranda | 628 | 2 | Bradley Helm | United States | 25,000 |
| Miranda | 628 | 3 | Tom Franklin | United States | 19,600 |
| Miranda | 628 | 4 | Konstantin Bucherl | Germany | 10,300 |
| Miranda | 628 | 5 | Nacho Barbero | Argentina | 22,500 |
| Miranda | 628 | 6 | Justin Bonomo | United States | 70,900 |
| | | | | | |
| Miranda | 629 | 1 | Benjamin McAninch | United States | 22,300 |
| Miranda | 629 | 2 | Zachary Milchman | United States | 14,900 |
| Miranda | 629 | 3 | John Fahmy | United States | 13,200 |
| Miranda | 629 | 4 | Dan Matsuzuki | United States | 21,000 |
| Miranda | 629 | 5 | Mark Provenzano | United States | 16,300 |
| Miranda | 629 | 6 | Wook Kim | United States | 14,900 |
| | | | | | |
| Miranda | 636 | 1 | Anthony Arvidson | United States | 40,900 |
| Miranda | 636 | 2 | Jake Schwartz | United States | 30,900 |
| Miranda | 636 | 3 | Lance Allred | United States | 28,000 |
| Miranda | 636 | 4 | Jeremy Heartberg | United States | 22,900 |
| Miranda | 636 | 5 | Lawrence Berg | United States | 63,300 |
| Miranda | 636 | 6 | Brandon Delnano | United States | 28,600 |
| | | | | | |
| Miranda | 637 | 1 | Kevin Iacofano | United States | 63,600 |
| Miranda | 637 | 2 | John Reiss | United States | 19,000 |
| Miranda | 637 | 3 | Mark Gregorich | United States | 42,600 |
| Miranda | 637 | 4 | Clayton Newman | United States | 26,900 |
| Miranda | 637 | 5 | Kyle Kloeckner | United States | 24,700 |
| Miranda | 637 | 6 | Troy Evans | United States | 76,200 |
| | | | | | |
| Miranda | 638 | 1 | Kristijonas Andrulis | Lithuania | 42,600 |
| Miranda | 638 | 2 | Daniel Harmetz | United States | 35,000 |
| Miranda | 638 | 3 | Chawki Fawaz | Ivory Coast | 42,700 |
| Miranda | 638 | 4 | Alex Luneau | France | 18,800 |
| Miranda | 638 | 5 | Dariush Imani | United States | 43,800 |
| Miranda | 638 | 6 | Alexander Cantori | Austria | 4,500 |