Event #93: $10,000 Short Deck Championship
Dias: 3
Event #93: $10,000 Short Deck Championship
Dia 3 Concluído
Nível 22 : Blinds 0/0, 25,000 ante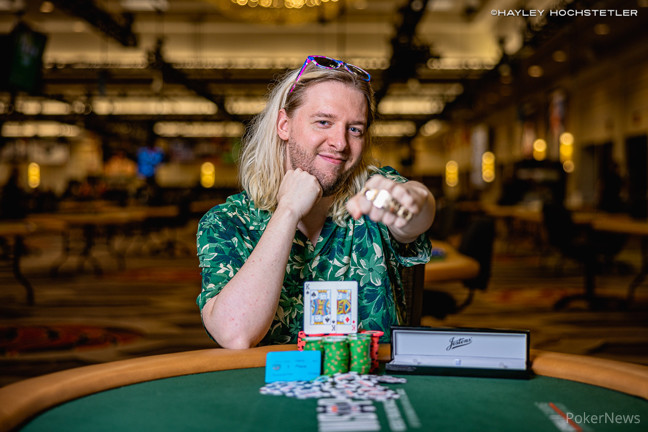 There were five players who returned for the final day of Event #97: $10,000 Short Deck No-Limit Hold'em at Horseshoe and Paris Las Vegas and it was the start-of-day chip leader Martin Nielsen who walked away with his first World Series of Poker gold bracelet along with $270,160.
Nielsen overcame a star-studded field of 106 entries, which generated a prize pool of $895,300 in one of the last high-roller events of the series. Although he came back to Day 3 as the chip leader, it wasn't a cakewalk for the Faroe Islands Native as he sat down with some of the best players in the world, including poker Hall of Famer and legend John Juanda. In the end, It came down to a heads-up battle between Nielsen and Hong Wei Yu, and the short-deck specialist found a way to come out on top.
"It's so weird, though, I thought I would be nervous," Nielsen said after his victory, "I don't know, I am a full-time short-deck cash player, but I mostly play online on GG."
The craziest part is this is only his second cash of the series, with his first coming from a min-cash in a $200 Daily Deepstack for $403. When asked what made him register in this high roller, he simply said, "Well I am a short deck player, so this was my most important tournament of the summer, the $200 was just for fun." With this win, this jumps his Hendon Mob live earnings to $300,000, which he says will be the biggest from his home country.
Final Table Results
| Place | Player | Country | Payout |
| --- | --- | --- | --- |
| 1 | Martin Nielsen | Faroe Islands | $270,160 |
| 2 | Hong Wei Yu | United States | $167,340 |
| 3 | Ivan Ermin | Russia | $118,037 |
| 4 | Eric Wasserson | United States | $85,124 |
| 5 | John Juanda | Indonesia | $62,793 |
| 6 | Nobuaki Sasaki | Japan | $47,406 |
| 7 | Chris Brewer | United States | $36,648 |
Day 3 Action
There were five players that returned to the felt at 1 p.m. local time and after a small delay, the cards were in the air. The players waited for him to arrive after pitching the cards on the first hand but it didn't take long after that for the chips to start flying.
Early in the day, Juanda moved all in preflop with queen-ten of hearts and was called by Eric Wasserson with ace-king of diamonds to put him at risk. Wasserson flopped a king and held to eliminate Juanda in 5th place.
After that, the action slowed way down as the players were so deep, with the average stack well over 100 antes for most of the day. Wasserson looked like he was making a run when he became chip leader after winning a big pot against Nielsen but then two hands later lost a big cooler to Ivan Ermin to double him up.
Wasserson then lost most of his stack in a huge pot against Nielsen when he flopped a set of eights on an eight-queen-ace board against the ace-nine of Nielsen. Wasserson almost had him drawing dead but Nielsen hit a miracle runout of seven-six to hit a straight on the river. Soon after that, Wasserson moved all in with king-nine suited and was called by Ermin with king-queen. Wasserson turned a pair of nines to take the lead but Ermin hit a gutshot straight on the river to take the pot and sent Wasserson out in fourth place.
After his exit, it was two full levels before Ermin was sent home in 3rd after getting it in preflop with jack-ten suited against the ace-queen of Nielsen. The flop of ten-eight-queen gave Ermin the lead with a pair of tens but the king-jack runout gave Nielsen a straight on the river to send him out in third.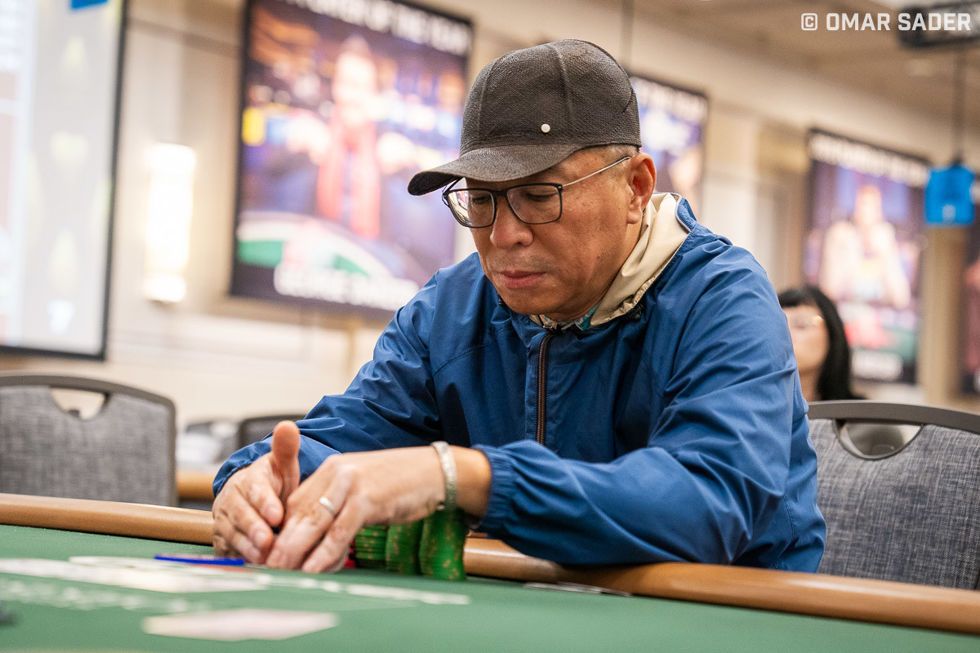 After this pot, Nielsen came into heads-up play against Yu with a dominating 3:1 chip lead. It only took around 15 minutes of play before the two managed to get it all in the middle with Yu holding jack-ten of spades versus the pocket kings of Nielsen. The queen-eight-six-ten turn with two spades gave Yu a ton of outs to hit, but the blank ten on the river did not do it and he was eliminated as the runner-up while Nielsen was crowned champion and adorned with the gold bracelet.
That wraps up the coverage for this event, and although this was one of the last events, keep an eye on PokerNews for the recap on the $5,000 6-max as well as the last updates on the $1,000 Super Turbo. Have a great summer, and catch more action on the felt real soon!
Nível 22 : Blinds 0/0, 25,000 ante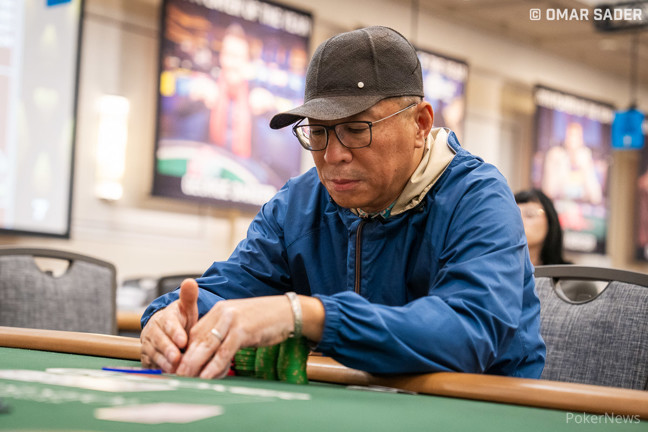 Martin Nielsen opened to 175,000 from under the gun and Hong Wei Yu raised to 650,000 on the button. Nielsen moved all in, covering the roughly 1,500,000 total for Yu, who quickly called.
Hong Wei Yu: J♠10♠
Martin Nielsen: K♦K♠
Both players had monster hands, but when the board ran out Q♠8♥6♣7♠10♦, it was the kings for Nielsen that held up to send Yu out in second place and lock up the win for Nielsen.
Nível 22 : Blinds 0/0, 25,000 ante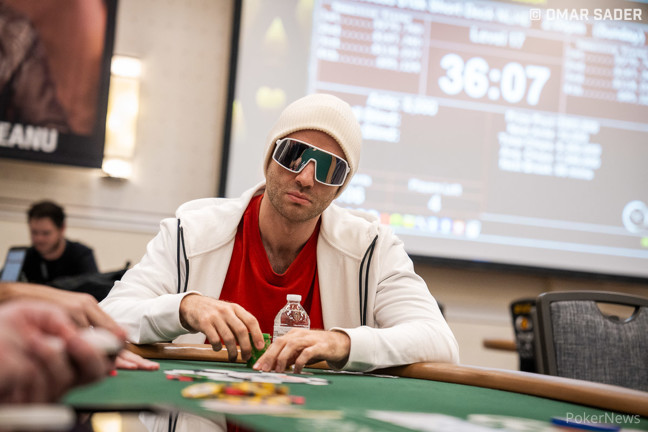 Ivan Ermin and Martin Nielsen got all the chips into the middle preflop, with Ermin at risk of elimination.
Ivan Ermin: J♥10♥
Martin Nielsen: A♣Q♠
"Oooohh, 50/50!" Hong Wei Yu said as he watched the dealer spread the flop 10♣8♥K♥ to give Ermin the lead with his pair of tens and flush draw.
The turn K♦ changed nothing, but the river J♣ was a gut punch for Ermin as it gave Nielsen the straight and he was eliminated in third place.
Nível 22 : Blinds 0/0, 25,000 ante
In a limped pot preflop on a flop showing Q♦10♦7♠, Martin Nielsen bet out 75,000 from the cutoff and Ivan Ermin made the call on the button.
The turn came the 9♣ and both players checked to the 10♠ river, where again the action went check-check. Nielsen tabled 9♠8♣ for a pair of nines and Ermin laughed that he couldn't beat that and tossed his cards into the muck.
Nível 22 : 0/0, 25,000 ante
On a flop of 6♥Q♣6♦, Ivan Ermin checked to Martin Nielsen on the button who bet 25,000. Ermin tossed out the call and the two went to to the turn J♦.
Ermin then check-called again after Nielsen fired for 150,000 and they saw the 7♦ fall on the river.
After another check from Ermin, Nielsen bombed the pot for 650,000 and after a few seconds Ermin tossed in his cards.
After some prodding from Ermin, Nielsen couldn't help but showing A♦9♦ for the nut flush and his opponents congratulated him on the nice hand as he gathered his new chips.
Nível: 22
Blinds: 0/0
Ante: 25,000
Nível 21 : Blinds 0/0, 20,000 ante
Ivan Ermin opened to 160,000 from under the gun and only Martin Nielsen made the call on the button.
The flop came K♦10♠6♠ and Ermin continued for 110,000, which Nielsen came along. The K♠ hit the turn and Ermin slowed down with a check. Nielsen took a few seconds before cutting out a bet of 450,000 and Ermin quickly let it go.
Jogador
Fichas
Oscilação

Martin Nielsen (FI)

2,620,000

520,000

Ivan Ermin

1,970,000

-530,000
Nível 21 : Blinds 0/0, 20,000 ante
On a heads-up flop of Q♥Q♣9♣, there was already around 275,000 in the pot when Nielsen put out a bet of 85,000.
It was then on Hong Wei Yu who raised it up to 325,000 and put the pressure back on Nielsen.
Nielsen made the call and the two went to the turn 9♥, which double-paired the board. Both players then decided to check and went straight to the river K♠.
Yu checked once more and Nielsen tanked for almost 30 seconds before he announced a bet of 300,000, to which Yu promptly folded to award him the sizeable pot.
Nível 21 : Blinds 0/0, 20,000 ante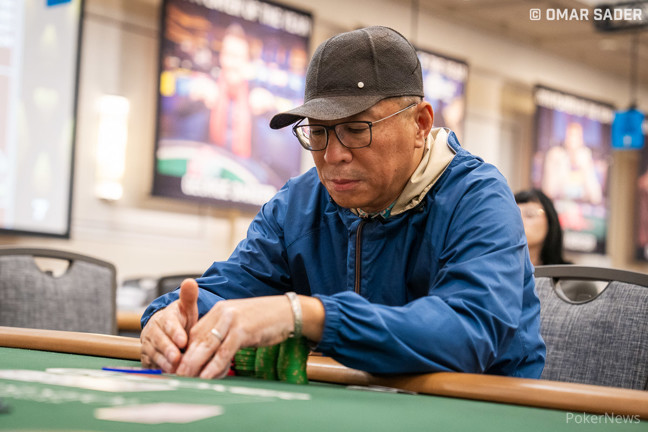 In a limped pot preflop on a flop showing 10♦9♠8♥, Ivan Ermin bet 75,000 from the cutoff and Hong Wei Yu raised to 375,000 on the button. Ermin made the call and the A♦ hit the turn.
Ermin checked to Yu who announced all in for 1,370,000 and Ermin went deep in the tank. After using several time bank chips, Ermin open-folded 10♥10♠ for a flopped set.
Yu revealed the 7♠ to keep everyone guessing and scooped the large pot.