Event #92: $1,000 No-Limit Hold'em Freezeout
Dias: 2
Event #92: $1,000 No-Limit Hold'em Freezeout
Dia 2 Concluído
Nível 38 : Blinds 500,000/1,000,000, 1,000,000 ante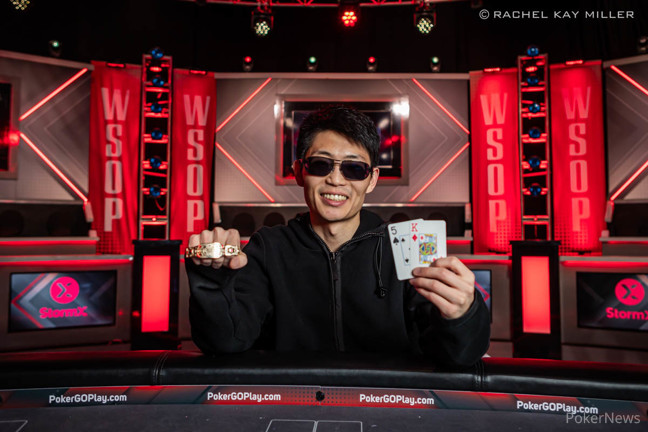 The Main Event may be over, and the 2023 World Series of Poker is winding down, but as the final card fell in Daniel Weinman's Main Event victory, there were still a few bracelets left to be won. Tonight, Kang Hyun Lee took home the most coveted prize in all of poker and the $236,741 first-place prize money in Event #92: $1,000 No-Limit Hold'em Freezeout.
Claiming his first gold bracelet was no easy feat, as there was some serious competition at the final table that he had to make his way through. Vanessa Kade, Kane Kalas, Eric Mizrachi, and Asher Conniff all tried to stand in his way, but in the end, Lee stood alone atop the 1,710 entry field to take home one of the last bracelets that will be won this summer.
Final Table Payouts
| Place | Player | Country | Prize |
| --- | --- | --- | --- |
| 1 | Kang Hyun Lee | Canada | $236,741 |
| 2 | Eric Mizrachi | United States | $146,335 |
| 3 | Ivan Millian | United States | $106,602 |
| 4 | Abdul Almagableh | United States | $78,495 |
| 5 | Kane Kalas | United States | $59,429 |
| 6 | Asher Conniff | United States | $43,372 |
| 7 | Ricardo Nakamura | United States | $33,461 |
| 8 | Vanessa Kade | United States | $25,749 |
| 9 | Eider Cruz | United States | $20,041 |
Final Day Action
The final day started with 126 players returning and scheduled to play down to a winner before night's end. As the day wore on, some big names who came into the day with chips but fell short of their ultimate goal included Angela Jordison (118th - $2,134), Phil Laak (117th - $2,134), Giuseppe Pantaleo (91st - $2,522), Jason DeWitt (49th - $4,816), Mustapha Kanit (45th - $4,817), Cole Ferraro (21st - $9,259) and Day 1 chip leader Ian Steinman (11th - $15,778), who fell just short of his second final table of the series while notching his 15th cash of the summer.
The unofficial final table of ten was cut to nine when Quoc Le got his chips in dominated and found no improvement on the flop, turn or river. Next to fall was Eider Cruz when he got his tens in versus the kings of Ivan Millian and couldn't find any help.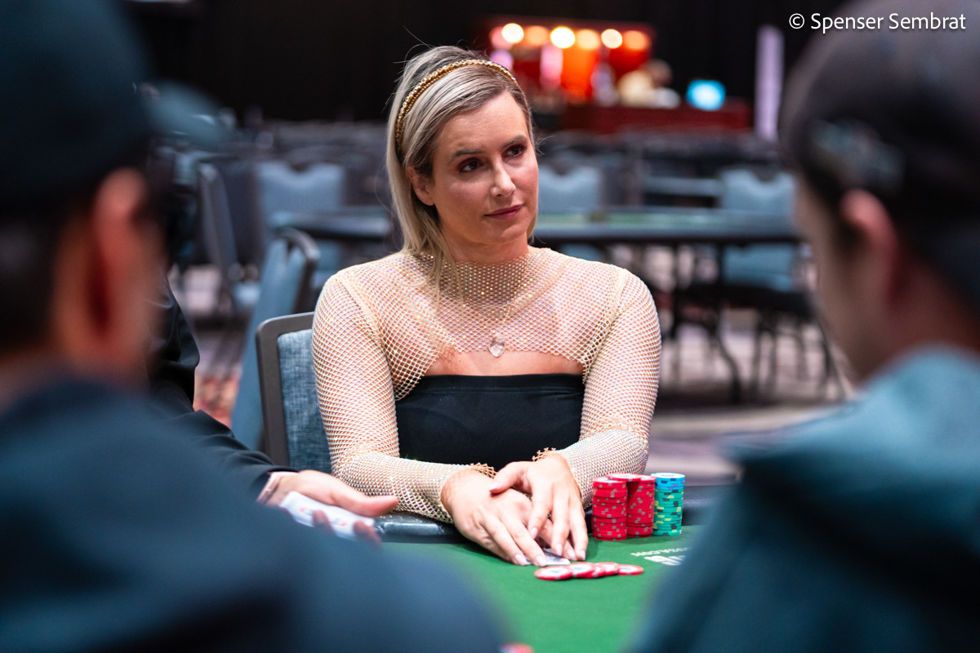 As the action started to pick up at the final table, Kade fell when she ran into the aces of Millian. Just an orbit or so later, Ricardo Nakamura busted when he committed his short stack only to get called and finish second best.
Conniff hit the rail next when he three-bet jammed his short stack with a pair but got called down by a better pair. Five-handed play became a marathon, lasting three hours, but Kalas finally fell in fifth when his dominating hand fell to Millian who hit a flush on the river.
After the five-handed play ended, four-handed play only lasted about 30 minutes before Abdul Almagableh crashed out after he couldn't win a flip.
Millian fell in third place soon after when hegot short and called an all in bet blind versus the eventual champion and actually woke up with a premium holding, but he couldn't hold to double up and extend his run any further.
Heads up play started with only about 40 blinds between Mizrachi and Lee, and with Mizrachi holding less than 10 of them, the all-ins happened quickly. After a few hands that didn't see a flop, Mizrachi was committed to the pot in the big blind and called off with a dominated hand, and when the board produced no improvement, Lee was crowned champion.
Winner's Reaction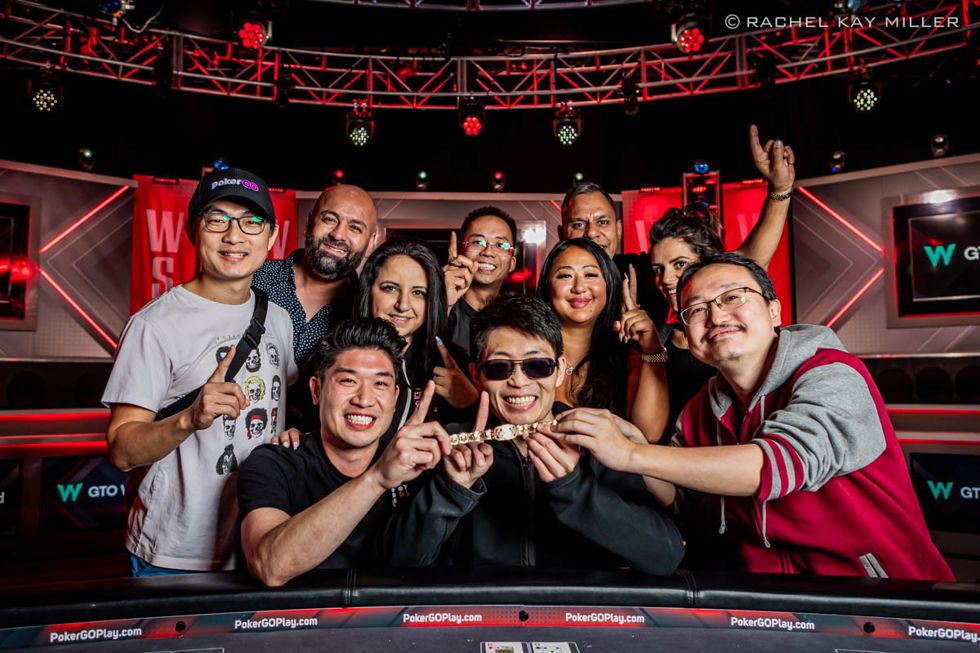 Lee is a very gracious champion, and after shipping the bracelet, he said, "It feels amazing! Just being a poker enthusiast my whole life, to finally get the most coveted award in the game, it just feels surreal."
Lee is from Edmonton, Canada, which he says is largely a pot-limit Omaha community with a lot of tournaments in the Western area where there is a huge love for the game, so to say he's done his local community proud is an understatement.
When asked what the boost in his bankroll means to his future plans, he said, "Yeah, I think I'm going to play a lot more events and probably head out to the WSOP Paradise that they just introduced this year."
He said that his immediate plans were to head for a couple of drinks to celebrate and then close off the summer by getting some rest and hopping into the final bracelet event of that summer tomorrow morning.
That brings coverage of this event to a close but stay tuned to PokerNews for the exciting conclusion of the rest of all remaining tournaments at the 2023 World Series of Poker!
Nível 38 : Blinds 500,000/1,000,000, 1,000,000 ante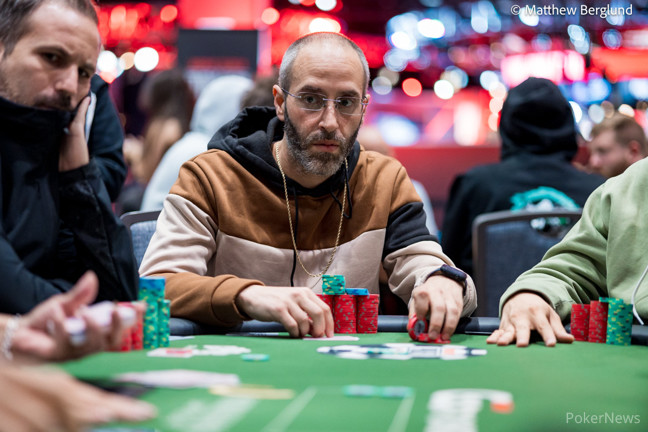 In less than five hands after the heads-up started, Eric Mizrachi shoved on the button for a remaining stack worth 5,100,000 and Kang Hyun Lee didn't take long to send a chip for the call for the following showdown:
Eric Mizrachi: 8♠5♦
Kang Hyun Lee: K♦5♠
Mizrachi had the bad surprise to see he had the dominated hand and the board didn't bring him any help with K♠J♥Q♣J♣6♠, improving Lee's hand into two pair.
Mizrachi conceded the victory to Lee, congratulating him after the hand, and received $146,335 for his deep run in this event.
Nível: 38
Blinds: 500,000/1,000,000
Ante: 1,000,000

Nível 37 : Blinds 400,000/800,000, 800,000 ante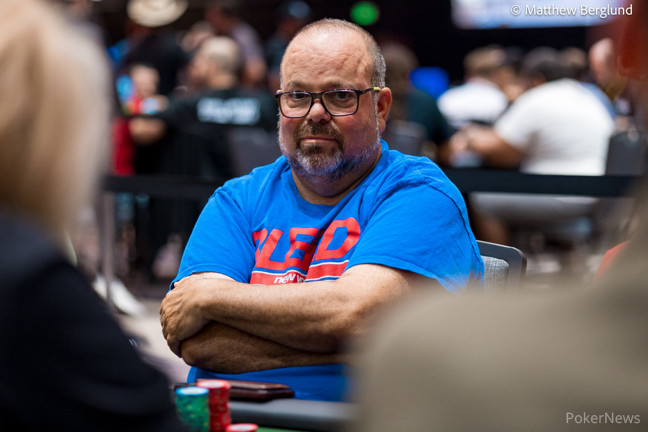 Kang Hyun Lee moved all in from the button covering both blinds. Ivan Millian announced, "F*** it!" and claimed to have called blind.
Ivan Millian: A♥K♣
Kang Hyun Lee: Q♠10♦
Millian had the best of it preflop but a ten on the flop on the completed board of 10♣5♠3♥2♣9♥ gave Lee a pair of tens to send Millian to the exit for his first ever recorded cash.
Nível 37 : Blinds 400,000/800,000, 800,000 ante
In the first hand, Kang Hyun Lee shoved in the small blind and picked up the blinds and antes from Eric Mizrachi who folded.
The following hand, Lee shoved on the button, and Mizrachi and Ivan Millian folded.
Jogador
Fichas
Oscilação

Kang Hyun Lee

19,500,000

1,000,000

Eric Mizrachi

9,200,000

-1,200,000

Ivan Millian

4,600,000

-200,000
Nível 37 : Blinds 400,000/800,000, 800,000 ante
Ivan Millian raised to 1,600,000 from the button only to face a jam from Eric Mizrachi in the big blind.
Millian seemed torn on his decision and tanked for about two full minutes but ultimately decided to toss his cards in the muck and send the pot to Mizrachi without a flop.
Nível 37 : Blinds 400,000/800,000, 800,000 ante
Kang Hyun Lee shoved in the small blind, putting Eric Mizrachi at risk for his last 3,000,000. The latter went deep into the tank and ended up sending his last chips in the middle.
Eric Mizrachi: Q♦4♣
Kang Hyun Lee: A♣J♠
Mizrahi's hand was dominated, but he managed to find a board J♦10♥K♠9♣A♥ to give him a straight on the turn and the welcomed double up.

Nível 37 : Blinds 400,000/800,000, 800,000 ante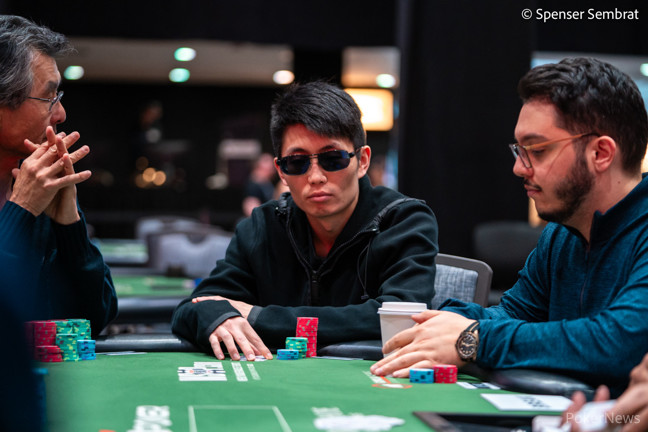 Kang Hyun Lee bet 1,600,000 from the button and Ivan Millian called from the big blind.
Millian led out for 3,000,000, but after a minute deep in thought, Lee moved all in to put Millian at risk for additional 6,400,000. Millian went into the tank and opted to fold. Lee now has over half of the chips in play.
Jogador
Fichas
Oscilação

Kang Hyun Lee

24,000,000

5,700,000

Ivan Millian

6,400,000

-4,500,000

Eric Mizrachi

3,800,000

-1,300,000
Nível: 37
Blinds: 400,000/800,000
Ante: 800,000