Event #81: $600 Ultra Stack
Dias: 3
Event #81: $600 Ultra Stack
Dia 3 Concluído
Nível 46 : Blinds 4,000,000/8,000,000, 8,000,000 ante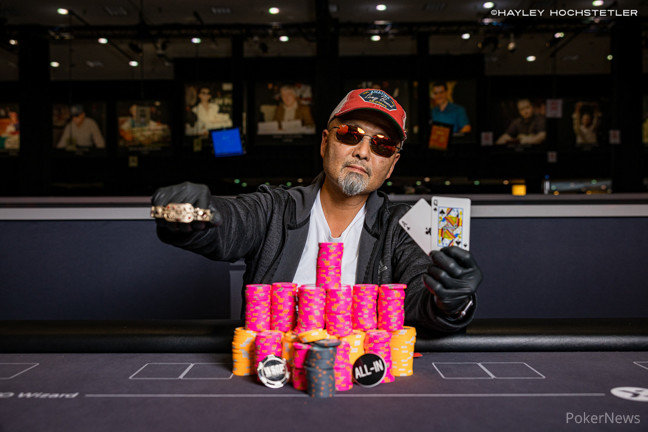 The 2023 World Series of Poker (WSOP) Event #81: $600 Ultra Stack crowned its first-ever champion in the form of Joseph Roh. With a true love of the game, Roh attributed his victory to his continued aggression and willingness to take risks, which earned him his first gold bracelet and $401,250 in prize money.
Roh spends his time traveling between California, where his family is based, and Texas, where he runs a semiconductor company that specializes in special vacuums used in the manufacturing of microchips. Roh doesn't get many opportunities to play tournaments but did get runner-up in a special, tiered invitational at MGM for $500,000 earlier this summer.
2023 WSOP Event #81 Final Table Results
| Place | Player | Country | Prize [USD] |
| --- | --- | --- | --- |
| 1st | Joseph Roh | United States | $401,250 |
| 2nd | Denny Lee | United States | $250,120 |
| 3rd | John Fagg | United States | $184,720 |
| 4th | Peyton Ethridge | United States | $139,360 |
| 5th | William Fisher | United States | $105,890 |
| 6th | Logan Moon | United States | $81,030 |
| 7th | Min Sung Lee | South Korea | $62,450 |
| 8th | Lucas Tae | United States | $48,480 |
| 9th | Schuyler Thornton | United States | $37,910 |
A dedicated no-limit hold'em player, Roh has been playing poker since he was in his late teens, and at 55 years old, that accounts for a large portion of his life. Denny Lee didn't hand the title over easily, as he held the chip lead on multiple occasions at the final table and while it may have not been the outcome he had wanted, he still received a handsome consolation prize of $250,120 for finishing in second place.
A total of 7,207 entries were tallied creating a prize pool of $3,675,570. Exactly nine hopefuls bagged at the end of Day 2, with Shane Rose bubbling the official final table in the last level of the evening.
Starting Flight Action
Day 1a and Day 1b saw plenty of seasoned players battle but unable to find a bag in the massive fields, including the likes of Melanie Weisner and Maria Lampropulos, a former PCA winner. Weisner cashed on Day 1a for $1,048 but wasn't quite able to make it through Day 2.
Matthew "Chase" Land bagged the chip lead (2,160,000) in Day 1a's field out of 3,091 entries. Day 1b saw an even more impressive turnout of 4,116 entries and Rassoul Malboubi took the lead (3,615,000) in a field that had well over a thousand entries more than the day prior.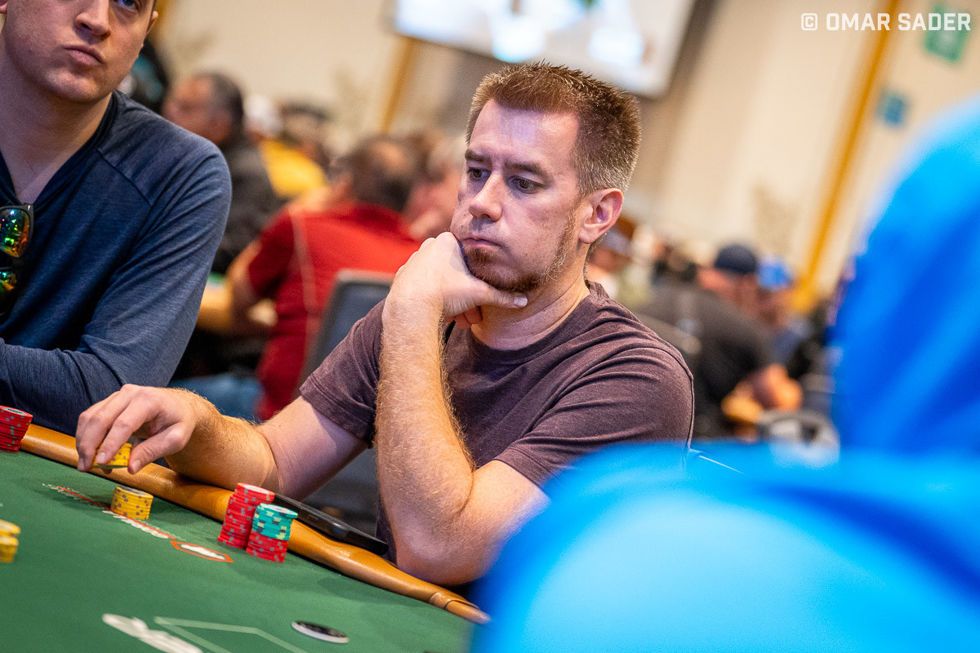 Day 2 Action
Plenty of notables made it through their Day 1's, including the likes of Benjamin "Spraggy" Spragg and Kathy Liebert. Spragg wasn't able to gain any momentum and fell halfway through the day. Liebert spent most of the day quietly rising in the counts but after losing a big pot and being left short, she was unable to recover despite a quintuple up when she was down to her last blind.
Several previous bracelet winners including Alex Bolotin, Craig Varnell, and Scott Bohlman were trying to earn their second piece of gold but came short throughout the day. Bolotin fell in 24th place for $15,260 when his small pair was bested by Logan Moon's big slick. Varnell was next to fall in 13th place for $23,700 for his fifth cash of the series. Last to fall of this bunch was Bohlman, who ran his middle pair into Joseph Roh's top pair for his tournament life, forcing him to settle for 11th place and $29,870.
Day 3 Action
After 17 levels of play on Day 2, exactly nine players were in contention for the gold and it only took about five hours for a winner to be decided. John Fagg entered Day 2 with the lead and an impressive 91,000,000 chips to work with.
Schuyler Thornton came into the final table in close to a three-way tie as the short stack, as Denny Lee, Moon, and him all came into the day with 14 big blinds or less. Moon was first to shove but found no callers and it was Thornton who had to run a full five cards when his shove was called by the pocket eights of William Fisher. Unfortunately for Thornton, he was unable to to pair either of his Broadway cards and he was forced to exit in ninth place.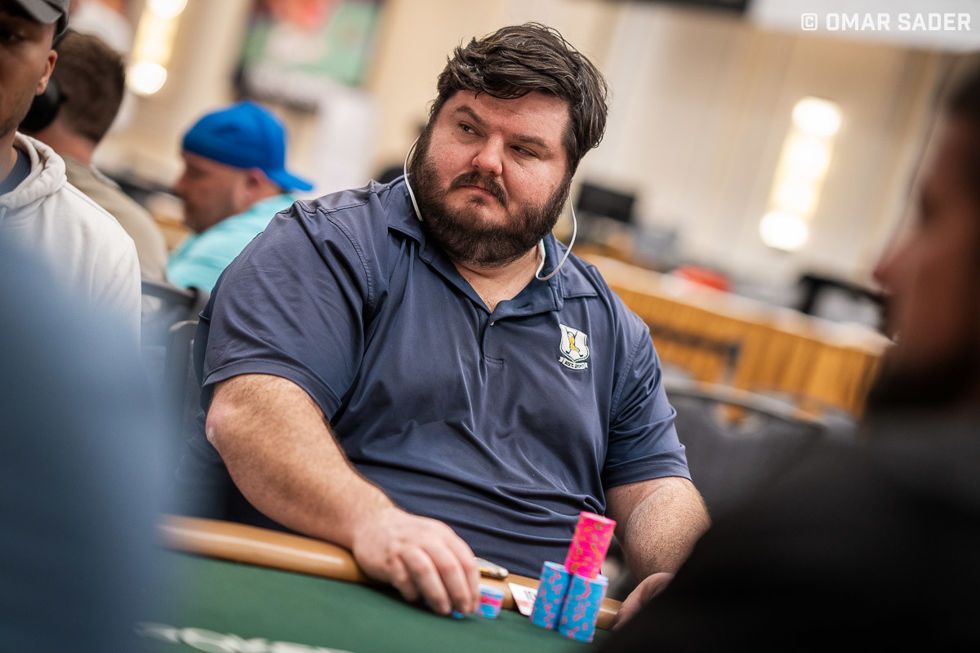 Lucas Tae came into the final table in the middle of the pack, sporting just 21 big blinds. He was never able to get any traction going and when he went all in with suited connectors, he ran into the ace-queen of Denny Lee, unable to find his outs for the double. Tae left the field in eighth place and will have to wait until another chance to try for the gold.
Min Sung Lee entered the final table third in chips but wasn't quite able to capitalize on it. After chipping down some, he ended up shoving against Joseph Roh and the latter made a big call with a pair of deuces and had Lee's hopes dashed by the turn, as he had flopped a set. Lee was next to exit in seventh place and was left to wonder what could have been.
Moon had entered as one of the previously mentioned short stacks but was willing to push the action in search of a double-up. Unfortunately for him, when he did get called, he had ran into the pocket jacks of Fagg and was unable to find the ace he needed. Moon made a quiet exit in sixth place, leaving the remaining players with plenty of elbow room.
William Fisher had been playing solid as a rock. He won some and he lost some along the way but seemed quite capable of maintaining his stack until he ran into the kings of Joseph Roh when Fisher was down to his last ten big blinds.
Peyton Ethridge had entered the final table comfortably second in chips with well over 35 big blinds but with the structure only having 40-minute levels, eventually in level 43, Ethridge was forced into a flip with his small pair but couldn't hold against Lee's over cards. Ethridge was sent to payouts in fourth place but was soon on the rail, sweating his new friend Roh.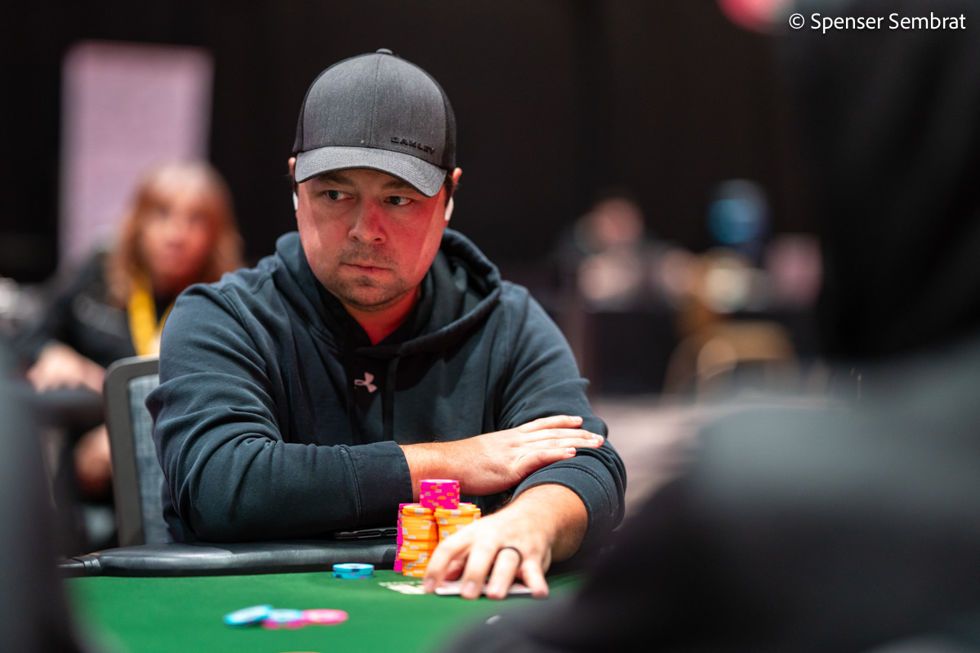 At three-handed, the floor moved to the bright lights in the Horseshoe Feature Table to battle to a winner. By this point, Lee and Roh had been exchanging the chip lead back and forth for quite a while. An unexpected turn of events occurred when Fagg found two doubles in quick succession to surge into the lead, the first being when he cracked the aces of Lee.
In the end, Fagg ended up running his queens into the kings of Lee and after that clash he was left on fumes. Just one hand later, Fagg went all in on the button for his last bit and was called by Roh, whose better hand improved to a flush.
Heads Up Action
According to Roh, he spend most of the time three-handed making something out of nothing but his willingness to overbet the pot and make big plays with draws gave him an edge.
Lee fought back plenty of times throughout the match, but he did fold top pair in a spot that Lee later admitted he had bottom pair. In the end, fight back is exactly what Lee did when he went all in over Roh's open to 19,000,000 with A♥5♠ but he ran into the A♣Q♠ of Roh. The board didn't give any improvement and he was left to settle for 2nd after a short-lived heads-up match.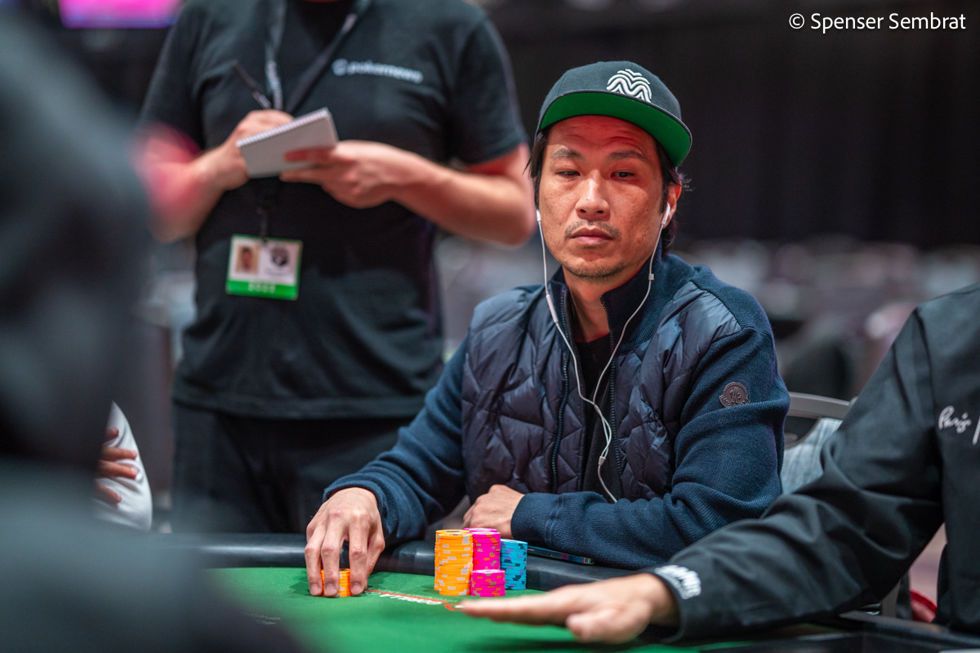 Winner's Reaction
PokerNews had the opportunity to catch up with Roh just after his winners' pictures and he had this to say, gesturing to the Main Event Main Stage: "This is something I've really wanted to do for a while. I don't play that many tournaments… I mean, I play a little bit here and there but my dream is to be there."
Roh had his best friend on the rail every step of the way on the final day and both were beyond ecstatic at Roh's bucket list accomplishment.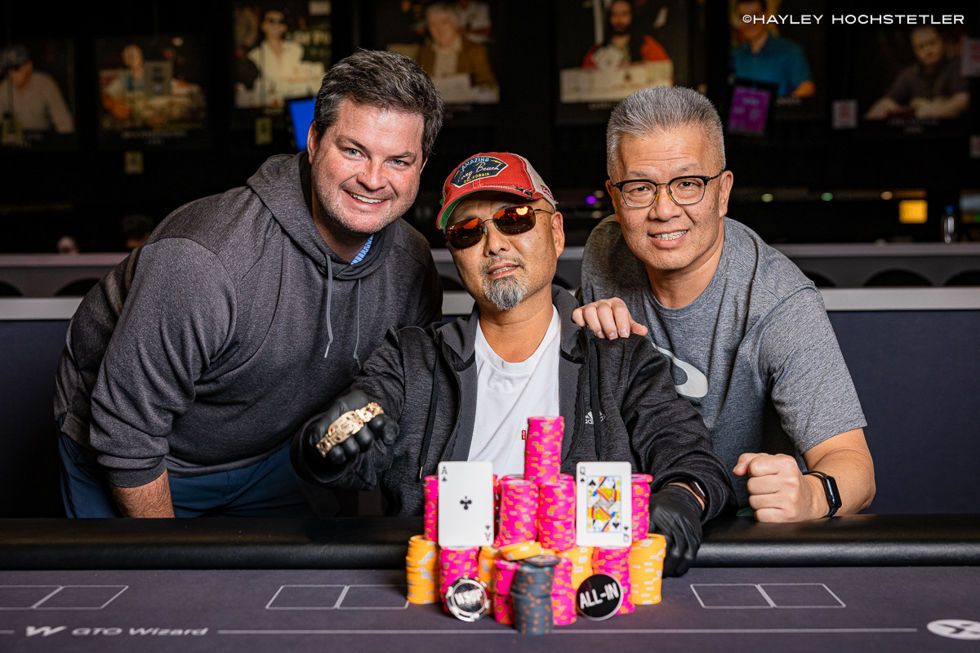 Be sure to stay tuned to PokerNews as there are still several bracelets to be awarded in 2023's live events that we'll be covering from bottom to top.
Nível 46 : Blinds 4,000,000/8,000,000, 8,000,000 ante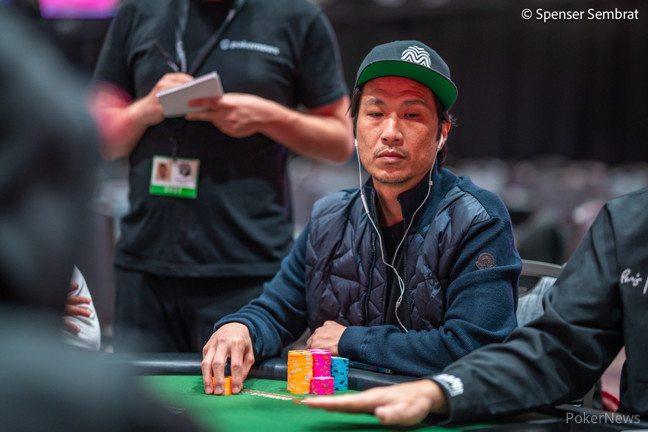 Joseph Roh opened to 19,000,000 from the button and Denny Lee moved all in for approximately 110,000,000. Roh quickly made the call to put Lee at risk.
Denny Lee: A♥5♠
Joseph Roh: A♣Q♠
Roh was well ahead with the bigger ace and remained so on the J♣9♣6♥ flop. The 7♣ turn gave Lee a gutshot straight draw but the J♦ river was a brick and Lee became the runner up finisher of this event while Roh claimed his first career gold bracelet.
Stay tuned for a full recap of this event including the winner's reaction.
Nível 46 : Blinds 4,000,000/8,000,000, 8,000,000 ante
Denny Lee opened to 18,000,000 from the button and Joseph Roh put in a three-bet to 40,000,000. Lee made the call.
Lee checked the J♠4♥10♣ flop and Roh put in a continuation bet of 20,000,000, forcing a fold from his opponent.
Nível 46 : Blinds 4,000,000/8,000,000, 8,000,000 ante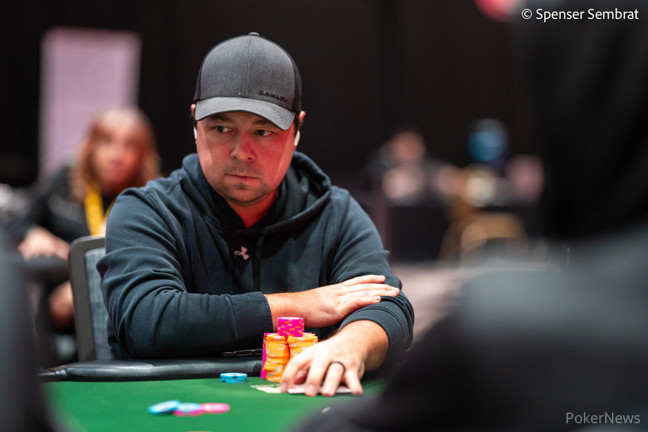 John Fagg went all in on the button for his remaining 2,200,000, as he had just lost a big pair over pair confrontation.
Joseph Roh made the call from the small blind and Denny Lee folded the big blind.
John Fagg: J♥2♦
Joseph Roh: A♦5♣
John Fagg came into the day as chip leader and after a full day of being patient, he just couldn't wait any longer. The dealer scrolled across the 8♠K♣6♣ which made no change but when the 3♣ peeled it improved Roh to a flush draw. The A♣ on the river made Roh that flush and locked up the hand.
Roh and Lee are now heads up for the gold!
Nível 46 : Blinds 4,000,000/8,000,000, 8,000,000 ante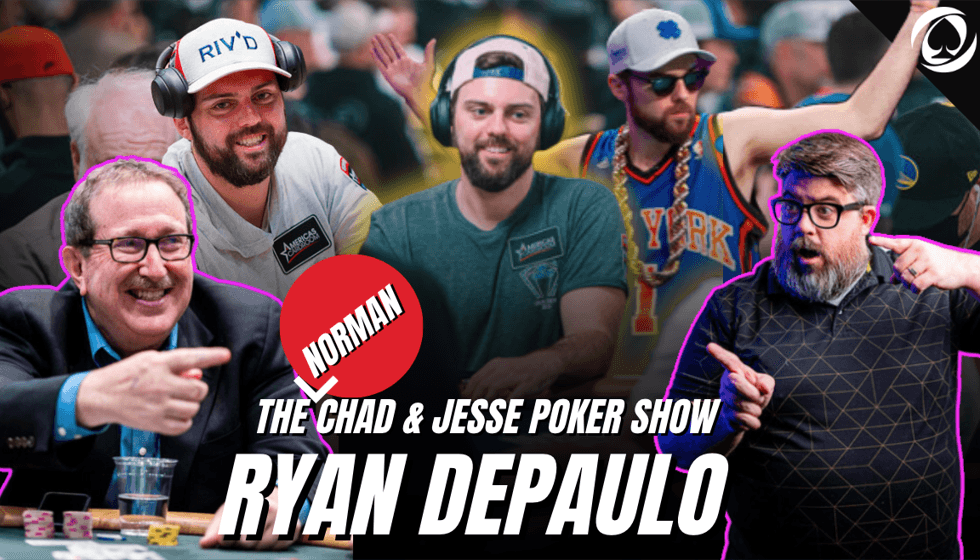 On the latest episode, Jesse Fullen and special co-host Norman Chad continue The Chad & Jesse Poker Show straight from the 2023 World Series of Poker (WSOP).
The two start by debating the pros and cons of the 2023 WSOP Main Event payouts before welcoming this week's guest – poker vlogger Ryan Depaulo.
Among the topics they discuss with the Whole Foods parking lot bracelet winner are his biggest score to date (third place in the Colossus), what his father told him ("Don't punt"), and Joey the Mush. Plus, they ask if he was banned from Borgata for vlogging, his main poker influence, and whether or not he's a withered pro.
Norman Chad and Jesse then do a new "Calling the Clock" segment in which they offer quick two-minute dialogues for topics on "The Board."
Nível 46 : Blinds 4,000,000/8,000,000, 8,000,000 ante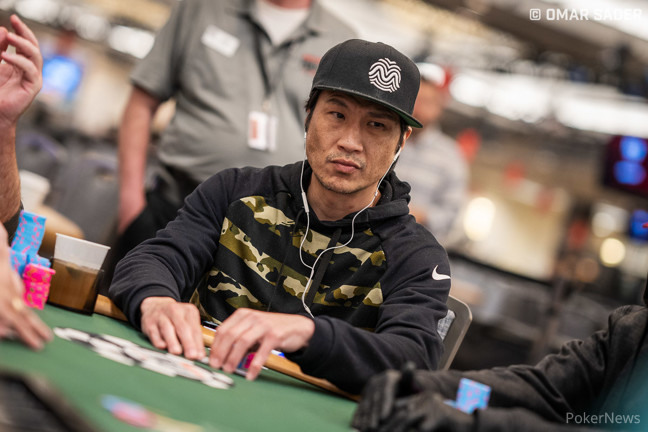 Denny Lee opened to 16,000,000 from the button and John Fagg moved all in for about 110,000,000. Roh got out of the way and Lee, who was covered slightly by Fagg, made the call to put himself at risk.
Denny Lee: K♠K♥
John Fagg: Q♣Q♦
It was a major cooler with Fagg's pocket queens being pipped by Lee's pocket kings. Fagg was drawling nearly dead when Lee flopped a set on the K♣5♥4♥ flop. The rest of the board ran out 4♠10♦ to secure the double up for Lee while leaving Fagg with just a few big blinds.
Jogador
Fichas
Oscilação

Joseph Roh

218,000,000

94,000,000

Denny Lee

192,400,000

62,400,000

John Fagg

22,000,000

-157,000,000
Nível: 46
Blinds: 4,000,000/8,000,000
Ante: 8,000,000
Nível 45 : Blinds 3,000,000/6,000,000, 6,000,000 ante
Players are now on a 15-minute break.
Nível 45 : Blinds 3,000,000/6,000,000, 6,000,000 ante
Heads up to a flop of 6♣9♦3♥, John Fagg checked and Joseph Roh placed a bet of 10,000,000.
Fagg didn't think too long before going all in and, without much thought, Roh made the call.
John Fagg: 9♠8♦
Joseph Roh: -6♣7♦
Fagg had flopped top pair and Roh had the open-ended straight draw. The turn was no change with the J♣ and the river was the 8♥, improving Fagg to two pair and awarding him a huge double.
After exercising much patience and getting lucky once against top set, John Fagg will be the chip leader returning from break.
Jogador
Fichas
Oscilação

John Fagg

179,000,000

105,000,000

Denny Lee

130,000,000

-30,000,000

Joseph Roh

124,000,000

-74,400,000