Event #64: $600 No-Limit Hold'em Deepstack Championship
Dias: 4
Event #64: $600 No-Limit Hold'em Deepstack Championship
Dia 4 Concluído
Nível 41 : Blinds 1,000,000/2,000,000, 2,000,000 ante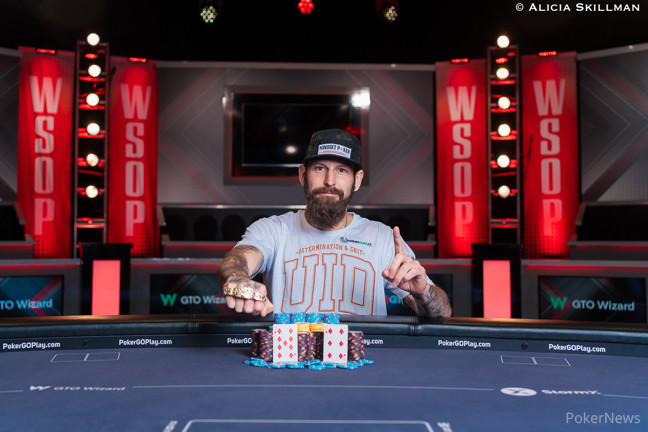 A new champion has been crowned at the 2023 World Series of Poker (WSOP) at Horseshoe and Paris Las Vegas. After four days of play, Canada's David Guay was victorious in Event #64: $600 No-Limit Hold'em Deepstack Championship after defeating John Taylor in heads-up play to take down the coveted bracelet and $271,032 first-place prize.
Guay, who had over $1.2 million in live earnings, added to his impressive poker resume with a win and first career WSOP bracelet. After the win, Guay was at a loss for words and looked to be emotional after the victory finally set in.
"I'm definitely going to be more emotional later," Guay said after being asked how he felt to win the bracelet. "I'm going to call my mom soon to let her know,"
Guay also had one of the loudest final table rails and was thrilled to have the support. "It's great, I had a lot of friends and family here on the rail and some I only know from way back at Playground Poker in Canada,"
Guay was able to celebrate the win on Canada Day and was on his way out with his large group of friends and family to soak it all in.
2023 WSOP Event #64 Final Table Results
| Place | Player | Country | Prize (USD) |
| --- | --- | --- | --- |
| 1 | David Guay | Canada | $271,032 |
| 2 | John Taylor | United States | $167,483 |
| 3 | Steven Stolzenfeld | United States | $124,850 |
| 4 | Jonathan Fhima | France | $93,795 |
| 5 | Romain Kowalczyk | France | $71,018 |
| 6 | Gaetan Balleur | France | $54,199 |
| 7 | David Sebesfi | Australia | $41,694 |
| 8 | Paul Hindmarch | United Kingdom | $32,332 |
| 9 | Ahmed Karrim | South-Africa | $25,276 |
Event Recap
A total of 4,303 entrants joined the action on Day 1 to create a massive $2,194,530 prize pool. Many notable names were in the mix and some who found a cash included Kristen Deardorff (427th - $1,200), Conrad Simpson (398th - $1,200), Martin Zamani (336th - $1,299), Matt Affleck (293rd - $1,418), and bracelet winner Erik Cajelais (19th - $10,249), who fell just short of the final table when he exited in 19th.
On Day 3 it took only five hours of play for the unofficial final table to be set when Christian Dalder got in his king-queen ahead of Steven Stolzenfeld who held queen-ten. The ten hit the turn and Dalder exited in 11th to bring the event down to one table.
Soon after, the bust outs were fast and furious with David Stellmon eliminated in 10th place, Ahmed Karrim out in ninth, Paul Hindmarch in eighth and David Sebesfi exited in seventh.
The final six players moved to the outer table on the main stage and it didn't take long for the chips to hit the middle. Gaetan Balleur was the first casualty when he moved in with king-nine but was up against the king-jack for Taylor who held to send Balleur out in sixth place.
Shortly after, Romain Kowalczyk would try to bluff his way out of a big pot with ace-high against Stolzenfeld, but hit the rail in fifth when Stolzenfeld snap-called his shove with the nut-straight.
Jonathan Fhima was at the top of the leaderboard for much of Day 3, but his day would come to an end when he couldn't win a flip with ace-seven against the pocket sixes for Guay to send him out in fourth place.
The three-handed battle started with the average stack being 73 big blinds, but Stolzenfeld was well in the lead. After many back-and-forth pots, the chips started to move away from Stolzenfeld and the stacks evened out. Guay found a much-needed double when he made the nut-straight on the river and snap-called the shove from Stolzenfeld who had trip queens.
Initially, the plan was to play down to a winner, but after close to four hours of three-handed play, the tournament director announced the remaining three would bag for the night and come back for a Day 4.
Final Day Action
Day 4 started with Taylor in the chip lead, Guay in second and Stolzenfeld in third. The action got off to a hot start with Taylor extending his lead by taking back-to-back pots from Stolzenfeld who became short. A few hands later Guay moved all in on Stolzenfeld who called with queen-four in the big blind for his last 11 big blinds. Guay held jack-ten suited and couldn't connect to secure the double up for Stolzenfeld to get back into contention.
Unfortunately for Stolzenfeld, his run would come to an end when he called preflop for his tournament life with ace-king against the ten-nine for Guay. The flop fanned out a ten and the rest was no improvement for Stolzenfeld who was sent to the payout desk in third place for a six-figure score.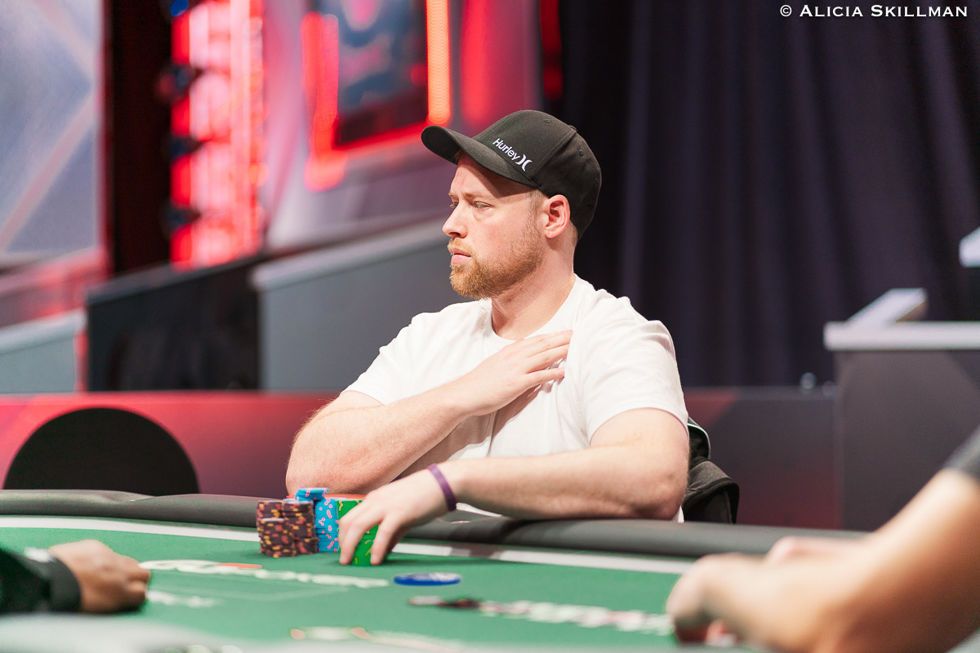 The final two players took a quick five-minute break to talk to their rails, but Guay started with an over 6-1 chip lead on Taylor. The heads-up match lasted only one hand when Guay moved in his big stack with nine-six and was called by Taylor who held queen-ten for his tournament life.
The flop ran out with a six and when the rest of the board bricked off, Taylor was forced to settle with a runner-up finish. Guay scored the victory and WSOP gold bracelet.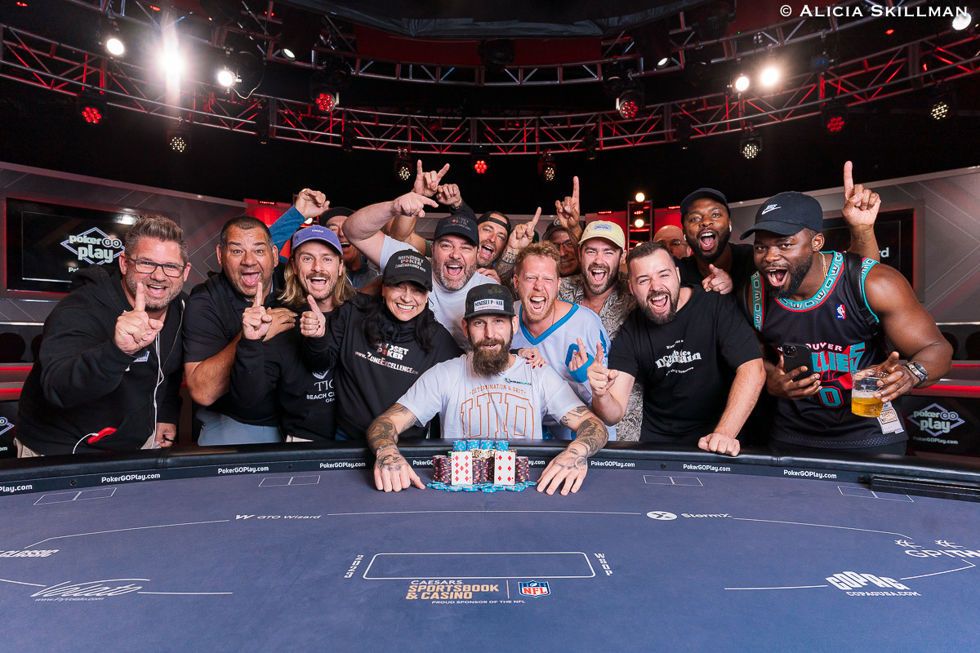 That wraps up the coverage of Event #64: $600 No-Limit Hold'em Deepstack Championship. Be sure to stick with PokerNews for the rest of the 2023 WSOP here at Horseshoe and Paris Las Vegas.
Nível 41 : Blinds 1,000,000/2,000,000, 2,000,000 ante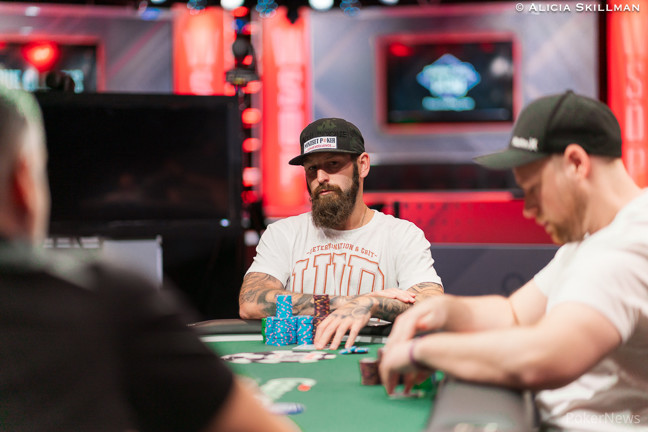 In the final hand David Guay moved in with 9♦6♦ and was called by John Taylor who held Q♦10♦.
The board ran out K♠8♣6♥J♣4♣ and the pair of sixes got the job done for Guay to win the tournament and first career bracelet.
A full recap of the event will be available shortly.
Nível 41 : Blinds 1,000,000/2,000,000, 2,000,000 ante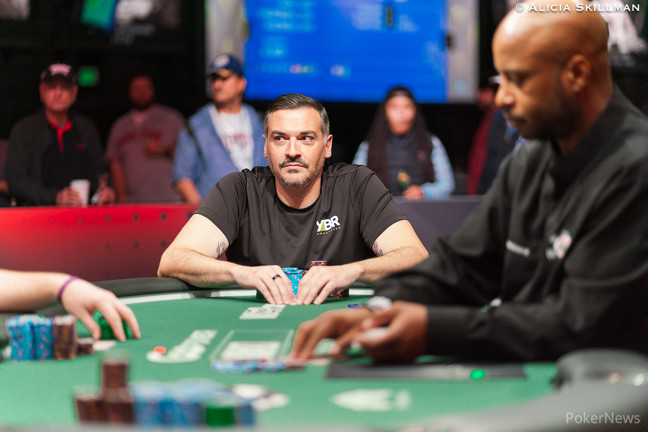 David Guay moved all in on the button, well covering the stack of John Taylor in the big blind, who made the call for his tournament life.
John Taylor: Q♦10♦
David Guay: 9♦6♦
Taylor got it in ahead, but when the board ran out K♠8♣6♥J♣4♣, it was the flopped six for Guay that locked up the win and sent Taylor out in runner-up position.
Nível 41 : Blinds 1,000,000/2,000,000, 2,000,000 ante
The two remaining players are taking a small break of five minutes while the heads up between David Guay and John Taylor is being set up.
Guay holds the massive chip lead with over 100 million in chips, while Taylor needs some help with less than ten big blinds.
Nível 41 : Blinds 1,000,000/2,000,000, 2,000,000 ante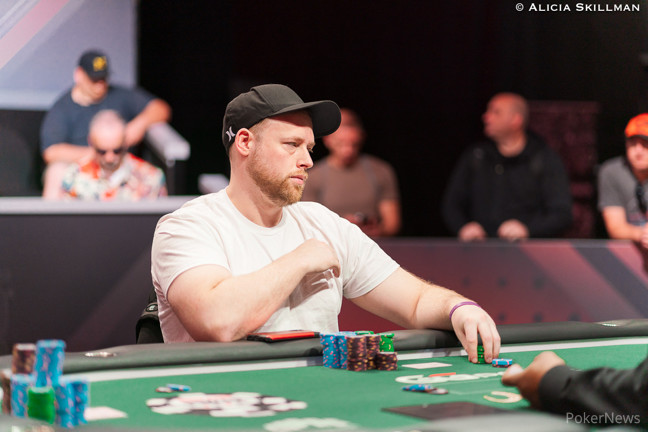 John Taylor folded on the button before David Guay open-jammed from the small blind, covering Stefan Stolzenfeld's stack of roughly 15 big blinds. Stolzenfeld snap called and a huge pot of over 60 million was created.
Steven Stolzenfeld: A♦K♥
David Guay: 10♥9♣
Once more, David Guay was behind preflop, and once again he would spring ahead on the flop when it came 10♦8♥4♥. Stolzenfeld was looking to hit an ace or a king on the turn, but the 10♣ came instead. There were no outs left now for Stolzenfeld, who announced that fact to his rail dejectedly.
The river came the meaningless 5♥ but Stolzenfeld had already left the felt, joining his rail for some consolation. The six-figure payout he received for finishing in third place would surely help ease the pain as well.
Jogador
Fichas
Oscilação

David Guay

109,475,000

37,975,000

John S Taylor

19,950,000

-1,650,000

Steven Stolzenfeld

Eliminado
Nível 41 : Blinds 1,000,000/2,000,000, 2,000,000 ante
John Taylor opened to 4,500,000 in the small blind and David Guay called from the big blind.
The flop came K♣8♦2♣ and Taylor led out for 5,000,000, which Guay called. On the J♦ turn Taylor moved all in and Guay snap-called for his last 26,200,000 total.
David Guay: K♦4♦
John Taylor: A♣8♠
Guay was well ahead with his top pair and flush draw, and when the river fell the 3♠, it was the king-four that held up to score a massive double up for Guay to climb into the chip lead position.
Jogador
Fichas
Oscilação

David Guay

71,500,000

35,800,000

Steven Stolzenfeld

36,325,000

2,150,000

John S Taylor

21,600,000

-37,950,000
Nível: 41
Blinds: 1,000,000/2,000,000
Ante: 2,000,000
Nível 40 : Blinds 800,000/1,600,000, 1,600,000 ante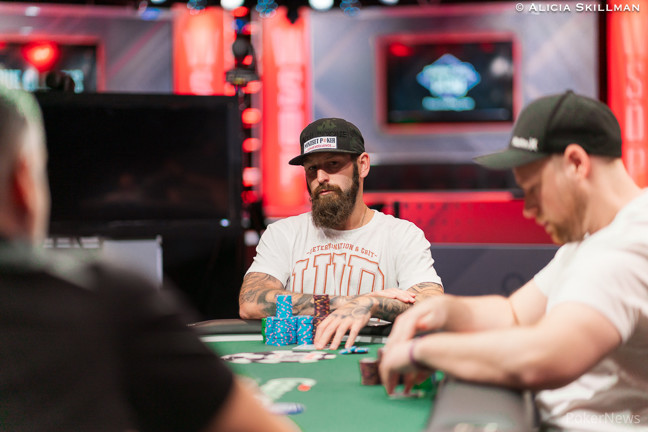 Steven Stolzenfeld raised to 3,200,000 from the button and John Taylor folded his small blind. David Guay was in the big blind and counted out a three-bet to 8,500,000, which he eventually put in.
Stolzenfeld eyed his opponent for a bit before putting in an additional raise, putting his opponent all-in. Guay wasted no time and instantly called to put himself at risk
David Guay: J♥J♦
Steven Stolzenfeld: A♠A♣
Stolzenfeld found aces and for the second time on Day 4, it was looking likely that heads up would be reached. However, for the second time the board saved the shorter stack when the flop came 2♣J♠7♣. Guay flopped a set of jacks and no ace would come on the Q♠ turn or 4♦ river.
Guay doubled up and is now even in chips with Stolzenfeld.
Jogador
Fichas
Oscilação

John S Taylor

59,550,000

-6,375,000

David Guay

35,700,000

20,200,000

Steven Stolzenfeld

34,175,000

-13,825,000
Nível 40 : Blinds 800,000/1,600,000, 1,600,000 ante
John Taylor opened to 4,000,000 on the button and only Steven Stolzenfeld called from the big blind.
On the flop of 9♥5♦2♥, Stolzenfeld checked to Taylor who tossed out a bet of 3,000,000. Stolzenfeld put in a check-raise to 9,500,000 and Taylor quickly moved all in. Stolzenfeld folded and the pot was sent to Taylor who has regained the chip lead.
Jogador
Fichas
Oscilação

John S Taylor

65,925,000

27,575,000

Steven Stolzenfeld

48,000,000

-20,575,000

David Guay

15,500,000

-7,000,000