Event #48: $1,000 Seniors Championship
Dias: 5
Event #48: $1,000 Seniors Championship
Dia 5 Concluído
Nível 38 : Blinds 500,000/1,000,000, 1,000,000 ante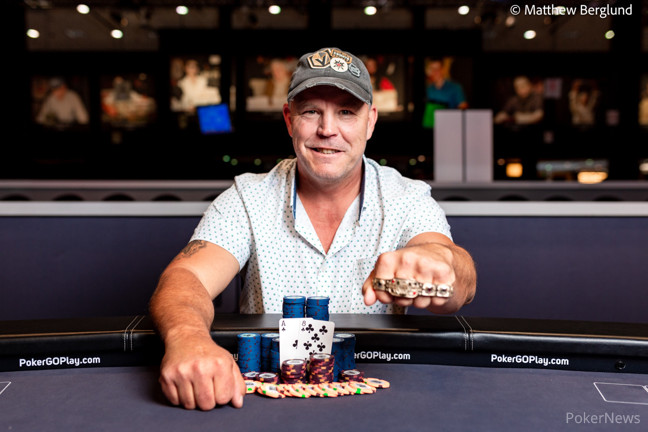 The 2023 World Series of Poker (WSOP) iteration of Event #48: $1,000 Seniors No-Limit Hold'em saw a massive turnout of 8,140 entries which created a prize pool of $7,280,200 and a first-place prize of $765,731. Only seven players returned on Monday, with one destined to be crowned the new WSOP champion.
After just over two hours of play at the PokerGO live-streamed final table, 54-year-old Canadian Lonnie Hallett ended up beating seven-time WSOP winner and Poker Hall of Famer Billy Baxter for a career-best score and his first WSOP bracelet.
"I just can't believe it, such a huge field it's almost impossible to do, and somehow it happened. I'm grateful, can't believe it, I'm so happy," Hallett said.
2023 WSOP Seniors Event Final Table Results
| Place | Player | Country | Prize |
| --- | --- | --- | --- |
| 1 | Lonnie Hallett | Canada | $765,731 |
| 2 | Billy Baxter | United States | $473,212 |
| 3 | Dan Heimiller | United States | $356,166 |
| 4 | Shannon Fahey | United States | $269,841 |
| 5 | Gordon Eng | United States | $205,799 |
| 6 | Loren Cloninger | United States | $158,006 |
| 7 | Rudolf Fourie | South Africa | $122,130 |
| 8 | Ron Fetsch | United States | $95,040 |
| 9 | David Stearns | United States | $74,464 |
Hallett bested a decorated final table of seven that held nine WSOP titles total. "I've played with Dan a few times before and he's always so tough," the newly crowned champion said in regards to his competition. "It was just incredible to play with Billy Baxter and to end up heads up with him, what more could you want."
The Canadian was surrounded by a supportive rail of friends and family. "It's good to have the rail here, keeps the energy up, keeps the focus up. They were fantastic, and we also had a big group watching back home and cheering on, so it was absolutely incredible."
Hallett had $177,693 before this win, bringing his total lifetime earnings to over $900k.
"You can make money, but you can't buy a bracelet," he said, leaving with his family to go celebrate.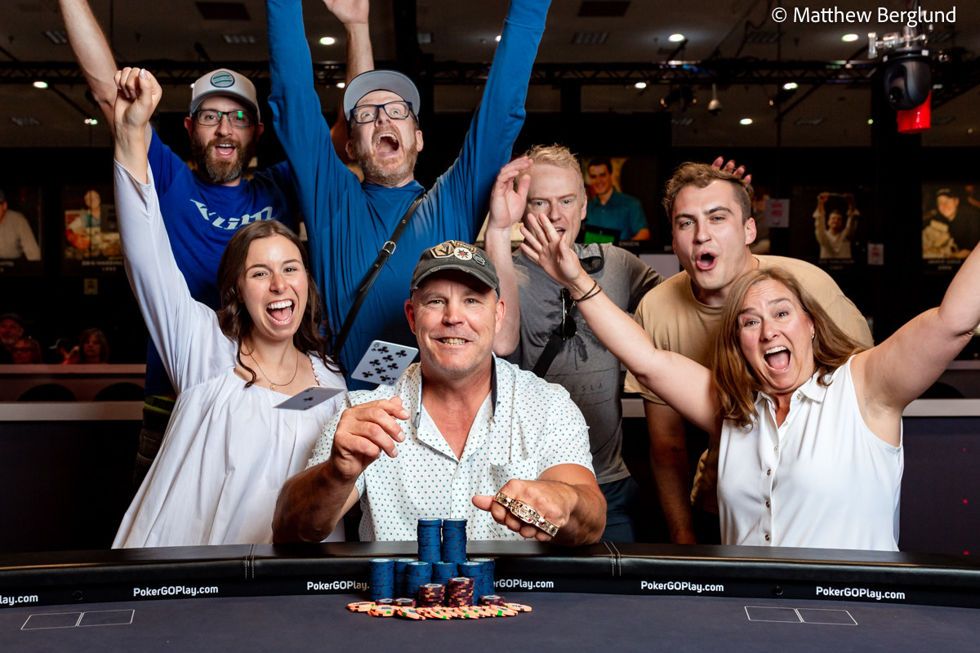 Final Table Action
The first elimination of the day came early when Rudolf Fourie moved in his final three and a half big blinds from button with pocket fives, only for Gordon Eng to look him up in the big blind with a pair of nines. The flop brought some hope for the South African in the form of an open-ended straight draw, but no further improvement was brought to the fives, sending the pot to Eng and sending Fourie out of the tournament in seventh place for $122,130.
Hallett ended up getting in an all-in pot when he raised eight-four offsuit in the small blind and in the big blind Loren Cloninger moved all in for slightly more with ace-two and Hallett called. The flop came out with no connection to either hand, but the turn eight put Hallett in the lead, and the river did not change anything. With that, Cloninger said goodbye to the field in sixth place for $158,006.
Baxter ended up all in with ace-ten against Hallett, who held ace-queen, but a ten on the flop gave Baxter the needed double up and he survived. Eng ended his run shortly after that in fifth place, the result of a brutal cooler. He and Shannon Fahey both got in their chips with pocket kings. Eng held black kings, and Fahey held red kings, and the red kings proved favorable on the three-heart flop. A fourth heart rolled off on the turn to give Fahey a flush to knock out Eng who collected $205,799 for his deep run.
https://twitter.com/PokerGO/status/1673447031350886400
Fahey would be the next to go when she four-bet jammed her queen-nine suited against Dan Heimiller's pocket sevens, which Heimiller called. The flop contained a seven, and Fahey was given no backdoor help on the turn and the last woman standing in the event finished with a career-best score of $269,841 for fourth place.
Three-handed saw Heimiller and Hallett both wielding massive stacks and Baxter on the short stack, but a massive confrontation between the two larger stacks saw a game-changing shift in the tournament dynamics. Hallett raised and called a three-bet with queen-four suited and flopped top and bottom on a queen, jack, four three hearts board, while Heimiller held ace-jack flopped a pair of jacks and the nut flush draw. Both players got their stacks in the middle, with Hallett holding the larger stack. The board ran out with the two pair holding strong for Hallett, and the two-time WSOP champion and former seniors champ ended his deep run in third place for $356,166.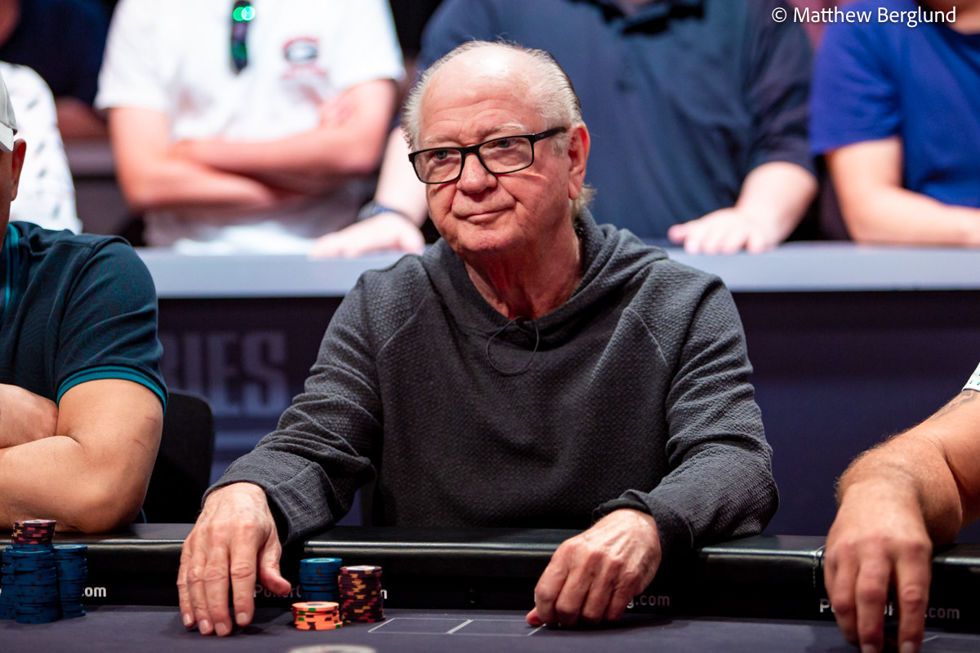 The heads-up match was set between Hallett and seven-time WSOP champion Baxter, with Hallett holding a near 10:1 lead over Baxter. It was over relatively quickly as Baxter moved in his final chips with queen-two offsuit, only for Hallett to call him with ace-eight suited. Hallett paired his kicker on the runout, and Hallett and Baxter shook hands as the poker legend found his career-best score of $473,731.
Thank you for reading along with us on PokerNews. Stay tuned for continued coverage of the 2023 WSOP by following our live updates from all tournaments here.
Nível 38 : Blinds 500,000/1,000,000, 1,000,000 ante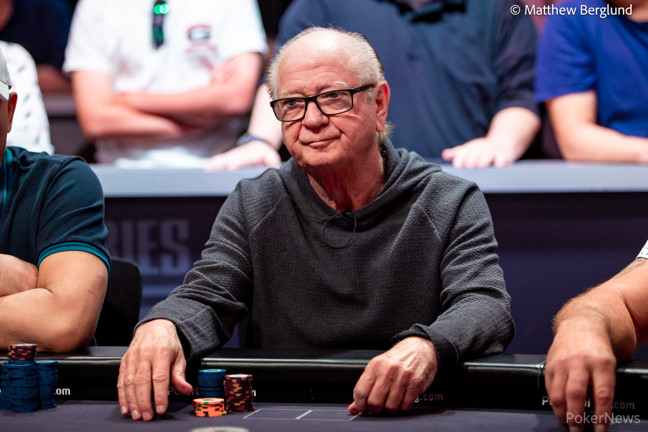 Billy Baxter shoved for his remaining stack of about 10,000,000 and Lonnie Hallett made the call.
Billy Baxter: Q♣2♥
Lonnie Hallett: A♣8♣
Baxter was looking to connect as the flop came 8♦7♦6♣, leaving him drawing to a queen. The 3♠ turn and 8♠ river were no help for Baxter as Hallett improved to trip eights and Baxter was eliminated in 2nd place.
Jogador
Fichas
Oscilação

Lonnie Hallett

163,400,000

10,300,000

Billy Baxter

Eliminado
Nível 38 : Blinds 500,000/1,000,000, 1,000,000 ante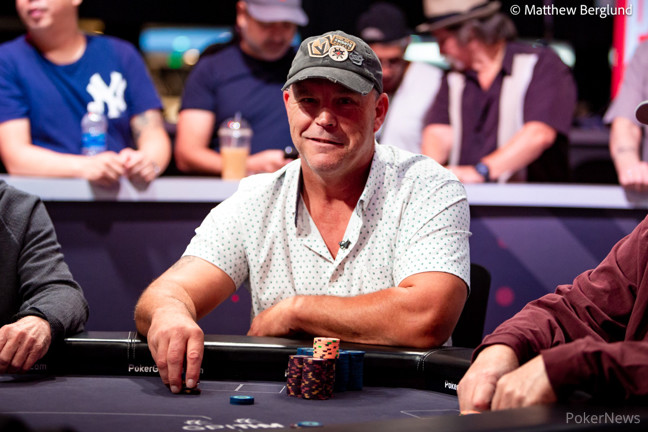 Billy Baxter raised 2,600,000 with 3♠2♠ and Lonnie Hallett three-bet jammed all-in with A♣5♥. Baxter took a few moments and after eyeing his stack for a moment, he tossed his cards into the muck.
The following hand, Hallett opened to 2,200,000 and took it down, adding to his massive chip lead.
Jogador
Fichas
Oscilação

Lonnie Hallett

153,100,000

7,000,000

Billy Baxter

10,300,000

-7,200,000
Nível 38 : Blinds 500,000/1,000,000, 1,000,000 ante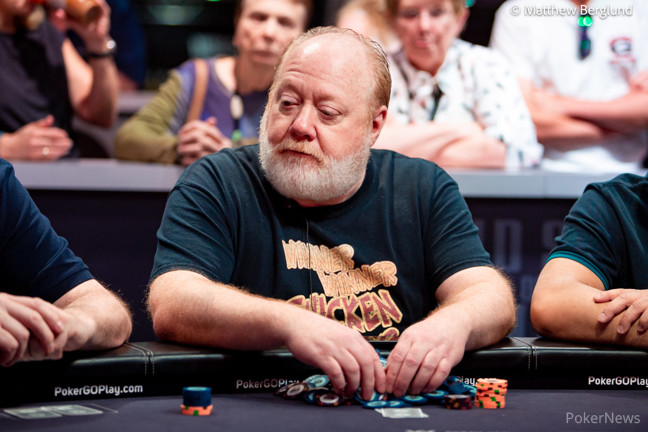 Lonnie Hallet raised to 2,500,000 and in the small blind Dan Heimiller raised to 6,000,000 which Hallett called.
Heimiller bet 5,500,000 in the dark and the flop came out Q♥4♥J♥ which saw Hallet raise to 15,000,000. Heimiller moved all in for 61,000,000 and Hallet called.
Dan Heimiller: A♥J♣
Lonnie Hallett: Q♣4♣
The board ran out 3♠5♠ and the two pair held up for Hallett against Heimiller's nut flush draw and second pair and Hallet took a commanding lead heads up while two time WSOP bracelet winner and he exited the tournament.
Jogador
Fichas
Oscilação

Lonnie Hallett

146,100,000

68,500,000

Billy Baxter

17,500,000

-6,800,000

Dan Heimiller

Eliminado
Nível 38 : Blinds 500,000/1,000,000, 1,000,000 ante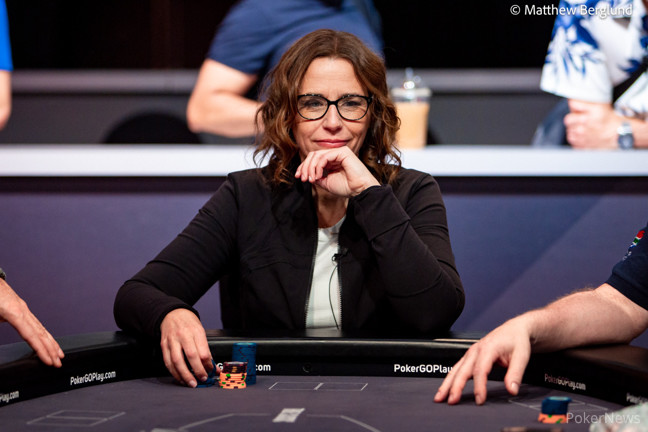 Shannon Fahey raised 2,200,000 in the cutoff and Dan Heimiller three-bet to 6,200,000 on the button. Fahey four-bet jammed for 15,500,000 and Heimiller made the call.
Shannon Fahey: Q♣9♣
Dan Heimiller: 7♥7♠
It was a classic race but the A♣7♦3♥ flop gave Heimiller a set of sevens and left Fahey drawing slim. The 2♥ turn sealed her fate and the 9♦ river was just a formality as Fahey exited the tournament in 4th place.
Nível 38 : Blinds 500,000/1,000,000, 1,000,000 ante
Billy Baxter raised his K♥J♦ to 2,200,000 on the button and Shannon Fahey defended the big blind with A♠4♦.
The dealer fanned a flop of Q♥J♣8♣ and Fahey check-folded to the continuation bet of 2,200,000 from Baxter.
Jogador
Fichas
Oscilação

Lonnie Hallett

77,600,000

Dan Heimiller

48,100,000

Billy Baxter

24,300,000

-1,400,000

Shannon Fahey

13,370,000

70,000
Nível: 38
Blinds: 500,000/1,000,000
Ante: 1,000,000
Nível 37 : Blinds 400,000/800,000, 800,000 ante
The four remaining players are on a break, however, the stream will only be taking a two-minute break.
Nível 37 : Blinds 400,000/800,000, 800,000 ante
Dan Heimiller raised 2,300,000 with A♥8♠ on the button and Billy Baxter three-bet to 6,900,000 from the small blind, holding A♠K♦.
Lonnie Hallett quickly folded the big blind and Heimiller thought about it for a few seconds before doing the same.
Jogador
Fichas
Oscilação

Lonnie Hallett

77,600,000

18,700,000

Dan Heimiller

48,100,000

-10,500,000

Billy Baxter

21,500,000

-3,700,000

Shannon Fahey

18,100,000

-4,900,000