Event #42: $800 No-Limit Hold'em Deepstack (8-Handed)
Dias: 2
Event #42: $800 No-Limit Hold'em Deepstack (8-Handed)
Dia 2 Concluído
Nível 43 : Blinds 1,500,000/3,000,000, 3,000,000 ante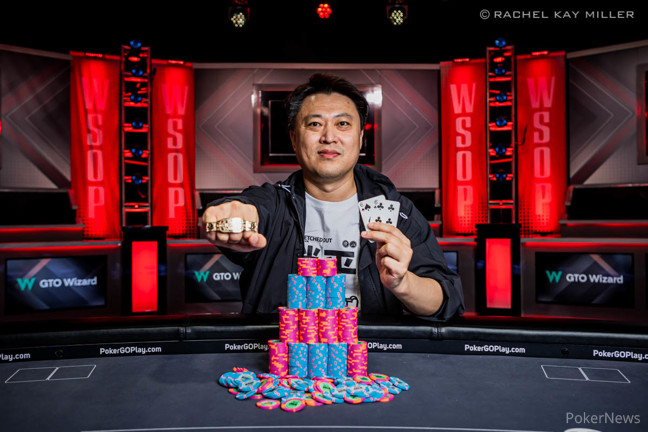 It took only two days to crown Chinese player Qiang Xu in Event #42: $800 No-Limit Hold'em Deepstack, despite 3,773 entrants being a new record for this tournament. Xu took home his first WSOP bracelet and a cash prize of $339,033.
"It's a dream coming true," said Xu a few minutes after his victory. "My goal coming from China was to win a bracelet, and now, I've got it!"
The event gathered 3,773 entrants, breaking last year's record of 2,812 runners. Some 566 players cashed in this year's event for a $1,282 min-cash.
Xu was in action early on Day 2 and stayed near the top of the chip counts for a long time. "I ran very good from start to finish," recognized Xu, who had a massive chip lead at three tables left and two tables left.
"I tried to use my stack to pressure at this point," he explained. "Then I changed my strategy a bit to be more stable. That's what I did at the final table when my stack decreased. Afterward, I tried not to hurry up and to find the right moment to catch up."
He managed to win a crucial flip in the four-handed play to stay alive. In the heads-up, Xu defeated American player Jason Johnson after a few hands to be crowned as a WSOP champion.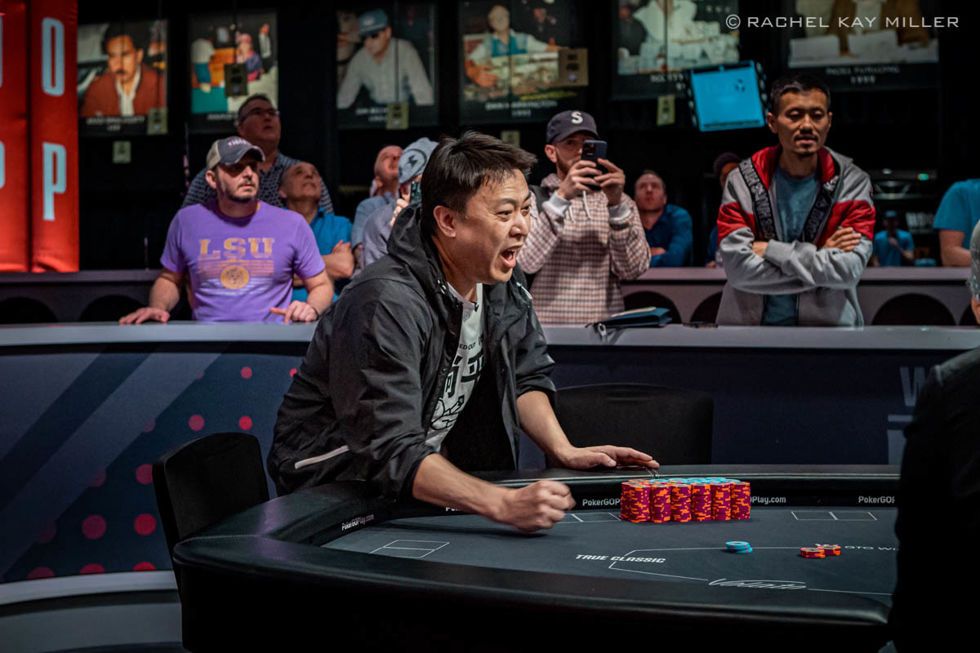 Event #42: $800 No-Limit Hold'em Deepstack Final Table Results
| Rank | Player | Country | Prize (USD) |
| --- | --- | --- | --- |
| 1 | Qiang Xu | China | $339,033 |
| 2 | Jason Johnson | United States | $209,547 |
| 3 | John Ciccarelli | United States | $157,776 |
| 4 | Christian Cheng | Taiwan | $119,629 |
| 5 | Richard Smith | United States | $91,347 |
| 6 | Charles Johnson | United States | $70,247 |
| 7 | Dorian Melchers | France | $54,408 |
| 8 | Oren Rosen | Israel | $42,445 |
Among the 566 players who took home some money, 238 came back on June 19 for the final day. The action was fast, as were the eliminations, which didn't slow down until the final table early in the evening.
The 2021 WSOP Main Event champion Koray Aldemir fell in 12th place for $21,052, narrowly missing out on another WSOP final table. Donna Stutts joined the rail before the dinner break, busting in ninth place and leaving only eight players in contention for the title.
Final Table Action
Short stacks Oren Rosen and Dorian Melchers were the first to fall. Charles Johnson lost his chips to his namesake Jason Johnson with ace-five suited against pocket sevens. Jason Johnson took the lead and five-handed play lasted for a while.
Eventually, Richard Smith was the next to exit the tournament with queen-nine off against pocket kings held by Jason Johnson.
Xu and Christian Cheng played a huge pot before Cheng lost a flip and finished fourth some hands later. John Ciccarelli was next to end his deep run, with an impressive third place worth $157,776.
The heads-up battle between Xu and Johnson was quite fast as Xu doubled immediately to take the lead. Xu and Johnson played a huge flip with pocket sixes against ace-king suited. Xu made a straight with his pocket pair to eliminate Johnson and secure the victory.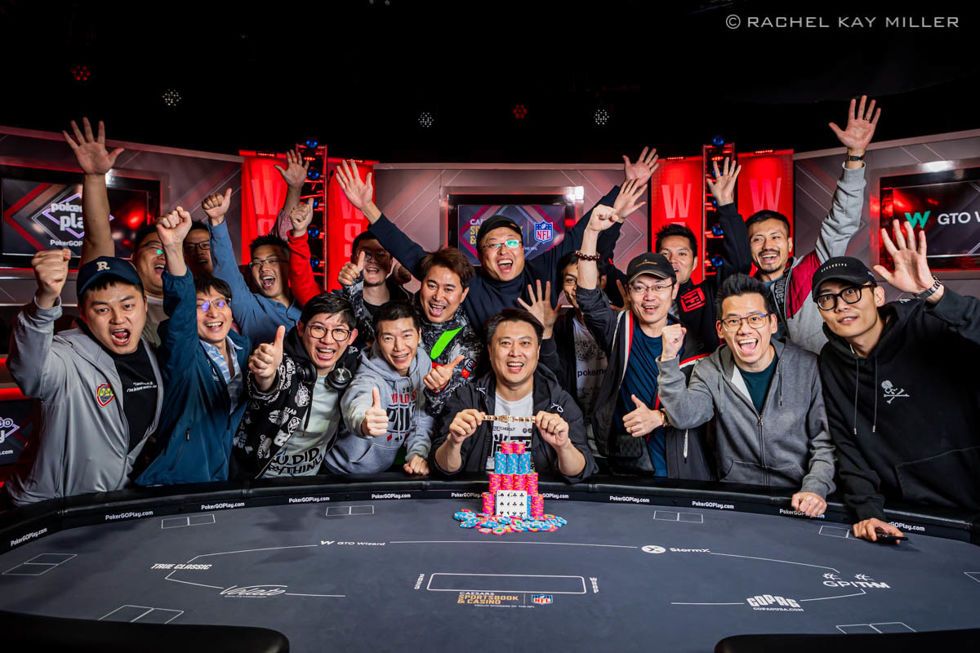 Be sure to keep it with the PokerNews live reporting team for live updates from the floor throughout the rest of the 2023 World Series Of Poker at Horseshoe and Paris Las Vegas.

Nível 43 : Blinds 1,500,000/3,000,000, 3,000,000 ante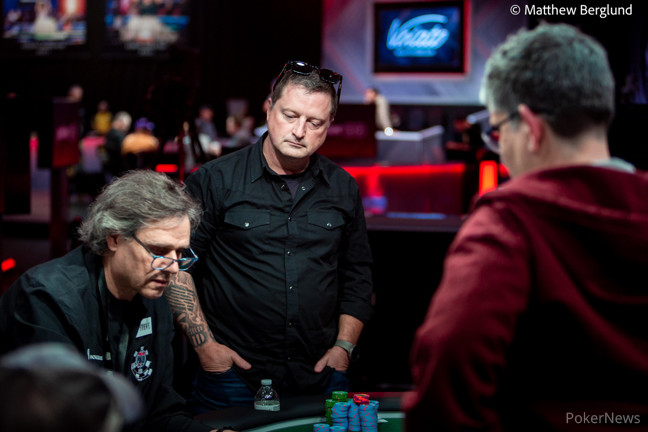 From the button, Jason Johnson moved all in for 30,600,000 chips and received a call from Qiang Xu.
Jason Johnson: A♦K♦
Qiang Xu: 6♣6♠
A coin flip would decide the outcome of the tournament. The dealer revealed J♣8♦4♣ on the flop, the 5♣ on the turn, and finally the 7♦ on the river, giving Xu a straight.
The Chinese player is the winner of this $800 No-Limit Hold'em Deepstack and wins his first WSOP bracelet. For his second-place finish, Jason Johnson takes home a prize of $209,547.
Stay tuned for the recap of Event 42 of the 2023 World Series of Poker!
Nível: 43
Blinds: 1,500,000/3,000,000
Ante: 3,000,000

Nível 42 : Blinds 1,300,000/2,500,000, 2,500,000 ante
With half the number of chips compared to his opponent, Qiang Xu limped from the button, but Jason Johnson raised him to 5,500,000 from the big blind.
Xu called the raise, and he called again when Johnson continued to 8,000,000 on the flop 7♣3♣K♠.
On the turn Q♠, Johnson checked. Xu took this opportunity to bet 13,500,000. In response, Johnson went all in and Xu snap called.
Qiang Xu: K♣6♣
Jason Johnson: Q♣9♥
With a top pair and a flush draw, Xu was ahead and remained ahead after the river 4♦. Thanks to his double up, Xu is now in the lead with more than 100,000,000 chips.
Nível 42 : Blinds 1,300,000/2,500,000, 2,500,000 ante
There will be a 10-minute break for the last two players. Heads up will start shortly.
Nível 42 : Blinds 1,300,000/2,500,000, 2,500,000 ante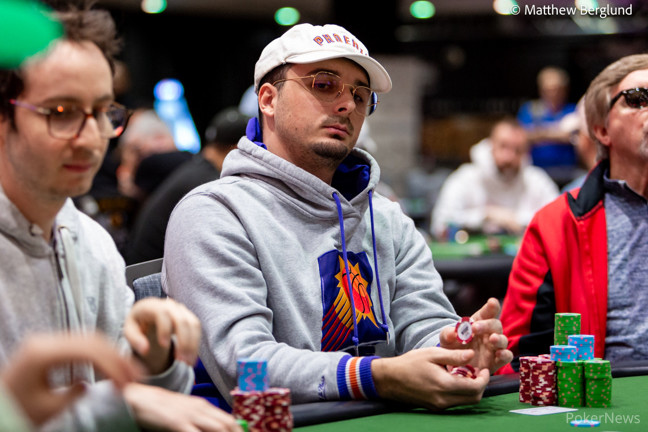 John Ciccarelli moved all in on the button and Jason Johnson made the call on the big blind.
John Ciccarelli: 10♦7♦
Jason Johnson: 8♦7♣
The board revealed 8♣K♣5♠2♠2♣ and Ciccarelli was eliminated in third place for $157,776.
Nível 42 : Blinds 1,300,000/2,500,000, 2,500,000 ante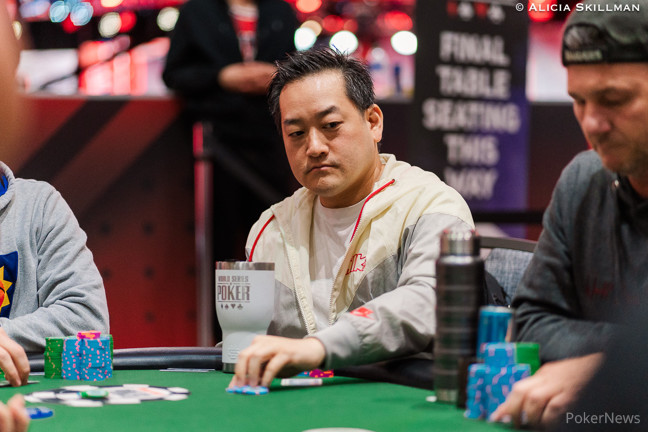 Qiang Xu opened to 5,500,000 on the button and Christian Cheng went all in from the small blind with a short stack of 12,600,000. Xu quickly called.
Christian Cheng: 3♥3♣
Qiang Xu: Q♣9♥
The board ran K♥9♦Q♠J♠A♥ and Xu won the flip, leaving Cheng join the rail in fourth place for $119,629.
Jogador
Fichas
Oscilação

Jason Johnson

78,300,000

6,300,000

Qiang Xu

58,400,000

18,900,000

John Ciccarelli

14,300,000

-11,300,000

Christian Cheng

Eliminado
Nível 42 : Blinds 1,300,000/2,500,000, 2,500,000 ante
Qiang Xu shoved for 18,500,000 in the small blind and Christian Cheng called from the big blind.
Qiang Xu: 10♣9♦
Christian Cheng: 6♠6♣
The board came 3♣9♠J♠9♥Q♥ and Xu doubled up.
Jogador
Fichas
Oscilação

Jason Johnson

72,000,000

-1,300,000

Qiang Xu

39,500,000

22,225,000

John Ciccarelli

25,600,000

-8,750,000

Christian Cheng

13,900,000

-12,200,000
Nível: 42
Blinds: 1,300,000/2,500,000
Ante: 2,500,000