Event #39: $1,500 Monster Stack
Dias: 5
Event #39: $1,500 Monster Stack
Dia 5 Concluído

Nível 44 : Blinds 2,500,000/5,000,000, 5,000,000 ante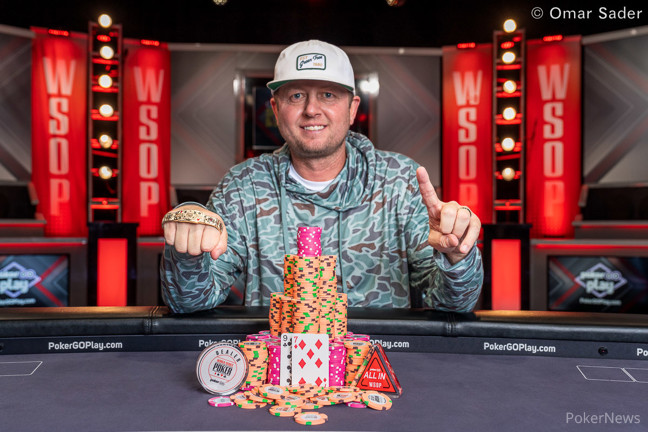 The 2023 World Series of Poker (WSOP) Event #39: $1,500 Monster Stack began with 8,317 entrants but on Wednesday night only seven returned to play down to a winner. Each was guaranteed at least $186,149 out of the $11,103,195 prize pool, but of course, everyone had their eyes firmly fixed on the $1,162,681 prize.
When the dust settled, 40-year-old family man Braxton Dunaway, who hails from Midland, Texas and works in the oil and gas industry, emerged victorious to claim the seven-figure first-place prize and his first WSOP gold bracelet.
His first order of business after the last card was dealt was to call his wife, Stephanie, and their four children – Jordyn, who just graduated college; Macy, who is 17 and a senior in high school; Hayes, who is in ninth grade; and eight-year-old, Sawyer.
"Our little girl who runs the whole show, the boss of the family, we call her 'Bossy Saucy,'" said Dunaway, who indicated he'll be flying to Omaha, Nebraska in the morning to meet his wife and two youngest children.
"They're at the College World Series," Dunaway explained. "My son is in a tournament during that, which is for teenage boys. He won his first two games today and he's guaranteed like five more games. I'll be there, we'll catch some games, and just hang out on vacation."
Before the victory, Dunaway had $333,318 in lifetime tournament earnings according to The Hendon Mob, which included a prior career-best of $62,500 for finishing in 142nd place in last year's WSOP Main Event. While Dunaway is catching the first flight out in the morning, he indicated he will return for the 2023 WSOP Main Event in July.
"I'll be back to for sure play the Main; that's the plan," Dunaway confirmed. "I've just been gone so long I need to get home, do laundry, and sleep in my own bed. I still can't believe it. It's just amazing. I told my wife, and she said, 'You've got to be kidding me.'"
2023 WSOP Event #39 Final Table Results
| Place | Player | County | Prize |
| --- | --- | --- | --- |
| 1 | Braxton Dunaway | United States | $1,162,681 |
| 2 | Colin Robinson | United States | $718,649 |
| 3 | Jesse Rockowitz | United States | $541,376 |
| 4 | Loic Dobrigna | France | $410,493 |
| 5 | Nicholas Gerrity | United States | $313,297 |
| 6 | Joshua Adcock | United States | $240,695 |
| 7 | Joe Cada | United States | $186,149 |
Others to cash the tournament were Day 3 chip leader Xuming Qi (11th - $89,644), Ashley Frank (16th - $56,980), Tyler Hancock (23rd - $45,980), Nate Silver (32nd - $37,233), Michael "BrockLesnar" Holtz (62nd - $20,730), Kyle Julius (79th - $14,540), and bracelet winner Gershon Distenfeld (93rd - $10,499), who once again donated all his winnings to charity.
Final Table Action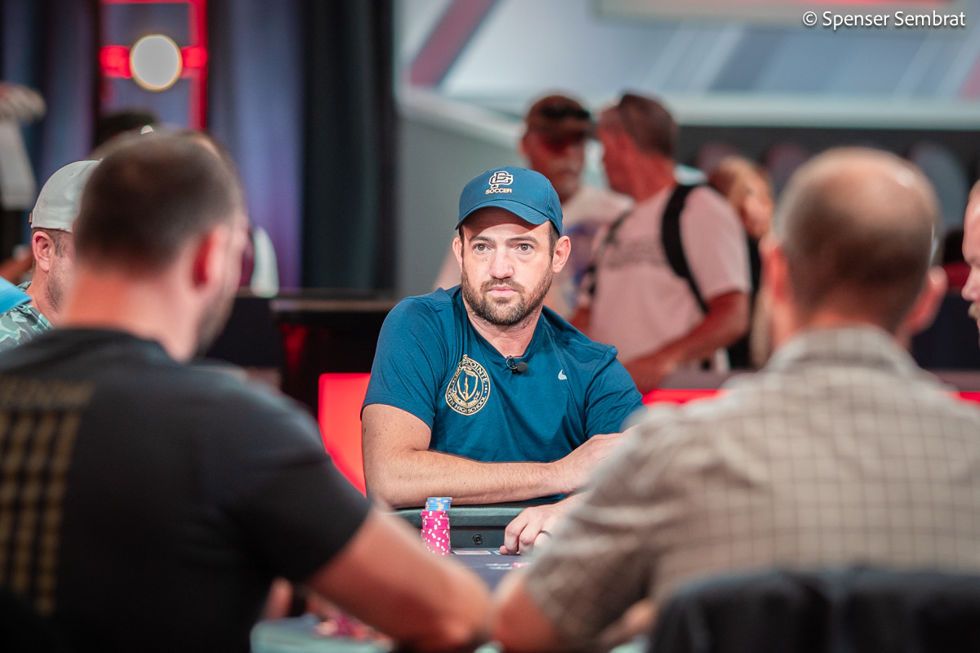 2009 WSOP Main Event champ Joe Cada started the day as the short stack, and unfortunately for the four-time bracelet winner, his quest at a fifth came to an end quickly when his ace-king was outdrawn by the ace-jack of Dunaway when a jack spiked on the river.
Not long after, Joshua Adcock three-bet jammed holding ace-king and was in prime shape to double through Dunaway, who had ace-queen. Unfortunately for him, Dunaway came from behind again, this time spiking a queen on the river to score another knockout.
Nicholas Gerrity, who began the final table as the chip leader was next to go after losing a flip with ace-six against the pocket deuces of Jesse Rockowitz, and then France's Loic Dobrigna followed him out the door after three-bet jamming with ace-deuce only to run smack dab into the two red queens of Dunaway, who held to take a big chip lead into three-handed play.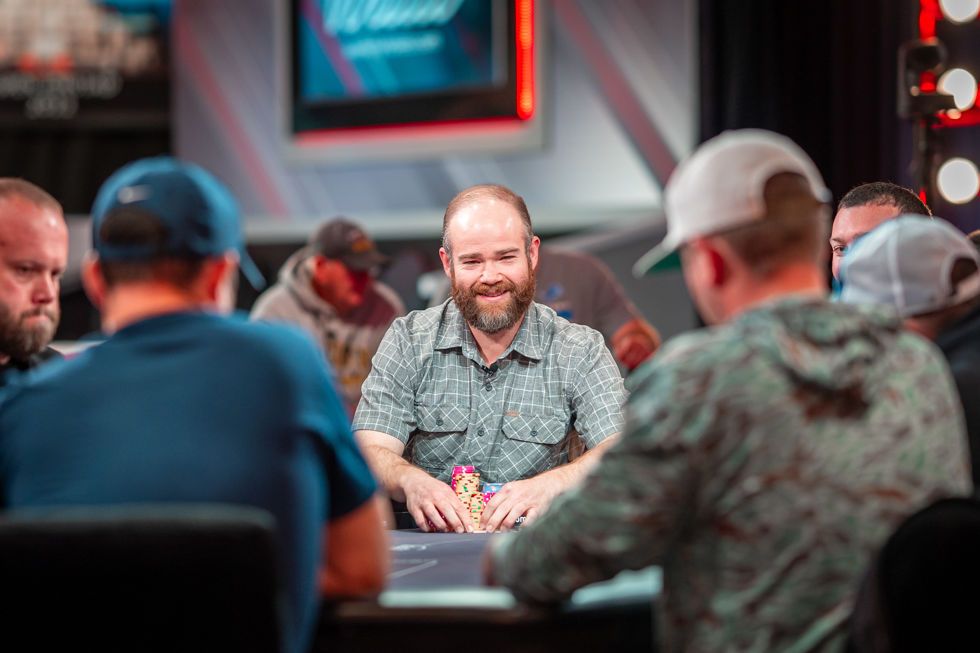 The final three battled for a long time before Dunaway put Rockowitz to the test on the turn. The latter called it off with second pair and a gutshot straight draw, which was ahead of Dunaway's open-ended straight draw and queen kicker. Unfortunately for Rockowitz, his tournament came to an end in brutal fashion when a queen spiked on the river.
Dunaway took a more than 3:1 chip lead into heads-up play against Colin Robinson, and it didn't take long for the Texan to finish things off. In the final hand, Robinson called it off on the river with a pair only to see Dunaway roll over two pair for the victory.
"I want to say that all the people who were at the final table were really nice, great opponents, good players," Dunaway concluded. "I got extremely lucky a few times, but you have to win one of these things. It was just my turn, it's just awesome."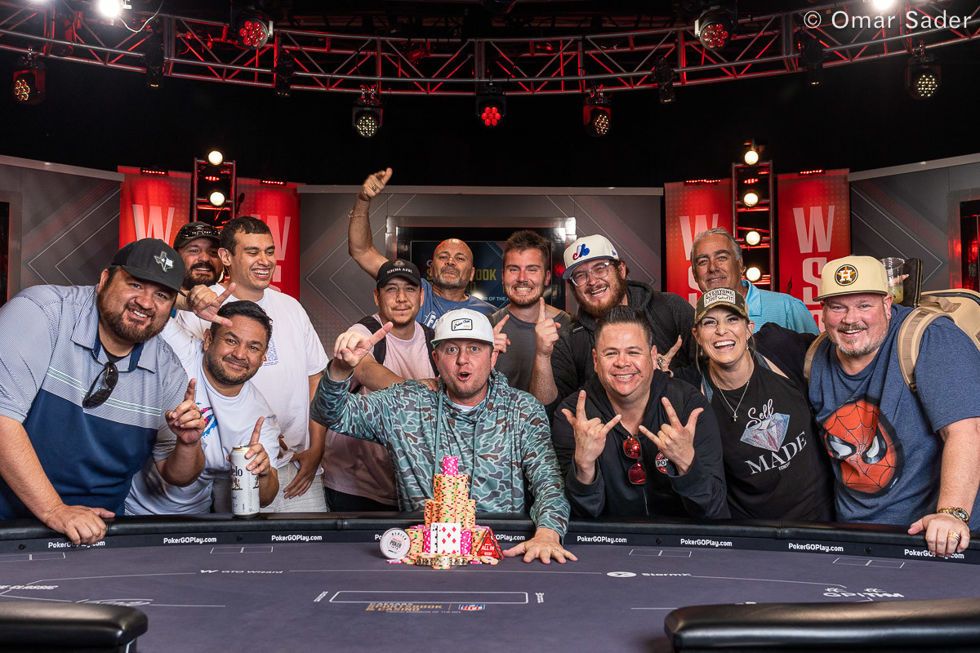 Nível 44 : Blinds 2,500,000/5,000,000, 5,000,000 ante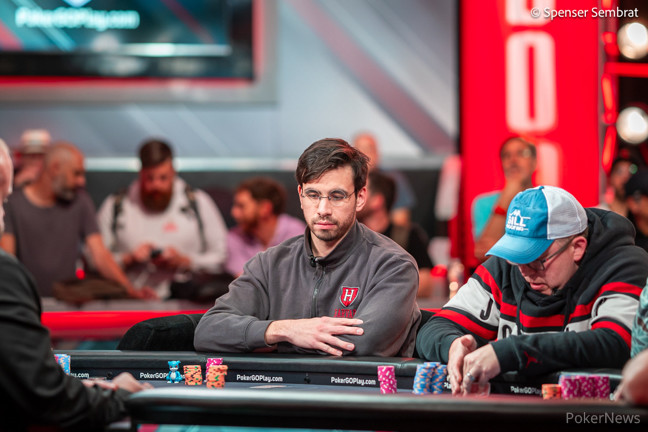 Braxton Dunaway limped in and Colin Robinson raised to 15,000,000. Dunaway called and the flop was 3♠2♦7♥.
Robinson checked the flop and called when Dunaway bet 8,000,000. The turn was 9♥.
Robinson check-called again, this time for 26,000,000.
The river was K♠ and Robinson checked one more time. Dunaway fired 73,000,000 and Robinson leaned forward to consider a call for the rest of his chips. After a few moments of thought, he called and turned over A♦2♠ for a pair of deuces. However, Dunaway showed 9♣7♦ to win the pot and the tournament with nines and sevens.
Robinson was eliminated in second place for $718,649.

Nível 44 : Blinds 2,500,000/5,000,000, 5,000,000 ante
The final two players are now on a short break while the tournament staff prepares for heads up.

Nível 44 : Blinds 2,500,000/5,000,000, 5,000,000 ante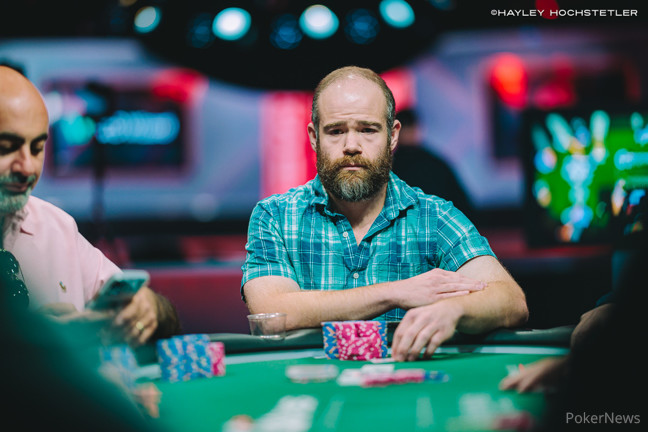 Braxton Dunaway raised to 10 million in the small blind and Jesse Rockowitz defended the big blind to see a flop of K♠5♠7♦ flop. Both players checked and the 4♥ appeared on the turn.
Dunaway checked, Rockowitz bet 10 million, and Dunaway woke up with a check-raise jam.
Rockwitz had 78 million behind and called it off.
Jesse Rockowitz: 8♣7♣
Braxton Dunaway: Q♣6♣
Rockowitz was ahead with a pair and gutshot straight draw, while Dunaway had an open-ended straight draw. The Q♦ river didn't complete that latter draw, but it did pair Dunaway's queen to give him a bigger pair and the win.

Nível 44 : Blinds 2,500,000/5,000,000, 5,000,000 ante
Braxton Dunaway raised to 10 million on the button and Colin Robinson called from the big blind to see a flop of 4♠J♦3♠, which they both checked.
On the 3♦ turn, Robinson bet 12 million, Dunaway called, and the 5♣ completed the board on the river.
Robinson bet 20 million and Dunaway called with the A♥7♦ for an ace-high. It was good as Robinson turned over K♦9♦ for king-high.
Nível 44 : Blinds 2,500,000/5,000,000, 5,000,000 ante
Jesse Rockowitz raised to 13 million from the small blind and Colin Robinson called from the big. Robinson then called a bet of 9 million on the 5♥3♥5♦ flop before the dealer burned and turned the 8♠.
Rockowitz checked, Robinson did the same, and the 3♦ double paired the board on the river.
Rockowitz checked for a second time and Robinson thought for a bit before betting a hefty 58 million. Rockowitz gave it some thought but ultimately released.
Nível 44 : Blinds 2,500,000/5,000,000, 5,000,000 ante
Braxton Dunaway raised to 10,000,000 from the button and Colin Robinson was the caller from the big blind.
The flop was 7♦8♦9♠ and Robinson bet 6,500,000 to a call from Dunaway. The turn was 2♥.
Robinson bet again on the turn, this time 14,000,000, and Dunaway called to see 5♦ on the river.
Robinson fired 42,000,000 on the river and Dunaway gave it a thought, but it was too much so he got away from it.
Jogador
Fichas
Oscilação

Jesse Rockowitz

155,000,000

-41,600,000

Braxton Dunaway

136,000,000

-13,400,000

Colin Robinson

125,000,000

55,000,000
Nível: 44
Blinds: 2,500,000/5,000,000
Ante: 5,000,000

Nível 43 : 2,000,000/4,000,000, 4,000,000 ante
The final three players have stepped out for their regularly scheduled break.