Event #59: $1,000 Super Seniors No-Limit Hold'em
Dias: 2

Nível 14 : 2,000/4,000, 4,000 ante
We are one from the money and play is now hand-for-hand.

Nível 14 : 2,000/4,000, 4,000 ante
Play was held up over on the table with Mike Flesch.
The board was showing
with 25,000 in the middle.
Flesch had shoved for 42,000 and was called. The floor gave the go-ahead to run it out and he was at risk.
Mike Flesch:

Opponent:
Flesch was in great shape with his pair of queens and the
completed the board to send him the pot.

Nível 14 : 2,000/4,000, 4,000 ante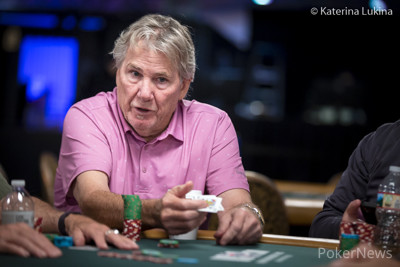 WSOP bracelet winner Larry Wright opened for 8,000 from late position and the big blind raised to 20,000. Wright went all in for 43,000 total and the big blind called.
Larry Wright:

Big Blind:
The board ran out
and Wright was able to keep trucking on. "You think I care about the damn bubble?"

Nível 14 : 2,000/4,000, 4,000 ante
At two separate tables, the big blind was forced all in for their last 5,000 chips before they could look at their cards.
At one table, Stephen Baze flat called from the cutoff and everyone else folded.
Big Blind:

Stephen Baze:
The board ran out
to have the big blind dead on the turn.
Two tables over, Leo Whitt called from the button with only a couple thousand behind. The small blind also called.
The two players checked down the
board and the big blind thought he had survived with his
.
The small blind had a meager
but Whitt flipped over
for top two pair.
Both eliminated players were forced to share the 401st-place bubble cash, each recouping $800.50 of their $1,000 entry.

Nível 14 : 2,000/4,000, 4,000 ante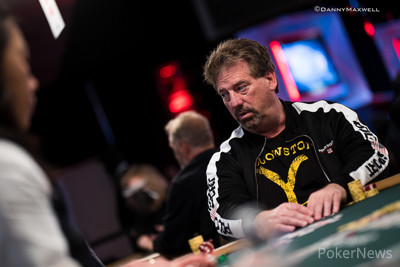 Jeff Bond is no longer seated at his table.
It appears that he squeezed into the money with his short stack but busted shortly after.
Although he is out of this tournament, this likely isn't the last time we see Mr. Bond.

Nível 14 : 2,000/4,000, 4,000 ante
Jogador
Fichas
Oscilação

Carolyn Niekerk

355,000

5,000

Eric Van Der Burg

335,000

-60,000

Jean-Luc Adam

270,000

-5,000

Dan Shak

150,000

-35,000

Joseph Petrone

125,000

25,000

Harold Boutilier

100,000

10,000

Larry Wright

90,000

-7,000

Mason Sacks

40,000

-1,000

Nível 14 : 2,000/4,000, 4,000 ante
In a five-way limped pot, the board came
and it checked around to Scott Zakheim in the hijack, who bet 17,000. A player in early position called and James Woods called from late position.
On the
turn, everybody checked. Everyone also tapped the table on the
river, with Zakheim turning over
to win the pot.

Nível 14 : 2,000/4,000, 4,000 ante
Players are now on their second 15-minute break of the day.
Nível 14 : 2,000/4,000, 4,000 ante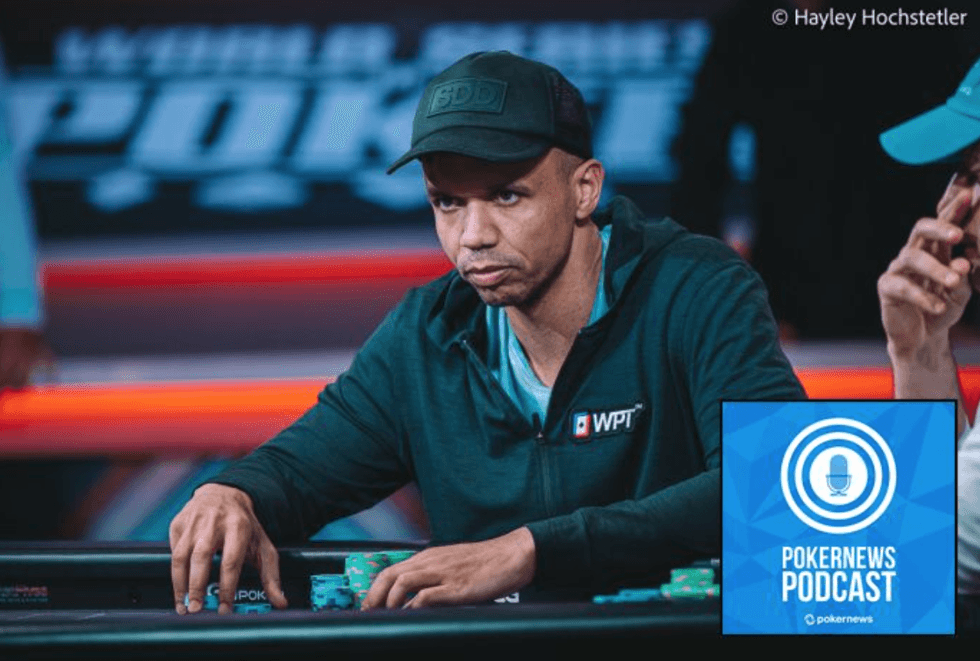 In the latest edition of the PokerNews Podcast, Chad Holloway and Jesse Fullen bring you all the latest from the 2022 World Series of Poker (WSOP) at Bally's and Paris Las Vegas. That includes highlighting all the recent bracelet winners and even interviews with the likes of Daniel Weinman, Ramsey Stovall, Ali Eslami, and Justin Pechie.
They also talk about Brian Hastings becoming just the 17th player in WSOP history to capture six or more bracelets, as well as Phil Ivey getting everyone excited by making a serious run at his 11th gold bracelet. Additionally, there are highlights from the Wynn $2,200 Mystery Bounty, Neymar Jr. notching his first-ever WSOP cash, and Dan Zack winning his second bracelet of the summer (as well as taking the lead in the 2022 WSOP Player of the Year race).
They also offer a preview of the PokerNews Cup at Golden Nugget June 24-28 and offer their picks after the final ten nominees were released for the Poker Hall of Fame Class of 2022.
Nível: 15
Blinds: 3,000/5,000
Ante: 5,000