A New WSOP Warrior as James Todd Wins Event #54: $500 Salute to Warriors for $161,256
Nível 39 : 1,000,000/1,500,000, 1,500,000 ante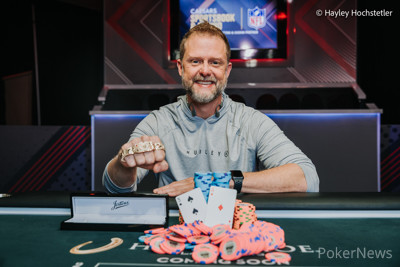 On Tuesday, 21 players returned to play down to a winner in the 2022 World Series of Poker (WSOP) Event #54: $500 Salute to Warriors and it took just five hours to determine a winner in James Todd, who claimed a $161,256 top prize and the gold bracelet.
After three days of play, starting with a record-breaking 3,209 entrants, a $1,315,690 prize pool was built. Of those entrants, 482 made the money. The bubble boys were Mackenzie Horwitz and Scott Ayers, who split the $800 minimum cash between them. Mackenzie was really happy to cash in his first WSOP event, playing in memory of his veteran brother.
Event #54: $500 Salute to Warriors Final Table Results
| | | | |
| --- | --- | --- | --- |
| Place | Name | Country | Prize |
| 1 | James Todd | United States | $161,256 |
| 2 | Brett Coltman | United States | $99,676 |
| 3 | Patrick Pilko | Austria | $75,486 |
| 4 | Randy Levin | United States | $57,554 |
| 5 | Rigoberto Rodriguez | United States | $44,180 |
| 6 | Nicholas Sena-Hopkins | United States | $34,146 |
| 7 | Todd Saffron | United States | $26,574 |
| 8 | Elias Neto | Brazil | $20,824 |
| 9 | Maximo Martinez | El Salvador | $16,433 |
| 10 | Zyad Qasem | United States | $13,059 |
Some amazing stories emerged through the days, PokerNews caught up with Jimmy Rogers on the Day 2 dinner break, who finished in the money in the event. Check out Jimmy's story here.
There were many notable runs from players with varied backgrounds including pro Barry Greenstein (63rd - $2,691), veteran and brain cancer survivor James Lovell (81st - $1,952), veteran and celebrity poker host Shaun Colquhoun (251st - $1,126), as well as many more.
Action was thick and fast, with the average stack coming into the day just under twenty big blinds. It didn't take long to lose 11 players and be down to our 10-handed final table.
Final Table Action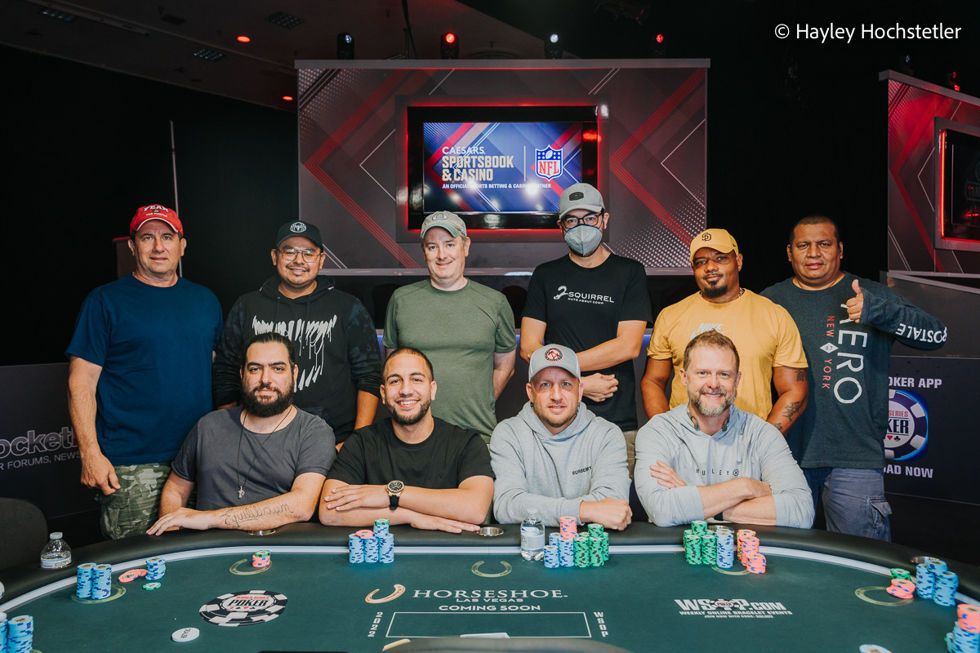 Zyad Qasem was the first to fall to Todd. Followed by El Salvadorian Maximo Martinez who was all smiles all day. Martinez coined his own signature catchphrase when he doubled versus Qasem on Day 2, ''Punch to the Liver!''.
Next off the table was Elias Nato in eighth place, the Brazilian had his own cheering section and media team filming him on the day. He was short-stacked and couldn't find the double up. In seventh place was the cool and collected Todd Saffron, who was also eliminated by Todd.
The sixth-place finisher was Nicholas Sena-Hopkins, who cashed for $34,146 for his run. Short stacked for most of the day, he did well to ladder to sixth and was all in for his last two big blinds in a three-way pot, busting to Todd.
Rigoberto Rodriguez ended up getting it in with fives versus the jacks of Brett Coltman, he couldn't improve small blind versus button and his dance was done. Rodriguez was cracking jokes and having fun all tournament, bringing good energy to the tables.
Randy Levin lost out to Coltman, too. Short stacked, he tried to bluff Coltman off a flop, and unbeknownst to him, Coltman had bottom two pair and held. In third was Patrick Pilko, the Austrian busting to Todd in a flip situation. Pilko took over $75,000 for his finish.
Heads-up play took just three hands after Coltman moved all in and Todd called his all in of 26.8 million with an ace and three versus the king and seven of Coltman. With two pair on the flop, Todd had it all but locked up and the turn and river didn't help Coltman survive.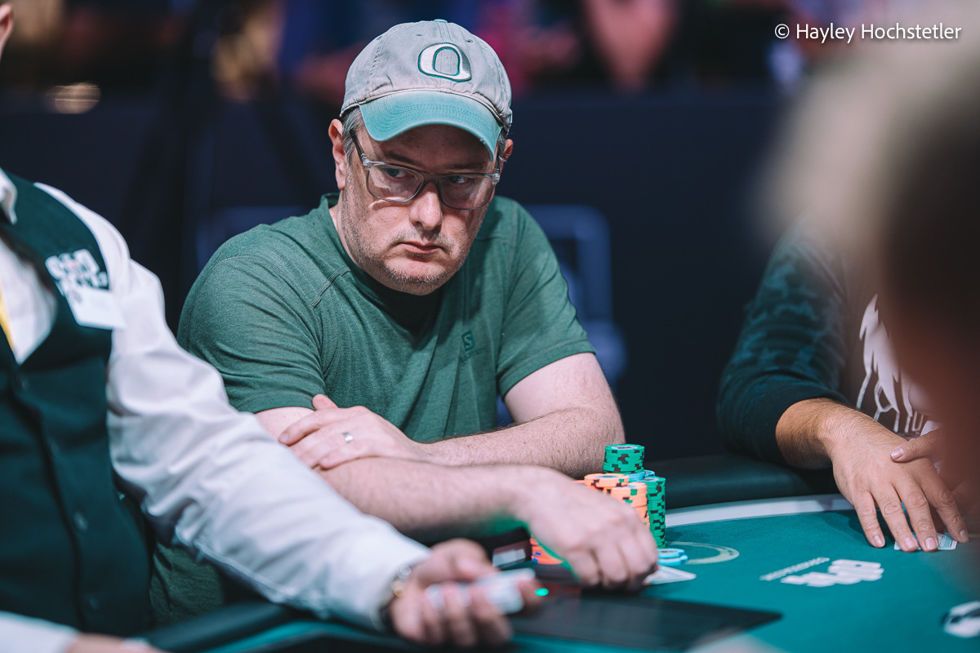 Winner's Interview
PokerNews caught up with a jubilant Todd after his victory. Todd, when asked what his expectations were this summer, said: ''I kinda did expect it, I came into this trip wanting and planning on leaving with a bracelet...I can't explain it'."
Confidence from Todd, but the confidence you need if you do actually intend on winning gold in such a big field.
Todd, who was composed all day long, credits both good sleep, his rail, and his work ethic for the victory. On that note, his girlfriend was on the rail nearly the entire Day 2 after flying in to support Todd.
''Her just being here, rooting for me, means the world ... You know I've been showing her pictures of bracelets, telling her I'm going to win, showing my clients. She believed in me the whole time, and so has my son,'' said Todd, who works as a personal trainer by trade.
Todd also credits his spirituality for his victory. ''I felt God's peace with me the entire time."
It was by far Todd's biggest win of his career, who says he has been seriously into poker for the last 25 years but has paid for teaching services to improve his game as of late. That has paid dividends as he is now has a nice bankroll boost. Todd has no plans to give up his job as a personal trainer though, and has no major spending plans in his head yet, though he may buy some land in the mountains (he lives in Colorado).
''Maybe I'll take one more day off a week now," Todd said with a smile on his face.
Finally, talking on the tournament itself, Todd was asked how it feels to be part of something that transcends just winning money. He responded: ''It's going to help a hell of a lot of people. I did not serve, but my father served in the military. I love our service men and women, you know. It's such an honorable position and able to give back a bit'."
The players raised $74,809 for the USO (United Service Organizations) among other charities. No doubt many individuals and families will be helped with those funds and the awareness raised for multiple charities and organizations to help veterans and those affected by war is invaluable.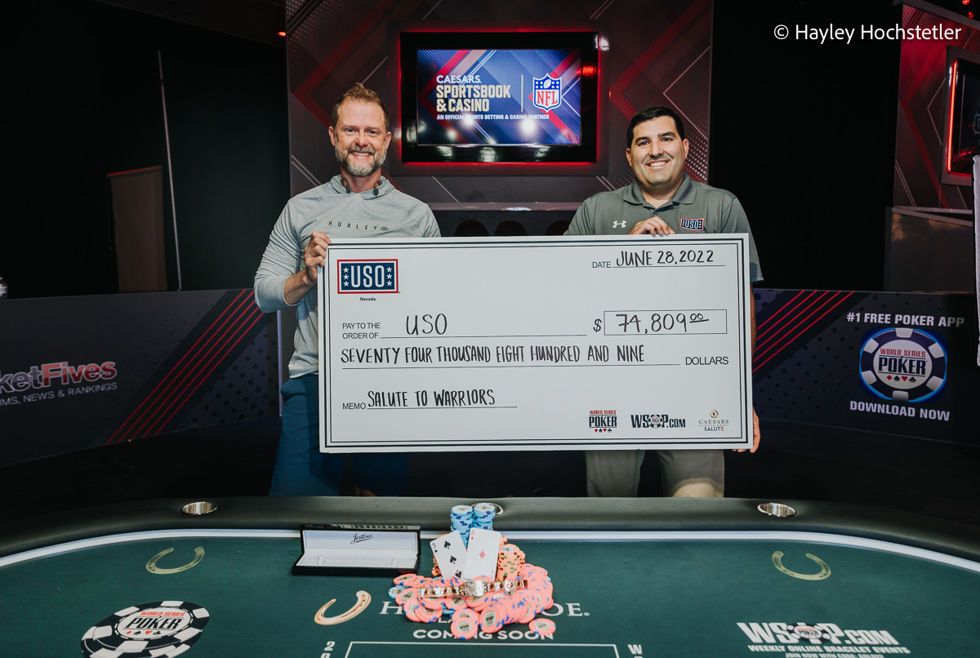 That's a wrap from Event #54: $500 Salute to Warriors at the 2022 WSOP, congratulations to champion James Todd! There are still many champions to be crowd and gold bracelets to be won. Stay with PokerNews for all the up-to-date information and coverage on the 2022 WSOP!