Event #47: $1,000 Seniors Championship
Dias: 3
Event #47: $1,000 Seniors Championship
Dia 3 Iniciado

| Room | Table | Seat | Player | Country | Chip Count | Big Blinds |
| --- | --- | --- | --- | --- | --- | --- |
| Bally's | 605 | 1 | Allen Nielson | United States | 875,000 | 36 |
| Bally's | 605 | 2 | David White | United States | 620,000 | 26 |
| Bally's | 605 | 3 | Christopher Bucceri | United States | 1 | 0 |
| Bally's | 605 | 4 | Brian Clarke | United States | 700,000 | 29 |
| Bally's | 605 | 5 | Sidney Savitt | United States | 500,000 | 21 |
| Bally's | 605 | 6 | David Jones | United States | 870,000 | 36 |
| Bally's | 605 | 7 | Curt Kohlberg | United States | 320,000 | 13 |
| Bally's | 605 | 8 | Scott Buller | United States | 985,000 | 41 |
| Bally's | 605 | 9 | Jonathan Avne | United States | 945,000 | 39 |
| | | | | | | |
| Bally's | 606 | 1 | Luca Dal Cerro | France | 1,250,000 | 52 |
| Bally's | 606 | 2 | Charles Capobianco | United States | 980,000 | 41 |
| Bally's | 606 | 3 | Earl Andrews | United States | 900,055 | 38 |
| Bally's | 606 | 4 | James Gibson | United States | 500,000 | 21 |
| Bally's | 606 | 5 | Pierre Titeca | Belgium | 770,000 | 32 |
| Bally's | 606 | 6 | Shelton Sykes | United States | 305,000 | 13 |
| Bally's | 606 | 7 | Alejandro Quattrini | Argentina | 740,000 | 31 |
| Bally's | 606 | 8 | Juli Black | United States | 525,000 | 22 |
| Bally's | 606 | 9 | Michael Johnson | United States | 450,000 | 19 |
| | | | | | | |
| Bally's | 607 | 1 | Miguel Capriles | Venezuela | 405,000 | 17 |
| Bally's | 607 | 2 | Allyn Shulman | United States | 1,130,000 | 47 |
| Bally's | 607 | 3 | Joseph Ogrady | United States | 1,165,000 | 49 |
| Bally's | 607 | 4 | Gregory Miller | United States | 405,000 | 17 |
| Bally's | 607 | 5 | William Chevrie | United States | 1,285,000 | 54 |
| Bally's | 607 | 6 | John Fones | United States | 1,025,000 | 43 |
| Bally's | 607 | 7 | Anthony Woolley | United Kingdom | 160,000 | 7 |
| Bally's | 607 | 8 | Christopher Barton | United States | 855,000 | 36 |
| Bally's | 607 | 9 | Edwin Chang | United States | 325,000 | 14 |
| | | | | | | |
| Bally's | 608 | 1 | David Ives | United States | 620,000 | 26 |
| Bally's | 608 | 2 | Mark Vonschlemmer | United States | 205,000 | 9 |
| Bally's | 608 | 3 | Wojciech Kic | United States | 910,000 | 38 |
| Bally's | 608 | 4 | Jeff Lisandro | Australia | 580,000 | 24 |
| Bally's | 608 | 5 | Touraj Tour | United States | 360,000 | 15 |
| Bally's | 608 | 6 | Eric Smidinger | United States | 575,000 | 24 |
| Bally's | 608 | 7 | Gary Gelman | United States | 915,000 | 38 |
| Bally's | 608 | 8 | Neil Blumenfield | United States | 650,000 | 27 |
| Bally's | 608 | 9 | Barry Fleishman | United States | 870,000 | 36 |
| | | | | | | |
| Bally's | 609 | 1 | Andy Finkelberg | United States | 590,000 | 25 |
| Bally's | 609 | 2 | Steve Friedlander | United States | 635,000 | 26 |
| Bally's | 609 | 3 | Eric Sunde | United States | 1,270,000 | 53 |
| Bally's | 609 | 4 | Clifford Pappas | United States | 1,050,000 | 44 |
| Bally's | 609 | 5 | Michael Ventola | United States | 490,000 | 20 |
| Bally's | 609 | 6 | James Lemon | United States | 690,000 | 29 |
| Bally's | 609 | 7 | Steve Richeson | United States | 695,000 | 29 |
| Bally's | 609 | 8 | Ted Morris | United States | 570,000 | 24 |
| Bally's | 609 | 9 | Deonarine Itwaru | United States | 700,000 | 29 |
| | | | | | | |
| Bally's | 610 | 1 | Paul Bianchi | United States | 185,000 | 8 |
| Bally's | 610 | 2 | Jeffrey Sims | United States | 1,725,000 | 72 |
| Bally's | 610 | 3 | David Lackey | United States | 1,080,000 | 45 |
| Bally's | 610 | 4 | Paul Smith | United States | 180,000 | 8 |
| Bally's | 610 | 5 | James Clarke | United Kingdom | 1,920,000 | 80 |
| Bally's | 610 | 6 | Edwin Childress | United States | 1,135,000 | 47 |
| Bally's | 610 | 7 | Ryan Remmes | United States | 490,000 | 20 |
| Bally's | 610 | 8 | David Penna | United States | 705,000 | 29 |
| Bally's | 610 | 9 | Brett Banks | United States | 595,000 | 25 |
| | | | | | | |
| Bally's | 611 | 1 | Mark Williamson | United States | 1,150,000 | 48 |
| Bally's | 611 | 2 | Mark Warriner | United States | 240,000 | 10 |
| Bally's | 611 | 3 | Matthew Davis | United States | 530,000 | 22 |
| Bally's | 611 | 4 | David Parnagian | United States | 605,000 | 25 |
| Bally's | 611 | 5 | Zofimo Xavier | Canada | 985,000 | 41 |
| Bally's | 611 | 6 | Daniel Orr | United States | 670,000 | 28 |
| Bally's | 611 | 7 | Larry Wright | United States | 715,000 | 30 |
| Bally's | 611 | 8 | James Burns | United States | 890,000 | 37 |
| Bally's | 611 | 9 | Jesse Lawrence | United States | 130,000 | 5 |
| | | | | | | |
| Bally's | 613 | 1 | Jamal Sawaqdeh | United States | 550,000 | 23 |
| Bally's | 613 | 2 | Bruce Webb | United States | 260,000 | 11 |
| Bally's | 613 | 3 | Randy Marker | United States | 400,000 | 17 |
| Bally's | 613 | 4 | David Levi | United States | 285,000 | 12 |
| Bally's | 613 | 5 | Richard Anthony | United States | 930,000 | 39 |
| Bally's | 613 | 6 | Michael Kinney | United States | 355,000 | 15 |
| Bally's | 613 | 7 | Andres Korn | United States | 1,710,000 | 71 |
| Bally's | 613 | 8 | Michael Loynd | United States | 230,000 | 10 |
| Bally's | 613 | 9 | Nicholas Dileo | United States | 1,500,000 | 63 |
| | | | | | | |
| Bally's | 614 | 1 | Mike Puskarich | United States | 305,000 | 13 |
| Bally's | 614 | 2 | Dieter Dechant | United States | 875,000 | 36 |
| Bally's | 614 | 3 | Claude Leclair | Canada | 425,000 | 18 |
| Bally's | 614 | 4 | John Lombardo | Australia | 625,000 | 26 |
| Bally's | 614 | 5 | Keith Littlewood | United Kingdom | 1,802,500 | 75 |
| Bally's | 614 | 6 | DID NOT REPORT 2 | United States | 1 | 0 |
| Bally's | 614 | 7 | DID NOT REPORT 1 | | 95,000 | 4 |
| Bally's | 614 | 8 | Martyn Frey | United Kingdom | 320,000 | 13 |
| Bally's | 614 | 9 | Everett Carlton | United States | 355,000 | 15 |
| | | | | | | |
| Bally's | 616 | 1 | Brian Mckay | Canada | 1,425,000 | 59 |
| Bally's | 616 | 2 | Clay Henry | United States | 220,000 | 9 |
| Bally's | 616 | 3 | Domenico Scalamogna | Canada | 1,145,000 | 48 |
| Bally's | 616 | 4 | John Bergendahl | United States | 735,000 | 31 |
| Bally's | 616 | 5 | Stephane Gabarre | France | 651,000 | 27 |
| Bally's | 616 | 6 | Jonathan Bailey | United States | 400,000 | 17 |
| Bally's | 616 | 7 | David Goodkin | United States | 430,000 | 18 |
| Bally's | 616 | 8 | William Duval | France | 605,000 | 25 |
| Bally's | 616 | 9 | Eli Gerloy | United States | 300,000 | 13 |
| | | | | | | |
| Bally's | 617 | 1 | Ken Aldridge | United States | 965,000 | 40 |
| Bally's | 617 | 2 | Octavian Neacsu | Romania | 165,000 | 7 |
| Bally's | 617 | 3 | Danny Panagatos | United States | 1,060,000 | 44 |
| Bally's | 617 | 4 | Scott Burnham | United States | 255,000 | 11 |
| Bally's | 617 | 5 | Richard Harroch | United States | 750,000 | 31 |
| Bally's | 617 | 6 | Kerry Rowden | United States | 590,000 | 25 |
| Bally's | 617 | 7 | Patricia Devine | United States | 1,935,000 | 81 |
| Bally's | 617 | 8 | Danny Hagar | United States | 1,150,000 | 48 |
| Bally's | 617 | 9 | Hollis Barnhart | United States | 435,000 | 18 |
| | | | | | | |
| Bally's | 618 | 1 | Jan Pettersson | United Kingdom | 2,600,000 | 108 |
| Bally's | 618 | 2 | Michael Wainscott | United States | 415,000 | 17 |
| Bally's | 618 | 3 | Aaron Eubanks | United States | 65,000 | 3 |
| Bally's | 618 | 4 | Orlando Barrera | United States | 1,625,000 | 68 |
| Bally's | 618 | 5 | Kevin Detienne | United States | 885,000 | 37 |
| Bally's | 618 | 6 | Giovanni Di Donato | Italy | 645,000 | 27 |
| Bally's | 618 | 7 | Howard Mann | United States | 680,000 | 28 |
| Bally's | 618 | 8 | Hugh Cairnie | United Kingdom | 700,000 | 29 |
| Bally's | 618 | 9 | Keith Block | United States | 1,335,000 | 56 |
| | | | | | | |
| Bally's | 619 | 1 | Victor Ramdin | United States | 1,004,000 | 42 |
| Bally's | 619 | 2 | Bill Eitze | United States | 685,000 | 29 |
| Bally's | 619 | 3 | Charles Mitchell | United States | 360,000 | 15 |
| Bally's | 619 | 4 | Ioannis Tsombanidis | United States | 930,000 | 39 |
| Bally's | 619 | 5 | Vince Salvatore | United States | 405,000 | 17 |
| Bally's | 619 | 6 | Mitchell Gottlieb | United States | 435,000 | 18 |
| Bally's | 619 | 7 | Biagio Morciano | Italy | 415,000 | 17 |
| Bally's | 619 | 8 | David Leach | United States | 240,000 | 10 |
| Bally's | 619 | 9 | Glenn Stout | United States | 355,000 | 15 |
| | | | | | | |
| Bally's | 620 | 1 | Joseph Altman | United States | 440,000 | 18 |
| Bally's | 620 | 2 | Ben Sarnoff | United States | 3,155,000 | 131 |
| Bally's | 620 | 3 | James Roberts | United States | 290,000 | 12 |
| Bally's | 620 | 4 | Michael Park | United States | 485,000 | 20 |
| Bally's | 620 | 5 | Bobby Buckingham | United States | 740,000 | 31 |
| Bally's | 620 | 6 | Joseph Palma | United States | 165,000 | 7 |
| Bally's | 620 | 7 | Gregory Gunn | United States | 780,000 | 33 |
| Bally's | 620 | 8 | Ronald Mossbarger | United States | 225,000 | 9 |
| Bally's | 620 | 9 | Anthony Banuelos | United States | 330,000 | 14 |
| | | | | | | |
| Bally's | 621 | 1 | Keith Boniface | United States | 860,000 | 36 |
| Bally's | 621 | 2 | Noel Edwards | United States | 600,000 | 25 |
| Bally's | 621 | 3 | Robert Cornette | United States | 190,000 | 8 |
| Bally's | 621 | 4 | Gert Jorgensen | Denmark | 825,000 | 34 |
| Bally's | 621 | 5 | Bradley Cohen | United States | 620,000 | 26 |
| Bally's | 621 | 6 | Ioan Totoiu | United States | 165,000 | 7 |
| Bally's | 621 | 7 | Paul Balzano | United States | 1,400,000 | 58 |
| Bally's | 621 | 8 | Jonathan Tare | United States | 645,000 | 27 |
| Bally's | 621 | 9 | Deric Williams | United States | 340,000 | 14 |
| | | | | | | |
| Bally's | 622 | 1 | Mike Landers | United States | 1,995,000 | 83 |
| Bally's | 622 | 2 | Scott Manzi | United States | 1,060,000 | 44 |
| Bally's | 622 | 3 | Jonathan Ingalls | United States | 765,000 | 32 |
| Bally's | 622 | 4 | Brian Brunner | United States | 435,000 | 18 |
| Bally's | 622 | 5 | Daniel Spear | United States | 435,000 | 18 |
| Bally's | 622 | 6 | Mark Pett | United States | 1,275,000 | 53 |
| Bally's | 622 | 7 | Lawrence Dowling | United States | 1,045,000 | 44 |
| Bally's | 622 | 8 | Christopher Nelligan | United States | 260,000 | 11 |
| Bally's | 622 | 9 | Thomas Eidenschink | United States | 625,000 | 26 |
| | | | | | | |
| Bally's | 623 | 1 | Michael Campitelli | Canada | 1,650,000 | 69 |
| Bally's | 623 | 2 | Frank Panfili | United States | 785,000 | 33 |
| Bally's | 623 | 3 | Ronald Covert | United States | 910,000 | 38 |
| Bally's | 623 | 4 | Donnacha O'Dea | Ireland | 380,000 | 16 |
| Bally's | 623 | 5 | Herman Reynolds | United States | 1,200,000 | 50 |
| Bally's | 623 | 6 | Michel Abecassis | France | 370,000 | 15 |
| Bally's | 623 | 7 | Farhad Jamasi | United States | 890,000 | 37 |
| Bally's | 623 | 8 | Greg Damour | United States | 95,000 | 4 |
| Bally's | 623 | 9 | Timothy Little | United States | 415,000 | 17 |
| | | | | | | |
| Bally's | 624 | 1 | Michael Holm | United States | 785,000 | 33 |
| Bally's | 624 | 2 | John Lavorato | Canada | 406,000 | 17 |
| Bally's | 624 | 3 | Daniel Gerard | United States | 1,005,000 | 42 |
| Bally's | 624 | 4 | Robert Bichler | United States | 485,000 | 20 |
| Bally's | 624 | 5 | Steven Butler | United States | 450,000 | 19 |
| Bally's | 624 | 6 | Brent Nelms | United States | 830,000 | 35 |
| Bally's | 624 | 7 | Glenn Campbell | United States | 225,000 | 9 |
| Bally's | 624 | 8 | James Traber | United States | 210,000 | 9 |
| Bally's | 624 | 9 | Wilbern Hoffman | United States | 750,000 | 31 |
| | | | | | | |
| Bally's | 625 | 1 | Richard Clayton | United States | 390,000 | 16 |
| Bally's | 625 | 2 | Glynn Beebe | United States | 701,000 | 29 |
| Bally's | 625 | 3 | Cheryl Svenson | United States | 345,000 | 14 |
| Bally's | 625 | 4 | Kenneth Omalley | United States | 925,000 | 39 |
| Bally's | 625 | 5 | Thomas Coan | United States | 1,490,000 | 62 |
| Bally's | 625 | 6 | Richard Lewis (WA) | United States | 280,000 | 12 |
| Bally's | 625 | 7 | Evan Teitelbaum | United States | 1,150,000 | 48 |
| Bally's | 625 | 8 | Stuart Taylor | Canada | 330,000 | 14 |
| Bally's | 625 | 9 | John Hartmann | United States | 990,000 | 41 |
| | | | | | | |
| Bally's | 626 | 1 | Hans Zarfl | Germany | 360,000 | 15 |
| Bally's | 626 | 2 | Alexander Hill | United States | 1,185,000 | 49 |
| Bally's | 626 | 3 | George Nino | United States | 745,000 | 31 |
| Bally's | 626 | 4 | Brian Topp | United States | 345,000 | 14 |
| Bally's | 626 | 5 | Ricardo Padilla | United States | 900,000 | 38 |
| Bally's | 626 | 6 | Darrell Vancleave | United States | 140,000 | 6 |
| Bally's | 626 | 7 | Rommel Liscano | United States | 540,000 | 23 |
| Bally's | 626 | 8 | Kirk Spano | United States | 530,000 | 22 |
| Bally's | 626 | 9 | Carl Lee | United States | 715,000 | 30 |
| | | | | | | |
| Bally's | 627 | 1 | Marsha Anne Wolak | United States | 560,000 | 23 |
| Bally's | 627 | 2 | Mohammad Berenji-Nataj | United States | 495,000 | 21 |
| Bally's | 627 | 3 | James Kennedy | United States | 385,000 | 16 |
| Bally's | 627 | 4 | Carl Masters | United States | 910,000 | 38 |
| Bally's | 627 | 5 | William Flippen | United States | 1,430,000 | 60 |
| Bally's | 627 | 6 | Shawn Rice | United States | 675,000 | 28 |
| Bally's | 627 | 7 | Steven Himebaugh | United States | 255,000 | 11 |
| Bally's | 627 | 8 | Michael Botwin | United States | 1,170,000 | 49 |
| Bally's | 627 | 9 | Patrick Martorella | United States | 355,000 | 15 |
| | | | | | | |
| Bally's | 628 | 1 | Valerii Lubenets | Ukraine | 2,810,000 | 117 |
| Bally's | 628 | 2 | Kathy Liebert | United States | 635,000 | 26 |
| Bally's | 628 | 3 | Clifford Snuffer | United States | 659,000 | 27 |
| Bally's | 628 | 4 | James Moran | United States | 725,000 | 30 |
| Bally's | 628 | 5 | Pin Jiang | United States | 375,000 | 16 |
| Bally's | 628 | 6 | Joseph Dagostino | United States | 675,000 | 28 |
| Bally's | 628 | 7 | Carol Fuchs | United States | 640,000 | 27 |
| Bally's | 628 | 8 | Julia Mcbride | United States | 565,000 | 24 |
| Bally's | 628 | 9 | Robert Wicks | United States | 301,000 | 13 |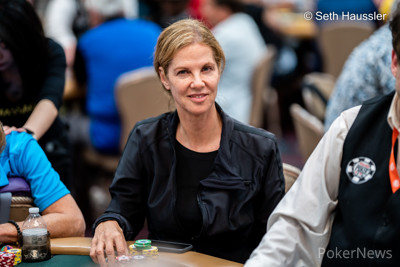 After two exciting first-day flights that saw a record-setting 7,188 total entries and an action-packed Day 2, we are down to just 198 players that will play Day 3 of Event #47: $1,000 Seniors No-Limit Hold'em Championship.
The cards are scheduled to be back in the air at 10 a.m. local time at the 2022 World Series of Poker at Bally's and Paris Las Vegas.
The lion's share of the $6,397,320 prize pool is still very much up for grabs, with each player already having secured themselves a fantastic prize of $4,703. However, everyone left in the field will be eyeing the $694,909 top prize and the prestigious WSOP gold bracelet.
Of the 198 remaining, there are a handful who have already done their best to break away from the pack. Ben Sarnoff is our Day 2 chip leader after bagging 3,155,000, with most of that being collected in the final hours of Day 1. Valerii Lubenets is not far behind with 2,810,000 with Jan Pettersson also lingering around the leaders with 2,600,000. Mike Landers (1,995,000) and Patricia Devine (1,935,000) complete the top five.
Top 10 Chip Counts
| | | | | |
| --- | --- | --- | --- | --- |
| Rank | Player | Country | Chip Count | Big Blinds |
| 1 | Ben Sarnoff | United States | 3,155,000 | 126 |
| 2 | Valerii Lubenets | Ukraine | 2,810,000 | 112 |
| 3 | Jan Pettersson | Australia | 2,600,000 | 104 |
| 4 | Mike Landers | United States | 1,995,000 | 80 |
| 5 | Patricia Devine | United States | 1,935,000 | 77 |
| 6 | James Clarke | United Kingdom | 1,920,000 | 77 |
| 7 | Keith Littlewood | United Kingdom | 1,802,500 | 72 |
| 8 | Jeffrey Sims | United States | 1,725,000 | 69 |
| 9 | Andres Korn | Argentina | 1,710,000 | 68 |
| 10 | Michael Campitelli | Canada | 1,650,000 | 66 |
Plenty of illustrious players remain in the field looking to add a piece of jewelry to their collection of poker highlights. 2012 Seniors Championship winner Allyn Shulman is still very much in the mix, sitting on a stack of 1,130,000.
The 2009 WSOP Player of the Year Jeffrey Lisandro could do some damage despite his below-average chip stack of 580,000. Bracelet winner Ken Aldridge (965,000), 2015 WSOP Main Event third-place finisher Neil Blumenfield (650,000), WSOP bracelet winner Carol Fuchs (640,000), and Women's Poker Hall of Famer Kathy Liebert (635,000) all have some work to do but will be present for Day 3.
The players will play ten 60-minute levels with 15-minute breaks taking place after every two levels. They will take their 60-minute dinner break at the end of Level 29.
Stay tuned to PokerNews for full live coverage of this and all other bracelet-awarding events at the 2022 World Series of Poker at Bally's and Paris Las Vegas.
Nível: 22
Blinds: 10,000/25,000
Ante: 25,000
Nível 22 : 10,000/25,000, 25,000 ante
Anthony Woolley put in a reraise from 75,000 by moving all in for 100,000. Edwin Chang shoved behind from the small blind for 195,000. Action then landed on Allyn Shulman from under the gun. She announced a raise to 100,000, and the table was quick to point out the bet was already at 195,000. This caused some confusion and disagreement on whether she could still raise or just call. Eventually, the floor was called and ruled she must call the 195,000. John Fones then made the call as well, from late position.
With two players all in and two still with action, the flop came
. Shulman fired for 300,000, and Fones folded. With no action left, the players tabled their hands.
Anthony Woolley:

Edwin Chang:

Allyn Shulman:
As they did so, the dealer mistakenly pushed part of the side pot to Shulman, who added the chips to her stack. Players at the table realized that the side pot was short, and everyone began trying to figure out how much should be in each pot, and how many side pots there should be. Eventually, the floor was called over again, and it was ruled that the one side pot was short 90,000, and that these 90,000 would come out of Shulman's stack as they had mistakenly been pushed to her prior. She reluctantly counted out the chips and pushed them forward. One of the players at the table was quick to remind her that the chips would in all likelihood be going right back to her. With that sorted, it was time for the runout.
Woolley was pleading for a club, and was disappointed to see the
on the turn. The
hit on the river, pairing Woolley and Chang's aces, giving Chang two pair and the best hand. He scooped both the side pot and the main pot, while Woolley departed for the rail.
Nível 22 : 10,000/25,000, 25,000 ante

Nível 22 : 10,000/25,000, 25,000 ante
Hollis Barnhart shoved for his last 125,000 from the button and was snap-called by Keith Boniface, who needed three attempts to successfully turn over his cards.
Hollis Barnhart:

Keith Boniface:
The board ran out
and Boniface's two pair was good enough to take down the pot and eliminate Barnhart.

Nível 22 : 10,000/25,000, 25,000 ante

Nível 22 : 10,000/25,000, 25,000 ante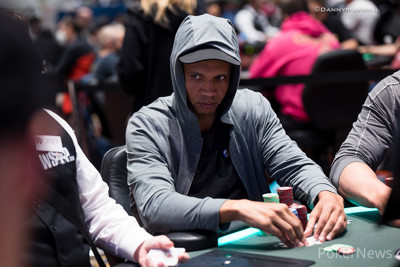 While the Colossus gets underway, read up on everything that transpired on Friday at the World Series of Poker. Two players won a bracelet, a massive field already showed up for Day 1a of the Colossus, and Phil Ivey made yet another WSOP Final Table.
Nível 22 : 10,000/25,000, 25,000 ante
Action was picked up after Ronald Covert had moved all in for around 600,000 and gotten a call from Mark Pett, who had him covered.
Ronald Covert:

Mark Pett:
Covert was going to need some help, but got none as the board ran out
, offering no help to Covert and securing the pot for Pett. After the runout had been dealt, Herman Reynolds shared that he had folded queen-jack suited, and would have played the hand had Covert not shoved.