Nível 39 : 800,000-1,600,000, 1,600,000 ante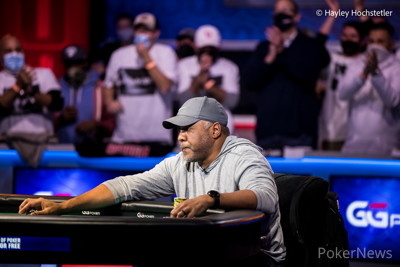 Hand #135: Jack Oliver limped in from the small blind and George Holmes raised to 4,000,000 in the big blind. Oliver then opted for a limp-raise to 12,000,000, Holmes moved all-in and Oliver snap-folded.
Hand #136: Holmes limped the small blind and Koray Aldemir checked his option to see the
flop. There was a bet worth 3,400,000 by Holmes and Aldemir came along to the
turn, which went check, check. On the
river, Holmes bet again for 3,400,000 and Aldemir sent his cards into the muck.
Hand #137: Aldemir opened to 5,400,000 in the small blind and Oliver forfeited the big blind and big blind ante.
Hand #138: A button raise to 3,400,000 by Aldemir found no resistance.
Hand #139: Oliver made it 4,000,000 to go on the button and Holmes filled up from the small blind, Aldemir in the big blind made it three ways to the
flop.
The action checked to Oliver and he bet 3,000,000, which triggered a check-raise to 8,000,000 by Oliver. Aldemir folded and Oliver came along to the
turn. Holmes checked once more and Oliver now bet 10,000,000. For the second street in a row, Holmes check-raised and made it 25,000,000 to go as Oliver instantly gave up.
Jogador
Fichas
Oscilação

Koray Aldemir

254,200,000

-5,000,000

George Holmes

107,200,000

43,000,000

Jack Oliver

37,900,000

-38,000,000