Event #30: $1,500 Monster Stack No-Limit Hold'em
Dias: 3
Event #30: $1,500 Monster Stack No-Limit Hold'em
Dia 3 Iniciado

| | | | | | | | | | | |
| --- | --- | --- | --- | --- | --- | --- | --- | --- | --- | --- |
| Room | Table | Seat | Player | Country | Chips | Big Blinds | | | | |
| Amazon | 400 | 1 | Jaesh Balachandran | United States | 840,000 | 28 | | | | |
| Amazon | 400 | 2 | Yeon Bae | South Korea | 730,000 | 24 | | | | |
| Amazon | 400 | 4 | Giancarlo Santolin | Canada | 1,530,000 | 51 | | | | |
| Amazon | 400 | 5 | Pavel Plesuv | Czech Republic | 915,000 | 31 | | | | |
| Amazon | 400 | 6 | Chad Cullimore | United States | 235,000 | 8 | | | | |
| Amazon | 400 | 7 | Samantha Cohen | United States | 1,845,000 | 62 | | | | |
| Amazon | 400 | 8 | Matthew Itkin | United States | 650,000 | 22 | | | | |
| Amazon | 400 | 9 | Beriz Turnadzic | United States | 440,000 | 15 | | | | |
| | | | | | | | | | | |
| Amazon | 401 | 1 | Brendan Shiller | United States | 2,265,000 | 76 | | | | |
| Amazon | 401 | 2 | James Ward | Canada | 265,000 | 9 | | | | |
| Amazon | 401 | 3 | Dylan Linde | United States | 820,000 | 27 | | | | |
| Amazon | 401 | 4 | Andy Finkelberg | United States | 515,000 | 17 | | | | |
| Amazon | 401 | 5 | Matthew Ramshaw | United States | 655,000 | 22 | | | | |
| Amazon | 401 | 6 | Francois Pirault | France | 935,000 | 31 | | | | |
| Amazon | 401 | 8 | David Guay | Canada | 640,000 | 21 | | | | |
| Amazon | 401 | 9 | Eric Tipsword | United States | 400,000 | 13 | | | | |
| | | | | | | | | | | |
| Amazon | 402 | 1 | Todd Siadek | United States | 710,000 | 24 | | | | |
| Amazon | 402 | 2 | Tanner Lefferts | United States | 665,000 | 22 | | | | |
| Amazon | 402 | 3 | David Croushore | United States | 1,060,000 | 35 | | | | |
| Amazon | 402 | 4 | Nicholas Lore | United States | 1,270,000 | 42 | | | | |
| Amazon | 402 | 5 | Derek McMaster | United States | 870,000 | 29 | | | | |
| Amazon | 402 | 6 | Carlos Lam Wu | Panama | 1,010,000 | 34 | | | | |
| Amazon | 402 | 7 | Seon Kim | United States | 1,170,000 | 39 | | | | |
| Amazon | 402 | 8 | Ian Ohara | United States | 3,025,000 | 101 | | | | |
| Amazon | 402 | 9 | Andrew Petrovsky | United States | 740,000 | 25 | | | | |
| | | | | | | | | | | |
| Amazon | 403 | 1 | Patrick Eskandar | United States | 1,035,000 | 35 | | | | |
| Amazon | 403 | 2 | Kyle Chang | Canada | 1,105,000 | 37 | | | | |
| Amazon | 403 | 3 | Domenico Gala | United States | 1,670,000 | 56 | | | | |
| Amazon | 403 | 4 | Aleks Dimitrov | Bulgaria | 670,000 | 22 | | | | |
| Amazon | 403 | 5 | Rafael Marcondes Reis | United States | 3,125,000 | 104 | | | | |
| Amazon | 403 | 6 | Neal Stewart | United States | 410,000 | 14 | | | | |
| Amazon | 403 | 7 | Kevin Andriamahefa | United States | 670,000 | 22 | | | | |
| Amazon | 403 | 8 | Bin Weng | United States | 1,700,000 | 57 | | | | |
| Amazon | 403 | 9 | Jeonggyu Cho | South Korea | 2,460,000 | 82 | | | | |
| | | | | | | | | | | |
| Amazon | 404 | 1 | Linda Huard | Canada | 3,290,000 | 110 | | | | |
| Amazon | 404 | 2 | Yonatan Basin | Israel | 335,000 | 11 | | | | |
| Amazon | 404 | 3 | Charlie Dawson | United States | 1,395,000 | 47 | | | | |
| Amazon | 404 | 4 | Carlo Darelli | United States | 935,000 | 31 | | | | |
| Amazon | 404 | 5 | Mordechai Hazan | Italy | 1,240,000 | 41 | | | | |
| Amazon | 404 | 6 | Zachary Mcdiarmid | United States | 605,000 | 20 | | | | |
| Amazon | 404 | 8 | Jason Wheeler | United States | 3,805,000 | 127 | | | | |
| Amazon | 404 | 9 | Jason Johnson | United States | 480,000 | 16 | | | | |
| | | | | | | | | | | |
| Amazon | 405 | 1 | Jeremy Shockett | United States | 605,000 | 20 | | | | |
| Amazon | 405 | 2 | Brandon Bergin | United States | 588,000 | 20 | | | | |
| Amazon | 405 | 3 | Sasa Ikac | Ireland | 1,595,000 | 53 | | | | |
| Amazon | 405 | 4 | Elia Ahmadian | United States | 640,000 | 21 | | | | |
| Amazon | 405 | 6 | JJ Liu | United States | 1,245,000 | 42 | | | | |
| Amazon | 405 | 7 | Daniil Maksimchuk | Russia | 1,505,000 | 50 | | | | |
| Amazon | 405 | 9 | Zachary Grech | United States | 1,355,000 | 45 | | | | |
| | | | | | | | | | | |
| Amazon | 406 | 2 | Daniel Fortier | United States | 2,335,000 | 78 | | | | |
| Amazon | 406 | 3 | Michael Whitton | United States | 1,245,000 | 42 | | | | |
| Amazon | 406 | 4 | Axel Jacquin | United States | 1,100,000 | 37 | | | | |
| Amazon | 406 | 5 | Sebastian Hoyos | Colombia | 2,245,000 | 75 | | | | |
| Amazon | 406 | 6 | Adam Demersseman | United States | 1,125,000 | 38 | | | | |
| Amazon | 406 | 7 | Ori Hasson | Israel | 1,455,000 | 49 | | | | |
| Amazon | 406 | 8 | James Brewer | United States | 840,000 | 28 | | | | |
| Amazon | 406 | 9 | Ziao Guo | United States | 1,265,000 | 42 | | | | |
| | | | | | | | | | | |
| Amazon | 407 | 1 | Edgardo Rosario | Portugal | 1,050,000 | 35 | | | | |
| Amazon | 407 | 2 | Jeffrey Meyers | United States | 1,285,000 | 43 | | | | |
| Amazon | 407 | 3 | James Poper | United States | 1,255,000 | 42 | | | | |
| Amazon | 407 | 4 | La Sengphet | United States | 1,300,000 | 43 | | | | |
| Amazon | 407 | 5 | Raul Martinez | United Kingdom | 2,260,000 | 75 | | | | |
| Amazon | 407 | 7 | Jeremy Saderne | France | 435,000 | 15 | | | | |
| Amazon | 407 | 8 | Katsushi Yoshida | United States | 1,645,000 | 55 | | | | |
| Amazon | 407 | 9 | Dannah Kamp | United States | 1,265,000 | 42 | | | | |
| | | | | | | | | | | |
| Amazon | 408 | 1 | JeWook Oh | United States | 990,000 | 33 | | | | |
| Amazon | 408 | 2 | Andrew Jeong | United States | 575,000 | 19 | | | | |
| Amazon | 408 | 3 | Anthony Ortega | United States | 2,660,000 | 89 | | | | |
| Amazon | 408 | 4 | Robert Georato | United States | 550,000 | 18 | | | | |
| Amazon | 408 | 5 | Antonio Matic | Czech Republic | 2,905,000 | 97 | | | | |
| Amazon | 408 | 6 | Kenneth Figueredo | United States | 255,000 | 9 | | | | |
| Amazon | 408 | 7 | Matthew Adams | United States | 1,020,000 | 34 | | | | |
| Amazon | 408 | 8 | Gregor Sverko | Croatia | 685,000 | 23 | | | | |
| Amazon | 408 | 9 | Robert Gingher | United States | 1,290,000 | 43 | | | | |
| | | | | | | | | | | |
| Amazon | 409 | 1 | Dalibor Dula | United States | 430,000 | 14 | | | | |
| Amazon | 409 | 2 | Michael Noori | United States | 2,040,000 | 68 | | | | |
| Amazon | 409 | 4 | David Bradshaw | United States | 820,000 | 27 | | | | |
| Amazon | 409 | 5 | Jameel Harris | United States | 935,000 | 31 | | | | |
| Amazon | 409 | 6 | Michael Amato | United States | 290,000 | 10 | | | | |
| Amazon | 409 | 7 | Jacqueline Burkhart | United States | 1,070,000 | 36 | | | | |
| Amazon | 409 | 8 | Hsuan-Chao Chen | Taiwan | 2,645,000 | 88 | | | | |
| Amazon | 409 | 9 | Lee Markholt | United States | 865,000 | 29 | | | | |
| | | | | | | | | | | |
| Amazon | 410 | 1 | Jason Balaban | United States | 85,000 | 3 | | | | |
| Amazon | 410 | 2 | Nipun Java | United States | 1,035,000 | 35 | | | | |
| Amazon | 410 | 3 | Jaime Ayerbe | United States | 2,605,000 | 87 | | | | |
| Amazon | 410 | 4 | Upeshka De Silva | United States | 2,130,000 | 71 | | | | |
| Amazon | 410 | 5 | Bart Lybaert | Belgium | 2,070,000 | 69 | | | | |
| Amazon | 410 | 6 | Michael Rossitto | United States | 185,000 | 6 | | | | |
| Amazon | 410 | 8 | Max Brown | United States | 1,265,000 | 42 | | | | |
| Amazon | 410 | 9 | Seungmook Jung | South Korea | 1,655,000 | 55 | | | | |
| | | | | | | | | | | |
| Amazon | 411 | 1 | Andrew Rose | United States | 375,000 | 13 | | | | |
| Amazon | 411 | 2 | Alex Paredes | United States | 1,385,000 | 46 | | | | |
| Amazon | 411 | 3 | Andros Ioakimides | United States | 375,000 | 13 | | | | |
| Amazon | 411 | 4 | James Romero | United States | 2,200,000 | 73 | | | | |
| Amazon | 411 | 5 | Ryan D'Angelo | United States | 1,540,000 | 51 | | | | |
| Amazon | 411 | 6 | Christopher Brewer | United States | 2,280,000 | 76 | | | | |
| Amazon | 411 | 7 | Ajmal Homayun | United States | 850,000 | 28 | | | | |
| Amazon | 411 | 8 | Santiago Plante | Canada | 2,125,000 | 71 | | | | |
| Amazon | 411 | 9 | Matthew Eng | United States | 685,000 | 23 | | | | |
| | | | | | | | | | | |
| Amazon | 412 | 1 | Christopher Andler | Sweden | 1,935,000 | 65 | | | | |
| Amazon | 412 | 2 | Denys Chufarin | Ukraine | 445,000 | 15 | | | | |
| Amazon | 412 | 3 | William Chevrie | United States | 585,000 | 20 | | | | |
| Amazon | 412 | 4 | Matthew Vaughan | United States | 2,160,000 | 72 | | | | |
| Amazon | 412 | 6 | Arnaud Enselme | France | 330,000 | 11 | | | | |
| Amazon | 412 | 7 | Johan Schumacher | Belgium | 1,330,000 | 44 | | | | |
| Amazon | 412 | 8 | Uri Reichenstein | Israel | 2,995,000 | 100 | | | | |
| Amazon | 412 | 9 | Kyle Cartwright | United States | 325,000 | 11 | | | | |
| | | | | | | | | | | |
| Amazon | 413 | 1 | Ivan Deyra | France | 955,000 | 32 | | | | |
| Amazon | 413 | 2 | Adam Teagarden | United States | 480,000 | 16 | | | | |
| Amazon | 413 | 3 | Kasparas Klezys | Lithuania | 104,000 | 3 | | | | |
| Amazon | 413 | 4 | Nicholas Korba | United States | 830,000 | 28 | | | | |
| Amazon | 413 | 5 | John Fagg | United States | 410,000 | 14 | | | | |
| Amazon | 413 | 6 | William Klutho | United States | 880,000 | 29 | | | | |
| Amazon | 413 | 7 | Orit Hadas | United States | 1,960,000 | 65 | | | | |
| Amazon | 413 | 8 | Michael Kirkpatrick | United States | 140,000 | 5 | | | | |
| Amazon | 413 | 9 | James Calderaro | United States | 750,000 | 25 | | | | |
| | | | | | | | | | | |
| Amazon | 414 | 1 | Matthew Mckinney | United States | 1,085,000 | 36 | | | | |
| Amazon | 414 | 2 | Hieu Le | United States | 325,000 | 11 | | | | |
| Amazon | 414 | 3 | Troy Sprungl | United States | 645,000 | 22 | | | | |
| Amazon | 414 | 4 | Christopher Williams | United States | 995,000 | 33 | | | | |
| Amazon | 414 | 5 | Jason Riesenberg | United States | 1,085,000 | 36 | | | | |
| Amazon | 414 | 6 | Nathan Pitts | United States | 1,185,000 | 40 | | | | |
| Amazon | 414 | 7 | Daniel Munger | United States | 1,140,000 | 38 | | | | |
| Amazon | 414 | 8 | Matthew Burley | United States | 1,055,000 | 35 | | | | |
| Amazon | 414 | 9 | Howard Mann | United States | 385,000 | 13 | | | | |
| | | | | | | | | | | |
| Amazon | 419 | 1 | Eduardo Arias | Argentina | 470,000 | 16 | | | | |
| Amazon | 419 | 2 | Jeffrey Vertes | Canada | 3,035,000 | 101 | | | | |
| Amazon | 419 | 4 | Peter Walsworth | United States | 795,000 | 27 | | | | |
| Amazon | 419 | 5 | David Rosenbloom | United States | 1,305,000 | 44 | | | | |
| Amazon | 419 | 6 | Steven Sarmiento | United States | 3,000,000 | 100 | | | | |
| Amazon | 419 | 9 | Allan Dancer | United States | 880,000 | 29 | | | | |
| | | | | | | | | | | |
| Amazon | 420 | 1 | Josue Aguirre | Mexico | 1,860,000 | 62 | | | | |
| Amazon | 420 | 2 | Bryan Peterson | United States | 835,000 | 28 | | | | |
| Amazon | 420 | 3 | Giovani Torre | Portugal | 1,320,000 | 44 | | | | |
| Amazon | 420 | 4 | Jason Somerville | United States | 730,000 | 24 | | | | |
| Amazon | 420 | 5 | Sid Kudtarkar | United States | 805,000 | 27 | | | | |
| Amazon | 420 | 7 | James Cook | United States | 900,000 | 30 | | | | |
| Amazon | 420 | 8 | Dylan Herrmann | United States | 840,000 | 28 | | | | |
| Amazon | 420 | 9 | Benjamin Moon | United States | 570,000 | 19 | | | | |
| | | | | | | | | | | |
| Amazon | 421 | 1 | Andrey Malinin | United States | 1,320,000 | 44 | | | | |
| Amazon | 421 | 2 | Micha Hoedemaker | Netherlands | 580,000 | 19 | | | | |
| Amazon | 421 | 4 | Ryan Leng | United States | 4,070,000 | 136 | | | | |
| Amazon | 421 | 5 | Adrian Scarpa | United States | 270,000 | 9 | | | | |
| Amazon | 421 | 6 | Clement Van Driessche | France | 1,215,000 | 41 | | | | |
| Amazon | 421 | 7 | Rajaee Wazwaz | United States | 740,000 | 25 | | | | |
| Amazon | 421 | 8 | Ankush Mandavia | United States | 540,000 | 18 | | | | |
| Amazon | 421 | 9 | Dylan Wilkerson | United States | 2,030,000 | 68 | | | | |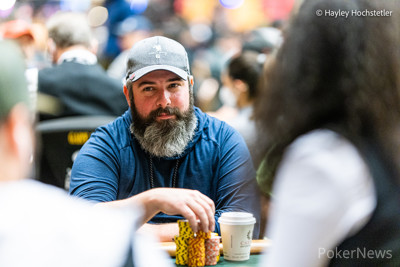 Day 3 of Event #30: $1,500 Monster Stack No-Limit Hold'emi s coming back with 162 players at an average stack of 1,086,000 and with blinds coming back at 15,000-30,000 meaning an average stack of 36 big blinds. The remaining 163 players are going to be battling it out for the $610,347 to first place.
The chip leader going into day 3 is three-time bracelet winner Ryan Leng who just four days earlier had won his third WSOP bracelet in Event #23:$1,500 Eight Game Mix Six-Handed and will be looking to add to his 2021 WSOP resume. Leng started the day top ten in chips, and played the big stack all day, never looking back and ultimately bagging the only stack over 4 million at 4,070,000.
Other big stacks were nipping at his heels by the end of the day, including American proJason Wheeler who, courtesy of a late stage surge in the day, ended the day bagging 3,805,000 and Rafael Marcondes Reis who started the day as one of the big stacks and remained big the whole day, bagging 3,125,000.
Quite a few big names found their way to a bag such as; Chris Brewer(2,280,000) Day 1a chip leader James Romero(2,200,000), bracelet winner Upeshka De Silva(2,130,000), Bart Lybaert(2,070,000), JJ Liu(1,245,000) andJason Somerville(730,000). PokerNews reporter Dannah Kamp also bagged 1,265,000 for day 3.
Action kicks off at 10 am at The Rio All-Suite Casino and Hotel with 10 60-minute levels scheduled to be played, with 20-minute breaks after ever two levels and a 60-minute dinner break after level 29.
Stay tuned to PokerNews for more updates on the World Series of Poker.
Nível: 22
Blinds: 15,000/30,000
Ante: 30,000
Nível 22 : 15,000/30,000, 30,000 ante
Cards are in the air and Day 3 is now underway.
Nível 22 : 15,000/30,000, 30,000 ante
Michael Kirkpatrick got the rest of his 140,000 stack in from early position and William Klutho called in the small blind.
Michael Kirkpatrick:

William Klutho:
Klutho had Kirkpatrick in rough shape and the board ran out
to confirm the elimination just after the day began.
Nível 22 : 15,000/30,000, 30,000 ante
Jason Balaban went all-in under the gun for 90,000 and Bart Lybaert called from middle position. Action folded around and the cards were tabled.
Jason Balaban:

Bart Lybaert:
The board ran out
and Balaban was awarded the double up.
Nível 22 : 15,000/30,000, 30,000 ante
With about 500,000 in the pot and a board of
, Johan Schumacher bet 175,000 and Christopher Andler thought about it for a bit before calling.
Schumacher showed
to take the pot with a full house.
Nível 22 : 15,000/30,000, 30,000 ante
Daniil Maksimchuck raised in early position which was followed by Brandon Bergin going all in on the small blind for 500,000. Maksimchuk called and the cards were on their backs.
Brandon Bergin:

Daniil Maksumchuk:
The board ran out
and Bergin was eliminated from the tournament.
Nível 22 : 15,000/30,000, 30,000 ante
JJ Liu raised from middle position and Dannah Kamp reraised to 300,000 from the cutoff which saw a call from Liu.
The flop came
and Kamp put out a continuation bet of 300,000. Liu thought about it and folded.
Kamp flipped over
and told Liu, "You're the last person I'd want to play a hand with", but she will happily scoop the pot and add it to her stack early in the day.