Event #7: $1,500 MILLIONAIRE MAKER NLH - $1M for 1st [Final Day], $5M GTD
Dias: 2
Nível: 3
Blinds: 8,000/16,000
Ante: 2,000
Nível 3 : 8,000/16,000, 2,000 ante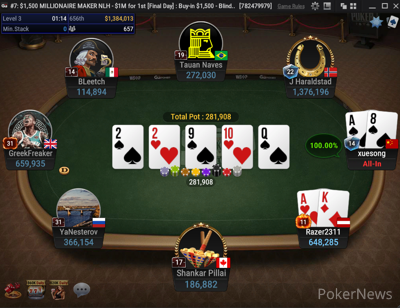 Song "xuesong" Xue got his stack in the middle preflop on the direct money bubble, and he was in rough shape, as his
was well behind the
of Daniel "Razer2311" Rezaei. The flop of
was pretty great for Xue, giving him flush draw outs and chop outs. The
turn changed nothing, but the
river changed everything.
Xue doubled up to over 280,000, and also locked up a payday thanks to that river spade.
Jogador
Fichas
Oscilação

Daniel "Razer2311" Rezaei

648,285

648,285

Song "xuesong" Xue

281,908

281,908
Nível 3 : 8,000/16,000, 2,000 ante
Jogador
Fichas
Oscilação

GGrizzly

2,086,007

T0X16

1,933,624

A LEI

1,655,689

565,914

Shai Arbel

1,573,939

Dario Sammartino

1,551,116

pisgapoker_1

1,513,129

327,544

Luigi "shadinho94" Shehadeh

1,486,283

Joshua McCully

1,470,513

Victor "Q6d6" Pertile

1,421,820

427,115

Ricardo Ragazzo

1,401,105
Nível: 4
Blinds: 10,000/20,000
Ante: 2,500
Nível 4 : 10,000/20,000, 2,500 ante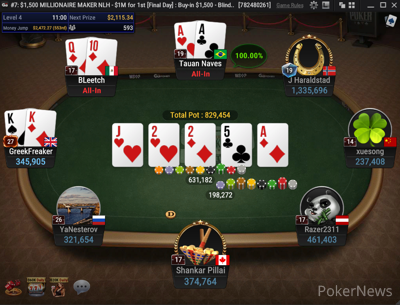 Not long after the bubble burst, "BLeetch" shoved all in for their final 200,000 and change. Next to act, Tauan Naves moved all in for a bit more. Action folded around to the big blind, Yiannis "GreekFreaker" Liperis, who called to put both at risk.
Liperis:

Naves:

"BLeetch":
The aces looked great to secure the pot, and they would do that, as the board came down
, giving Naves a full house by the river.
Jogador
Fichas
Oscilação

Tauan Naves

829,454

829,454

Yiannis "GreekFreaker" Liperis

345,905

345,905

BLeetch

Eliminado
Nível: 5
Blinds: 12,500/25,000
Ante: 3,000
Nível 5 : 12,500/25,000, 3,000 ante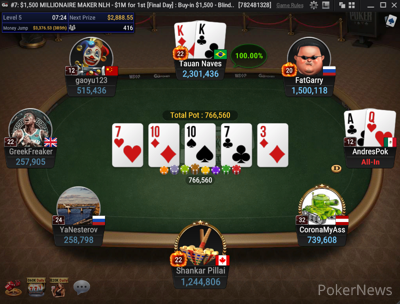 Tauan Naves secured a huge pot with his pocket aces a few minutes ago, and after being dealt two more monster holdings, Naves is suddenly the chip leader.
The first pot was a massive one between Naves and start of day chip leader .Joachim "jochee" Haraldstad. The two got into a raising war preflop that saw over two million chips get into the middle. Naves held pocket queens, whole Haraldstad held Ace-King, but the hand was all but over after a third queen popped in the window right on the flop.
On the next hand, Naves would raise, and then call a shove from Andrea "AndresPok" Vezzani, who had
. This time, Naves held
, and the big pair would survive a runout of
, making Naves the new overall chip leader.
Jogador
Fichas
Oscilação

Tauan Naves

3,065,439

2,235,985

.Joachim "jochee" Haraldstad

Eliminado

Andrea "AndresPok" Vezzani

Eliminado
Nível: 6
Blinds: 15,000/30,000
Ante: 3,500
Nível 6 : 15,000/30,000, 3,500 ante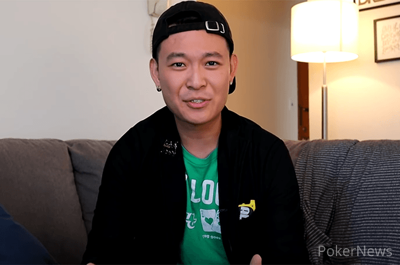 There was a time when becoming a sponsored poker player or an ambassador of an online poker site required you to be an elite player. That or at least have one marquee tournament victory on your resume. Those times are long gone, as evidenced by GGPoker signing popular poker content creator "Greg Goes All In."
Greg Goes All In loves playing poker, even if he admits to not being anywhere near the best player in the world. Creating amazing, fun poker-related content is one of Greg's major strengths, and it is his content production skills that have secured him a place on the GGPoker Team.
Greg is now a fully-fledged member of the Content Creators Team, part of the GGTeam stable. His tongue-in-cheek, self-deprecating videos are a massive hit with his 16,500 YouTube followers. He even poked fun at himself when announcing his new content creation deal with GGPoker!
The self-proclaimed "memelord" has created dozens of viral poker videos over the past 12-months and even managed to bag himself an exclusive interview with 15-times WSOP champion Phil Hellmuth earlier this year.
Nível 6 : 15,000/30,000, 3,500 ante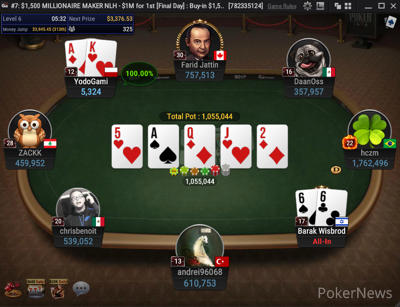 Action started with "YodoGami" raising to 60,000. After the button called, Barak "LuckySecret" Wisbrod moved all in for about 480,000. "YodoGami" made the call with
, and they were racing against the pocket sixes of Wisbord.
"YodoGami" shot out to the lead on the
flop, and no two outer would come on the turn or river to change things.
Jogador
Fichas
Oscilação

YodoGami

1,060,432

1,060,432

Barak "LuckySecret" Wisbrod

Eliminado