Nível 42 : 1,500,000-3,000,000, 3,000,000 ante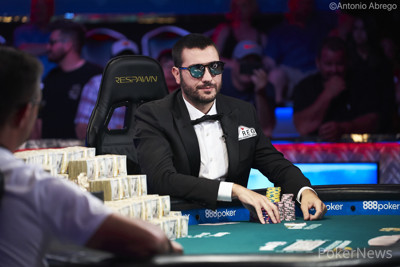 Hand #242: Dario Sammartino raised to 7,000,000 and Hossein Ensan called. The flop brought
and Ensan checked over to Sammartino, who made it 7,000,000 to go. Ensan folded and Sammartino claimed the pot.
Hand #243: Ensan min-raised to 6,000,000 and Sammartino called while the Italian chants reached their peak once more. On the
flop, Sammartino checked and Ensan bet 3,000,000 to pick up a call. After the
turn, a second check of Sammartino followed and Ensan checked back to the
river.
Sammartino checked and so did Ensan, claiming the pot with
for sevens and fives.
Hand #244: A raise to 7,000,000 by Sammartino was called by Ensan and the flop came
. Ensan's check resulted in a bet of 7,000,000 by Sammartino and that won the pot right there.
Hand #245: Ensan raised to 6,000,000 once more and Sammartino three-bet to 24,000,000, which ended the hand.