Event #65: $10,000 Pot-Limit Omaha Hi-Lo 8 or Better Championship
Dias: 2
Nível 11 : 1,000/2,000, 0 ante
Nível: 11
Blinds: 1,000/2,000
Ante: 0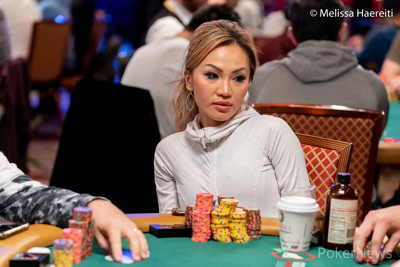 Welcome to Day 2 of Event #65: $10,000 Pot-Limit Omaha Hi-Lo 8 or Better Championship. 115 players remain out of an original field of 175, but players can still register at the start of today, so expect a few more to jump into the field for some Day 2 action.
Leading the way heading into today is Michael McKenna who bagged 355,600. Randy Ohel (304,100) and Kate Hoang (291,800) also bring a mountain of chips into play today, as they were able to collect many in a successful Day 1. Stephen Johnson (228,200) and Robert Cowen (215,700) round out the top five chip stacks.
Several big names have large chip counts in this stacked field. Connor Drinan who is fresh off of a 7th place finish in Event #60: $1,500 Pot-Limit Omaha Hi-Lo 8 or Better, sits 6th in chips with 214,600. Alex Foxen holds a top ten stack with 170,600 and Michael Mizrachi brings 126,400 back with him today as looks to build toward his second bracelet of this WSOP.
Other big names still in the mix include Jason Mercier (116,300), current WSOP Player of the Year leader Dan Zack (78,200) and Anthony Zinno (38 ,600) who just took down the bracelet in Event #60: $1,500 Pot-Limit Omaha Hi-Lo 8 or Better yesterday. Bryce Yockey (102,400), who is coming off a 4th place finish in the 50K Poker Players Championship after being eliminated in one of the all time poker bad beats in a 2-7 triple lowball draw hand, also takes part.
Play will restart at 2 p.m. local time, as any new entries will join the remaining 115 players at level 11 with blinds at 1,000/2,000. Each level is 60 minutes long with a 15-minute break every two levels. Today players will play shorter day with six total levels before stopping play for the night for the First Fifty Awards Show and Dinner which means play will end at around 8:30 p.m.
PokerNews will have all the live updates in this championship event, so make sure to stay tuned.
| Room | Table | Seat | Player | Country | Chip Count | Big Blinds |
| --- | --- | --- | --- | --- | --- | --- |
| Amazon | 413 | 1 | Eduardo Lezcano | United States | 50,500 | 51 |
| Amazon | 413 | 4 | Kelly Kim | United States | 39,700 | 40 |
| Amazon | 413 | 5 | David Shane | United States | 106,600 | 107 |
| Amazon | 413 | 6 | Brett Maistri | United States | 115,300 | 115 |
| Amazon | 413 | 7 | George Wolff | United States | 71,500 | 72 |
| Amazon | 413 | 8 | Ardit Kurshumi | United States | 108,200 | 108 |
| Amazon | 413 | 9 | Kevin Torres | United States | 43,000 | 43 |
| | | | | | | |
| Amazon | 414 | 2 | Kim Kallman | Finland | 79,400 | 79 |
| Amazon | 414 | 3 | Nathan Gamble | United States | 203,800 | 204 |
| Amazon | 414 | 4 | Nick Guagenti | United States | 139,800 | 140 |
| Amazon | 414 | 5 | Mark Gregorich | United States | 26,700 | 27 |
| Amazon | 414 | 6 | George Linkenback | United States | 35,700 | 36 |
| Amazon | 414 | 7 | Bryce Yockey | United States | 102,400 | 102 |
| | | | | | | |
| Amazon | 415 | 1 | Joao Vieira | Portugal | 120,000 | 120 |
| Amazon | 415 | 3 | David "ODB" Baker | United States | 73,500 | 74 |
| Amazon | 415 | 4 | Jeffrey Palarino | United States | 136,200 | 136 |
| Amazon | 415 | 5 | Michael McKenna | United States | 355,600 | 356 |
| Amazon | 415 | 6 | Timothy Vukson | Canada | 69,100 | 69 |
| Amazon | 415 | 7 | Eric Wasserson | United States | 115,000 | 115 |
| | | | | | | |
| Amazon | 416 | 1 | Nick Schulman | United States | 60,000 | 60 |
| Amazon | 416 | 2 | Corey Hochman | United States | 103,400 | 103 |
| Amazon | 416 | 3 | Cliff Josephy | United States | 107,100 | 107 |
| Amazon | 416 | 4 | Anthony Pitesa | United States | 121,600 | 122 |
| Amazon | 416 | 5 | John Crisp | United States | 34,300 | 34 |
| Amazon | 416 | 8 | Kyle Miaso | United States | 35,100 | 35 |
| | | | | | | |
| Amazon | 417 | 2 | Brian Hastings | United States | 86,700 | 87 |
| Amazon | 417 | 4 | John Monnette | United States | 19,700 | 20 |
| Amazon | 417 | 5 | Dylan Wilkerson | United States | 34,900 | 35 |
| Amazon | 417 | 6 | Jan Suchanek | New Zealand | 92,900 | 93 |
| Amazon | 417 | 7 | Jeffrey Landherr | United States | 102,200 | 102 |
| Amazon | 417 | 8 | Yuri Dzivielevski | Brazil | 46,000 | 46 |
| | | | | | | |
| Amazon | 418 | 1 | Leif Force | United States | 35,600 | 36 |
| Amazon | 418 | 2 | Jarred Graham | Australia | 31,900 | 32 |
| Amazon | 418 | 4 | [Removed:321] Abediarani | United States | 102,000 | 102 |
| Amazon | 418 | 5 | Kyle Cartwright | United States | 33,800 | 34 |
| Amazon | 418 | 6 | Ryan Laplante | United States | 42,000 | 42 |
| Amazon | 418 | 7 | Anton Morgenstern | Germany | 80,000 | 80 |
| | | | | | | |
| Amazon | 419 | 1 | Matthew Schreiber | United States | 51,000 | 51 |
| Amazon | 419 | 2 | Jonathan Cohen | United States | 90,400 | 90 |
| Amazon | 419 | 4 | Robert Cowen | United Kingdom | 215,700 | 216 |
| Amazon | 419 | 6 | Michael Mizrachi | United States | 126,400 | 126 |
| Amazon | 419 | 7 | Anthony Zinno | United States | 38,600 | 39 |
| Amazon | 419 | 8 | Tim Seidensticker | United States | 101,000 | 101 |
| | | | | | | |
| Amazon | 422 | 2 | Benjamin Lieber | United States | 101,700 | 102 |
| Amazon | 422 | 4 | Randy Ohel | United States | 304,100 | 304 |
| Amazon | 422 | 5 | Jameson Painter | United States | 47,900 | 48 |
| Amazon | 422 | 6 | Scott Bohlman | United States | 166,000 | 166 |
| Amazon | 422 | 7 | Michael Ross | United States | 119,000 | 119 |
| Amazon | 422 | 8 | Galen Hall | United States | 88,200 | 88 |
| | | | | | | |
| Amazon | 423 | 2 | Viacheslav Zhukov | Russia | 57,000 | 57 |
| Amazon | 423 | 3 | Shaun Deeb | United States | 102,200 | 102 |
| Amazon | 423 | 5 | Thiago Macedo | Brazil | 98,200 | 98 |
| Amazon | 423 | 6 | Andrew Brown | United States | 85,000 | 85 |
| Amazon | 423 | 7 | Damjan Radanov | United States | 136,300 | 136 |
| Amazon | 423 | 8 | Thomas Cazayous | France | 50,300 | 50 |
| | | | | | | |
| Amazon | 424 | 1 | Talal Shakerchi | United Kingdom | 38,000 | 38 |
| Amazon | 424 | 4 | Jon Turner | United States | 92,600 | 93 |
| Amazon | 424 | 5 | Darrell Hopkins | United States | 31,400 | 31 |
| Amazon | 424 | 6 | Chris Ruby | United States | 34,300 | 34 |
| Amazon | 424 | 7 | Scott Clements | United States | 163,800 | 164 |
| Amazon | 424 | 8 | Adam Coats | United States | 71,000 | 71 |
| | | | | | | |
| Amazon | 425 | 2 | Daniel Zack | United States | 78,200 | 78 |
| Amazon | 425 | 3 | Ming Zhu | United States | 59,000 | 59 |
| Amazon | 425 | 4 | Owais Ahmed | United States | 44,000 | 44 |
| Amazon | 425 | 5 | Denis Strebkov | Russia | 201,100 | 201 |
| Amazon | 425 | 6 | Alexey Makarov | Russia | 63,300 | 63 |
| Amazon | 425 | 7 | Allan Le | United States | 50,000 | 50 |
| | | | | | | |
| Amazon | 426 | 1 | Ken Aldridge | United States | 48,600 | 49 |
| Amazon | 426 | 3 | Ali Abduljabbar | United States | 70,100 | 70 |
| Amazon | 426 | 4 | Roger Teska | United States | 117,700 | 118 |
| Amazon | 426 | 6 | Steven Loube | United States | 52,200 | 52 |
| Amazon | 426 | 7 | DID NOT REPORT 1 | United States | 122,900 | 123 |
| Amazon | 426 | 8 | Timothy Flanders | United Kingdom | 89,900 | 90 |
| | | | | | | |
| Amazon | 427 | 2 | Alex Foxen | United States | 170,600 | 171 |
| Amazon | 427 | 3 | John Racener | United States | 107,500 | 108 |
| Amazon | 427 | 4 | Kate Hoang | United States | 291,800 | 292 |
| Amazon | 427 | 5 | Tim Marsters | Australia | 62,600 | 63 |
| Amazon | 427 | 6 | Joe Hachem | Australia | 103,700 | 104 |
| Amazon | 427 | 7 | David Mcnally | United States | 49,300 | 49 |
| | | | | | | |
| Amazon | 430 | 1 | Tony Cousineau | United States | 32,000 | 32 |
| Amazon | 430 | 3 | Connor Drinan | United States | 214,600 | 215 |
| Amazon | 430 | 5 | Edmond Vartughian | United States | 18,000 | 18 |
| Amazon | 430 | 6 | Senovio Ramirez III | United States | 71,900 | 72 |
| Amazon | 430 | 7 | Jordan Siegel | United States | 126,200 | 126 |
| Amazon | 430 | 8 | Matt Vengrin | United States | 94,300 | 94 |
| | | | | | | |
| Amazon | 431 | 1 | Stephen Johnson | United States | 228,200 | 228 |
| Amazon | 431 | 2 | Jason Mercier | United States | 116,300 | 116 |
| Amazon | 431 | 3 | Ajay Chabra | United States | 64,000 | 64 |
| Amazon | 431 | 4 | Christopher Vitch | United States | 126,100 | 126 |
| Amazon | 431 | 7 | Darryll Fish | United States | 156,600 | 157 |
| Amazon | 431 | 8 | Kyle Bowker | United States | 115,000 | 115 |
| | | | | | | |
| Amazon | 432 | 1 | Michael Rich | United States | 27,500 | 28 |
| Amazon | 432 | 2 | Steven Wolansky | United States | 62,000 | 62 |
| Amazon | 432 | 5 | Steven Weiler | United States | 40,600 | 41 |
| Amazon | 432 | 6 | John Sill | United States | 48,800 | 49 |
| Amazon | 432 | 7 | Marco Johnson | United States | 91,000 | 91 |
| Amazon | 432 | 8 | Ari Engel | United States | 91,700 | 92 |
| | | | | | | |
| Amazon | 433 | 1 | Ryan Miller | United States | 183,000 | 183 |
| Amazon | 433 | 2 | Clayton Kalisek | United States | 28,200 | 28 |
| Amazon | 433 | 3 | Yehuda Buchalter | United States | 125,600 | 126 |
| Amazon | 433 | 5 | Paul Volpe | United States | 21,000 | 21 |
| Amazon | 433 | 6 | John Esposito | United States | 155,000 | 155 |
| Amazon | 433 | 7 | Jake Schwartz | United States | 120,000 | 120 |
| | | | | | | |
| Amazon | 434 | 1 | Arthur Morris | United States | 48,200 | 48 |
| Amazon | 434 | 3 | Jose Paz-Gutierrez | Bolivia | 41,800 | 42 |
| Amazon | 434 | 5 | Chase Steely | United States | 85,000 | 85 |
| Amazon | 434 | 6 | Andrey Zaichenko | Russia | 70,400 | 70 |
| Amazon | 434 | 7 | Tony Hartmann | United States | 36,000 | 36 |
| Amazon | 434 | 8 | James Obst | Australia | 106,300 | 106 |
| | | | | | | |
| Amazon | 435 | 1 | Anthony Defazio | United States | 24,500 | 25 |
| Amazon | 435 | 3 | Dylan Linde | United States | 100,400 | 100 |
| Amazon | 435 | 5 | Joel Feldman | Australia | 93,700 | 94 |
| Amazon | 435 | 6 | Naoya Kihara | Japan | 54,000 | 54 |
| Amazon | 435 | 7 | Daniel Vitiello | United States | 65,300 | 65 |
| Amazon | 435 | 8 | Matt Livingston | United States | 93,900 | 94 |
Event #65: $10,000 Pot-Limit Omaha Hi-Lo 8 or Better Championship
Dia 2 Iniciado