Israel's Team Geiger Wins Event #57: $1,000 Tag Team NLHE for Three First-Time Bracelets and $168,395

Nível 30 : 60,000-120,000, 120,000 ante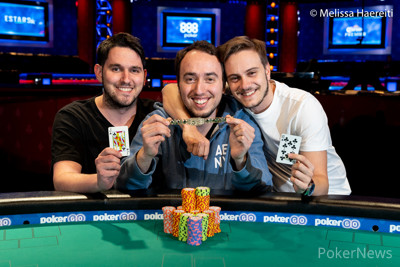 After almost ten levels of play, Event #57: $1,000 Tag Team No-Limit Hold'em has come to an end. The tournament was originally scheduled as a four-day event but crowned the champions a day early as Team Geiger with Ohad Geiger, Daniel Dayan and the main man Barak Wisbrod defeated Team Smith heads-up for three gold WSOP bracelets and the first-place prize of $168,395. The tournament attracted 976 teams in total during the first eight levels of play on Day 1 here at the Rio All-Suite Hotel & Casino.
"This is beyond amazing," said 25-year old Dayan just after the final congratulations were received from the rail. "This isn't about the money, it's about the WSOP bracelet, it's every poker player's dream!"
"It's amazing, this year is our first year at the WSOP, I'm only 23, so it's a dream come true," remarked Wisbrod. "We are proud to represent Israel here."
Both Dayan and Geiger had a strategy in mind from the start: "We all agreed Barak would play the latter stages, as he is the best in our team for sure." Twenty-six-year-old Geiger, who is a cash game player by trade, was convinced by his tournament playing friends to play the Tag Team, his first ever WSOP event, and even had to jump into the action early on Day 2 after both Dayan and Wisbrod were unable to make the start of play.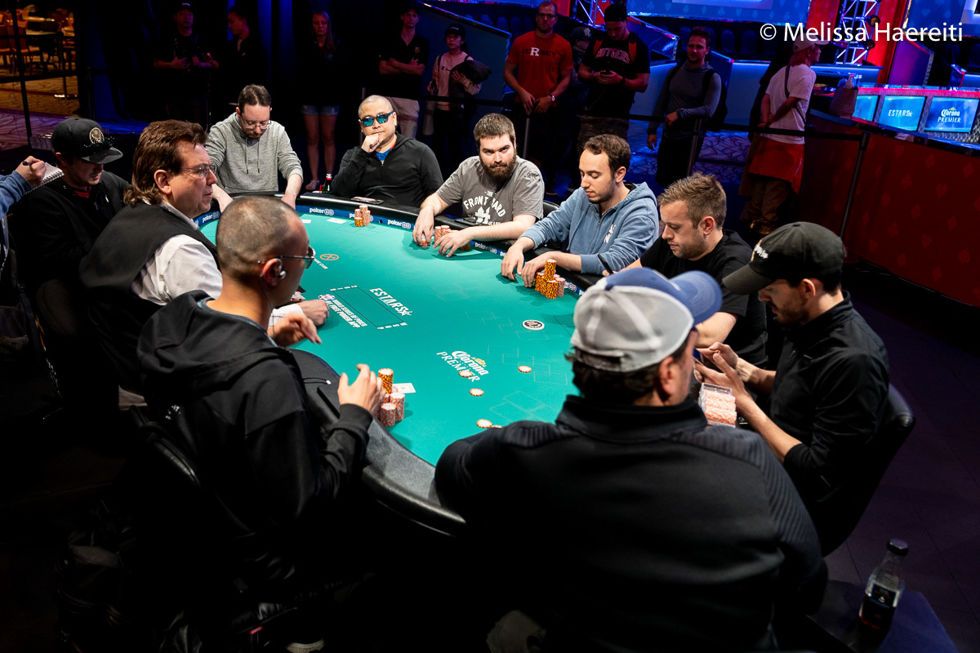 $1,000 Tag Team Final Table Results
| Place | Team | Prize (USD) |
| --- | --- | --- |
| 1 | Ohad Geiger - Daniel Dayan - Barak Wisbrod | $168,395 |
| 2 | Jerod Smith - Matthew Moreno - Lawrence Chan | $104,025 |
| 3 | John Hinds - Anthony Zinno | $73,329 |
| 4 | Timothy Jurkiewicz - Zachary Gruneberg | $52,390 |
| 5 | Richard Washinsky - Fabio Coppola | $37,944 |
| 6 | Chahn Jung - Danny Wong - Steve Sung - Aaron Motoyama | $27,864 |
| 7 | Michael Marder - Daniel Marder - Paul Steinberg | $20,750 |
| 8 | Kenny Hallaert - Steven van Zadelhoff | $15,674 |
| 9 | Shaotong Chang - Jie Xu | $12,011 |
Final Day Action
At 1 p.m. local time, 35 teams returned to the 50th Annual World Series of Poker to battle it out for a bigger share of the $878,400 prize pool instead of the $3,970 they were all already guaranteed. Team Leng (Ryan Leng – Lisa Leng – Nikki Grandt – Ilana Grandt) was involved in some of the more remarkable eliminations of the day. He first took out Team Koon (Jason Koon – Sosia Jiang) and Team Miholich (Kyle Miholich – Jeff Madsen – Michael Cribier) when Madsen shoved with pocket sevens and Leng called. Koon also shoved from the big blind with pocket jacks and Leng also quickly called that shove with the rockets. The aces held for Leng to jump towards the top of the chip counts. Unfortunately for him, he found aces again later and got set up when he ran them into the pocket kings of Team Geiger who flopped a set to eliminate Leng's team.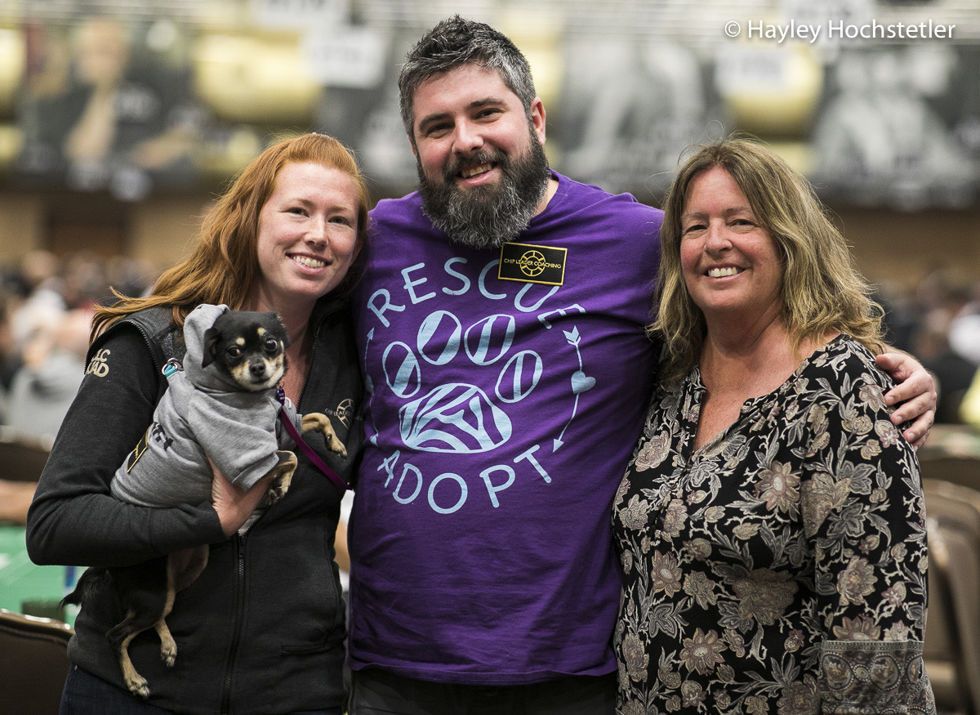 There seemed to be a lot of pocket jacks and aces to be dealt throughout the day. Team Zhou (Jun Zhou – Zhe Li – Xilian Liu) and Team Jaffee (Jared Jaffee – Ralph Massey – Aaron Massey) both held pocket jacks and ran them into the aces of Team George (James George – Jonathan Walker). Team Zhou was sent to the rail, Team George more than doubled. The eliminations kept coming in at a steadily pace but it was Team Le (Tuan Le – Thanh Tran) who bubbled the final table. Le, the two-time bracelet winner shoved with ace-queen on the ace-six-jack flop and was called by Fabio Coppola of Team Washinsky who had flopped a set of sixes. Even though Le had top pair and a flush draw, he bricked the turn and river.
Final Table Action
It only took six hands before the first team could say their goodbyes, Team Chang (Shaotong Chang – Jie Xu) shoved their last 8 big blinds in from the small blind and was called by Team Smith who held ace-seven. Chang's five-four didn't find any help on the board as she was sent to the payout desk. Thirteen hands later, Team Hallaert (Kenny Hallaert –Steven van Zadelhoff) saw his aces being cracked by the jacks of Team Geiger. The jack on the turn meant the end of the run of these two best friends in eighth place.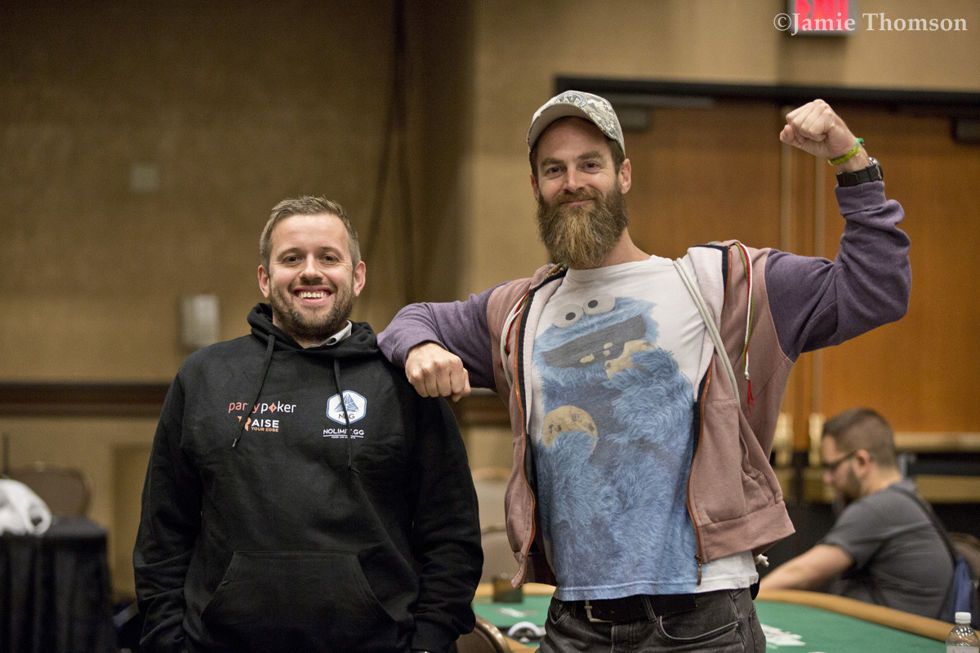 Thirty minutes later the curtains fell for Team Marder (Michael Marder – Daniel Marder – Paul Steinberg) when their ace-four shove was called by Team Geiger who held pocket jacks again. Another thirty minutes later it was time to go for Team Jung (Chahn Jung – Danny Wong – Steve Sung – Aaron Motoyama), they got their final chips in with king-jack against the pocket sevens of Team Smith (Jerod Smith – Matthew Moreno – Lawrence Chan). They flopped two pair but Team Smith rivered a full house to seal the deal.
It would then take another hour of five-handed play before Team Washinsky was done for the day. Coppola four-bet shoved and was called by Team Hinds (John Hinds – Anthony Zinno) who held aces and didn't encounter any danger on the board. Only five hands later, Team Jurkieiwcz (Timothy Jurkiewicz – Zachary Gruneberg) was sent home in fourth place holding ace-king. They couldn't beat the pocket fives of Team Hinds even though they picked up a flush draw on the flop and a straight draw on the turn. Sixty-four hands later it was time to go heads-up as Team Hinds was eliminated by Team Geiger. Team Hinds' pocket sixes failed to win against the ace-five of Team Geiger as the turned a higher pair and improved to trips.
Heads-up play only lasted twelve hands; Smith managed to double up in the tenth hand but lost it all in the end when he tried to bluff Wisbrod who had rivered a Broadway straight in the final hand. When the win was confirmed, Wisbrod celebrated loudly and his teammates and rail all stormed the table to join in with the fun.
Stay tuned to PokerNews throughout the remainder of the World Series of Poker for live updates from every bracelet event.