Event #23: $1,500 Eight Game Mix
Dias: 4
Event #23: $1,500 Eight Game Mix
Dia 4 Concluído
Nível 31 : 100,000/200,000, 0 ante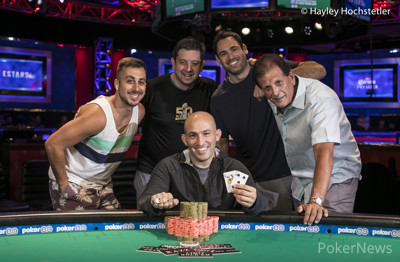 Rami Boukai has captured his second career WSOP bracelet, closing out the heads-up battle against John Evans in Event #23: $1,500 8-Game Mix and taking home the first-place prize of $177,294. Wednesday's action lasted just 40 minutes, as Boukai started Day 4 with a commanding chip lead and closed the deal quickly, securing the six-figure payday.
Boukai, whose previous bracelet win came at the 2009 WSOP in the $2,500 Pot-Limit Omaha/Hold'em event, said the money is most important thing to him.
"It's 170 thousand, so yeah, it's a big deal," Boukai said. "I'm here for the money."
The event spilled over into an unscheduled Day 4, with Day 3 play ending in the early hours of Wednesday morning. The tournament restarted at 2 p.m. Wednesday afternoon with just Boukai and Evans remaining, and Boukai holding a three-to-one chip lead.
By 2:40 p.m., the day was done. Boukai steadily eroded Evans' stack throughout rounds of no-limit hold'em, seven-card stud and Omaha hi-lo, and sealed the victory on the first limit hold'em hand of the day.
Boukai said the extension into the extra day didn't play any factor in the way the tournament played out.
"I don't sleep too well in the city anyway," Boukai said. "I just didn't want to [mess] things up. I had a big chip lead, so it was as good of a spot as I could see myself in."
Mixed-Game Masters at the Final Table
Boukai emerged through a final table that included a number of successful mixed-game players. Philip Long, the defending champion in this event, finished fourth ($49,531), while Allen Kessler ($34,329) came up just short of his first WSOP bracelet.
Chris Klodnicki ($72,933) posted his second top-five finish in a mixed-game event at the 2019 WSOP, finishing third in the $1,500 8-Game Mix on the heels of a fifth-place finish in $1,500 H.O.R.S.E. It looked like Klodnicki would advance to the extra day and make it a three-way fight to the finish on Day 4, but he was eliminated just before the end of play on Day 3.
Evans posted the biggest cash of his career ($109,553), coming in second among the starting field of 612 players. Evans came up short in his quest for the bracelet, and he was up against tough competition in Boukai, who's a veteran of the 8-game format.
"I've been playing 8-game mix for at least 10 years, all the tournaments are the same for the most part," Boukai said.
Final Table Payouts
| Place | Winner | Country | Prize (USD) |
| --- | --- | --- | --- |
| 1 | Rami Boukai | United States | $177,294 |
| 2 | John Evans | United States | $109,553 |
| 3 | Chris Klodnicki | United States | $72,933 |
| 4 | Philip Long | United Kingdom | $49,531 |
| 5 | Allen Kessler | United States | $34,329 |
| 6 | Donny Rubinstein | United States | $24,292 |
Nível 31 : 100,000/200,000, 0 ante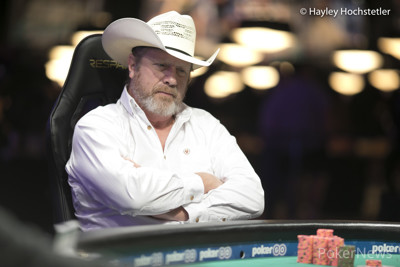 Limit Hold'em
John Evans:

Rami Boukai:
John Evans completed and Rami Boukai checked back preflop, and the flop came out
. Boukai led out and Evans raised, sending Boukai into the tank for about a minute. Boukai made the call, the turn came the
, and the rest of Evans chips went in.
The river came no help for Evans, with the
hitting the board to clinch the bracelet win for Boukai!

Nível 31 : 100,000/200,000, 0 ante
Pot-Limit Omaha
Rami Boukai limped in and John Evans checked his option. On the
flop, Evans check-called a bet of 50,000 and did so again for 125,000 on the
turn.
The
fell on the river and Evans checked the third street in a row. Boukai now bet 400,000, which had Evans' remaining stack covered, and the fold followed to see Evans get shorter once more.
Nível 31 : 100,000/200,000, 0 ante
Razz
The first four hands of Razz were traded with completions and one walk, and John Evans then got it in on third street for the last 150,000.
John Evans:
/
/

Rami Boukai:
/
/
Both started with very decent holdings, but Rami Boukai ran out a full house to see Evans double once more.

Nível 31 : 100,000/200,000, 0 ante
Omaha Hi-Lo
Down to the last 150,000, John Evans got it in preflop after having chopped the previous hand and Rami Boukai needed some help to deal the final blow.
John Evans:

Rami Boukai:
The board came
and Evans scooped with his ace-five for the low and the pair of kings.
Nível 31 : 100,000/200,000, 0 ante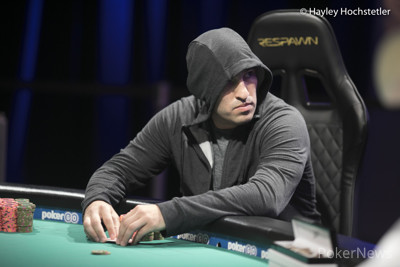 Omaha Hi-Lo
After the remaining no-limit hold'em hands, and the round of seven-card stud hands went back and forth, Rami Boukai is on the verge of the victory.
John Evans bet preflop, Boukai raised and Evans called. The flop brought
, and Boukai checked and called a bet from Evans. The turn came the
, Evans bet again and Boukai called. The action checked through on the river, and Boukai showed
, and Evans mucked.

Nível 31 : 100,000/200,000, 0 ante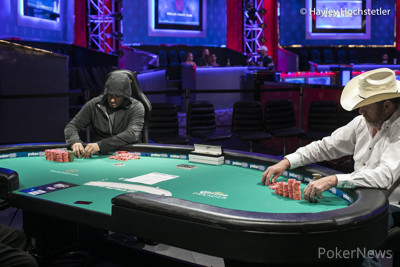 No-Limit Hold'em
John Evans defended against a raise by Rami Boukai and check-called a bet of 125,000 on the
flop. Both players opted to check the
on the turn and Evans then bet the
on the river for 200,000.
Boukai carefully studied the board and gave it one minute of consideration before raising to 550,000. That now sent Evans into the think tank and he eventually released his cards into the muck.
Nível: 31
Limit Flop / Draw: 50,000/100,000
Stud Games: 25,000-ante, 25,000 bring-in, 100,000 completion
No-Limit & Pot-Limit: 25,000/50,000 / 50,000-ante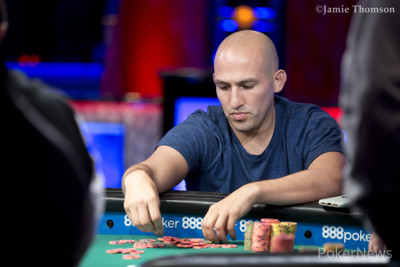 Another bracelet winner will be crowned at the 2019 World Series of Poker as Event #23: $1,500 Eight Game Mix, as Rami Boukai and John Evans will return to the their seats on the outer feature table in the Amazon room to battle for the coveted gold bracelet and top prize of $177,294. The runner-up out of a field of 612 entries will receive $109,553 for the efforts.
Boukai already knows what it feels like to lift the bracelet for the winner shots after claiming his maiden victory in a 2,500 Pot-Limit Hold'em/Omaha bracelet event back in 2009, and he will enter the final day with a 3-1 lead over Evans when play resumes at 2 p.m. local time at the Rio All-Suite Hotel and Casino.
For Evans, it will be his second WSOP cash of the year and in total after a 109th place finish in $1,500 HORSE (Event #14), and he also has nine WSOP Circuit events to his name. However, the guaranteed six-figure payday will be by far the biggest of his career to date and with just 30 big bets in play in total, his chip deficit may quickly turn into a lead and victory in a matter of just a few hands.
Heads-up chip counts:
| Seat | Player | Country | Chip Count |
| --- | --- | --- | --- |
| 1 | Rami Boukai | United States | 4,565,000 |
| 2 | John Evans | United States | 1,545,000 |
The action resumes at 2 p.m. local time and the PokerNews live reporting team will be there to provide all the action and winner quotes until the conclusion of this exciting mixed game event.