John Gorsuch Completes Epic Comeback to Win 2019 WSOP Millionaire Maker for $1,344,930
Nível 43 : 1,250,000-2,500,000, 2,500,000 ante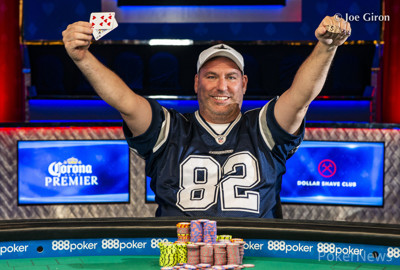 The 2019 World Series of Poker Event #19: $1,500 NL Millionaire Maker was the largest in history with 8,809 runners, which over the course of five days was reduced to just one. John Gorsuch completed an epic comeback being down to less than two big blinds seven handed to win the tournament for $1,344,930 and his first gold bracelet.
The win came at just the right time for the 42-year-old, who for the past 15 years started and grew a company in Washington DC. It was associated with the Department of Defense, and two years ago he decided to sell, a process that took until May 31 of this year to complete. He sold his house, moved home to Florida, and bought an RV.
"I started a company and had over 100 people with $15 million in revenue, and this is still the biggest day of my life," he said after the win. "I'm a millionaire. I need to call my financial advisor and CPA. The CPA literally just emailed two days ago about my second-quarter estimates. Now I need to re-estimate my second quarter."
While Gorsuch had more than $450K in earnings before the event, the victory actually marked his first win on HendonMob.
"I've not won an outright tournament since maybe 2013, a small bar-type tournament," he said. Gorsuch then credited an earlier experience from the 2019 WSOP his success – specifically the first round of the Shootout Event where he played, and ultimately lost, a three-hour heads-up match.
He learned to be patient, pick his spots, and fight to the end. Now, he's got seven-figures to show for his resilience. That money will be put to use both in the short and long-term. For the former, he can now help out with plans for January 2021 cruise to celebrate his parent's 50th wedding anniversary.
"I think now I'm just going to pay for everything. I'm definitely upgrading on that trip," he said while adding he intends to help them with an addition to their house while upgrading his own fifth wheeler. As for the long term, the win will likely influence how serious he takes poker.
"I'm a poker player for right now," he said. "Poker is awesome. I can play poker all day, all night long. This kind of helps figure out whether or not I want to keep doing it. I don't play cash stakes at all. You've got to run good in tournaments otherwise your cash flow dries up quick if you don't supplement it with cash [games]."
Final Table Results
| Place | Player | Country | Prize |
| --- | --- | --- | --- |
| 1 | John Gorsuch | United States | $1,344,930 |
| 2 | Kazuki Ikeuchi | Japan | $830,783 |
| 3 | Lokesh Garg | United States | $619,017 |
| 4 | [Removed:174] | Lithuania | $464,375 |
| 5 | Josh Thibodaux | United States | $350,758 |
| 6 | Cory Albertson | United States | $266,771 |
| 7 | Bob Shao | United States | $204,306 |
| 8 | Fabian Gumz | Germany | $157,565 |
| 9 | Josh Reichard | United States | $122,375 |
Final Table Action
Day 5 saw six players return to action and from the get-go it was the Kazuki Ikeuchi show. He started off by eliminating Cory Albertson in sixth place after getting it in with a double gutter against the nut flush draw. Ikeuchi was behind but managed to pair the river to steal the pot.
Not long after, Josh Thibodaux made an ill-timed bluff as he three-bet all in on the turn drawing dead when Ikeuchi held kings full of tens. That gave Ikeuchi a 112bb stack while his three opponents had under 10 bigs each.
Vincas Tamasaukas bowed out in fourth place losing king-six to Lokesh Garg's king-jack, and Garg would follow him out the door in third after running ace-four into Ikeuchi's ace-jack suited.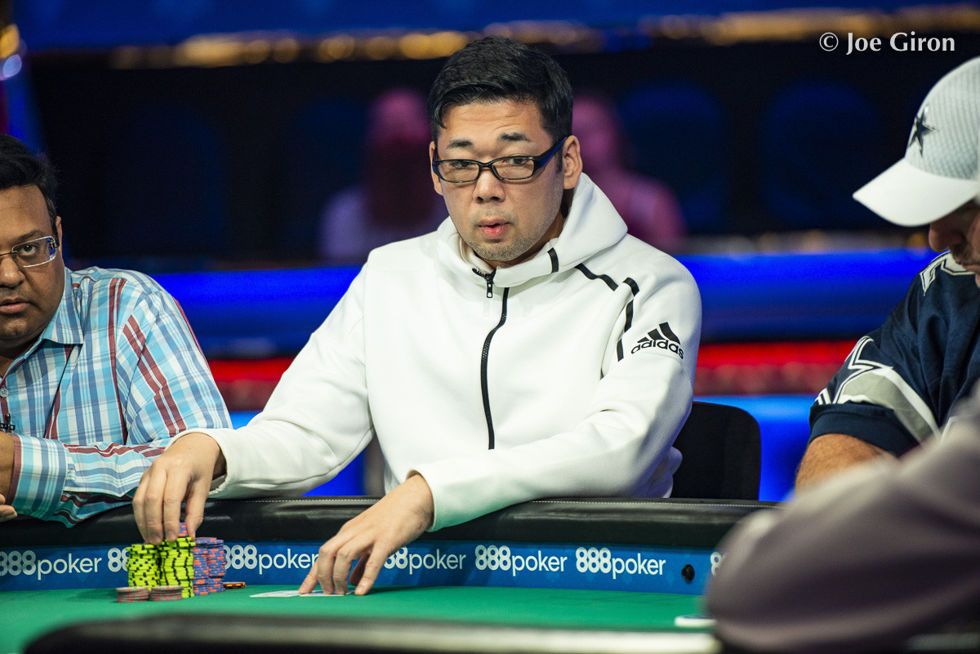 By that point, Gorsuch had closed the gap a bit and then doubled into the chip lead after a big hand where his top set of kings held against a diamond flush draw. Gorsuch's fearless style saw him whittle Ikeuchi down before the final hand played out.
The chips went in on the turn when Gorsuch spiked two pair with queen-seven against the pocket rockets of Ikeuchi. The river was a brick and Ikeuchi had to settle for second place and $830,783 in prize money.
It marked the second year in a row Ikeuchi came close to capturing a bracelet as last year he and two partners finished second in Event #55: $1,000 NLH Tag Team for $36,202 apiece.
As for Gorsuch, he was left to take the winner photo sporting a full Dallas Cowboys ensemble.
"Tell Jerry if he wants to put me up in the suite for a game, preferably an NFC Championship game, I'd love that," he said. "If I can win a bracelet they can win it."