Event #3: $3,000 No-Limit Hold'em SHOOTOUT
Dias: 2
Event #3: $3,000 No-Limit Hold'em SHOOTOUT
Dia 2 Iniciado

| Room | Table | Seat | Player | Country | Chip Count | Big Blinds |
| --- | --- | --- | --- | --- | --- | --- |
| Amazon | 405 | 1 | Taylor Wilson | United States | 104,300 | 130 |
| Amazon | 405 | 2 | Matt Stout | United States | 117,000 | 146 |
| Amazon | 405 | 3 | Jacob Snider | United States | 103,700 | 130 |
| Amazon | 405 | 4 | James Hughes | United States | 116,700 | 146 |
| Amazon | 405 | 5 | Adam Owen | United Kingdom | 104,800 | 131 |
| | | | | | | |
| Amazon | 406 | 1 | Sam Phillips | United States | 117,900 | 147 |
| Amazon | 406 | 2 | Tim Reilly | United States | 115,800 | 145 |
| Amazon | 406 | 3 | Scott Stewart | United States | 104,000 | 130 |
| Amazon | 406 | 4 | John Andress | United States | 104,600 | 131 |
| Amazon | 406 | 5 | Chris Moorman | United Kingdom | 104,200 | 130 |
| | | | | | | |
| Amazon | 407 | 1 | Alexander Lynskey | Australia | 104,000 | 130 |
| Amazon | 407 | 2 | Chad Wassmuth | United States | 117,500 | 147 |
| Amazon | 407 | 3 | Bryce Yockey | United States | 104,600 | 131 |
| Amazon | 407 | 4 | Joe Cada | United States | 104,100 | 130 |
| Amazon | 407 | 5 | Arne Ruge | Germany | 118,100 | 148 |
| | | | | | | |
| Amazon | 413 | 1 | Eli Elezra | United States | 104,200 | 130 |
| Amazon | 413 | 2 | Taylor Paur | United States | 104,600 | 131 |
| Amazon | 413 | 3 | Phil Hellmuth | United States | 113,800 | 142 |
| Amazon | 413 | 4 | Chris Bell | United States | 104,600 | 131 |
| Amazon | 413 | 5 | Ihar Soika | Belarus | 104,200 | 130 |
| | | | | | | |
| Amazon | 414 | 1 | Joshua Turner | United States | 104,200 | 130 |
| Amazon | 414 | 2 | Ismael Bojang | Austria | 103,300 | 129 |
| Amazon | 414 | 3 | Jan-Eric Schwippert | Austria | 103,900 | 130 |
| Amazon | 414 | 4 | Andrew Kelsall | United States | 104,600 | 131 |
| Amazon | 414 | 5 | Joanne Liu | United States | 117,500 | 147 |
| | | | | | | |
| Amazon | 415 | 1 | Christian Pham | United States | 103,900 | 130 |
| Amazon | 415 | 2 | Fahredin Mustafov | Bulgaria | 101,200 | 127 |
| Amazon | 415 | 3 | Anthony Reategui | United States | 117,200 | 147 |
| Amazon | 415 | 4 | Maxime Heroux | Canada | 104,100 | 130 |
| Amazon | 415 | 5 | Jiacong Zhang | United States | 118,100 | 148 |
| | | | | | | |
| Amazon | 420 | 1 | Harry Lodge | United Kingdom | 104,400 | 131 |
| Amazon | 420 | 2 | Lee Markholt | United States | 104,200 | 130 |
| Amazon | 420 | 3 | Lior Orel | United States | 104,000 | 130 |
| Amazon | 420 | 4 | Patrick Eskandar | United States | 103,800 | 130 |
| Amazon | 420 | 5 | Arkadiy Tsinis | United States | 104,200 | 130 |
| | | | | | | |
| Amazon | 421 | 1 | Jimmy D'Ambrosio | United States | 103,300 | 129 |
| Amazon | 421 | 2 | Jack Maskill | United Kingdom | 103,500 | 129 |
| Amazon | 421 | 3 | Ivan Galinec | Croatia | 118,100 | 148 |
| Amazon | 421 | 4 | Giuseppe Pantaleo | United States | 116,800 | 146 |
| Amazon | 421 | 5 | Frank Williams | United States | 104,100 | 130 |
| | | | | | | |
| Amazon | 422 | 1 | Boris Kolev | Bulgaria | 104,000 | 130 |
| Amazon | 422 | 2 | Brandon Meyers | United States | 104,000 | 130 |
| Amazon | 422 | 3 | Mao Qui | United States | 104,100 | 130 |
| Amazon | 422 | 4 | Jeffrey Trudeau | United States | 104,600 | 131 |
| Amazon | 422 | 5 | John Reading | United States | 117,100 | 146 |
| | | | | | | |
| Amazon | 423 | 1 | Kenny Hallaert | Belgium | 104,000 | 130 |
| Amazon | 423 | 2 | Myung Shin | United States | 104,500 | 131 |
| Amazon | 423 | 3 | Joe McKeehen | United States | 104,500 | 131 |
| Amazon | 423 | 4 | Orson Young | United States | 103,800 | 130 |
| Amazon | 423 | 5 | Jon Gogola | United States | 104,600 | 131 |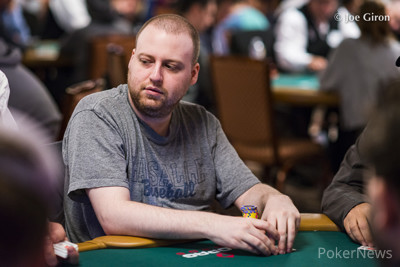 At 12 noon today, Event #3: #3,000 No-Limit Hold'em SHOOTOUT resumes with 50 players returning to 10 tables. Just one player from each table will make it through to tomorrow's final table.
In total, 363 players entered the event yesterday, spread over 50 tables. Those players created a total prize pool of $980,100. Every player who made it through to today's Day 2 is guaranteed $6,302 for doing so, but all will have their eyes set on that gold WSOP bracelet and the first-place prize of $226,128.
Many well-known players are still in the running. Taylor Paur and Jan-Eric Schwippert will be looking to reach the final table again like last year. Paul finished in 10th place in 2017 while Schwippert left the tournament in fourth. Also keep an eye on Phil Hellmuth who is seated at the same table as Paur, Eli Elezra, Chris Bell, and Ihar Soika. After adding up all their WSOP wins, Table #413 will sport a whopping amount of 19 WSOP bracelets and 1 circuit ring.
Another table to watch is Table #406 with Sam Phillips, Tim Reilly, Scott Stewart, John Andress, and 888poker ambassador Chris Moorman. Other notable players who will be in action today include 2009 Main Event Champion Joe Cada and 2015 Main Event winner Joe McKeehen, 2016 November Niner Kenny Hallaert, Bryce Yockey, Christian Pham, Arkadiy Tsinis, John Reading, Alexander Lynskey, Jimmy D'Ambrosio, Chad Wassmuth, and Arne Ruge.
This is what the players are playing for:
| Place | Prize |
| --- | --- |
| 1 | $ 226,218 |
| 2 | $ 139,804 |
| 3 | $ 101,766 |
| 4 | $ 74,782 |
| 5 | $ 55,480 |
| 6 | $ 41,559 |
| 7 | $ 31,435 |
| 8 | $ 24,013 |
| 9 | $ 18,526 |
| 10 | $ 14,437 |
| 11-50 | $ 6,302 |
Make sure to follow all of the updates as the PokerNews live reporting team will be on the floor to provide you with all the action from start to finish today.
Dealers have now been informed by the tournament director to shuffle up and deal. The remaining 50 runners will be starting at 400/800 blinds with a 100 ante.
Nível: 15
Blinds: 400/800
Ante: 100
Nível 15 : 400/800, 100 ante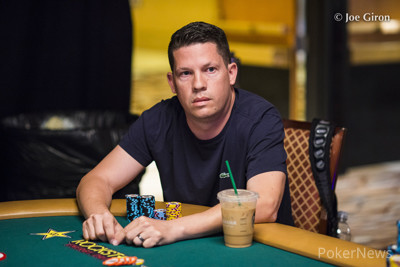 Arne Ruge opened to 2,000 from early position and Chad Wassmuth then three-bet to 5,400. Ruge made the call and the flop came down
. Wassmuth led out for 7,800 and Ruge took several moments before making the call.
The turn came the
and action checked to Ruge who bet 7,600. Wassmuth decided to raise to 17,600 and Ruge took a few moments before calling the raise.
The river fell the
and Wassmuth bet out 21,600. Ruge threw his cards in the muck and Wassmuth scooped in an early pot at the start of Day 2.

Nível 15 : 400/800, 100 ante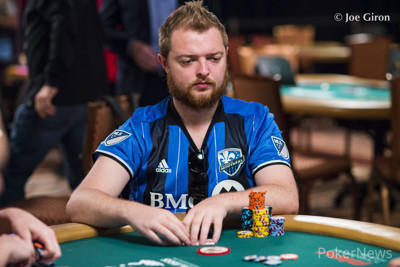 Adam Owen raised to 2,100 from under the gun and was called by both Taylor Wilson in the cutoff and James Hughes in the big blind.
The flop came
. Hughes checked, and Owen bet 2,800. Wilson asked how much the bet was and folded, then Hughes made the call. The turn brought the
. Hughes this time check-called a 10,000 bet from Owen.
The river completed the board with the
. Hughes checked again, and Owen bet 16,500. Hughes tanked and tried to go through his options. After about four minutes, Hughes cut out calling chips, but hesitated. He glanced at his cards once more and then folded.
Nível 15 : 400/800, 100 ante
Jack Maskill opened to 2,400 from under the gun and Jimmy D'Ambrosio three-bet from the big blind to 9,900. Maskill made the call and the flop came
. D'Ambrosio led for 7,500 and was quickly raised to 16,800 by Maskill.
D'Ambrosio made the call and the
fell on the turn. Action checked to Maskill who bet 15,500 and D'Ambrosio took several minutes saying, " Either fold or all in!" before eventually making the fold.

Nível 15 : 400/800, 100 ante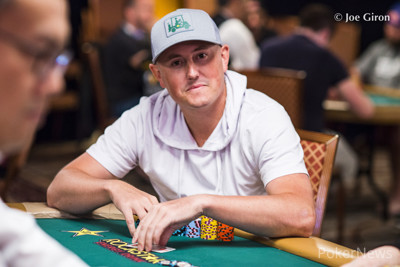 Ihar Soika raised to 2,000 from the button and was called by Taylor Paur in the big blind.
They both checked through the
on the flop to the
on the turn. Paur bet 2,600 and Soika called.
The river
completed the board and they both checked again. Paur tabled
which was enough as Soika threw his cards into the muck.
Jogador
Fichas
Oscilação

Eli Elezra

125,000

20,800

Chris Bell

110,000

5,400

Taylor Paur

107,000

2,400

Phil Hellmuth

106,000

-7,800

Ihar Soika

84,000

-20,200
Nível: 16
Blinds: 500/1,000
Ante: 100