Event #17: $1,500 No-Limit Hold'em 6-Handed
Dias: 2
Event #17: $1,500 No-Limit Hold'em 6-Handed
Dia 2 Iniciado

| Room | Table | Seat | Player | Country | Chip Count | Big Blinds |
| --- | --- | --- | --- | --- | --- | --- |
| Amazon | 490 | 1 | Seyed Mortazavilahijani | United States | 22,400 | 22 |
| Amazon | 490 | 2 | Javier Fernandez | United Kingdom | 7,100 | 7 |
| Amazon | 490 | 3 | Thomas Richenlaub | United States | 18,600 | 19 |
| Amazon | 490 | 4 | Kenna James | United States | 68,100 | 68 |
| Amazon | 490 | 5 | Adam Brant | United States | 32,400 | 32 |
| Amazon | 490 | 6 | Markus Kuhnen | United Kingdom | 61,300 | 61 |
| | | | | | | |
| Amazon | 491 | 1 | Alexander Ziskin | United States | 36,500 | 37 |
| Amazon | 491 | 2 | Jose Paz-Gutierrez | Bolivia | 59,700 | 60 |
| Amazon | 491 | 3 | Hon Cheong Lee | China | 33,900 | 34 |
| Amazon | 491 | 4 | Matthew Paoletti | United States | 23,400 | 23 |
| Amazon | 491 | 5 | Frank Bonacci | United States | 41,600 | 42 |
| Amazon | 491 | 6 | Clifford Pappas | United States | 29,100 | 29 |
| | | | | | | |
| Amazon | 492 | 1 | Yakov Albaz | Israel | 48,000 | 48 |
| Amazon | 492 | 2 | John Pridgen | United States | 27,100 | 27 |
| Amazon | 492 | 3 | Sam Stein | United States | 13,800 | 14 |
| Amazon | 492 | 4 | Brent Roberts | United States | 67,500 | 68 |
| Amazon | 492 | 5 | Michael Ross | United States | 42,000 | 42 |
| Amazon | 492 | 6 | David Cruz | United States | 5,600 | 6 |
| | | | | | | |
| Amazon | 493 | 1 | Seni Choueri | United States | 42,900 | 43 |
| Amazon | 493 | 2 | Zachary Gruneberg | United States | 37,000 | 37 |
| Amazon | 493 | 3 | Antonio Barbato | Italy | 90,600 | 91 |
| Amazon | 493 | 4 | William Remshardt | United States | 20,000 | 20 |
| Amazon | 493 | 5 | Jared Hamby | United States | 23,400 | 23 |
| Amazon | 493 | 6 | Nicholas Smith | United States | 67,800 | 68 |
| | | | | | | |
| Amazon | 494 | 1 | Jeffrey Smith | United States | 59,900 | 60 |
| Amazon | 494 | 2 | Tristan Wade | United States | 44,700 | 45 |
| Amazon | 494 | 3 | Gregg Merkow | United States | 40,600 | 41 |
| Amazon | 494 | 4 | Yue Du | China | 80,500 | 81 |
| Amazon | 494 | 5 | Patrick Mahoney | United States | 72,800 | 73 |
| Amazon | 494 | 6 | Ephraim Zephaniah | United States | 35,000 | 35 |
| | | | | | | |
| Amazon | 495 | 1 | [Removed:321] Siddiqui | United States | 15,000 | 15 |
| Amazon | 495 | 2 | Toan Trinh | United States | 36,600 | 37 |
| Amazon | 495 | 3 | Jake Schwartz | United States | 96,000 | 96 |
| Amazon | 495 | 4 | Josh Arieh | United States | 31,500 | 32 |
| Amazon | 495 | 5 | Mark Radoja | Canada | 91,700 | 92 |
| Amazon | 495 | 6 | Pierre Calamusa | France | 84,000 | 84 |
| | | | | | | |
| Amazon | 496 | 1 | Luke Brereton | United Kingdom | 72,800 | 73 |
| Amazon | 496 | 2 | Alan Bittikofer | United States | 49,600 | 50 |
| Amazon | 496 | 3 | Maher Achour | United States | 98,000 | 98 |
| Amazon | 496 | 4 | Gabriel Baumgartner | Germany | 74,000 | 74 |
| Amazon | 496 | 5 | Oliver Biles | United Kingdom | 68,500 | 69 |
| Amazon | 496 | 6 | Samuel Vitello | United States | 42,400 | 42 |
| | | | | | | |
| Amazon | 497 | 1 | Ryan Franklin | United States | 76,900 | 77 |
| Amazon | 497 | 2 | Vinny Pahuja | United States | 75,600 | 76 |
| Amazon | 497 | 3 | Luke Graham | United States | 103,300 | 103 |
| Amazon | 497 | 4 | Josh Weiss | United States | 44,700 | 45 |
| Amazon | 497 | 5 | Jeffrey Chang | United States | 83,600 | 84 |
| Amazon | 497 | 6 | Sergio Espina Aido | United Kingdom | 65,600 | 66 |
| | | | | | | |
| Amazon | 498 | 2 | Jordan Spurlin | United States | 7,200 | 7 |
| Amazon | 498 | 3 | John Oneal | United States | 91,500 | 92 |
| Amazon | 498 | 4 | Jacob Baumgartner | United States | 62,400 | 62 |
| Amazon | 498 | 5 | Sebastian Pauli | Germany | 86,800 | 87 |
| Amazon | 498 | 6 | DID NOT REPORT 1 | United States | 78,000 | 78 |
| | | | | | | |
| Amazon | 499 | 1 | Austin Peck | United States | 72,500 | 73 |
| Amazon | 499 | 2 | Jordan Hufty | United States | 27,900 | 28 |
| Amazon | 499 | 3 | Henri Hinds | Ireland | 47,500 | 48 |
| Amazon | 499 | 4 | Enio Bozzano | Brazil | 120,000 | 120 |
| Amazon | 499 | 6 | Oscar Castagna | United States | 73,200 | 73 |
| | | | | | | |
| Amazon | 500 | 1 | Thomas Muehloecker | WIEN, , AT | 145,300 | 145 |
| Amazon | 500 | 2 | Rutherford Hayes | United States | 13,700 | 14 |
| Amazon | 500 | 3 | Ognyan Dimov | Bulgaria | 41,300 | 41 |
| Amazon | 500 | 5 | Matt Berkey | United States | 11,500 | 12 |
| Amazon | 500 | 6 | Christopher Meyer | United States | 41,800 | 42 |
| | | | | | | |
| Amazon | 501 | 1 | Todd Melander | United States | 33,000 | 33 |
| Amazon | 501 | 2 | Christian Nilles | DE | 21,100 | 21 |
| Amazon | 501 | 4 | Andrey Zaichenko | Russia | 41,700 | 42 |
| Amazon | 501 | 5 | Damien Hupe | BO | 24,000 | 24 |
| Amazon | 501 | 6 | Tom Braband | United States | 15,000 | 15 |
| | | | | | | |
| Amazon | 502 | 1 | Barry Schmiess | United States | 41,100 | 41 |
| Amazon | 502 | 2 | Jeffrey Manza | United States | 27,000 | 27 |
| Amazon | 502 | 3 | Chance Kornuth | United States | 76,700 | 77 |
| Amazon | 502 | 4 | Vincent Procopio | United States | 30,600 | 31 |
| Amazon | 502 | 5 | Blake Baker | United States | 57,500 | 58 |
| | | | | | | |
| Amazon | 503 | 1 | Tom Koral | United States | 13,400 | 13 |
| Amazon | 503 | 2 | Carlos Curi | Argentina | 18,200 | 18 |
| Amazon | 503 | 3 | Clayton Fletcher | United States | 38,400 | 38 |
| Amazon | 503 | 4 | Barry Greenstein | United States | 43,300 | 43 |
| Amazon | 503 | 6 | Randy Marker | United States | 24,300 | 24 |
| | | | | | | |
| Amazon | 504 | 1 | Alfonso Mora | Czech Republic | 58,800 | 59 |
| Amazon | 504 | 2 | Sadan Turker | United Kingdom | 55,500 | 56 |
| Amazon | 504 | 3 | Nick Schulman | United States | 39,100 | 39 |
| Amazon | 504 | 4 | Samad Razavi | United Kingdom | 82,800 | 83 |
| Amazon | 504 | 5 | Phillippe Ktorza | France | 15,600 | 16 |
| Amazon | 504 | 6 | Ozgur Arda | Turkey | 35,300 | 35 |
| | | | | | | |
| Amazon | 505 | 1 | Kevin Eyster | United States | 26,500 | 27 |
| Amazon | 505 | 2 | Paul Sokoloff | Canada | 18,100 | 18 |
| Amazon | 505 | 3 | Ryan Zweig | United States | 47,700 | 48 |
| Amazon | 505 | 4 | Matthew Smith | United States | 22,300 | 22 |
| Amazon | 505 | 5 | Alexandr Orlov | Russia | 22,500 | 23 |
| Amazon | 505 | 6 | Alex Rocha | United States | 16,500 | 17 |
| | | | | | | |
| Amazon | 506 | 1 | Affif Lemos Do Prado | Brazil | 13,200 | 13 |
| Amazon | 506 | 2 | Martin Szafran | United States | 23,600 | 24 |
| Amazon | 506 | 3 | Adrian Buckley | United States | 88,900 | 89 |
| Amazon | 506 | 4 | Alexandre Reard | France | 95,300 | 95 |
| Amazon | 506 | 5 | Jonas Vanbaelen | Germany | 19,400 | 19 |
| Amazon | 506 | 6 | Steven Shapiro | United States | 19,500 | 20 |
| | | | | | | |
| Amazon | 507 | 1 | Jeremy Dresch | United States | 21,700 | 22 |
| Amazon | 507 | 2 | Zachary Ackley | United States | 42,300 | 42 |
| Amazon | 507 | 3 | Steven Ward | United States | 19,400 | 19 |
| Amazon | 507 | 4 | Todd Rebello | United States | 31,100 | 31 |
| Amazon | 507 | 5 | Ryan Angelo | United States | 78,100 | 78 |
| Amazon | 507 | 6 | Tonio Roder | Germany | 26,600 | 27 |
| | | | | | | |
| Amazon | 508 | 1 | Fabian Gumz | Germany | 20,700 | 21 |
| Amazon | 508 | 2 | Foad Larki | Canada | 50,000 | 50 |
| Amazon | 508 | 3 | Andrew Lee | United States | 50,700 | 51 |
| Amazon | 508 | 4 | Steven Gagliano | United States | 19,300 | 19 |
| Amazon | 508 | 5 | Talon White | United States | 24,400 | 24 |
| Amazon | 508 | 6 | Martin Redrup | United States | 17,600 | 18 |
| | | | | | | |
| Amazon | 509 | 1 | Jason Brin | United States | 110,800 | 111 |
| Amazon | 509 | 2 | Shane Fumerton | Canada | 76,300 | 76 |
| Amazon | 509 | 3 | Paul Berger | United States | 50,000 | 50 |
| Amazon | 509 | 4 | Bob Shao | United States | 39,300 | 39 |
| Amazon | 509 | 5 | Adam Kievman | United States | 39,900 | 40 |
| Amazon | 509 | 6 | Matthew Silva | United States | 110,500 | 111 |
| | | | | | | |
| Amazon | 510 | 1 | Tyler Walker | Canada | 22,900 | 23 |
| Amazon | 510 | 2 | Morgan Machina | United States | 28,200 | 28 |
| Amazon | 510 | 3 | Susan Sawyersmith | United States | 17,600 | 18 |
| Amazon | 510 | 4 | Jeff Bettencourt | United States | 15,300 | 15 |
| Amazon | 510 | 5 | Christian Harder | United States | 48,400 | 48 |
| Amazon | 510 | 6 | Adam Hendrix | United States | 73,600 | 74 |
| | | | | | | |
| Amazon | 511 | 1 | Arunas Sapitavicius | Lithuania | 37,400 | 37 |
| Amazon | 511 | 2 | Gustavo Libedinski | Argentina | 52,100 | 52 |
| Amazon | 511 | 3 | Shannon Shorr | United States | 60,400 | 60 |
| Amazon | 511 | 4 | Dan Santoro | United States | 18,300 | 18 |
| Amazon | 511 | 5 | Simon Deadman | United Kingdom | 76,800 | 77 |
| Amazon | 511 | 6 | Scott Stewart | United States | 107,700 | 108 |
| | | | | | | |
| Amazon | 512 | 1 | Markus Gonsalves | United States | 25,900 | 26 |
| Amazon | 512 | 2 | David Gunas | United States | 37,300 | 37 |
| Amazon | 512 | 3 | Brent Hanks | United States | 33,800 | 34 |
| Amazon | 512 | 4 | Ajay Chabra | United States | 38,300 | 38 |
| Amazon | 512 | 5 | Daniel Sewnig | United States | 18,400 | 18 |
| Amazon | 512 | 6 | Kevin Saul | United States | 12,100 | 12 |
| | | | | | | |
| Amazon | 513 | 1 | Victor Figueroa | United States | 127,000 | 127 |
| Amazon | 513 | 2 | Bradley Butcher | United States | 55,600 | 56 |
| Amazon | 513 | 3 | Dilip Ravindran | United States | 41,300 | 41 |
| Amazon | 513 | 4 | Hugo Perez | United States | 56,900 | 57 |
| Amazon | 513 | 5 | Ivan Deyra | France | 27,900 | 28 |
| Amazon | 513 | 6 | Dung Gomer Nguyen | United States | 83,900 | 84 |
| | | | | | | |
| Amazon | 514 | 1 | Gaelle Baumann | France | 47,500 | 48 |
| Amazon | 514 | 2 | Joe Ramos | United States | 87,000 | 87 |
| Amazon | 514 | 3 | Andy Spears | United States | 75,600 | 76 |
| Amazon | 514 | 4 | Stephen Schulist | United States | 39,600 | 40 |
| Amazon | 514 | 5 | Will Berry | United States | 58,100 | 58 |
| Amazon | 514 | 6 | Philip Elliott | Canada | 49,000 | 49 |
| | | | | | | |
| Amazon | 515 | 1 | Robert Mather | United States | 55,700 | 56 |
| Amazon | 515 | 2 | Lars Gronning | United States | 1 | 0 |
| Amazon | 515 | 3 | Artem Metalidi | Ukraine | 27,000 | 27 |
| Amazon | 515 | 4 | Kevin Kanda | United States | 4,800 | 5 |
| Amazon | 515 | 5 | Yosuke Iwata | United States | 76,900 | 77 |
| Amazon | 515 | 6 | Alexandr Lipkin | United States | 74,000 | 74 |
| | | | | | | |
| Amazon | 516 | 1 | Kenneth Smaron | United States | 66,000 | 66 |
| Amazon | 516 | 2 | Martin Jacobson | Sweden | 69,700 | 70 |
| Amazon | 516 | 3 | Vladislav Mezheritsky | United States | 45,600 | 46 |
| Amazon | 516 | 4 | Roman Rogovskyi | Ukraine | 36,400 | 36 |
| Amazon | 516 | 5 | Ronald Warnicke | United States | 48,900 | 49 |
| Amazon | 516 | 6 | Harold Lilie | United States | 17,700 | 18 |
| | | | | | | |
| Amazon | 517 | 1 | Joseph Granberry | United States | 28,700 | 29 |
| Amazon | 517 | 2 | Jonathan Jaffe | United States | 48,900 | 49 |
| Amazon | 517 | 3 | Alexandro Tricarico | Belgium | 143,900 | 144 |
| Amazon | 517 | 4 | Kainalu Mccue-Unciano | United States | 119,900 | 120 |
| Amazon | 517 | 5 | Jay Sharon | United States | 34,600 | 35 |
| Amazon | 517 | 6 | Brandon Conrad | United States | 17,800 | 18 |
| | | | | | | |
| Amazon | 518 | 1 | Sergi Reixach | United Kingdom | 34,300 | 34 |
| Amazon | 518 | 2 | Austin Buchanan | United States | 47,400 | 47 |
| Amazon | 518 | 3 | Romain Lotti | United States | 59,800 | 60 |
| Amazon | 518 | 4 | Dimitry Agrachov | United States | 88,600 | 89 |
| Amazon | 518 | 5 | Tanner Bibat | United States | 45,900 | 46 |
| Amazon | 518 | 6 | David Ormsby | Canada | 45,000 | 45 |
| | | | | | | |
| Amazon | 519 | 1 | Randy Lowery | United States | 16,100 | 16 |
| Amazon | 519 | 2 | Fraser MacIntyre | United Kingdom | 12,300 | 12 |
| Amazon | 519 | 3 | Anthony Marquez | United States | 15,600 | 16 |
| Amazon | 519 | 4 | Brian Kearney | United States | 100,700 | 101 |
| Amazon | 519 | 5 | Giovani Torre | Funchal, , PT | 49,900 | 50 |
| Amazon | 519 | 6 | Jiacong Zhang | United States | 30,800 | 31 |
| | | | | | | |
| Amazon | 520 | 1 | Vadim Shlez | United States | 22,200 | 22 |
| Amazon | 520 | 2 | Vincent Moscati | United States | 71,900 | 72 |
| Amazon | 520 | 3 | Brandon Sinawi | United States | 30,300 | 30 |
| Amazon | 520 | 4 | Quang Ngo | United States | 25,100 | 25 |
| Amazon | 520 | 5 | Christopher Aiello | United States | 121,000 | 121 |
| Amazon | 520 | 6 | Fernando Brito | Brazil | 58,400 | 58 |
| | | | | | | |
| Amazon | 521 | 1 | David Cabrera Polop | Mexico | 52,700 | 53 |
| Amazon | 521 | 2 | Andrew Yim | United States | 90,000 | 90 |
| Amazon | 521 | 3 | Nick Yunis | Chile | 79,100 | 79 |
| Amazon | 521 | 4 | Larry Wright (TX) | United States | 33,200 | 33 |
| Amazon | 521 | 5 | Christian Soto | United States | 61,100 | 61 |
| Amazon | 521 | 6 | Srinivasa Vemulamada | United States | 25,700 | 26 |
| | | | | | | |
| Amazon | 522 | 1 | Daniel Dizenzo | United States | 20,400 | 20 |
| Amazon | 522 | 2 | Jamie Rosen | United States | 69,700 | 70 |
| Amazon | 522 | 3 | Safiya Umerova | United States | 19,900 | 20 |
| Amazon | 522 | 4 | Fadi Hamad | United States | 108,600 | 109 |
| Amazon | 522 | 5 | Vinh Pham | United States | 17,200 | 17 |
| Amazon | 522 | 6 | Boris Kasabov | United States | 70,200 | 70 |
| | | | | | | |
| Amazon | 523 | 1 | Bart Lybaert | Belgium | 181,200 | 181 |
| Amazon | 523 | 2 | Stanley Ko | Singapore | 52,800 | 53 |
| Amazon | 523 | 3 | Daniel Buzgon | United States | 24,400 | 24 |
| Amazon | 523 | 4 | David Okelly | Ireland | 40,000 | 40 |
| Amazon | 523 | 5 | Aaron Johnson | United States | 22,000 | 22 |
| Amazon | 523 | 6 | Ivan Zhechev | Bulgaria | 16,400 | 16 |
| | | | | | | |
| Amazon | 524 | 1 | Justin Young | United States | 46,500 | 47 |
| Amazon | 524 | 2 | Ang Lin Lin Chen An | Taiwan | 58,400 | 58 |
| Amazon | 524 | 3 | Kimmo Eskelinen | Finland | 34,500 | 35 |
| Amazon | 524 | 4 | Chase Craig | United States | 21,300 | 21 |
| Amazon | 524 | 5 | Herbert Yarbrough | United States | 20,400 | 20 |
| Amazon | 524 | 6 | Kanzuki Ikeuchi | Japan | 47,700 | 48 |
| | | | | | | |
| Amazon | 525 | 1 | Matthew Beier | United States | 35,400 | 35 |
| Amazon | 525 | 2 | Jiri Horak | Czech Republic | 20,500 | 21 |
| Amazon | 525 | 3 | Jordan Young | United States | 42,500 | 43 |
| Amazon | 525 | 4 | Douglas Brofman | United States | 22,500 | 23 |
| Amazon | 525 | 5 | Tony Gargano | United States | 33,800 | 34 |
| Amazon | 525 | 6 | Christian Pham | United States | 43,600 | 44 |
| | | | | | | |
| Amazon | 526 | 1 | Corentin Hillon | United States | 30,200 | 30 |
| Amazon | 526 | 2 | Justin Ouimette | Canada | 54,200 | 54 |
| Amazon | 526 | 3 | Sebastian Momtazi | United States | 26,400 | 26 |
| Amazon | 526 | 4 | Andrew Dean | United States | 23,900 | 24 |
| Amazon | 526 | 5 | Alan Sternberg | United States | 79,000 | 79 |
| Amazon | 526 | 6 | Adrian Mateos | Spain | 79,000 | 79 |
| | | | | | | |
| Amazon | 527 | 1 | Kenneth Elmore | United States | 82,300 | 82 |
| Amazon | 527 | 2 | Amnon Filippi | United States | 23,000 | 23 |
| Amazon | 527 | 3 | Anthony Schutter | United States | 46,000 | 46 |
| Amazon | 527 | 4 | Sebastien Comel | France | 95,200 | 95 |
| Amazon | 527 | 5 | Robert Goldfarb | United States | 28,700 | 29 |
| Amazon | 527 | 6 | Zachary Richards | United States | 17,000 | 17 |
| | | | | | | |
| Amazon | 528 | 1 | Jamys Williams | United States | 15,500 | 16 |
| Amazon | 528 | 2 | Dimitar Danchev | Bulgaria | 63,500 | 64 |
| Amazon | 528 | 3 | Benjamin Kramer | United States | 21,900 | 22 |
| Amazon | 528 | 4 | James Hughes | United States | 24,000 | 24 |
| Amazon | 528 | 5 | James Hutton | United States | 104,500 | 105 |
| Amazon | 528 | 6 | Christian Iacobellis | United States | 45,000 | 45 |
| | | | | | | |
| Amazon | 529 | 1 | Nick Phoenix | United States | 9,500 | 10 |
| Amazon | 529 | 2 | Thomas Lutz | United States | 9,100 | 9 |
| Amazon | 529 | 3 | Timothy Chang | United States | 43,900 | 44 |
| Amazon | 529 | 4 | Gabriel Villanueva | United States | 5,300 | 5 |
| Amazon | 529 | 5 | Aditya Agarwal | India | 35,700 | 36 |
| Amazon | 529 | 6 | Yordan Petrov | Bulgaria | 83,000 | 83 |
| | | | | | | |
| Amazon | 530 | 1 | Nelson Resendiz | United States | 34,400 | 34 |
| Amazon | 530 | 2 | Rafael Lebron | United States | 40,500 | 41 |
| Amazon | 530 | 3 | Felix Bleiker | Switzerland | 124,400 | 124 |
| Amazon | 530 | 4 | Tom Marchese | United States | 54,200 | 54 |
| Amazon | 530 | 5 | Tyler Sumrall | United States | 9,200 | 9 |
| Amazon | 530 | 6 | Seth Fischer | United States | 62,800 | 63 |
| | | | | | | |
| Amazon | 531 | 1 | Maxx Coleman | United States | 45,700 | 46 |
| Amazon | 531 | 2 | Daniel Cai | United States | 67,200 | 67 |
| Amazon | 531 | 3 | Joey Weissman | United States | 34,900 | 35 |
| Amazon | 531 | 4 | Daniel Larson | United States | 72,000 | 72 |
| Amazon | 531 | 5 | Russell Crane | United States | 23,100 | 23 |
| Amazon | 531 | 6 | Terrence Doyle | United States | 68,200 | 68 |
| | | | | | | |
| Amazon | 532 | 1 | Robert McLaughlin | United States | 82,600 | 83 |
| Amazon | 532 | 2 | Samm DiStasio | United States | 52,200 | 52 |
| Amazon | 532 | 3 | Christopher Welch | United States | 22,800 | 23 |
| Amazon | 532 | 4 | Pavel Plesuv | Czech Republic | 29,200 | 29 |
| Amazon | 532 | 5 | Jack Maskill | United Kingdom | 12,800 | 13 |
| Amazon | 532 | 6 | Harry Lodge | United Kingdom | 55,700 | 56 |
| | | | | | | |
| Amazon | 533 | 1 | Timothy Sullivan | United States | 53,700 | 54 |
| Amazon | 533 | 2 | Jeff Madsen | United States | 26,300 | 26 |
| Amazon | 533 | 3 | Joe Serock | United States | 55,300 | 55 |
| Amazon | 533 | 4 | Joseph Haddad | United States | 28,500 | 29 |
| Amazon | 533 | 5 | Dalton Brinker | United States | 60,100 | 60 |
| Amazon | 533 | 6 | Gil Thierry | United Kingdom | 62,300 | 62 |
| | | | | | | |
| Amazon | 534 | 1 | Benjamin Zamani | United States | 12,000 | 12 |
| Amazon | 534 | 2 | Harlan Karnofsky | United States | 56,500 | 57 |
| Amazon | 534 | 3 | Jesse Cohen | United States | 17,000 | 17 |
| Amazon | 534 | 4 | Andrew Liu | United States | 14,700 | 15 |
| Amazon | 534 | 5 | Ryan Jones | United States | 61,300 | 61 |
| Amazon | 534 | 6 | Kyle White | Canada | 21,200 | 21 |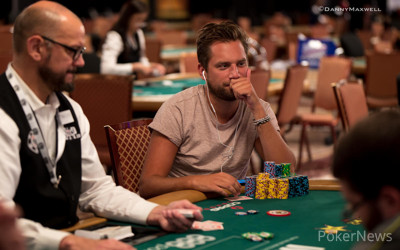 At 12 p.m., the remaining 264 players will assemble in the Amazon room at the Rio All-Suite Hotel and Casino to do battle on Day 2 of Event #17: $1,500 No-Limit Hold'em 6-Handed knowing that they are just 14 eliminations from a spot in the money places worth a minimum of $2,249.
Belgium's Bart Lybaert will lead the pack with a chip stack of 181,200, with Thomas Muehloecker (145,300) and Alexandro Tricarico (143,900) his closest rivals.
Yesterday saw 1,663 players come together to create a $2,245,050 prize pool with a host of WSOP bracelet holders scattered among the field, including Phil Hellmuth, Phil Ivey, Chris Ferguson, Ben Yu, Bryn Kenney, Barry Greenstein, and Steven Wolansky.
Greenstein (43,300) is just one of those names who will be returning today alongside other well known players Mark Radoja (91,700), Adrian Mateos (79,000), Jeff Madsen (36,300), and 2014 Main Event champion Martin Jacobson (70,000).
Just like yesterday, ten 60-minute levels will be played today with a 60-minute dinner break after the sixth level. The blinds will begin at 500/1,000/100 ante with the average stack at 47,244.
Look below for the full table draw for the six-handed tables in the Amazon Orange room.
PokerNews has activated the MyStack App for this event, allowing you to directly adjust your chip counts in our live reporting blog using your iPhone or Android phone.
You can download the app for iPhone or Android now to get started. Then, create a new PokerNews account or update your current one to start updating your status immediately. Your followers can see all the live action that you're involved in.
Click here to download the My Stack app for iPhone, or click here to download the My Stack app for Android.
Stay tuned to PokerNews for all your live reporting needs and continuous live updates!
Nível: 11
Blinds: 500/1,000
Ante: 100
Nível 11 : 500/1,000, 100 ante
Day 2 is now underway in Amazon Orange.
Nível 11 : 500/1,000, 100 ante
In the opening five minutes of the day, six players have already gotten all their chips into the middle and not been able to find the vital double-up.
Nível 11 : 500/1,000, 100 ante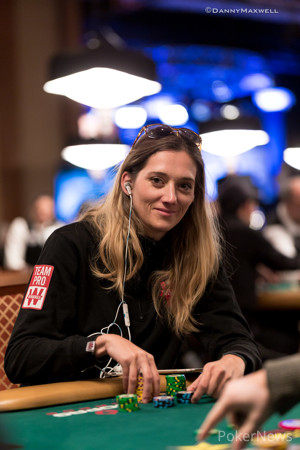 With 6,000 already in the middle, Gaelle Baumann called a 3,000 bet from her opponent following a
flop.
On the
turn they both checked, and when the
fell on the river Baumann bet 6,500 and her opponent quickly folded.
Nível 11 : 500/1,000, 100 ante
The player in the hijack opened to 2,500 and Nick Yunis on the button raised it to 7,500. The blinds folded and the hijack called.
The flop fell
and both players checked. The
on the turn brought another check from the hijack, then Yunis after some bet 10,200 and his opponent called.
On the
river, after a check Yunis moved all in and forced his opponent to fold.
Jogador
Fichas
Oscilação

Nick Yunis

100,000

20,900
Nível 11 : 500/1,000, 100 ante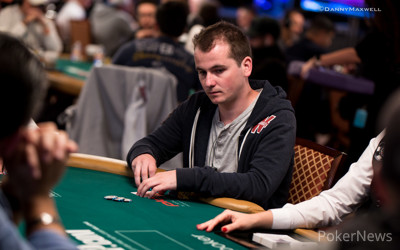 The board read
when Dung Gomer Nguyen put Ivan Deyra to the test by moving all in. With play just four spaces from the money, Deyra went into the tank. He occasionally checked the clock to see if it had changed before making the call.
Ivan Deyra:

Dung Gomer Nguyen:
River:
Deyra was ahead with a straight while Nguyen had a set of sevens and needed to improve on the river to eliminate the Frenchman, but the river ace was no help meaning Deyra survived and doubled up to 48,000.
Jogador
Fichas
Oscilação

Dung Nguyen

60,000

-23,900

Ivan Deyra

48,000

20,100
Nível 11 : 500/1,000, 100 ante
With 252 players now remaining after just 25 minutes of play, the tournament is now hand-for-hand. Two more eliminations must happen before all the remaining players are in the money,