Nível 1 : 50/100, 0 ante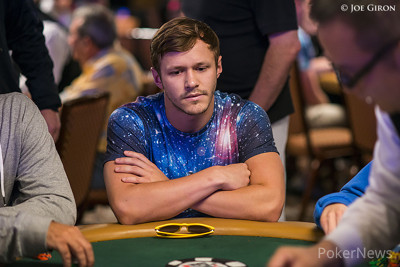 On one of the first hands of the day, Billy Chattaway just managed to secure himself a double-up. The hand was extraordinary, and the dealer's announcement, "All in and a call!" made a big crowd of people rush over to Table 374 in the Orange section.
The board showed
while Chattaway's
were tabled face up.
"He had ace-king," another player informed us.
Chattway was all in on the river for 27,025 and this huge hand puts him ahead of the entire field after just 25 minutes of play.
Simon Charette, also seated at this table, tweeted the following after this hand:
Tournament CL at my table with 75k after first orbit. First double up with quads against a fish who wanted to say all in on 4th hand.
Follow @SimonCharette