Nível 9 : 300/600, 75 ante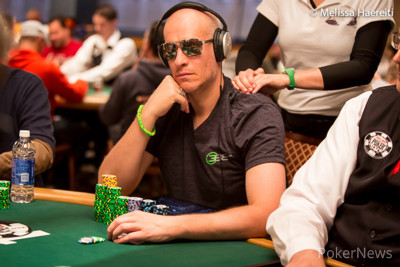 With some poker prognosticators out there predicting that the game's popularity will soon fade, going the way of other fads which captured the collective consciousness before people moved on, today 4,722 players refuted that suggestion in fine style.
The World Series of Poker's "Millionaire Maker" event went from an experiment last year to a genuine extravaganza in 2014, as a truly massive field convened to pack the Rio from room to room. Each player in attendance harbored hopes of becoming the next Benny Chen, after the young grinder parlayed $1,500 into a $1,198,780 payday in last year's debut of the event. Last year Chen bested an enormous field of 6,343 entrants, and this year that number was eclipsed midway through the day.
Ten-handed tournament tables filled the Brasilia and Amazon Rooms, as well as the Pavilion, with overflow and alternates necessitating fourth area be set up outside of Buzio's restaurant. It seemed as if every poker player breathing the dry Las Vegas air on this fine Saturday morning all had the same idea: win a million bucks playing the game they love.
A long list of professionals were sprinkled throughout the swarms of amateurs, with far too many to recount in this space, but sufficed to say you're favorite pros were in the house here today. While WSOP legends like Barry Greenstein and Allen Cunningham were culled from the field early on, joining the long line of players heading over to the registration desk to pony up for tonight's second starting flight, quite a few notable names could be found on the chip bags by the end of Day 1a.
Matt Glantz (75,000), Greg "FBT" Mueller (72,000), David Sands (30,000), Scott Clements (28,000), David "ODB" Baker (27,000), Loni Harwoo (21,000), and Matt Salsberg (15,000) all managed to avoid the showers to earn a ticket to tomorrow's second day of play. When the tournament resumes at 2 p.m. local time (pushed back an hour from the original restart time), the historically large field will combine as one, and to put the numbers in perspective, take a look at the list below:
| Event | Entrants |
| --- | --- |
| 2006 WSOP Main Event | 8,773 |
| 2014 WSOP Millionaire Maker | 7,904 and rising |
| 2010 WSOP Main Event | 7,319 |
| 2011 WSOP Main Event | 6,865 |
| 2008 WSOP Main Event | 6,844 |
With each of the WSOP Main Events above being played over multiple starting days, this makes today's Millionaire Maker the largest single starting day field in poker history, something that should give anybody who doubts poker's sustainability a reason to shelve their predictions for the foreseeable future.
Check back with PokerNews tomorrow at 2 p.m. local time to follow all of the flops and folds live from the floor of the Rio, as the 2014 WSOP Millionaire Maker rolls on.