Angela Prada-Moed Leads As Event #45 Progresses to Day 3
Nível 21 : 6,000-12,000, 2,000 ante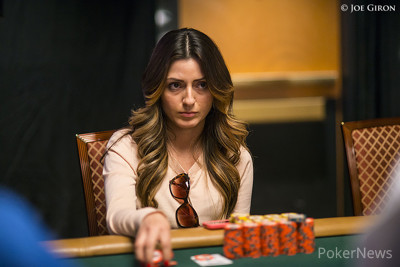 Angela Prada-Moed is the woman to catch going into the third and final day's play of event #45: $1,000 No-Limit Hold'em after ending Monday's Day 2 with a nearly seven-figure stack worth 961,000.
Day 2 began at 1:00 p.m. on Monday with 144 in-the-money players clambering into the purple section of the vast Amazon Room. By the time the tournament director brought the curtain down on proceedings some 10 hour-long level later only 11 players remained in the hunt for the $306,634 first place prize and, of course, the coveted and much sought after gold World Series of Poker bracelet.
As mentioned, topping the chip counts going into Day 3 is Prada-Moed who bagged up 961,000 chips at the completion of Day 2. Prada-Moet, flanked on the rail by her husband, flew under the radar for much of the day's proceedings before finding
in a hand against Nicolas Faure's
that resulted in Faure's exit and Prada-Moed's propulsion up the chip counts.
Prada-Moed found another big pair during the last level of the day, getting into a raising war on a
flop with Jan Suchaek that resulted in Suchanek being all-in with
. Prada-Moed held the superior
, which held to bust Suchanek and push Prada-Moet's stack to 900,000.
It wasn't only big hands that Prada-Moet had preflop, she also made a huge call in a hand against Patrick Curzio that resulted in her moving past the one million chip mark. Prada-Moed raised to 25,000 and received a call from Patrick Curzio. Prada-Moed continued with a 25,000 bet on the
flop and Curzio called. Prada-Moed slowed down on the
turn and checked. Curzio bet 47,000 and Prada-Moed called.
The river was the
and Prada-Moed checked. Curzio brought out the big guns and set the price to play at 92,000. Prada-Moed went into the tank before muttering, "I think I have the best hand." Moments later she acted on her instincts and called.
"Ace-high" declared Curzio and he was well beaten by the
in Prada-Moed's hand.
Joining Prada-Moed on Day 3 are players such as Loren Klein (804,000), Ivan Saul (613,000), Will Givens (546,000) and Dmitrii Shchepkin (501,000).
Check out the full chip counts here.
Some of those who competed on Day 2, but failed to navigate their way through the 10 levels of play, included Ryan Laplante (106th), Nick Rampone (102nd), Jason Wheeler (73rd), Faraz Jaka (72nd), Hoyt Corkins (38th), Arnaud Mattern (25th), Max Pescatori (23rd), and Brandon Hall (19th).
Play resumes at 1:00 p.m. in the gold section of the Amazon Room and continues until a champion is crowned. Who will that champion be? Tune into PokerNews on Tuesday to find out.