Event #41: $1,500 Six-Handed Dealer's Choice
Dias: 1
Event #41: $1,500 Six-Handed Dealer's Choice
Dia 1 Concluído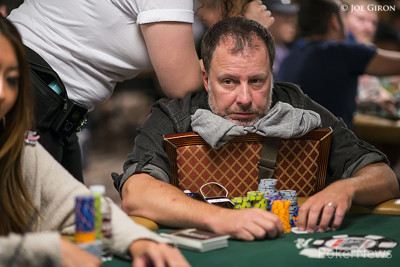 Day 1 of Event #41: $1,500 Six-Handed Dealer's Choice is officially in the books! This unique event drew a total of 419 entries and by the end of the day just 95 of those players remained. By the end of the night it was Larry Tull who bagged up the largest stack in the room with 55,400.
While Tull holds the chip lead coming into Day 2, other notable players are close on his heels. Melissa Burr has had a stellar WSOP thus far, making two final tables ( an eighth place finish in Event #10: $10,000 Limit Omaha Hi-Low Championship and a fifth in Event #30: $1,500 Seven-Card Stud Hi-Low). Burr is now looking for her third deep run of the summer, bagging up a top-five stack with 47,375. Right on Burr's heels is Event 30's seventh place finisher Jimmy Fricke. Fricke will bring 46,600 with him into Day 2.
The day saw all sixteen of the possible games being spread with players complimenting the dealers and tournament staff for a well-run tournament left and right. The light-hearted environment was almost palpable in the room, as players were quite jovial with one another as they jumped from game to game. One exception, however, occurred halfway through the day. Brandon Cantu was once again the center of controversy when he engaged in a confrontation with fellow bracelet winner Jesse Martin. Cantu ultimately received a penalty that amounted to about three missed orbits. Regardless of that fact, Cantu bagged up at the end of the night and will return for Day 2 with 33,175.
Other familiar faces returning for Day 2 include Jennifer Harman (39,500), Todd Brunson (38,000), Frank Kassela (37,100), Jeff Madsen (35,550), Robert Mizrachi (34,175), Gavin Smith (25,125), Calvin Anderson (25,025), Bill Chen (24,575), Maria Ho (22,925), Andrey Zaichenko (14,450), Michael Mizrachi (13,025), John Monnette (11,425) andBrian Rast (6,775).
While each of those players bagged up and will advance onto the second day, many others were not as fortunate. Some of the players to leave the felt before the bag and tag include Mike Sexton, Steven Wolansky, Randy Ohel, Barry Greenstein, Ben Yu, Andy Frankenberger, Naoya Kihara, Mike Leah, Bryan Campanello, Tom Schneider, Scotty Nguyen, Scott Abrams, and Eli Elezra.
Play resumes at 2 p.m. local time on Friday in the Purple section of the Amazon Room. As always, PokerNews will be on hand with the latest coverage. Until tomorrow!
Jogador
Fichas
Oscilação

Larry Tull

55,400

400

Arthur Morris

51,600

John Lukacs

50,450

Melissa Burr

47,375

17,375

Jimmy Fricke

46,600

-1,700

Francesco Barbaro

45,100

Bradley Ruben

42,625

Perry Green

41,500

Jen Harman

39,500

18,300

Denis Ethier

38,550

Todd Brunson

38,500

3,000

Frank Kassela

37,100

14,600

Kirill Rabtsov

36,950

Kyle Loman

35,550

Jeff Madsen

35,550

16,050

Derek Updegraff

35,275

Robert Mizrachi

34,175

26,975

Brandon Cantu

33,175

-3,825

Daniel Idema

33,000

22,000

Daniel Zack

28,925

David Schnettler

27,500

Justin Gardenhire

27,100

Idris Ambraisse

27,000

Aaron Schaff

26,800

Senovio Ramirez

25,950
Tournament staff has announced three more hands before bagging and tagging for the night.
2-7 Single Draw
An early positioned player opened to 900 and Jimmy Fricke called from the button. The blinds folded, leaving the two heads up to the draw. Fricke's opponent stood pat and Fricke opted to take two new cards.
Action checked to Fricke post-draw and he announced a check back. His opponent rolled over a pat
. Fricke mucked his cards and the pot was pushed in the opposite direction. Despite taking this hit, Fricke is still sitting well with 48,300 in chips.
Stud
Harman:
/
/

Mizrachi:
/
/
Picking up with the action on fifth street, Robert Mizrachi bet his last 975 and Jen Harman called. Harman was behind with a pair of nines to Mizrachi's pair of kings. Harman picked up four to a flush on sixth, but ultimately bricked out on seventh. Mizrachi's kings held and he doubled to 7,200.
Nível: 10
LIMIT FLOP/DRAW GAMES - 300 600 600-1,200
STUD GAMES 100 200 600 600-1,200
NO-LIMIT (2-7/HOLDEM) AND POT-LIMIT GAMES 75 150 300 -
Pot-Limit Omaha
An early positioned player raised to 400 and the player in the small blind called. Brandon Cantu announced a pot sized raise from the big blind, making it 1,600 to go. Both of his opponents called to see a flop.
The dealer fanned
on the felt and the small blind checked.
"Pot," said Cantu once again, betting 4,800.
The original raiser quickly got out of the way and the small blind thought for a moment before releasing his cards as well. Cantu raked in the pot and now has about 37,000 in chips.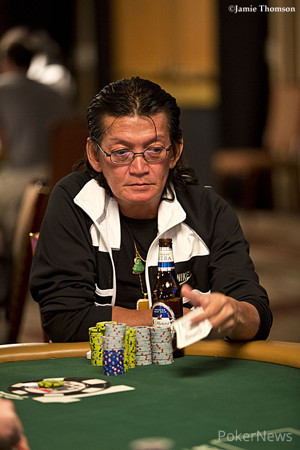 No-Limit Hold'em
Brian Rast was under the gun and opened with a raise to 550. Scotty Nguyen flatted from the next seat over and it folded around to Brad Ruben in the small blind. Ruben cut out a three-bet to 1,875 and action folded back around to Rast. Rast called the three-bet and Scotty wasted little time four-betting to 6,150. Ruben five-bet shipped all in, Rast folded, and Nguyen called an additional 2,100 for his tournament life.
Nguyen:

Ruben:
The board fell
, allowing Ruben's pocket aces to stay out in front. Nguyen was eliminated from play and Ruben's stack is now up to about 30,000.
Jogador
Fichas
Oscilação

Melissa Burr

30,000

4,400

Calvin Anderson

25,000

18,000

Bill Chen

24,500

10,300

Larry Wright

24,500

12,000

Frank Kassela

22,500

7,200

Dan Kelly

15,300

11,300

Brian Rast

13,000

-1,500

Maria Mayrinck

12,000

6,800

Shawn Buchanan

11,000

-3,100

Daniel Idema

11,000

-5,000

Adam Friedman

8,200

-6,800

Allen Cunningham

8,000

5,100

Jesse Martin

7,000

-8,600

Kevin MacPhee

Eliminado