Event #29: $2,500 No-Limit Hold'em
Dias: 2
Nível: 20
Blinds: 4,000/8,000
Ante: 1,000
Nível 19 : 3,000/6,000, 1,000 ante
Table 353
| Seat | Player | Chips |
| --- | --- | --- |
| 1 | Chris Johnson | 555,000 |
| 2 | William Reynolds | 152,000 |
| 3 | Joseph Brattole | 172,000 |
| 4 | David Benefield | 355,000 |
| 5 | Justin Kindred | 95,000 |
| 6 | Empty | |
| 7 | Thad McNulty | 745,000 |
| 8 | Isaac Baron | 86,000 |
| 9 | Scott Davies | 445,000 |
Table 359
| Seat | Player | Chips |
| --- | --- | --- |
| 1 | Andy Pham | 175,000 |
| 2 | David Nicholson | 260,000 |
| 3 | Jamie Armstrong | 630,000 |
| 4 | Daniel Strelitz | 300,000 |
| 5 | Arshad Siddiqui | 270,000 |
| 6 | Sam Cohen | 325,000 |
| 7 | Pierre Milan | 440,000 |
| 8 | Daniel Laming | 320,000 |
| 9 | Richard Kirsch | 370,000 |
Table 360
| Seat | Player | Chips |
| --- | --- | --- |
| 1 | Upeshka Desilva | 240,000 |
| 2 | Rep Porter | 280,000 |
| 3 | Matt Salsberg | 385,000 |
| 4 | Yang Liu | 460,000 |
| 5 | Justin Oliver | 170,000 |
| 6 | Marius Pospiech | 390,000 |
| 7 | Grayson Nichols | 170,000 |
| 8 | Lawrence Beach | 160,000 |
| 9 | Barry Hutter | 470,000 |
Jogador
Fichas
Oscilação

Jamie Armstrong

630,000

150,000

Chris Johnson

555,000

532,000

Barry Hutter

470,000

-120,000

Yang Liu

460,000

460,000

Scott Davies

445,000

5,000

Pierre Milan

440,000

-120,000

Marius Pospiech

390,000

-180,000

Matt Salsberg

385,000

180,000

Richard Kirsch

370,000

-130,000

David Benefield

355,000

225,000

Sam Cohen

325,000

65,000

Daniel Laming

320,000

68,000

Daniel Strelitz

300,000

228,000

Rep Porter

280,000

95,000

Arshad Siddiqui

270,000

197,000

David Nicholson

260,000

-25,000

Upeshka Desilva

240,000

240,000

Andy Pham (Andy Phan)

175,000

175,000

Joseph Brattole

172,000

-63,000

Justin Oliver

170,000

54,900

Grayson Nichols

170,000

126,600

Lawrence Beach

160,000

-140,000

William Reynolds

152,000

42,000

Justin Kindred

95,000

37,000

Isaac Baron

86,000

-14,000
Nível 19 : 3,000/6,000, 1,000 ante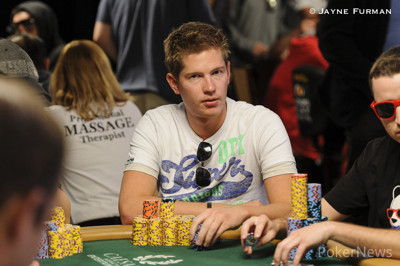 Action exploded between Chris Johnson and Ben Warrington on a
flop that resulted in the latter getting his last 200,000 or so in the middle.
Warrington:

Johnson:
Warrington had flopped top pair, but it was no good as Johnson had flopped top and bottom pairs. The
turn improved Johnson to a full house, and after the
was put out on the river, Warrington made his way to the payout desk in 28th place.
Meanwhile, Binh Nguyen busted one table over at the same time as Warrington. That means 26 players will redraw to the final three tables as opposed to the usual 27.
Nível 19 : 3,000/6,000, 1,000 ante
Ben Warrington was first to act in the small blind and he raised to 15,000 using three orange T5,000 chips. Thad McNulty defended his big blind and it was heads-up to the
flop.
Warrington bet 16,000 and McNulty called. The turn gave the
some airtime and Warrington bet again, this time 40,000. McNutly instantly raised to 100,000 and Warrington let his hand go.
McNulty looks to be our chip leader with over 700,000 chips.
Nível 19 : 3,000/6,000, 1,000 ante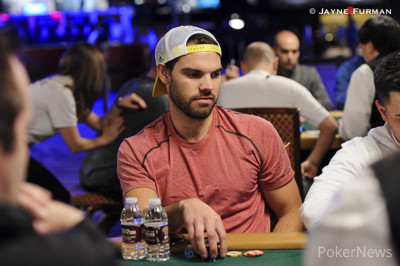 With around 35,000 in the pot and a flop of
, Joseph Brattole checked and David Nicholson bet 12,000. Brattole then woke up with a check-raise to 34,000 and Nicholson moved all in for 91,000 more. Brattole thought long and hard before making the call.
Nicholson:

Brattole:
Nicholson was ahead with his kings, but the dealer burned and turned the
to give Brattole two pair. Much to Nicholson's relief, which was represented by a fist pump, the
spiked on the river to counterfeit Brattole and give Nicholson the double.
Nível 19 : 3,000/6,000, 1,000 ante
Rep Porter opened for 14,000 from middle position and the player in the hijack called. Isaac Baron then three-bet to 40,000 from the cutoff and Andy Phan moved all in for 74,000 from the big blind. Porter and the hijack both folded, and Baron snap-called.
Baron:

Phan:
Baron was well out in front with the granddaddy of all hands, but then the flop came down
to give Phan a set. Baron seemed frustrated, but he held the only heart. The
turn actually gave him the flush, but the lead was only temporary as the
paired the board to give Phan a winning full house.
Nível 19 : 3,000/6,000, 1,000 ante
William "Billy" Chattaway opened to 14,000 from middle position and was called by Sam Cohen in the cutoff. The talented duo watched on as the
flop came into play, Chattaway greeting it with a 20,000 bet. Cohen quickly folded and Chattaway now has more than 100,000 chips.
Chattaway may be a relative unknown here in the United States, but we can tell you that he is an incredibly talented tournament player online, one who has almost $2 million in online winnings and who was once ranked 21st in the world for online tournament play.
Nível: 19
Blinds: 3,000/6,000
Ante: 1,000
Nível 18 : 2,500/5,000, 500 ante
The players have been sent for a 20 minute break.
Nível 18 : 2,500/5,000, 500 ante
Thayer Rasmussen moved all in from the cutoff for 64,500 in total and Pierre Milan, on the button, called. Both blinds mucked and Rasmussen discovered his
was in a race against Milan's
.
Rasmussen was drawing dead by the turn of the
board, stood, said his goodbyes and headed towards the cashier's desk to collect his winnings.