Event #29: $2,500 No-Limit Hold'em
Dias: 2
Event #29: $2,500 No-Limit Hold'em
Dia 2 Iniciado
| Table | Seat | Player | Chip Count |
| --- | --- | --- | --- |
| 347 | 1 | Arvin Palmerp | 55,100 |
| 347 | 2 | Gregg Merkow | 56,700 |
| 347 | 3 | Joshua Morse | 58,400 |
| 347 | 4 | Michael Franklin | 39,700 |
| 347 | 5 | Phu Ngo | 78,400 |
| 347 | 6 | Noah Bronstein | 74,700 |
| 347 | 7 | Ardit Kurshumi | 21,000 |
| 347 | 8 | Stephen Bristow | 33,500 |
| 347 | 9 | Jay Diaz | 34,400 |
| | | | |
| 348 | 1 | Binh Nguyen | 35,100 |
| 348 | 2 | Daniel Dizenzo | 51,000 |
| 348 | 3 | Arshad Siddiqui | 73,000 |
| 348 | 4 | Matt Affleck | 45,900 |
| 348 | 5 | Ravi Raghavan | 54,100 |
| 348 | 6 | Dermot Blain | 16,400 |
| 348 | 7 | Scott Vener | 71,000 |
| 348 | 8 | Walter Blattler | 27,600 |
| 348 | 9 | Peter Nguyen | 41,000 |
| | | | |
| 349 | 1 | Danny Illingworth | 43,300 |
| 349 | 2 | Jake Schwartz | 99,800 |
| 349 | 3 | Nick Rampone | 46,000 |
| 349 | 4 | Rep Porter | 107,900 |
| 349 | 5 | Richard Woodall | 35,300 |
| 349 | 6 | Mark Dube | 49,700 |
| 349 | 7 | Ryan Hughes | 57,500 |
| 349 | 8 | Amanda Baker | 19,700 |
| 349 | 9 | Jamie Armstrong | 31,400 |
| | | | |
| 350 | 1 | Jean-Pascal Savard | 31,000 |
| 350 | 2 | Aaron Jones | 43,100 |
| 350 | 3 | Justin Kindred | 58,000 |
| 350 | 4 | Steve Karp | 59,100 |
| 350 | 5 | Sam Stein | 52,100 |
| 350 | 6 | Tristan Wade | 52,900 |
| 350 | 7 | Will Failla | 51,300 |
| 350 | 8 | Gnatenko Oleksander | 37,100 |
| 350 | 9 | Clyde Walters | 28,000 |
| | | | |
| 351 | 1 | Brian Altman | 30,700 |
| 351 | 2 | Kyle Cartwright | 44,300 |
| 351 | 3 | Ben Warrington | 86,700 |
| 351 | 4 | Stephen Hesse | 71,400 |
| 351 | 5 | Thomas Boivin | 16,500 |
| 351 | 6 | Danny Steinberg | 50,000 |
| 351 | 7 | Joshua Bergman | 30,000 |
| 351 | 8 | Jerry Yang | 13,700 |
| 351 | 9 | --Did Not Report-- | 44,700 |
| | | | |
| 352 | 1 | Thomas Maser | 25,500 |
| 352 | 2 | Lauren Kling | 14,200 |
| 352 | 3 | Stephen Seffense | 48,200 |
| 352 | 4 | Tony Dunst | 27,500 |
| 352 | 5 | Joshua Evans | 51,000 |
| 352 | 6 | Scott Davies | 34,500 |
| 352 | 7 | Ivan Freitez Rosales | 73,500 |
| 352 | 8 | Tom Macey | 50,100 |
| 352 | 9 | Vitanshu Sharma | 45,200 |
| | | | |
| 353 | 1 | Chad Layne | 37,700 |
| 353 | 2 | Griffin Benger | 40,100 |
| 353 | 3 | Upeshka Desilva | 55,900 |
| 353 | 4 | David Nicholson | 42,200 |
| 353 | 5 | John Depersio | 74,400 |
| 353 | 6 | Ryan Laplante | 57,000 |
| 353 | 7 | Amanda Musumeci | 33,000 |
| 353 | 8 | James James | 65,300 |
| 353 | 9 | Vincent Lam | 47,000 |
| | | | |
| 354 | 1 | Douglas Mackinnon | 9,900 |
| 354 | 2 | Susan Nelson | 18,400 |
| 354 | 3 | Gordon Eng | 19,000 |
| 354 | 4 | Salvatore Dicarlo | 32,800 |
| 354 | 5 | Gordon Vayo | 23,100 |
| 354 | 6 | Will Jaffe | 30,600 |
| 354 | 7 | Helen Ellis | 16,900 |
| 354 | 8 | Grayson Nichols | 43,400 |
| 354 | 9 | Nicolas Yunis | 93,500 |
| | | | |
| 355 | 1 | David Byer | 10,800 |
| 355 | 2 | Alex Queen | 56,100 |
| 355 | 3 | Alan Snow | 34,400 |
| 355 | 4 | Matthew Haugen | 46,800 |
| 355 | 5 | Sunny Chattha | 42,000 |
| 355 | 6 | William Reynolds | 38,900 |
| 355 | 7 | Bryan Pimlott | 23,100 |
| 355 | 8 | Grayson Ramage | 138,600 |
| 355 | 9 | Sam Cohen | 26,300 |
| | | | |
| 356 | 1 | Jason Lee | 36,600 |
| 356 | 2 | Lawrence Beach | 29,700 |
| 356 | 3 | George Saca | 66,200 |
| 356 | 4 | John MacDonald | 12,000 |
| 356 | 5 | Aytac Apaydin | 27,500 |
| 356 | 6 | Will Givens | 61,200 |
| 356 | 7 | David Walton | 19,000 |
| 356 | 8 | Andy Phan | 15,600 |
| 356 | 9 | Pascal Theodosiadis | 45,200 |
| | | | |
| 357 | 1 | Robbie Beck | 36,100 |
| 357 | 2 | Joshua Vanduyn | 88,300 |
| 357 | 3 | Chris Johnson | 23,000 |
| 357 | 4 | Ariel Celestino | 51,900 |
| 357 | 5 | Giacomo Fundaro | 46,400 |
| 357 | 6 | Vladislav Mezheritsky | 20,400 |
| 357 | 7 | David Benefield | 45,100 |
| 357 | 8 | Brent Hanks | 48,800 |
| 357 | 9 | Jason Berilgen | 47,400 |
| | | | |
| 358 | 1 | Jared Kawalsky | 57,100 |
| 358 | 2 | Charles Cochran | 27,600 |
| 358 | 3 | Kristijonas Andrulis | 22,700 |
| 358 | 4 | Timothy Cowles | 63,700 |
| 358 | 5 | Thad Mcnulty | 80,500 |
| 358 | 6 | Joey Weissman | 6,600 |
| 358 | 7 | --empty-- | -- |
| 358 | 8 | Dimitrios Trichas | 29,200 |
| 358 | 9 | --Did Not Report-- | 9,400 |
| | | | |
| 359 | 1 | Roberto Romanello | 73,100 |
| 359 | 2 | Barry Hutter | 150,500 |
| 359 | 3 | Dana Kellstrom | 10,900 |
| 359 | 4 | Mateusz Moolhuizen | 27,800 |
| 359 | 5 | Adam Koplan | 17,900 |
| 359 | 6 | Jesse Cohen | 33,400 |
| 359 | 7 | Yen Chen | 45,600 |
| 359 | 8 | Donald Yucius | 33,600 |
| 359 | 9 | Julian Parmann | 26,700 |
| | | | |
| 360 | 1 | Christina Lindley | 13,200 |
| 360 | 2 | Joseph Brattole | 40,800 |
| 360 | 3 | Jorge Walker | 104,700 |
| 360 | 4 | Jamie Kerstetter | 22,200 |
| 360 | 5 | William Chattaway | 67,100 |
| 360 | 6 | Cary Katz | 24,800 |
| 360 | 7 | David Pham | 72,500 |
| 360 | 8 | Josh Arieh | 46,800 |
| 360 | 9 | Korenev Roman | 31,100 |
| | | | |
| 361 | 1 | Jonathan Taylor | 94,700 |
| 361 | 2 | Vojtech Ruzicka | 43,800 |
| 361 | 3 | Darryl Ronconi | 27,800 |
| 361 | 4 | Kunal Patel | 98,000 |
| 361 | 5 | Richard Kirsch | 110,000 |
| 361 | 6 | Justin Oliver | 115,100 |
| 361 | 7 | Joe Serock | 32,700 |
| 361 | 8 | Mustapha Kanit | 30,200 |
| 361 | 9 | Sarah Tolagson | 37,600 |
| | | | |
| 362 | 1 | James Clark | 22,500 |
| 362 | 2 | Benjamin Levenbaum | 23,700 |
| 362 | 3 | Greg Ostrander | 15,000 |
| 362 | 4 | Alan Myerson | 26,000 |
| 362 | 5 | William Nguyen | 30,500 |
| 362 | 6 | Edward Brogdon | 30,600 |
| 362 | 7 | Isidro Sifuentes | 29,900 |
| 362 | 8 | Patrick Arena | 9,900 |
| 362 | 9 | Jason Mercier | 19,900 |
| | | | |
| 363 | 1 | Nam Le | 13,400 |
| 363 | 2 | Sean Winter | 31,600 |
| 363 | 3 | Daniel Strelitz | 79,500 |
| 363 | 4 | Edmilson Oliveira | 58,800 |
| 363 | 5 | --empty-- | -- |
| 363 | 6 | Jason Brauda | 22,400 |
| 363 | 7 | Justin Miller | 15,700 |
| 363 | 8 | Jia Mai | 61,000 |
| 363 | 9 | Dave D'Alesandro | 16,200 |
| | | | |
| 368 | 1 | Oleg Badmayev | 74,800 |
| 368 | 2 | Julien Brulet | 33,500 |
| 368 | 3 | M Anvari | 37,100 |
| 368 | 4 | Domantas Klimciasuskas | 22,400 |
| 368 | 5 | Leandro Werner | 28,800 |
| 368 | 6 | Shawn Buchanan | 18,400 |
| 368 | 7 | Pierre Milan | 84,900 |
| 368 | 8 | Marius Pospiech | 29,700 |
| 368 | 9 | Frederic Soria | 21,700 |
| | | | |
| 369 | 1 | Matt Salsberg | 21,500 |
| 369 | 2 | Nikolai Sears | 20,800 |
| 369 | 3 | Damon Sita | 18,700 |
| 369 | 4 | --empty-- | -- |
| 369 | 5 | Marius Kaiser | 7,900 |
| 369 | 6 | David Eller | 21,700 |
| 369 | 7 | Erhart Edquist | 20,400 |
| 369 | 8 | Lorne Wechsler | 46,500 |
| 369 | 9 | Harry, Jr. Cullen | 16,200 |
| | | | |
| 370 | 1 | Dobromir Nikov | 15,900 |
| 370 | 2 | Ardavan Yazdi | 11,500 |
| 370 | 3 | Govert Metaal | 87,900 |
| 370 | 4 | Stephan Robertson | 23,200 |
| 370 | 5 | Isaac Baron | 103,100 |
| 370 | 6 | Michael Turner | 17,500 |
| 370 | 7 | --empty-- | -- |
| 370 | 8 | Stephen Hyvonen | 16,500 |
| 370 | 9 | Gionni Demers | 103,000 |
| | | | |
| 374 | 1 | --empty-- | -- |
| 374 | 2 | Deanna Dozier | 25,700 |
| 374 | 3 | Kevin Saul | 58,000 |
| 374 | 4 | David Sands | 26,500 |
| 374 | 5 | Connor Drinan | 50,400 |
| 374 | 6 | Thomas Miller | 53,000 |
| 374 | 7 | Shawn Busse | 48,600 |
| 374 | 8 | --Did Not Report-- | 3,900 |
| 374 | 9 | Manig Loeser | 18,700 |
| | | | |
| 375 | 1 | --empty-- | -- |
| 375 | 2 | Jessica Mendoza | 93,600 |
| 375 | 3 | Thayer Rasmussen | 62,000 |
| 375 | 4 | Scott Palmer | 65,600 |
| 375 | 5 | Yosuke Sekiya | 34,300 |
| 375 | 6 | Christopher Dotson | 12,800 |
| 375 | 7 | Vladimir Dobrovolskii | 14,200 |
| 375 | 8 | Fred Louie | 13,500 |
| 375 | 9 | Ian Woodley | 25,600 |
| | | | |
| 379 | 1 | Yong Lu | 21,500 |
| 379 | 2 | David Belaich | 34,000 |
| 379 | 3 | Thomas Roupe | 29,500 |
| 379 | 4 | Daniel Laming | 60,900 |
| 379 | 5 | Jason Brin | 42,200 |
| 379 | 6 | Michael Bohme | 32,100 |
| 379 | 7 | --empty-- | -- |
| 379 | 8 | Brock Parker | 37,900 |
| 379 | 9 | Simeon Naydenov | 30,100 |
| | | | |
| 380 | 1 | Caufman Talley | 40,400 |
| 380 | 2 | Bela Toth | 11,100 |
| 380 | 3 | Scotty Nguyen | 39,600 |
| 380 | 4 | Michael McNeil | 27,100 |
| 380 | 5 | Stephen Graner | 19,800 |
| 380 | 6 | Eugene Todd | 18,700 |
| 380 | 7 | Artur Danilau | 57,000 |
| 380 | 8 | Igor Yaroshevskyy | 55,800 |
| 380 | 9 | Ramiro Martinez | 47,100 |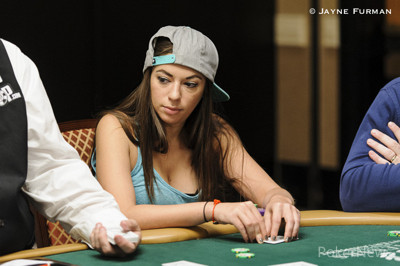 The 2014 World Series of Poker continued yesterday with the start of Event #29: $2,500 No-Limit Hold'em. The tournament attracted 1,165 entries — down considerably from last year's 1,736 — but today just 209 players will return for Day 2 action.
Of those 117 will make the money and secure a minimum payday of $5,035, though everyone has their eyes firmly fixed on the gold bracelet and $536,768 firs-place prize. Barry Hutter, who has two final tables on the World Poker Tour and a sixth-place in a $1,000 WSOP event in 2013, will begin the day as chip leader with 150,500 in chips.
Rounding out the top five stacks are Grayson Ramage (138,800), 2013 bracelet winner Justin Oliver (115,100), Richard Kirsch (110,000), and Rep Porter (107,900).
While those men begin the day flush in chips, they face some stiff competition that includes Isaac Baron (103,100), Roberto Romanello (73,100), David "The Dragon" Pham (72,500), Kevin Saul (58,000), Tristan Wade (52,900), Will "The Thrill" Failla (51,300), Josh Arieh (46,800), David Benefield (45,100), Kyle Cartwright (44,300), Griffin Benger (40,100), Scotty Nguyen (39,600), and Amanda Musumeci (33,000).
Cards will be back in the air at 1 p.m. local time, and things will pick up in Level 11 with the blinds at 500/1,000/100. The money bubble is expected to burst within the first couple levels, so be sure to stay tuned for that along with all the action and eliminations through ten more one-hour levels of play.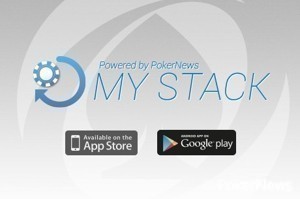 The PokerNews MyStack App is available for players to use for free throughout the World Series Of Poker, allowing anyone in an event to update their chip count directly on the PokerNews Live Reporting page for their friends and family to see.
You can download the app for iPhone or Android now to get started. Then create a new PokerNews account or update your current one to start updating your status immediately.
Be forewarned, however, any abuse of the app will result in account suspension or termination.
Nível: 11
Blinds: 500/1,000
Ante: 100
Nível 11 : 500/1,000, 100 ante
The action folded to Matt Affleck in the small blind and he raised to 3,000. Sitting in the big blind was Ravi Raghavan and he called.
A
flop received checks from both players, but Affleck led for 3,700 on the
turn. Raghavan called. The
completed the board and both players checked.
Affleck turned over
and Raghavan mucked.
Nível 11 : 500/1,000, 100 ante
Action folded around to a short-stacked Joey Weissman and he moved all in for 4,400 from the button. The small blind folded, and then action was on Eric Blair in the big blind. He didn't have a lot of chips to spare and didn't seem thrilled to make the call. Even still, he called the additional 3,400.
"I think you had to," Weissman comforted.
Weissman:

Blair:
Weissman got it in good, and he stayed ahead on the
flop, though it did give Blair a double gutshot straight draw. The
turn paired Weissman, but then the
spiked on the river to give Blair a bigger pair.
"Good luck," Weissman offered before taking his leave from the tournament.
Nível 11 : 500/1,000, 100 ante

My mom gets into town in a few hours, will be her first time watching me @WSOP Hopefully I can keep on my A game and run deep. :) #WSOP29
Follow @Protentialmn
Nível 11 : 500/1,000, 100 ante
A raise from Ben Warrington was met with a three-bet all-in from Thomas Boivin and a quick call from Warrington.
The reason for the quick call was simple, Warrington held the powerhouse that was
. Boivin flipped over
and needed some help from the board in order to stay in this tournament. The cavalry failed to arrive as the board ran
to keep Warrington's hand best. Boivin busts.
Nível 11 : 500/1,000, 100 ante
Danny Steinberg raised to 3,100 from late position only to see former World Series of Poker Main Event champion Jerry Yang three-bet all-in for 11,400 in total from two seats over.
"How much?"
"Around 11."
Steinberg quickly released when he heard Yang's count.
Jogador
Fichas
Oscilação

Jerry Yang

16,000

2,300