Nível 28 : 30,000/60,000, 10,000 ante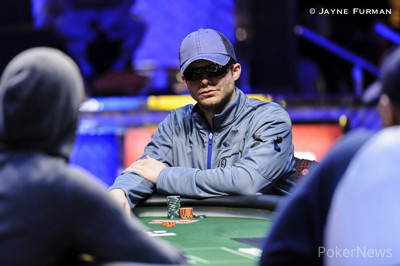 Tony Gargano has amassed more than a million dollars in live earnings since 2007 — recording 18 cashes at the World Series of Poker over that span — but he has yet to reach the winner's circle in a live event. Several deep runs in WSOP competition have given him a glimpse of the Mothership final table stage, but before today he had never played under the bright blue spotlights every poker player hopes to soak in at some point. Sitting second in the chip counts with just three players remaining, Gargano was kind enough to provide PokerNews a glimpse into the mind of a man on the verge of accomplishing a long held and elusive dream.
PokerNews: Can you tell the readers out there how it feels to finally sit down at the final table stage at the WSOP, after making so many deep runs thus far?
Tony Gargano: I've made a few deep runs, this is... I'd like to think this a little overdue actually, but you know, I haven't won anything yet. I've won a few online but this would be my first live major win.
PokerNews: Your friend Joe Cada just walked by on his way to rail you, and Cliff Josephy has been on hand as well.
Oh yes, those are two of my very good friends from poker, Dave Benefield was here as well, and Melissa Costello, a couple others. Matt Salsberg was here. I don't know, I think a couple people are stopping in now, but I'm trying not to look over there. It's a little distracting, but...
PokerNews: Does the presence of such a strong group of supporters serve as motivation during a moment like this?
Gargano: Not to me, to be honest, I think it's sort of distracting. I didn't really tell anybody, but they know because they're my good, good friends, but I didn't really tell any of the guys I play cash games with at the Bellagio or anything like that. You know, it's just extra pressure and extra things to worry about. Then you go on dinner and they're like all around, but you can't really include everyone, and you just want to sort of sit there and do nothing. I mean, I guess maybe if you lose a big pot they can sort of pump you up a little bit, it could be helpful.
PokerNews: Or maybe they can heckle your opponents, get them off their game?
Yeah, yeah, sure (laughing). I've done that before, I've served in that capacity many times.
PokerNews: How do you feel about your position coming back from dinner? You had the chip lead before slipping into second, so what is your mindset at the moment?
Yeah, I punted some off (laughing). No, I was feeling pretty tired but I ran up and down the stairs outside, so I feel a lot better now. I've come back to life I think, so I'm feeling pretty good.
PokerNews: What would winning a bracelet here today mean for you, as a player, as a professional and just as a person?
I think it would actually mean quite a bit to me, I've had a lot of, sort of top-20 type finishes when first place was like a million dollars or something. I've come close so many times, and I mean eventually I think I'm just going to have to accidentally win one.